It's normal to find the idea of starting a business intimidating. There are many things you should carefully consider. Luckily, there are countless books on how to start a business available to help. They may help both your professional and personal life.
You might be looking for self-improvement strategies to become an entrepreneur or a venture capitalist or that will lead to a successful startup.
A question still lingers, however: Which are the best books to read before starting a business? For that question, we have helped you compile 10 best books for starting a business.
Find these must-read books on Amazon, or wherever you purchase books and add them to your reading list.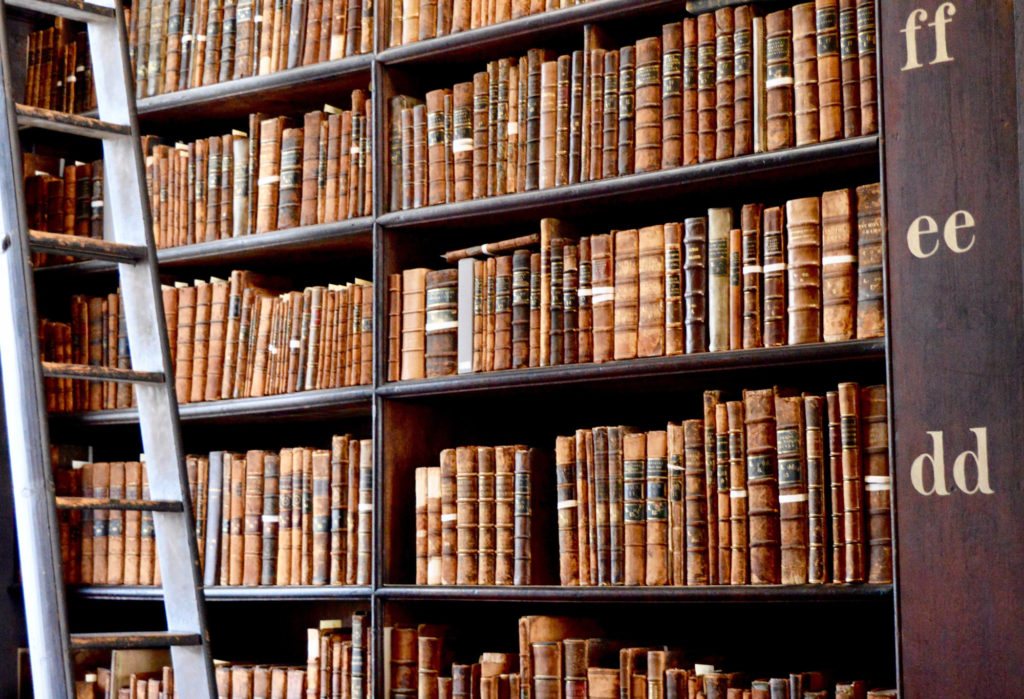 Books on How To Start A Business
1. The Lean Startup: How Today's Entrepreneurs Use Continuous Innovation to Create Radically Successful Businesses by Eric Ries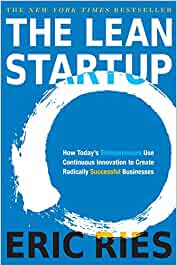 First on our list of books for starting your own business is The Lean Startup. Eric Ries, a top business leader and startup founder, tackles the questions: why do most startups fail, and what can you do to make sure yours is a success? This guide is all about understanding the basics of success and failure in new businesses.
But this does not mean making an elaborate business plan. Instead, it means learning solid principles to guide and measure your business's success. These tips are perfect for anyone dipping their toes into the world of business ownership and entrepreneurship.
Ries is an entrepreneur and inventor of the Lean Startup method, which he details in his book. His philosophy is that startups of any size can succeed using the same principles. This applies whether they have two employees or 100.
It is all about finding ways to use capital while finding new and creative solutions. Ries uses a theory called validated learning, taken from his days in manufacturing.
See Also: How to Start a Side Hustle
2. The Founder's Dilemmas: Anticipating and Avoiding the Pitfalls that Can Sink a Startup by Noam Wasserman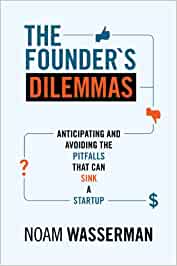 Some of the trickiest decisions business owners make are the ones at the very beginning. But these are the very ones that could spell success or failure for their business. Some of the first decisions are about choosing members of your business team.
Often, business owners start their companies with the help of friends or family. Not only does this affect the business, but it can also alter these relationships, often for the worse.
In this book, Wasserman discusses the initial decisions that can either build or stunt a business. Many of these are common pitfalls, ultimately reducing the chances of success. Wasserman offers lessons on building a founders' team, splitting equity, and recognizing signs that it is time to end a partnership. Having taught and dean of multiple business schools, his experience and research give him great wisdom, insight and practical strategies.
This best book for starting a business offers stories from countless startups. It details the missteps they made, the successes they had, and what they could have done differently.
The bottom line: one of the most common reasons that startups fail is the people. Wasserman, the dean of Sy Syms School of Business at Yeshiva University, offers tips for choosing the right ones.
3. Will It Fly? How to Know if Your New Business Idea Has Wings … Before You Take the Leap by Thomas K. McKnight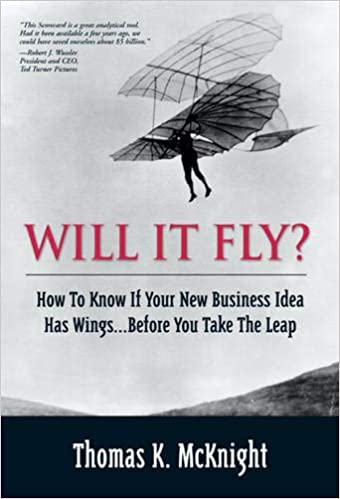 In this book about starting a business, McKnight lays out ways to know if a business idea has potential before you even get started. McKnight's data comes from more than 200 startups. He has evaluated their business plans, investment strategies, and more.
Additionally, he lays out 44 rules of business success to help you understand how to move forward.
McKnight aims to help business owners tweak their initial ideas into viable startups. He also provides them with knowledge of how to make wise business decisions right from the beginning.
With better knowledge at the outset, you have a higher chance of success. This knowledge can also help protect your investors.
One key part of McKnight's self-assessment for business owners is asking yourself questions such as:
Do you have enough capital laid by for this to be viable?
Is your competition easy to take down?
Do you have an established customer base?
Business owners rate themselves on each of these criteria and many more. This helps them put together a solid plan for a business that is sure to succeed — long before they put in the time or the money.
4. Million Dollar Consulting by Alan Weiss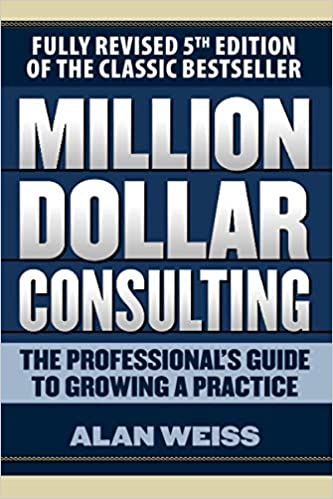 In this guide, Alan Weiss lays out everything you need to know to run a successful business in the 21st century. This ranges from daily business operations to marketing strategy tips and more. It is an excellent all-in-one guide for what you need to know for the practical side of business.
Weiss claims that these tips are ways to grow your company into a $1 million-a-year profit.
This book tells how to raise capital, establish a solid client base, and make a marketing plan. Weiss also provides everything business owners need to know to succeed against the competition. This is one of the reasons that small businesses often fail.
Other tips in this book to lead to successful companies include:
The importance of social networking and how to make a great social networking plan
How to delegate labor
How to get ahead of a depressed market
How to keep customers
The ins and outs of digital marketing
Alan Weiss is a highly-experienced business consultant. He has worked with prominent companies around the world. These include Merck, Hewlett-Packard, GE, Mercedes-Benz, Toyota, and the New York Times Corporation. His advice has helped more than 500 companies improve their work plan and increase profits.
5. The $100 Startup: Reinvent The Way You Make a Living, Do What You Love, And Create a New Future by Chris Guillebeau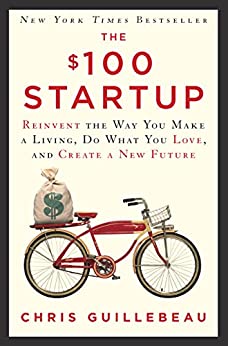 Chris Guillebeau has never had a real job. But what he does have is a knack for helping ideas become profitable. Now, he's convinced that anyone can start their own business and spend their life doing what they love. This even applies to those who start without much money.
Guillebeau studied 1,500 successful people who established profitable companies from a small investment. Many of them started with less than $100. They turned these investments into journeys of self-discovery and found new personal passions.
Guillebeau's bestseller focuses on 50 of these case studies, distilling their stories into a simple guide. His ultimate philosophy? That anyone can start a great business. It depends on finding the intersection between their passion and consumer demand.
He goes a step further and says that you don't need a business degree or even a business plan. But he believes that his method is the perfect way to spend your life doing what you love and making money from it.
Of course, he doesn't just talk about all this in general terms. This step-by-step guide from one of the top books on starting a business will help you find your passion while avoiding common pitfalls.
6. The E-Myth Revisited: Why Most Small Businesses Don't Work And What to Do About It by Michael Gerber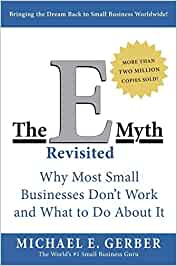 What is the E-myth? As Gerber lays out, this is the false idea that most of those who start businesses are entrepreneurs.
Why is this important? It can spell disaster for small businesses.
Many people who establish companies might understand the concepts of business ownership. But they don't understand the practicalities of running a successful small business.
Gerber lays it all out: what mistakes business owners make, preconceived assumptions they have, and what they need to succeed.
No business book would be complete without a step-by-step plan for how to launch your company. Gerber's book doesn't skimp on these details. He provides tips on how to guide your business growth from conception to fruition.
He also provides advice on how to use the principles of franchising, regardless of whether you have a franchise. This helps business owners provide skillful, guided growth for their company, no matter what industry they are in.
Michael Gerber has been providing business consultation services since 1977. His more than 40 years of experience have helped businesses in dozens of industries.
7. The 4-Hour Workweek by Timothy Ferriss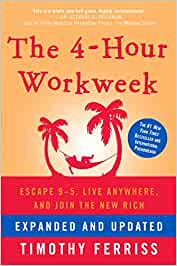 In his starting a business book, Timothy Ferriss seeks to dispel common attitudes about business ownership. Ferriss offers tips and advice for people who want to escape the endless grind of constant work and find a more fulfilling life plan.
Ferriss was once working 80 hours a week and earning $40,000. He radically changed his life with what he describes as a "lifestyle design."
Ferriss says he now works four hours a week and earns 12 times as much. He did this through a combination of outsourcing tasks and eliminating unneeded work.
Essentially, this guide is all about leaving behind old conceptions of how work "should" be. That relates to productivity, workload, and even retirement. Ferriss also provides tips on:
Outsourcing work
How to work while doing other tasks that you love — even traveling
How to cut out 50 percent of your workload
How to combine work bursts with regular vacations
Negotiating with clients
Automating work tasks
Designing a luxury lifestyle even during economic downturns
Reinventing your lifestyle and career plan
8. Profit First by Mike Michalowicz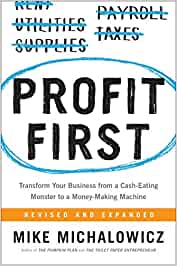 Almost anyone who knows about business has heard: Sales – Expenses = Profit. Entrepreneur Mike Michalowicz challenges this formula. He aims to help business owners change the way they think about their finances and help them profit.
Michalowicz's changed formula is simple but effective. His version is Sales – Profit = Expenses. In this way, he challenges business owners to cut their expenses by putting profit first.
He likens it to portion control for weight loss. Business owners, he says, should think like they are using smaller plates for their expenses. In other words, profit shouldn't be leftovers.
In one of the best books for starting a business, Michalowicz says that this simple change can help companies stop hemorrhaging money and put their profits on the upswing. His Profit First method offers some simple tips to:
Simplify business finances
Increase profits
Achieve sustainability
Make plans for long-term expansion
9. Atomic Habits by James Clear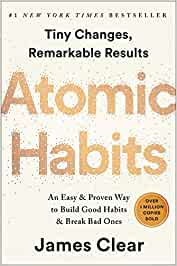 James Clear's Atomic Habits isn't just for business owners. His philosophy applies to habits in every aspect of life. But they can also help business owners change the way they approach their work.
Clear's philosophy is simple: if you have a hard time keeping habits, the problem isn't that you're just bad at them. Instead, you might just need a new system.
Clear offers the best ways to change your habits permanently by finding practical solutions that work for you. You also will have the chance to pinpoint problem areas that you might not have recognized on your own.
The bestselling author's philosophy takes human psychology and biology into account. He aims to help you create the best plan for improving your habits in the long term. This guide is in simple language, not jargon. It is easy for anyone to understand and put in place in their daily lives.
Readers will learn how to beat a lack of motivation and correct course when they falter. They will even learn to change their workspace for ultimate productivity. All this is ideal for anyone who already has a busy life and needs to focus on small changes.
Ultimately, this book is about changing your mindset in terms of how you perceive productivity and progress.
You might consider following James Clear on social media for more business tips.
10. Simple Numbers, Straight Talk, Big Profits! by Greg Crabtree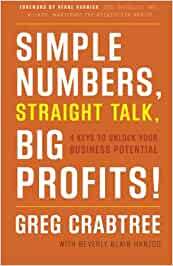 In the simplest possible language, Greg Crabtree lays out the principles of what makes a business profitable. You do not have to have a degree in business to understand these principles. Instead, Crabtree presents it in simple, easy-to-follow language without jargon.
The whole point? Any new business owner should know how to make their business profitable without needing an advanced degree to get it right. But it's also essential for them to know how to make a profit and balance the costs of running their business for long-term profitability.
In other words, this book is an accounting course for any business owner with simple steps that anyone can follow.
Business owners will also learn about common money mistakes that small businesses make and how to avoid them. Crabtree also explains the whys and hows of hidden costs. He shows how these aren't always what they seem, as well as things you should know about paying business taxes.
The bottom line: productivity is the number-one way to grow your business. This book will help you monitor the real-time success of your company and make smart accounting decisions. Achieving success can be in your future.
Bonus Best Business Books
Zero To One by Peter Thiel
Twelve and a Half by Gary Vaynerchuk
The Art of the Start 2.0 by Guy Kawasaki
The Hard Thing About Hard Things by Ben Horowitz
Rework by Jason Fried and David Heinemeier Hansson
Start with Why: How Great Leaders Inspire Everyone to Take Action by Simon Sinek
Conclusion: Best Books on Starting a Business
The business world can be a challenging and rewarding experience, and reading books on the subject can be a great way to gain real- world knowledge, inspiration, and guidance. Successful entrepreneurs and business leaders have much wisdom to share. Get started on your business journey with these starting your own business books and watch your business thrive. You want your business to make money and continue to grow.
These books with real world examples are a great starting point, but it's important to keep in mind that there is no one-size-fits-all solution for starting a successful business. Every business is unique, and what works for one may not work for another. But by learning from the experiences of others, you can gain valuable insights and ideas that can help you on your entrepreneurial journey. Consider checking out a few, sharing with your business partners and finding the ones that resonate most with you and your business goals.