If you have a serious interest in building your dream house, develop land, or just build your investment portfolio, you will likely need to learn how to invest in land, as well as the ins and outs of buying land with a loan.
As you consider your options, be creative as you seek answers to these questions –
Where can you learn how to invest in land when seeking to build a home?
Can you buy land with a credit card if you have a high enough credit limit?
Can I get a loan to buy land?

Is a land loan like a regular mortgage?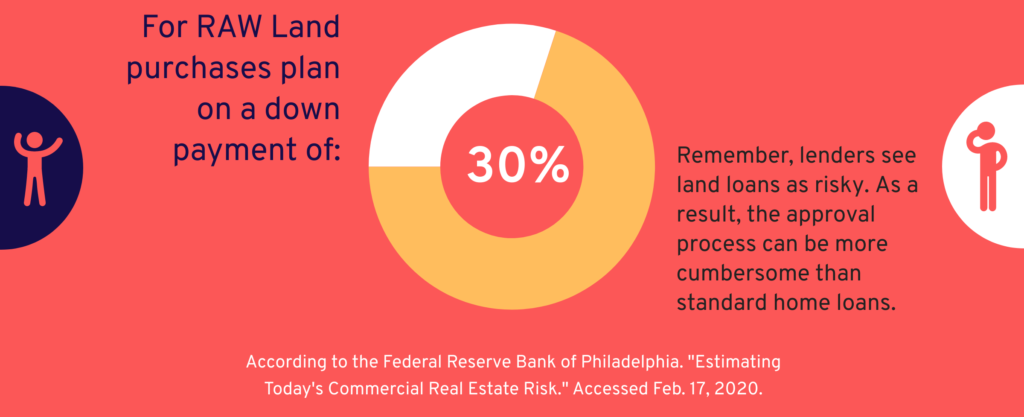 What Is a Land Loan & Is Buying Land a Good Investment?
When buying land with a loan, purchasers need to consider the type of land (or land flip) that are seeking to purchase. Buying land cheap often requires instant access to capital or funds when the great deal hits an investor's desk.
Borrowers who are seeking an answer to the question – Is buying land a good investment? Will find that when buying land with a loan, there are three fundamental types of loans.
Loans for Raw Land
Raw land represents property in its most natural state and is often used in a land flip transaction. Raw land is undeveloped and is not typically an option to invest in farmland as the property has not been cultivated for livestock or farming of crops and has not been developed regarding sewers or roads, etc.
Investors interested in securing a loan for raw, undeveloped land must be vigilant as these loans are challenging to find. Raw loan lenders typically require a detailed plan as to how the investor intends to develop the land. Investors have the best chance of being eligible for a raw land loan if they have a sizable down payment and acceptable credit.
And while the price of raw land tends to be cheaper than that of developed land, the reality is raw land loans tend to have higher rates of interest and higher down payments than other types of land loans.
Loans for Unimproved Land
Unimproved is like raw land; however, unimproved land tends to be more developed. Unimproved land may have basic amenities – like utilities but often lacks the approval and connections for a phone, natural gas, or electric meters.
An unimproved loan is viewed as less risky than its raw loan counterpart but still may be challenging to secure. Like a raw land loan, it is helpful if investors have a well-defined plan, a strong credit history, and a sizable down payment.
Loans for Improved Land
Improved land has been approved for critical amenities and services that include –
Electricity
Water
Sewers
Roads, among others.
Because improved land has been developed the most, it tends to have the highest price tag; however, down payment requirements and interest rates are likely to be more attractive than the terms offered for raw or unimproved land. Nonetheless, loans for improved land still require borrowers to have a solid credit history and a significant down payment.
Buying Land with a Loan
Each land loan has its own set of criteria that determines eligibility. As such, there are specific guidelines that impact how a borrower qualifies for a land loan. Among the criteria requires for a loan to invest in farmland, raw land, or improved land are –
An acceptable explanation as to the borrower's intended use of the land.
Delineate those aspects of the land that needs assessment like zoning, surveys, land-use restrictions, and utility access.
When the lender's underwriter analyzes these factors, they are then prepared to make a credit decision, which includes the terms/rates of the loan.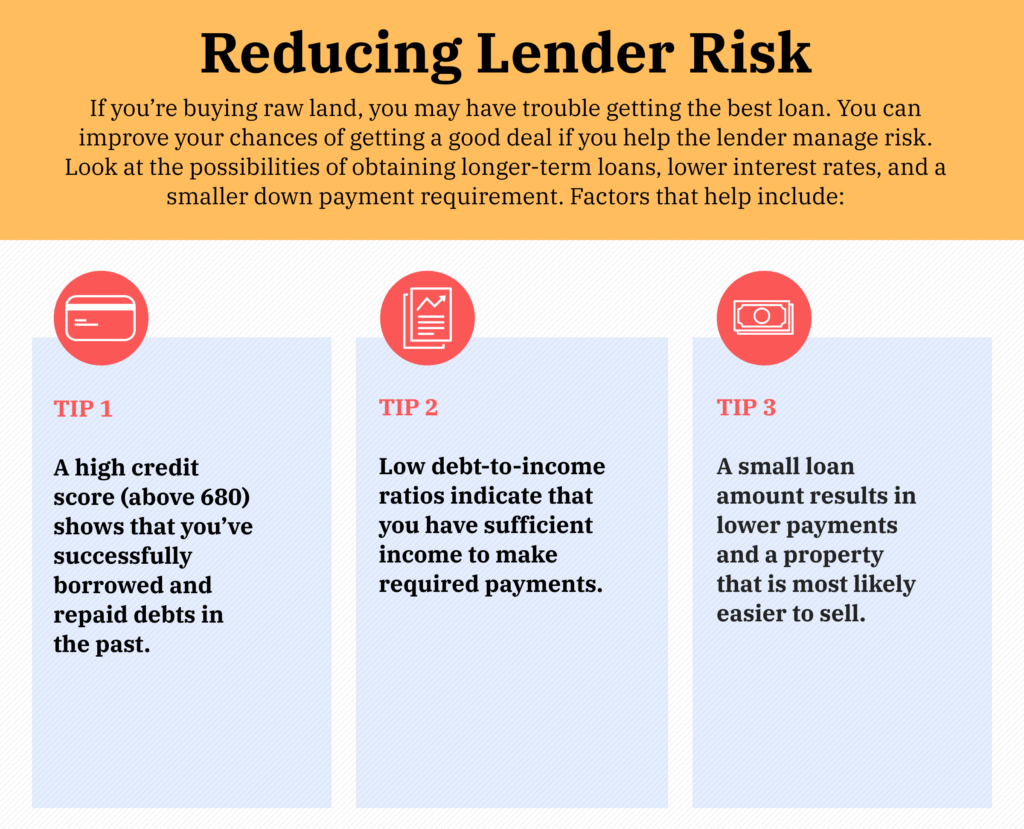 The Pros & Cons of Land Loans
Pros
The biggest benefit of securing a land loan is that the investor can build the home they wish to live in. In addition, a land purchase in an up-and-coming area can be held for a future profit. Investors who possess a creative vision and patience will find that land loans are often a great option to meeting their objectives.
Cons
A land loan, as noted above, tends to be perceived as a riskier loan as there is little collateral to quell a lender's investment risk. It is noted that if building a home is in your future; new construction is fraught with risk that can be created from very real, unforeseen complications.
How To Get a Land Loan
Land loans are typically available in the lending area of a community bank or credit union. However, there are mortgages designed specifically for those individuals who wish to build a home for their primary residence in a defined rural area. These loans are available through the US Department of Agriculture (USDA), and they offer competitive rates, and for some who qualify, a limited or no down payment. USDA loans have been developed to serve low to moderate-income families.
The Small Business Administration (SBA) offers a land loan for commercial purposes. SBA loans have been developed for business owners, with varying interest rates and terms that last up to 20 years.
Land Loan Options
If you're interested in buying land but are concerned about the nature of land loans, consider the financing options below –
A Home Equity Loan
Home equity loans are available for current property owners and tend to offer more competitive terms than their land loan counterparts. Home equity loans do not require a detailed explanation as to what the borrower intends to do with the borrowed capital. Repayment terms vary but generally are offered from five to thirty years. But note, if you default on this mortgage, a foreclosure you mean you lose your home.
Seller Financing
Seller financing is also another option for land buyers. Seller financing offers buyers a financing method without the use of a financial institution. This is often a great option because sellers (especially motivated sellers) tend to be more flexible than mortgage underwriters.
The Take-Away
If you are in the market to build a home, it is critical to understand the drawbacks & benefits of securing a land loan as you assess the investment's viability.
Related:
Is Buying Land a Good Investment?