From a bustling metropolis to the smallest of fishing villages, the best of America is on display in the northeast. With vibrant big cities, but also, sleepy, rustic hamlets, nowhere is this more true than in the diverse downtowns that make this area so special.
Maybe you're planning a trip to the northeast, or looking to relocate. Or maybe instead, you're after a change of scenery, strolling along main street, sipping coffee, taking in local art, or shopping at a locally-owned boutique. Regardless of why you're here, we ranked the nicest downtowns in the Northeast to visit, based on shopping, dining, entertainment, hospitality, lodging and overall aesthetics.
To provide some sense of the area, we also give you population, unemployment, and the average housing cost. Most importantly, though, we considered feedback from locals, drawn from all across the internet. The time is now to visit the northeast. Let this article help you get started.
1) Essex, CT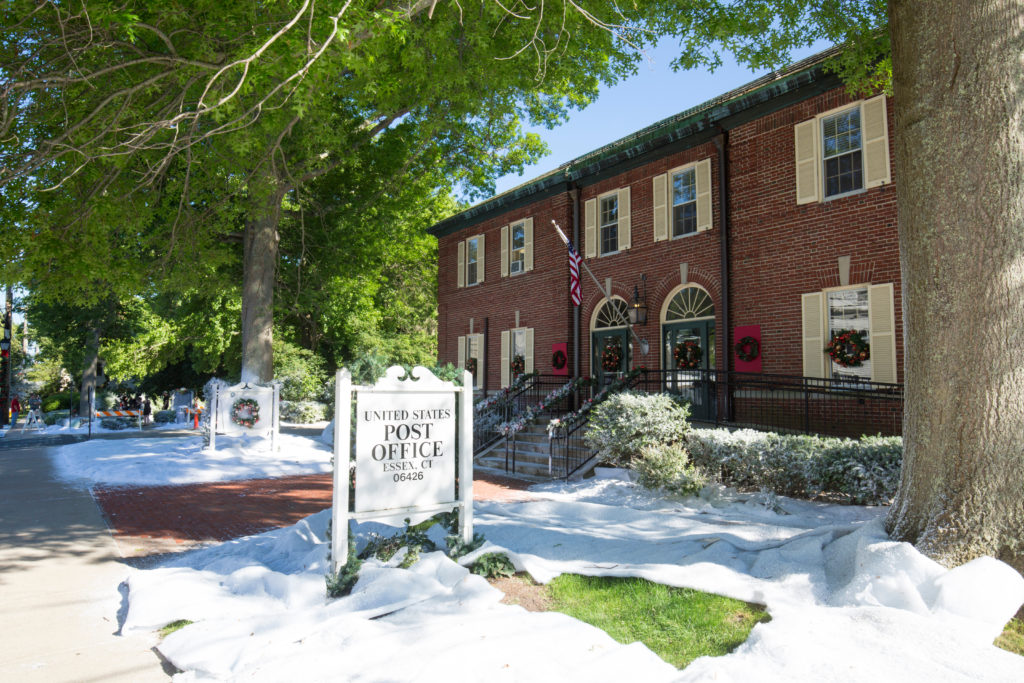 Population: 6,670
Unemployment: 3.6%
Average Housing Price: $464,500
The perfect American town, some say, Essex, CT is up first in our ranking of Northeastern America's nicest downtowns. Listed in the 1,000 Places to See Before You Die travel guide, Essex is, in fact, made up of three historic villages — Essex, Centerbook, and Ivorytown. Each has a lot to offer in its own right.
In Essex specifically there's J. McLaughlin, an Essex-based sportswear brand and Emmy's On Main, selling clothing, gifts, and artisan jewelry. But because Essex is like three historic downtowns in one, once you're finished in Essex, it's time to move on to Centerbrook and Ivorytown for more shopping, dining, and local attractions.
Food in Essex offers the unique experience of the Essex Clipper Dinner Train, where guests enjoy a 4-course meal in a restored `20's-era Pullman dining car propelled by a vintage diesel locomotive through the beautiful nearby scenery.
Taking full advantage of Essex's maritime atmosphere, we recommend Black Seal Seafood Grille, centrally located nearby everything the area has to offer. For lodging and accommodations, we like The Griswold Inn. Mixing modern amenities with old-world aesthetics The Griswold opened in 1776, making it one of the oldest continuously-operating inns in America.
2) Camden, ME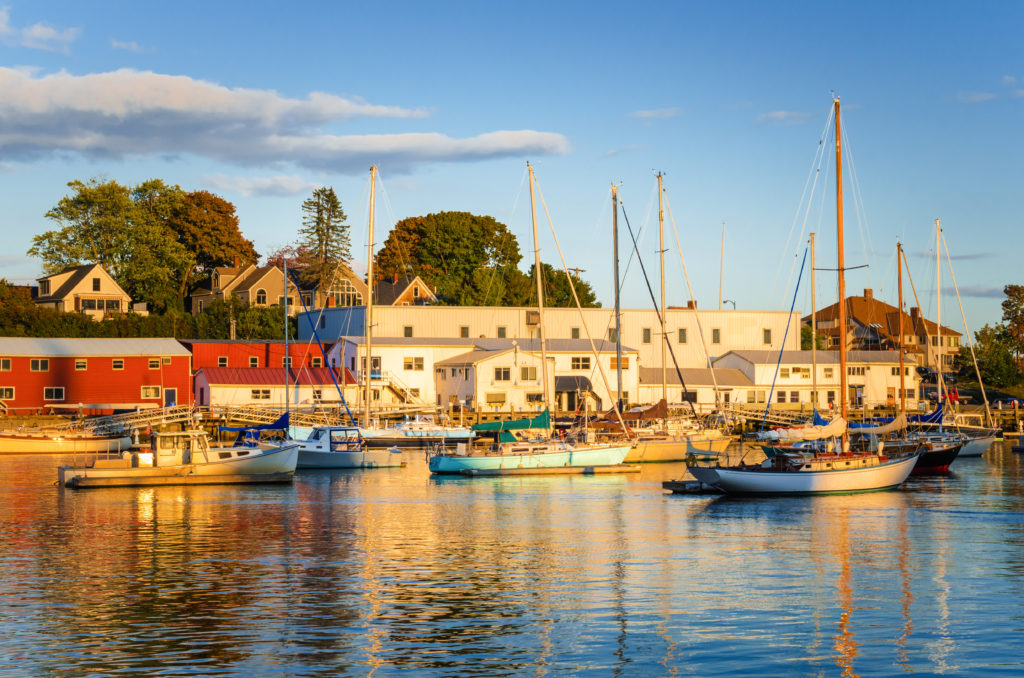 Population: 4,769
Unemployment: 5.6%
Average Housing Price: $438,264
Located on Penobscot Bay in the midcoast region of the Pine Tree State, Camden is said to have one of the best main streets in the entire region, bolstered by any number of unique attractions. In this incredibly charming area with loads of historic atmosphere — Camden was first incorporated in the 1700s — downtown Camden is bolstered by any number of unique shopping experiences, all within view of the water.
First, there's The Smiling Cow, open for roughly 75 years and selling an eclectic mix of gifts and collectibles, along with homemade fudge and maple syrup. There's also Owl & Turtle Bookshop and Cafe, an independent bookstore offering a great selection for vacation reading material, as well as coffee and baked goods.
Camden is also an artist's community, so when you're all shopped out along main street, explore any one of the great galleries in this self-described Jewel of the Maine Coast, including the Page Gallery for contemporary American art or instead, try Camden Falls Gallery for furniture, sculpture and fine art.
Camden is also a great place antiquing at The Shop Next Door and Antiques at 10 Mechanic. For lodging, we like the Camden Harbour Inn, offering amazing details in each and every room, with a great location and helpful staff.
When it's time to eat in Camden, there's the Waterfront Restaurant, known for clam chowder, fish and chips, and friendly staff.
3) Cape May, NJ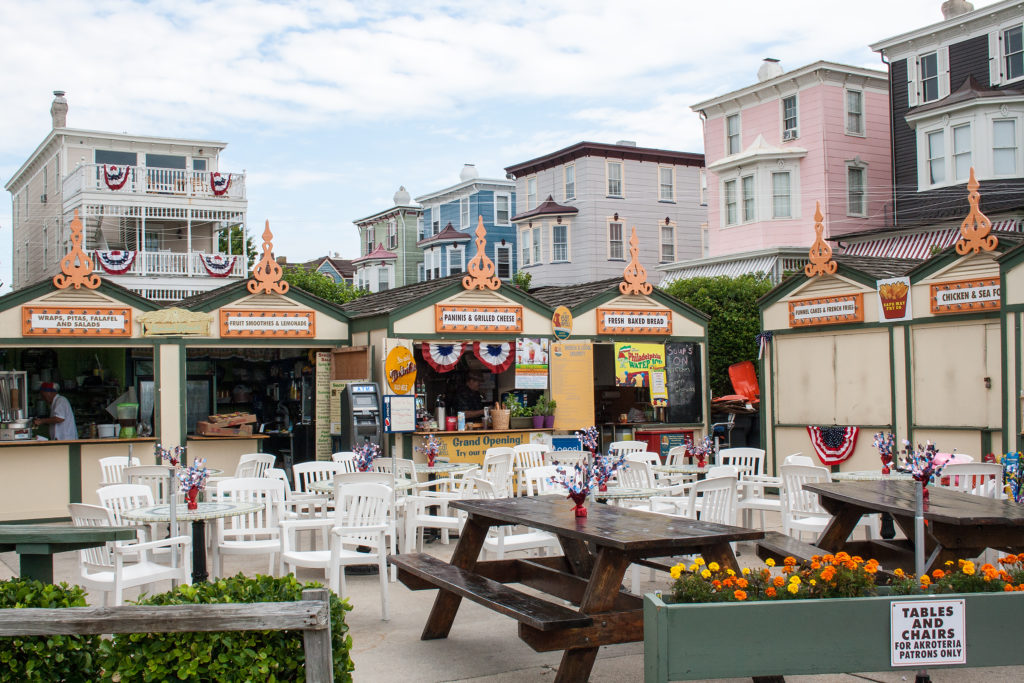 Population: 3,463
Unemployment: 7.5%
Average Housing Price: $502,717
Downtown Cape May, NJ is widely considered the best downtown in the entire state. It's certainly among the nicest downtowns in the entire northeast region. A charming and historic seaside town of only about 3,000 residents, what anchors downtown is the pedestrian-friendly Washington Street Mall. The area is full of locally-owned shops, theaters, and a long-list of historical attractions.
Best of all, it's just a bicycle ride away from any point in the city, and a short walk from the beach or the landmark Cape May Lighthouse. Better yet, tours are available via horse-drawn carriage. Once you're finished shopping, there's no shortage of restaurants, breweries, and wineries to choose from. Not to mention, a long list of charming accommodations and lodging choices at the southern tip of the Cape May peninsula.
We like the well-reviewed Congress Hall, only footsteps away from the beach and with a facade dating all the way back to 1816. There's also the Mad Batter Restaurant and Bar, an award-winning local favorite, offering bistro-style American fare and frequent live music.
4) Clinton, NJ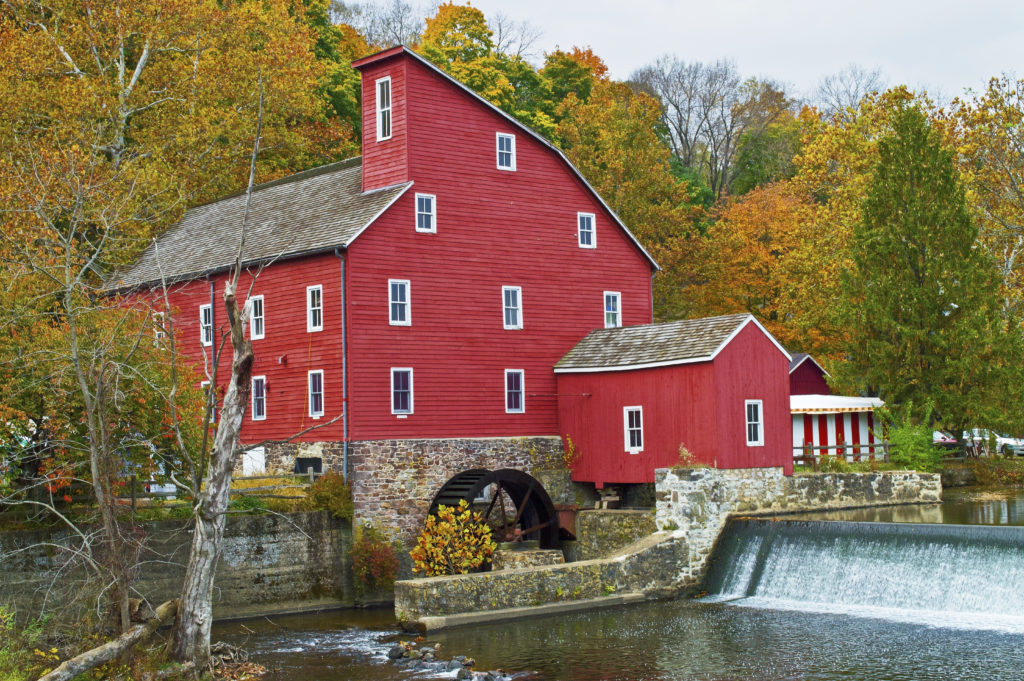 Population: 2,683
Unemployment: 5.9%
Average Housing Price: $399,229
Next stop in our ranking of the nicest downtowns in the Northeast is Clinton, NJ. This town of about 3,000 residents on the South Fork of the Raritan River features a charming and historic downtown. The district brims with boutique shopping, museums, and landmark architecture, like a time capsule back to the 19th century. Best of all, the Raritan Valley Region of the Garden State is just a 90-minute drive from downtown NYC.
Downtown Clinton offers visitors everything from quality leather goods to boutique wine bars, and a number of notable gift, furnishing, and antique outlets to browse. And once you're all shopped out, enlighten yourself with a tour of Clinton's The Red Mill museum village, an historic woolen mill turned community center that's home to all sorts of family-friendly events and even live music.
For lodging in Clinton we like the well-reviewed Riverside Victorian Bed & Breakfast. Quiet and comfortable, the Riverside is close to downtown Clinton and any number of other local attractions. For dining, we recommend The Clean Plate Kitchen, serving new American cuisine with incomparable service and tons of local flavor.
5) Woodstock, VT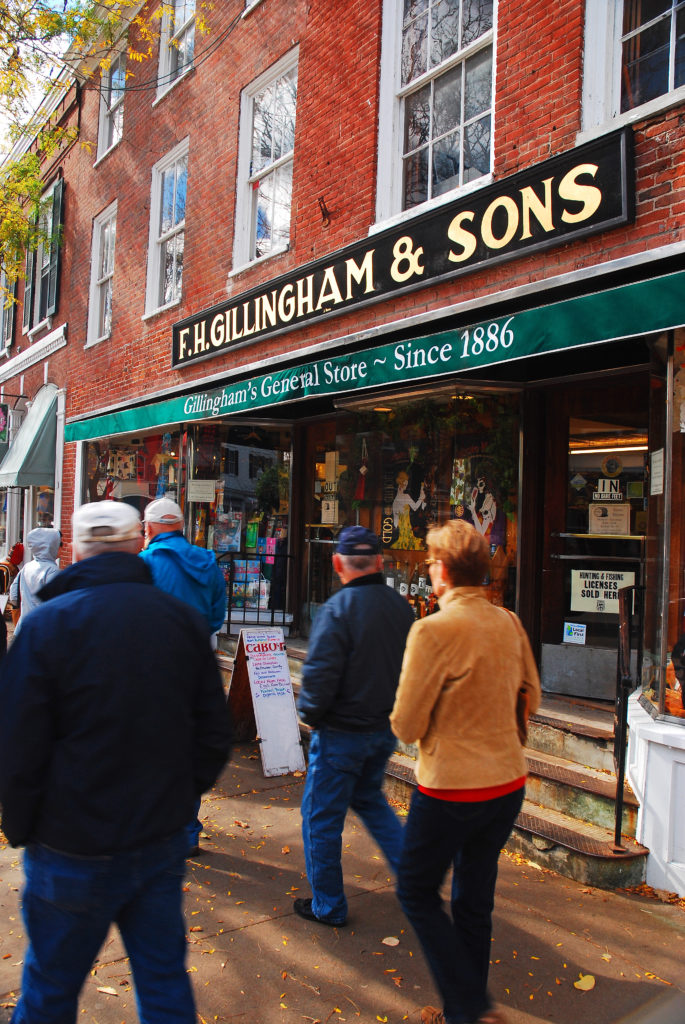 Population: 2,959
Unemployment: 3.3%
Average Housing Price: $422,500
We've all heard of Woodstock, NY but our research uncovered that a different Woodstock — this time in Vermont — also has a lot to offer, particularly in the downtown area. Located in the east-central area of Vermont and only about a 90-minute car ride from Burlington, downtown Woodstock is full of any number of endearing establishments, from book shops and clothing stores to FH Gillingham & Sons. In business since the late-19th century, FH Gillingham is a purveyor of quality Vermont-made items like souvenirs and wine, and it's said to be among Vermont's oldest family-run establishments.
There's lots more to do in Woodstock than simply shop, however. Visitors also enjoy touring Billings Farm, a working dairy farm, visiting the Admire Quechee Gorge, or sampling locally-made spirits and beer. For food in the area, locals prefer Mangalitsa. With a focus on small plates and homemade pasta, Mangalitsa is widely considered the best restaurant in town.
But for rustic, farm-to-table, New-American food, we also like Woodstock's Worthy Kitchen. Called Woodstock's "most beautiful address," the historic Woodstock Inn & Resort is our choice for accommodations, blending a classic feel with modern amenities, with golf, fly fishing, a day spa, and quality dining.
6) Lenox, MA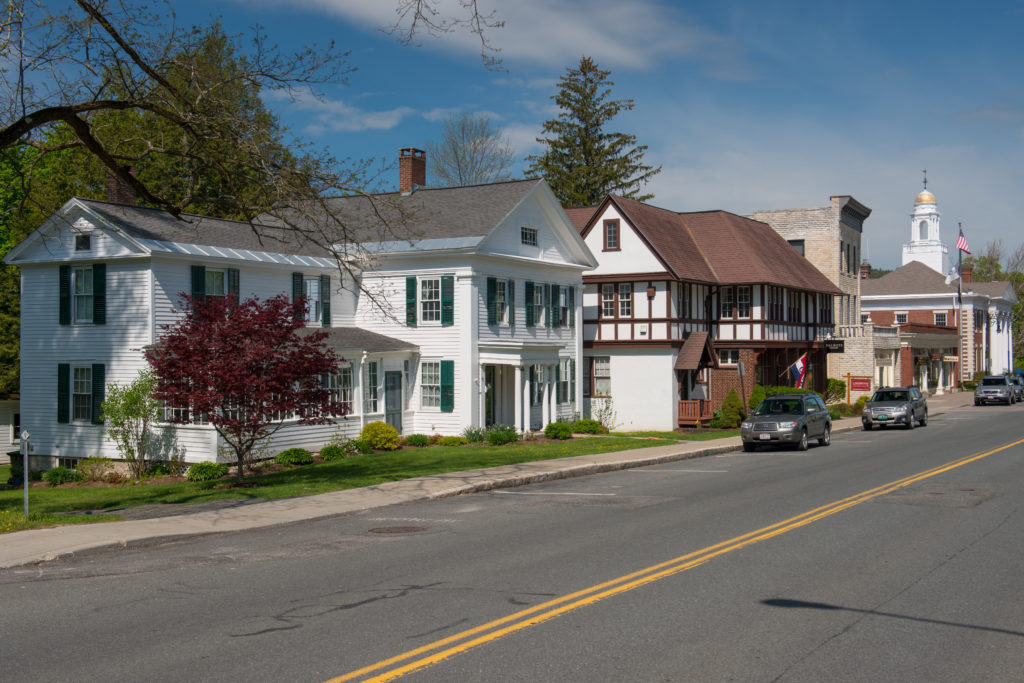 Population: 4,902
Unemployment: 8.0%
Average Housing Price: $525,000
Scenic Lenox, MA is centrally located in the Berkshires in Western Massachusetts. The center of this small town of only about 5,000 residents is anchored by the Lenox Cultural District, producing, among other events, the Lenox Art Walk, and Lenox Loves Music, outdoor concerts in the heart of downtown, or the Lenox Winterland Holiday Tree Walk during the holidays season.
It's not just special events attracting visitors. In Lenox, it's also possible to get your fill of boutique and one-of-a-kind retail experiences, such as Casablanca, a luxury boutique with clothing for both men and women, and Skin Awakening to relax and unwind after a long day hitting the shops.
For food, we like the Bagel & Brew, serving the best bagels in the region, some say, like the buffalo garlic parmesan cream cheese. Or instead, try Church Street Cafe for fish tacos, couscous salad, gumbo, and more.
Other not-to-be-missed attractions in downtown Lenox include the Ventfort Hall Mansion & Gilded Age Museum, open year-round with a mix of changing exhibits and permanent installations. And at the end of a long day in Lenox, we recommend staying at the nearby Brook Farm Inn, a great place to experience everything the Berkshires have to offer.
7) Portland, ME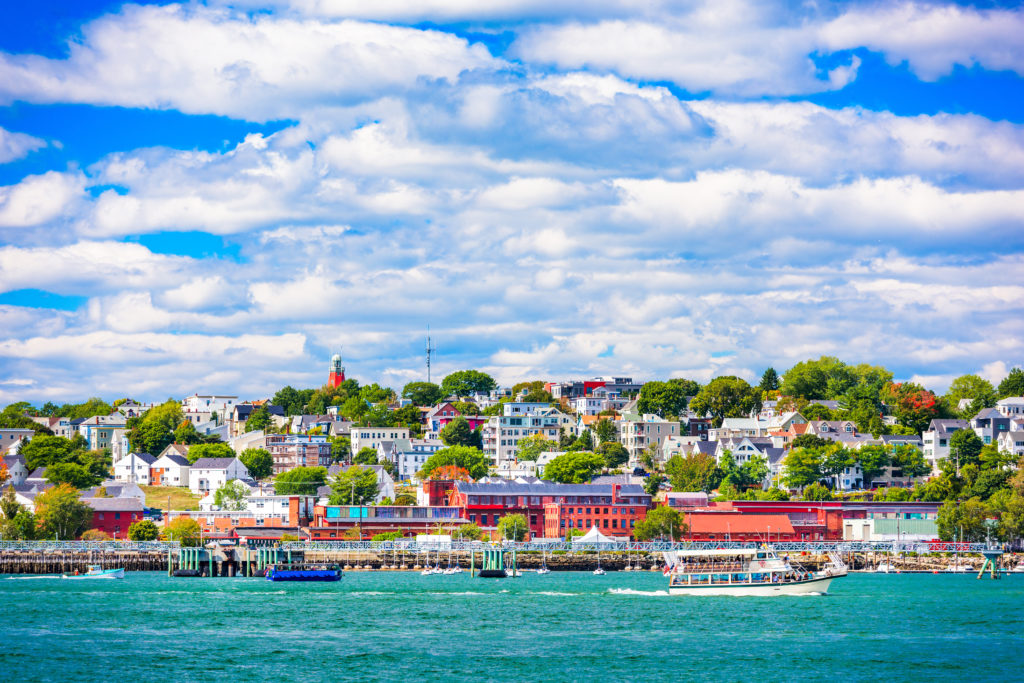 Population: 65,836
Unemployment: 4.6%
Average Housing Price: $495,000
Everyone's heard the news about Portland, OR but across the country another Portland is making the headlines, this time in Maine. Among all the things that make this Portland worth visiting is a rich and vibrant downtown area, full of shopping, restaurants, cultural events, and great places to stay.
Begin with Blanche and Mimi for decor and antiques, or Browne Trading Market, where visitors experience the best of what the sea has to offer in the Portland area, including fresh fish, lobster, caviar, and wine.
This city of about 66,000 full-time residents is also the kind of place where you can still shop for records, that's right — vinyl LPS. Audiophiles visiting Portland have a broad selection of crate-digging opportunities, such as Bull Moose Music, Electric Buddhas, and Enterprise Records.
Speaking of seafood, after a long day in the shops or taking in the abundant natural scenery available from the center of town, it's time to eat. Some of the best-reviewed places to eat in central Portland include Fore Street Restaurant, serving upscale American fare cooked on a wood-fire grill.
There's also Central Provisions, a local favorite serving small plates and cocktails in a rustic setting. There's no shortage of lodging and accommodation to choose from, either, when visiting Portland, like the Portland Harbor Hotel, an upscale choice within walking distance of everything this up-and-coming city has to offer.
8) Hartford, CT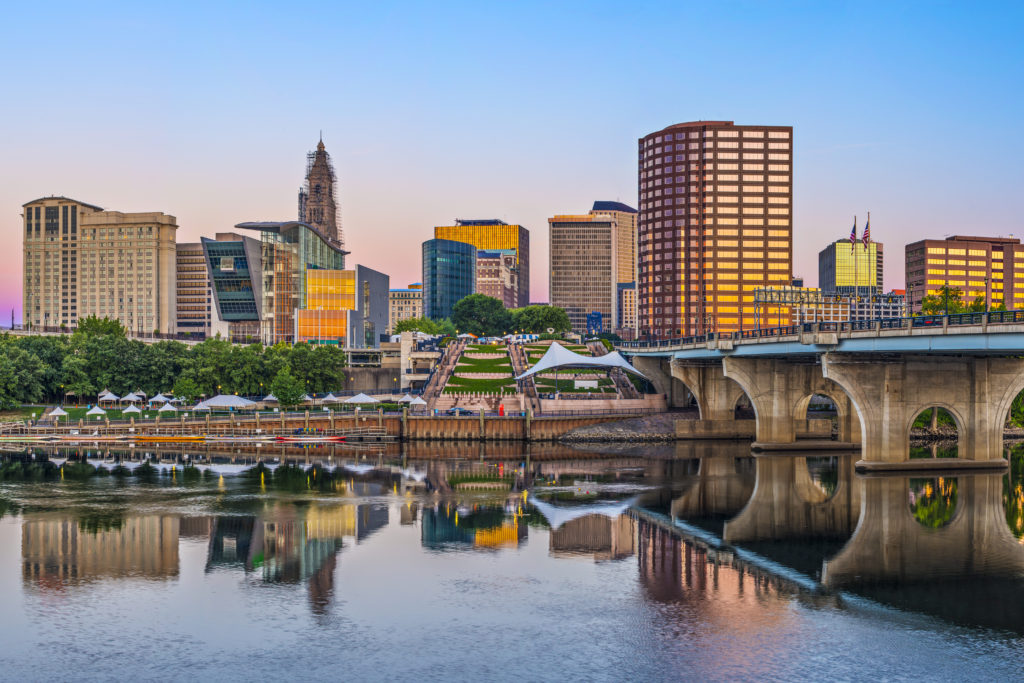 Population: 121,203
Unemployment: 10.8%
Average Housing Price: $140,666
The slogan of the next city in our list of the Northeast's best down is "Hartford Has It" and after looking into it for ourselves, we discovered that most certainly is the case. Not only is Hartford the capital of Connecticut and home to the Mark Twain House & Museum and The Harriet Beecher Stowe Center, downtown Hartford is rich with shopping, dining, and recreational opportunities, especially in and around the Pratt Street Historic District.
Visit the area and take your pick from farmers markets, live music, shopping, and dining, like almost nowhere else in the region. For that indie bookstore experience, we recommend The Key Bookstore, specializing in Afrofuturist literature. There's also Hartford Prints!, a family-run paper goods store. After that, we recommend browsing The Wadsworth Atheneum, home to one of America's largest art collections.
As far as the best places to eat in Hartford, we suggest Black-Eyed Sally's Southern Kitchen & Bar, a local-favorite serving some of the best southern food in the entire northeast. According to one report, Black-Eyed Sally's serves the best cornbread they ever had.
We also suggest trying Trumbull Kitchen for a hip atmosphere and amazing food, especially the buttermilk bread-crusted chicken. There's also a long list of great places to stay in Hartford after a long day exploring the city. For starters, we like the centrally-located Goodwin Hotel, offering a boutique experience in the heart of the city.
9) Rochester, NY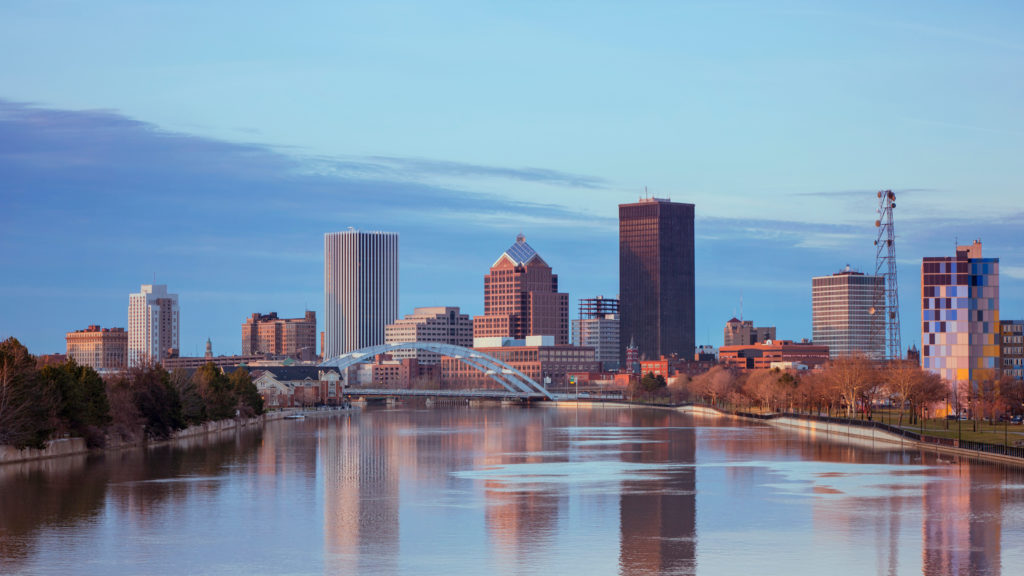 Population: 205,077
Unemployment: 5.7%
Average Housing Price: $193,052
Located in the Finger Lakes region of New York state, Rochester, NY is making a strong comeback recently from Kodak's declining relevance. Headquartered in Rochester, Kodak was once a brand synonymous with the film and camera industry. That revival means Rochester does have a downtown worth visiting, full of special events, shopping, dining, and unique and unforgettable places to stay. Furthermore, there's a long list of special events and arts and cultural offerings on display in the city.
To get your fill of retail therapy, we recommend an area of Rochester called "The Avenues," full of boutique, mom 'n' pop businesses, restaurants, and galleries. There's also the Rochester Public Market, a century old establishment full of vendors selling unique items, fresh food, and exotic delicacies.
Other things to do in and around downtown Rochester include visiting the Eastman Museum and Mansion, or the Memorial Art Gallery on the campus of the University of Rochester. The best places to eat in Rochester include TRATA: The Restaurant At The Armory, with an awesome rooftop bar offering great views of the downtown core.
We also like Jines Restaurant, a Greek diner with sidewalk seating, an all-day breakfast menu, and brunch on Sundays. For a unique lodging experience, try The Strathallan Rochester Hotel & Spa, with another rooftop bar from which to take in the sights, as well as great food and atmosphere.
10) Burlington, VT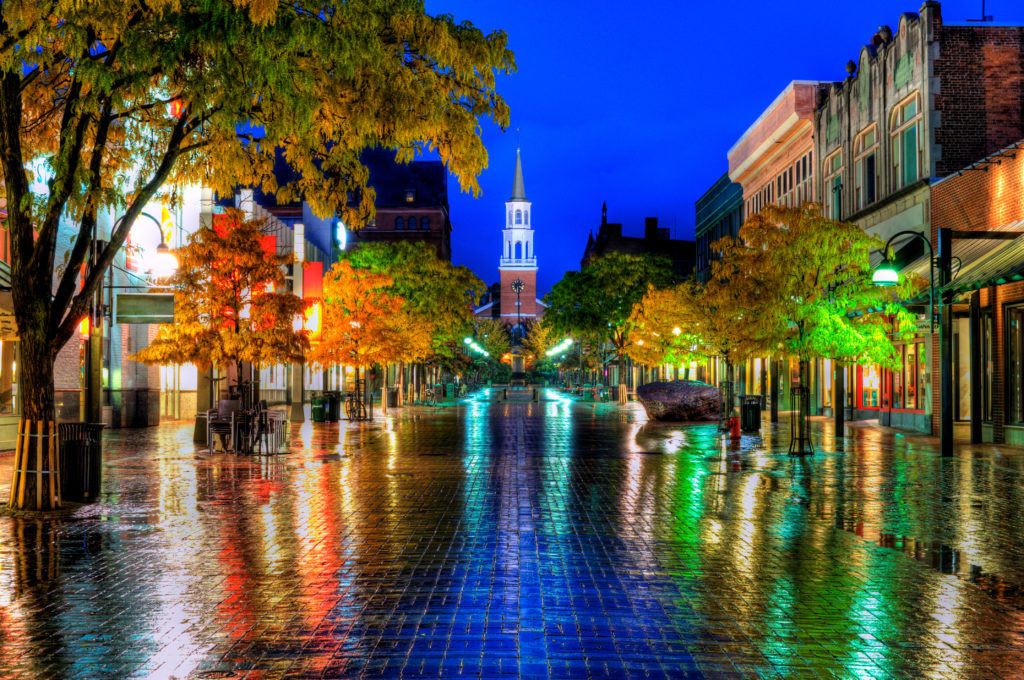 Population: 43,063
Unemployment: 2.2%
Average Housing Price: $409,344
On the shores of Lake Champlain, Burlington, VT is better known as the home of the popular politician Bernie Sanders, or possibly the jam band Phish. Turns out, this town of only about 43,000 people also has a great downtown. The core of Burlington offers excellent shopping, dining, and special events, with lots of awesome places to live and even better room to explore.
What caught our attention about downtown Burlington were shops like Persnickety Books and Main Street Vinyl. There's also Brothers Vintage Toys and Games. With a long list of special attractions, 4th Fridays are an especially good time to visit the area. Or instead, check out a performance at The Paramount Theater, or listen to music at the Nectar's Restaurant and Live Music Venue.
Among the abundance of places to stay in Burlington, we like the centrally located Lang House on Main Street, a charming bed and breakfast in a restored Queen Anne home. Or for something on a grander scale, try the well-reviewed Hilton Burlington Lake Champlain.
With unmatched views of the water and comfortable accommodations, Hilton Burlington is perhaps the best home base for exploring everything that Burlington has to offer. It's close to downtown, the university, and the airport. And when it's time to eat, try American Flatbread Burlington Hearth, known for a great atmosphere and an outdoor courtyard.
11) Chelsea, NY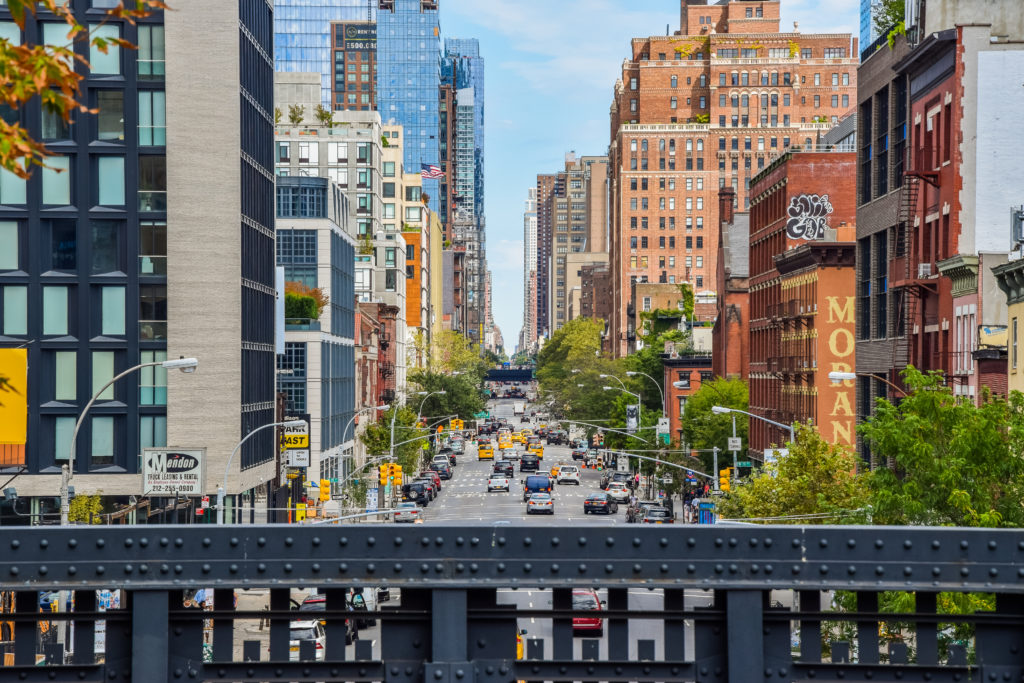 Population: 46,244
Unemployment: 11.2%
Average Housing Price: $974,643
Not so much a town in its own right but a district of Manhattan, Chelsea, NY has maintained a neighborhood feel in the midst of America's largest city. A center for nightlife and culture, visitors to Chelsea find a vibrant food scene with art galleries and plenty of shopping. All with notably less pretension and a somewhat more easy going lifestyle than what many expect from elsewhere in the Big Apple.
Great ways to experience "downtown" Chelsea include the Chelsea and West Village Dessert Tour and the Chelsea Contemporary Art Tour. For shopping, we recommend Chelsea Market, full of retailers and food purveyors of every variety, all in one spot.
While in Chelsea, visitors find everything from cheesemongers to hot sauce, and from national chains like Anthropologie or Posman Books, a Northeast chain of specialty book shops. After a long day exploring the district, we suggest resting your head in any number of unique hotels around the neighborhood, including the Selina Chelsea New York City, or the Made Hotel.
If you didn't find enough to eat at Chelsea Market, you'll have no trouble finding great dinner spots like Westville Chelsea, serving great brunch options like Greek salami and French toast.
12) Lee, NH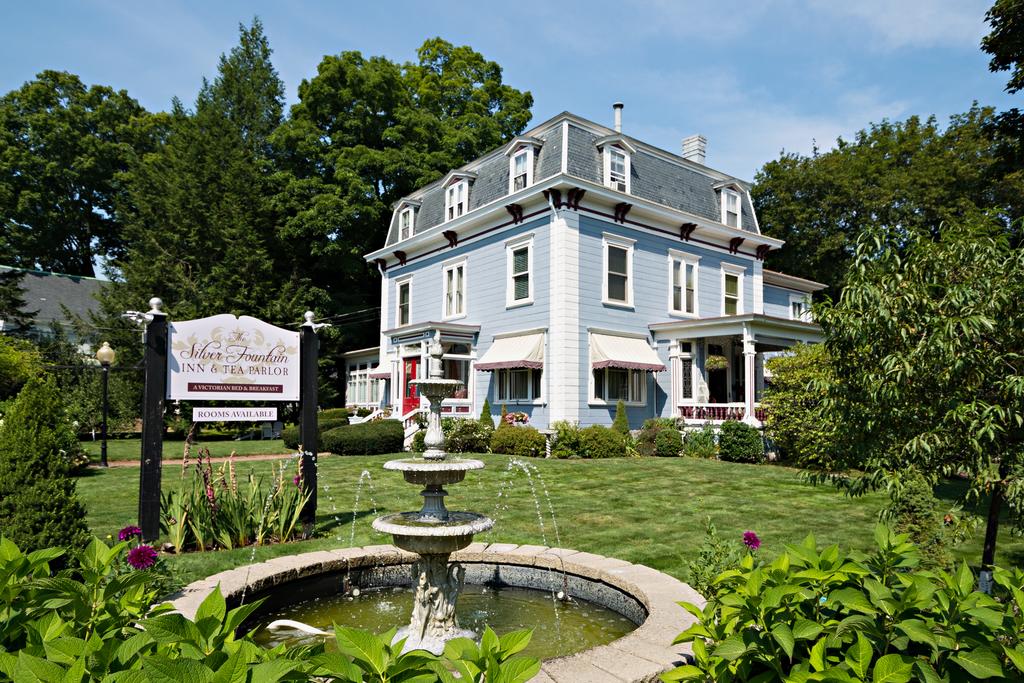 Population: 4,485
Unemployment: 3.0%
Average Housing Price: $436,834
Lee, NH is the next stop in our tour of the Northeast's nicest downtowns. With a population of only about 4,500 people, Lee is about an hour outside Boston. The historic downtown area has all sorts of things to offer visitors, from great museums in and around Lee to boutique shopping in the scenic downtown core.
This small town is, in fact, part of what's called Antique Alley, running along Route 4 from Chichester, where veteran pickers can find vintage books, decor, and other collectibles to choose from. Offering a rural, small-town feel like stepping back in time, what Lee lacks in nightlife can be found in nearby Durham.
We recommend staying in Dover, in fact, which is only about a 20-minute drive away from Lee in the beautiful Silver Fountain Inn & Tea Parlor, hosting festive events over the holidays and themed dinner theater.
13) Cambridgeport, Cambridge, MA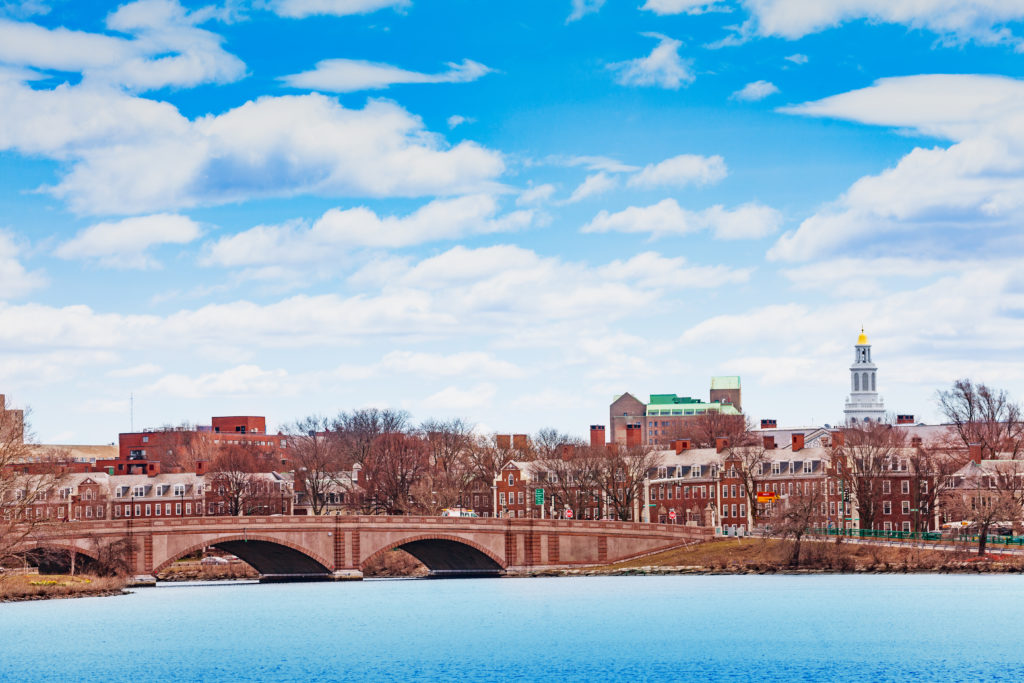 Population: 12,501
Unemployment: 3.4%
Average Housing Price: $947.084
Less a town than a neighborhood, Cambridgeport is an area of Cambridge, MA, which is itself in the greater Boston Metropolitan Area. The district is known for an excellent school system and many high-paying jobs. As a result, there are all sorts of great things for visitors to do in Cambridgeport and beyond.
That list includes a number of great museums, like the nearby MIT Museum, the Harvard Museum of Natural History, and the Longfellow House, Washington's Headquarters National Historic Site. For shopping and nightlife, visitors flock to Harvard Square, full of bookstores, boutique shops, and restaurants with that college town flavor. Or instead, head over to Cambridge's Central Square.
There's no shortage of things to do and discover in the Cambridgeport neighborhood itself, however. For lodging and accommodation, we like Le Méridien Boston Cambridge, conveniently located and modernly appointed. For dining in Cambridgeport and West Cambridge, we recommend the highly-regarded Gran Gusto Trattoria, known for Italian food, like pizza and paccheri with a short rib ragu.
14) East Greenwich, RI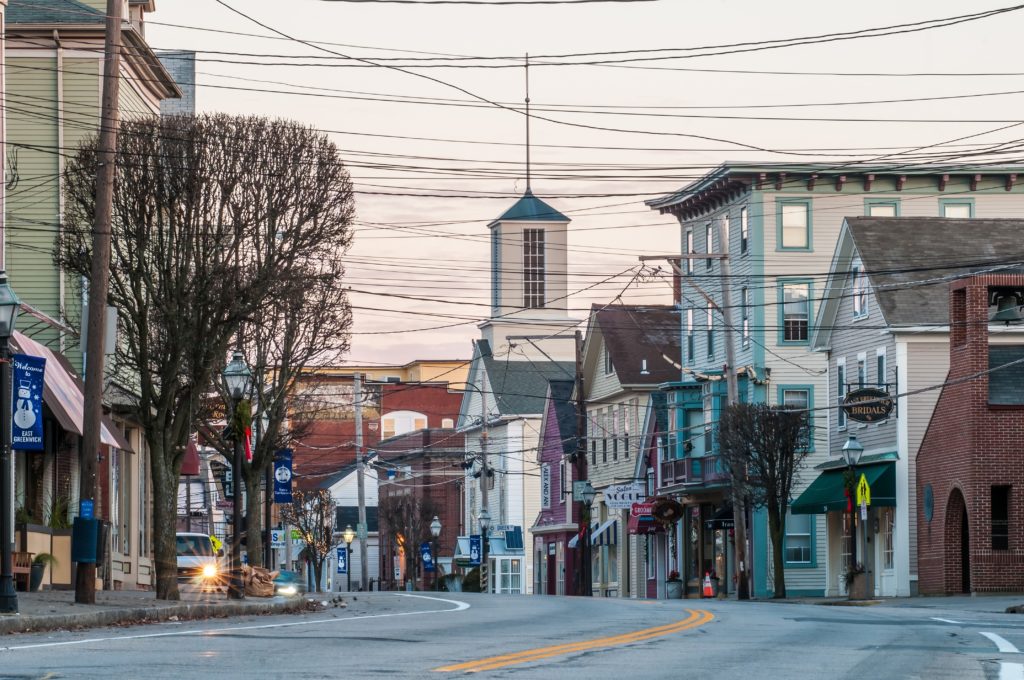 Population: 13,132
Unemployment: 5.7%
Average Housing Price: $595.637
Widely considered one of the best places in Rhode Island to live, East Greenwich is up next in our ranking of the nicest downtowns of the Northeast. Smack dab in the center of the state, downtown East Greenwich, a town of about thirteen thousand people, is anchored by a thriving main street with an abundance of small, locally-owned shops, and charming eateries.
Shop for furniture at the White Elephant, or update your wardrobe at Therapy Boutique. While downtown, pamper yourself at Shimmer Salon and Day Spa, or refresh yourself at LineSider Brewing Company, with lots of open space, great atmosphere and plenty of brews on tap.
East Greenwich is also a great place for art lovers, with all sorts of galleries to browse. Begin at YJ Contemporary Fine Art, the largest contemporary art gallery in the entire state, and then make your way to the Third Rock Emporium for unique carvings, statues, and gifts.
After a long day shopping, relax at the Shimmer Salon and Day Spa. For lodging, we like the nearby Nylo Providence Hotel, Providence Collection. And when in Rhode Island, it's best to eat seafood. We recommend Finn's Harborside, with great service, atmosphere, and cuisine — especially the lobster, we found out.
15) Kennebunkport, ME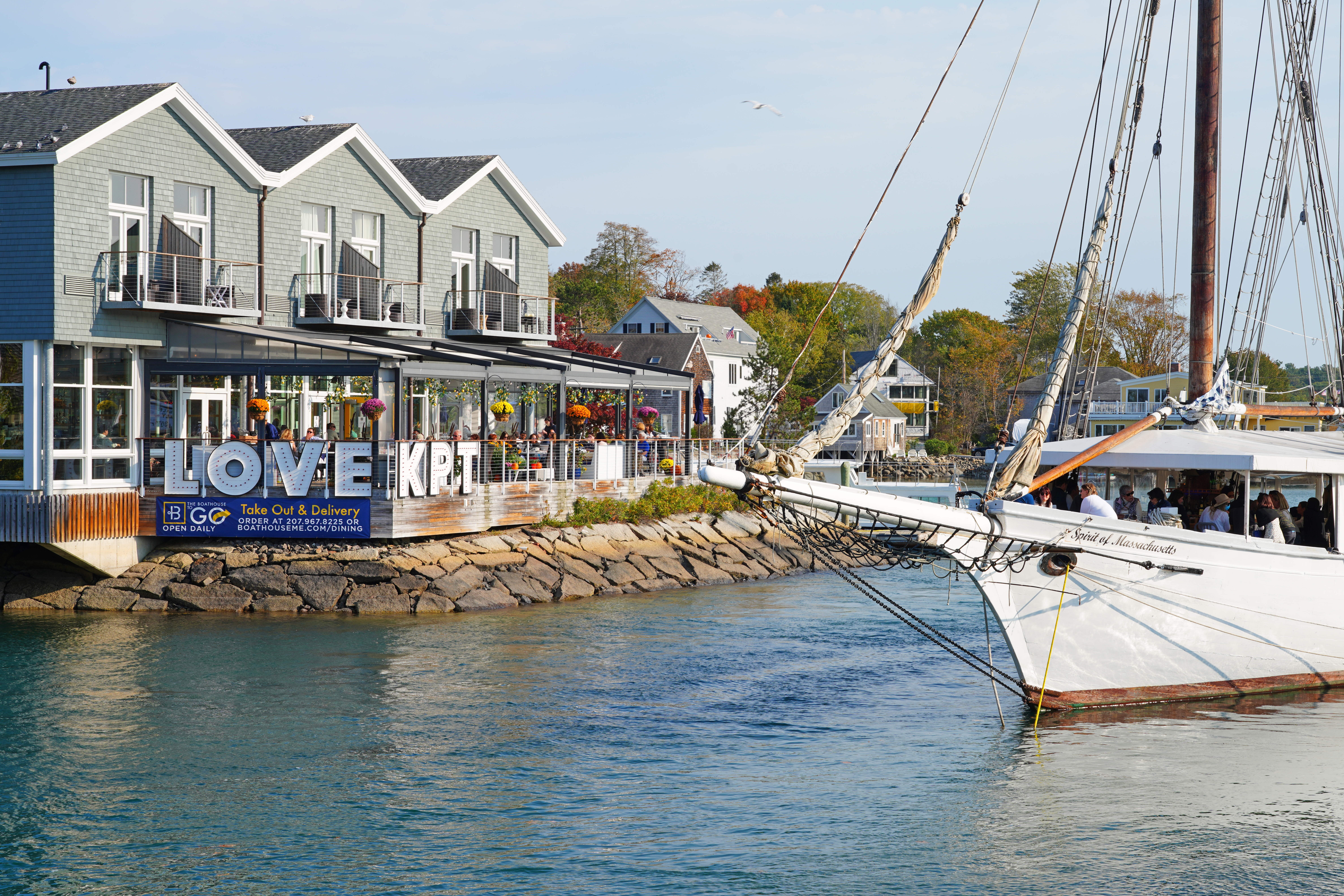 Population: 3,689
Unemployment: 5.8%
Average Housing Price: $505,948
There are any number of reasons the charming and quaint seaside village of Kennebunkport, ME should be considered among the best downtown of the Northeast. For shopping, there are primarily two areas to check out: Dock Square, with any number of great boutique art galleries and shopping options. But for the full Maine experience, we like PJ's Unique Boutique, Dock Square Clothiers, and Pink and Green Tangerine.
After a long day shopping, refresh yourself with a glass of wine at Down East Wines. After exploring Dock Square, head out to Ocean Avenue. There you'll find a whole host of new experiences with DayTrip Society, selling loads of hip, Maine-themed gifts and apparel. Or instead, Home Ingredient, with an amazing selection of decor, gifts, and novelties offering fun local flavor — silicone lobster bottle opener, anyone?
Elsewhere in downtown Kennebunkport, there are frequent craft and farmer's markets, with ladies and men's clothing shops, and more. When it's time to eat there's Allison's Restaurant and Pub, with some of the best lobster in all of New England, according to reports. To rest and recharge, head straight for The Colony Hotel, with great views and access to a private beach.
16) West Hartford, CT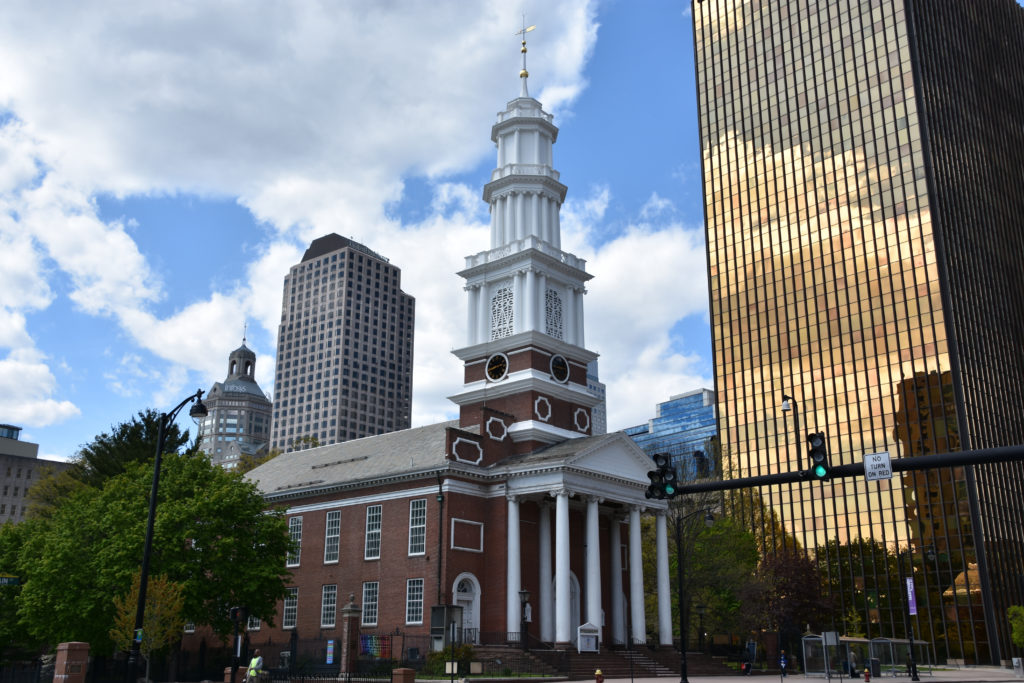 Population: 63,063
Unemployment: 6.9%
Average Housing Price: $379,000
Located just five miles from downtown Hartford, West Hartford, CT, with a population of about 63,000 people is one of the larger towns in our list. But although West Hartford is in a relatively populated metro area, it's managed to maintain the classic feel of a small town. There's a rich and vibrant main street buoyed by West Hartford Center, full of shopping, dining, and other services and events.
For clothes shopping in West Hartford, there's Daswani Clothiers, a men's clothing store mixing classic style with modern looks. There's also Hope & Stetson, with both men and women's fashion. As well as shopping, the Center has all sorts of other events and attractions, with no shortage of great places to eat.
For coffee, there's Cafe Sofia. And when in the northeast, always try the oysters. West Hartford Center has Max's Oyster Bar, putting a modern twist on classic American seafood with very good service. The calamari salad with the seafood high-rise tray is particularly delicious.
West Hartford is also rich with lodging, offering historic charm with modern luxury. Namely, there's the Delamar West Hartford, a delightful stay with plenty of shopping and dining within walking distance.
17) Bar Harbor, ME
Population: 5,611
Unemployment: 7.0%
Average Housing Price: $438,876
In addition to having a great downtown, Bar Harbor, ME is known as the gateway to Acadia National Park. Located on Mount Desert Island along Maine's Frenchman Bay, this quaint seaside village even has a fully-narrated tour of the town's core and nearby landmarks, among other locales.
When not exploring the rich abundance of natural attractions in the area, downtown Bar Harbor offers great shopping, dining, and lodging. Such as My Darling Maine, a gift shop and clothing boutique, or drop in to The Acadia Shop for gifts and collectibles.
After spending the day strolling the streets of Bar Harbor, try the wine at House Wine on Main Street, which is also a gift shop. Or for beer, head to the Atlantic Brewing Company, located just 10 minutes from the downtown core. There's no shortage of unforgettable places to stay in Bar Harbor, from hotels and motels to camping and cottages as well as any number of charming bed and breakfasts to choose from.
For something fancy, try the Bar Harbor Grand Hotel, within walking distance of everything Bar Harbor has going for it. For dinner, we recommend the Side Street Cafe, known for an excellent lobster mac 'n' cheese.
18) Durham/Madbury, NH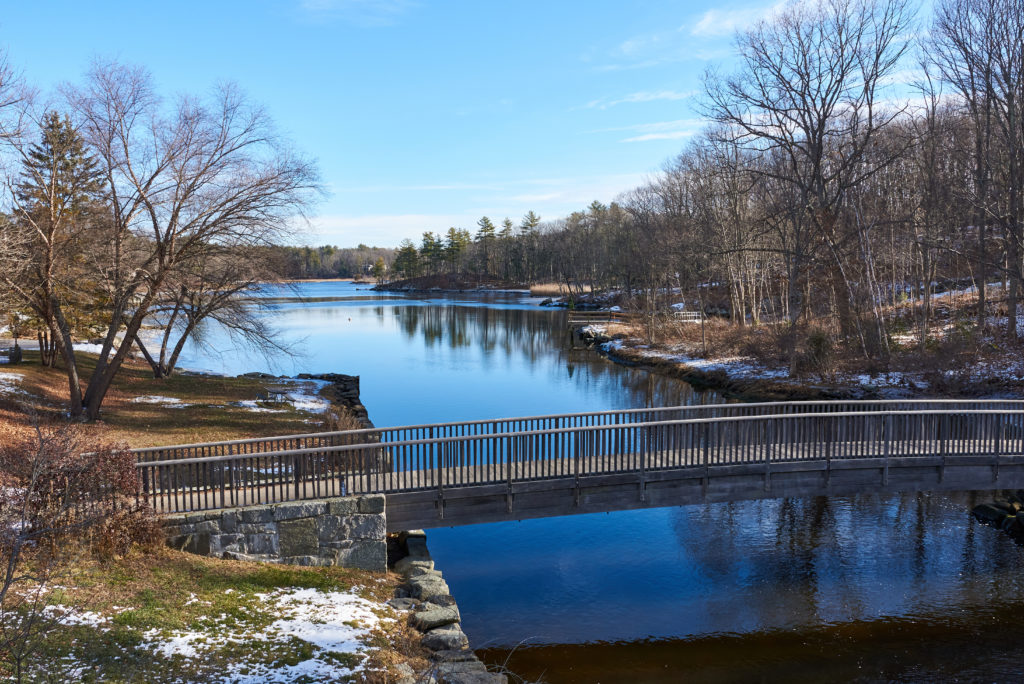 Population: 1,901/16,259 (Metro)
Unemployment: 2.9%
Average Housing Price: $505,550
Part of the greater Durham, NH metropolitan area, home to the University of New Hampshire, Madbury is frequently considered one of New Hampshire's best places to live. The central core of the Madbury area has, in fact, been anchored by off-campus student housing for UNH, and wherever college students live, a great atmosphere tends to follow.
Visitors explore the Madbury area, or instead, travel to downtown Durham, finding there's lots to do for all ages. But what might be most notable about the Madbury, though, are natural attractions, along with special events just a short drive away.
There's live music at Stone Church in nearby Newmarket, also offering craft beer. For food in and around Madbury, we recommend Cartelli's North End, serving Italian food, pizza and brews. The Mediterranean salad topped with artichoke hearts, roasted peppers, and goat cheese is especially popular.
Or instead, try the Sassy Biscuit, known for serving biscuit-centric brunches with excellent flavor, fantastic decor, and awesome atmosphere. For places to stay in the great Madbury-Durham area, we like the Three Chimneys Inn & Frost Sawyer Tavern, an older, cozy and comfortable place providing the magical feel New England is known for, with a restaurant and bar to serve you.
19) Longmeadow, MA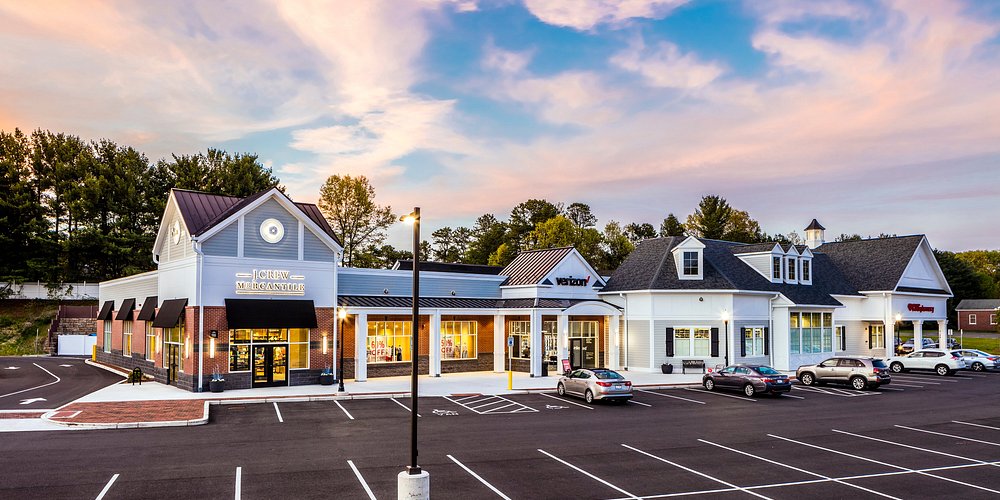 Population: 15,791
Unemployment: 8.5%
Average Housing Price: $421,798
The library at Princeton University is made from brownstone mined at Longmeadow, MA, the next stop in our ranking of the nicest downtowns in the Northeast. Longmeadow is a suburb of Springfield, MA, and anchoring the central core in this town of about 16,000 residents are The Longmeadow Shops.
This 9-acre "lifestyle center" in the scenic and historic town, commonly considered one of the best places to live in the entire region, is full of shopping, both national and local, as well as cafes and restaurants. There's even a luxury salon spa.
People from all over the area, including Northern Connecticut, flock to Longmeadow to enjoy their afternoon, and when they're done, find themselves at Max Burger, with excellent service and specialties like the Maple Whiskey burger.
Locals also love Iron Chef Asian Cuisine, a family-owned neighborhood staple with great sushi and atmosphere. For lodging in and around Longmeadow, we like Valentine Mansion, an 18th century Colonial Revival Style mansion built in 1877 that's on the National Registry of Historic Places.
20) Cape Elizabeth, ME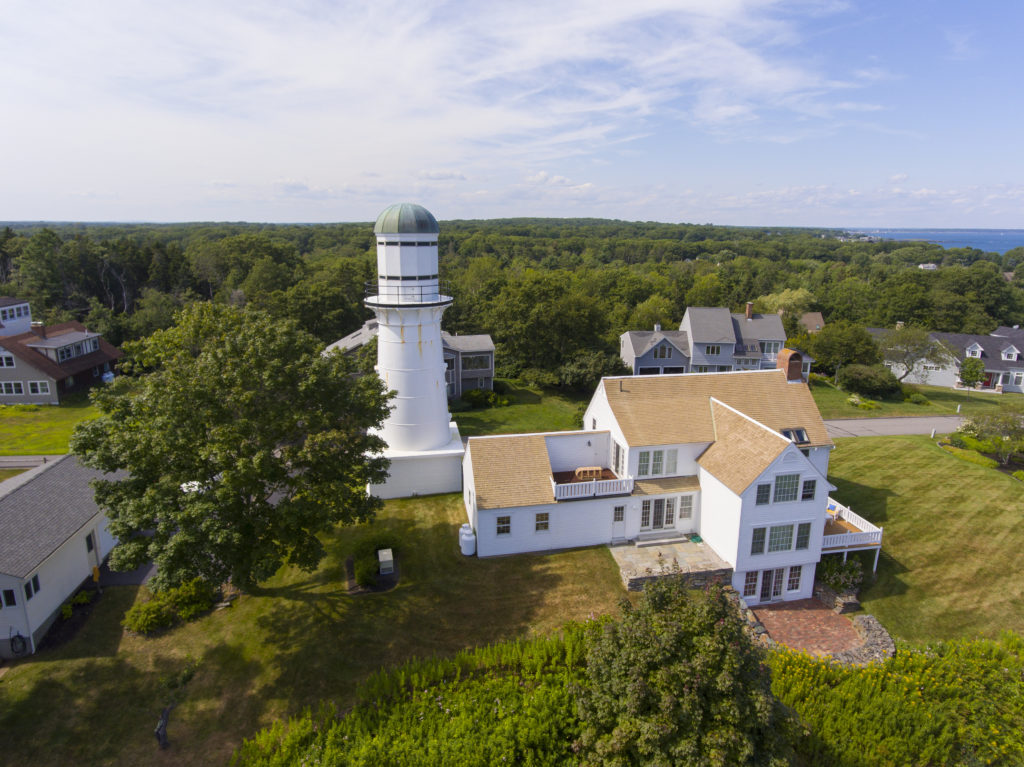 Population: 9,235
Unemployment: 3.2%
Average Housing Price: $717,436
Part of the Portland, ME metropolitan area, Cape Elizabeth, ME is home to the picturesque Fort Williams State Park and the Portland Head Light, an historic lighthouse built in the 1790s. As well as an abundance of natural scenery, Cape Elizabeth also boasts a rich downtown area and main street full of locally owned boutiques, restaurants and cafes, special event spaces, and a whole lot more.
For shopping, we like Off the Wall Antiques and the Unusual, selling any number of must-have curios and other surprising discoveries. For lodging, there's Inn by the Sea, located on the water but also moments away from everything Cape Elizabeth and downtown Portland have to offer.
In this hidden gem along the coast of southern Maine, guests can expect spectacular grounds, great amenities, tremendous food, and friendly service. For sustenance in the Cap Elizabeth area, there's the Lobster Shack at Two Lights, serving excellent ocean bunty with views of the water and lighthouse. There's also The Good Table, serving American classics with a Northeastern twist.
21) Hanover, NH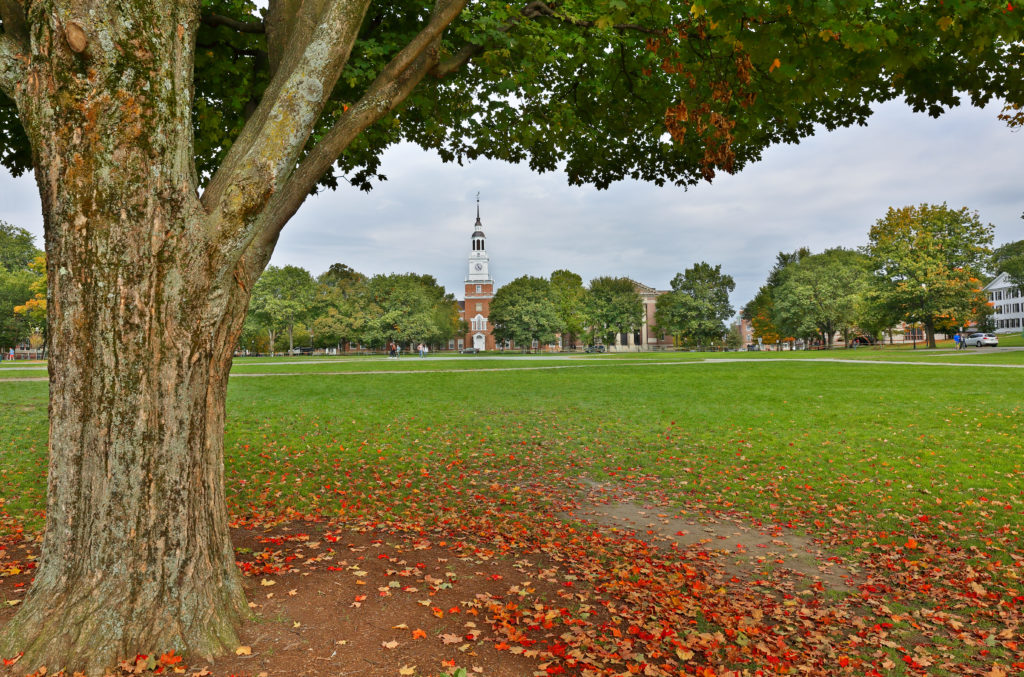 Population: 11,429
Unemployment: 2.9%
Average Housing Price: $742,596
Home to historic Dartmouth College, Hanover, NH is the next stop in our ranking of the nicest downtowns in the northeast. Frequently listed among America's best college towns, Hanover boasts only about 11,000 residents. Resting on the banks of the Connecticut River, it was founded all the way back in the 1760s.
The highlight of downtown Hanover is without a doubt the main street area, with a long list of restaurants to try and businesses to explore. There's local and unique options, as well as well-known national chains you may already be familiar with. Starbucks break, anyone? Or explore the natural area around Hanover with some new gear from North Face?
For local shopping, though, we like Juliana's Boutique, selling women's clothing and accessories. There's also the Dartmouth Co-Op for all your college apparel, and Farmhouse Pottery for local artisan flavor, selling apparel, gifts, and home and kitchen decor.
After you're all shopped-out, catch a show at Nugget Theaters, or enlighten your mind at Left Bank Books, enjoying a nice cup of coffee or baked treat from Dirt Cowboy Café, just downstairs from the bookstore. When it's time to eat in Hanover, there's Molly's Restaurant and Bar, said by many to have the best food in the area, like pizza, poutine, burgers, and salad with strong drinks as well.
For lodging, we like the historic Hanover Inn Dartmouth. With updated interiors, Hanover Inn is only steps away from the Appalachian Trail. And in the winter months, don't miss skiing at Whaleback Mountain, less than 10 miles away from the Inn.
22) Naragansett-South Kingstown, RI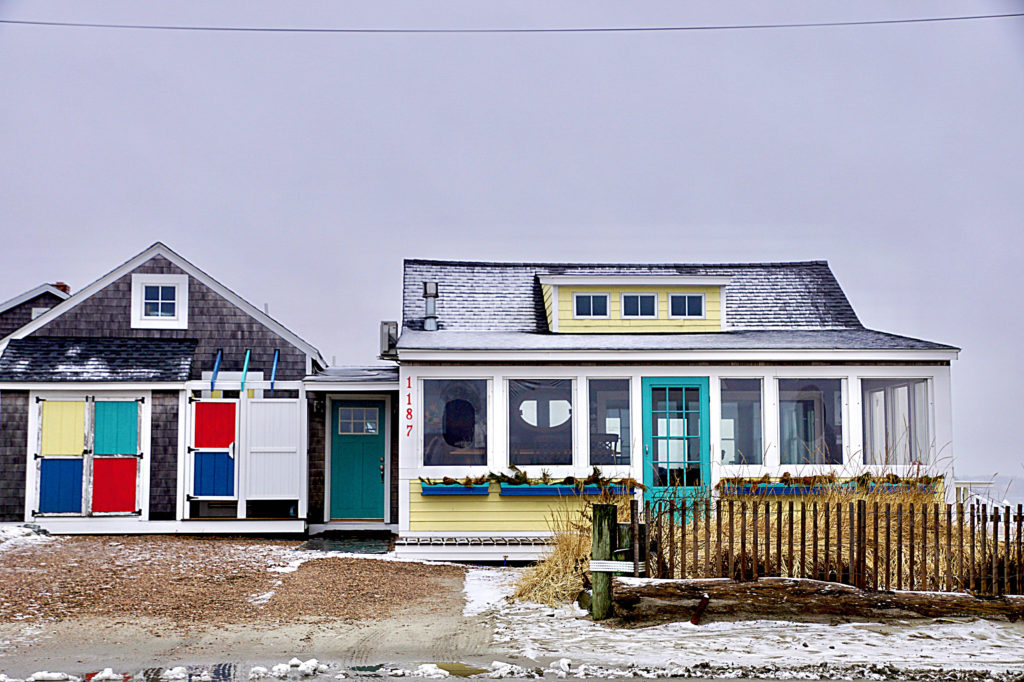 Population: 29,764
Unemployment: 3.6%
Average Housing Price: $544,000
South Kingstown, RI made our list of nicest downtowns on the strength of scenic ocean views and a bustling downtown. This oceanside town is in the great Providence Metropolitan Area, offering plenty to do both in town and on the water.
In the commercial area of town known as Wakefield, visitors find a vibrant main street experience. With the University of Rhode Island nearby, Wakefield offers locally-owned clothing boutiques, jewelry and gift shops, and art and antique stores.
Specifically, we like Elle G, and The Purple Cow Co., voted the best gift shop in the South County area by RI Monthly. There's also Boon Street and Narragansett Pier in the area, with no shortage of local attractions to explore. Try Crosswynds Traders, selling men, women, and children's clothing accessories and beachwear.
There's also One Way Gallery on Boon Street, displaying contemporary art with a gift shop. For the best places to stay in the South Kingstown-Narragansett area, we recommend The Break Hotel, offering 16-rooms of boutique lodging with ocean views and retro ambience. The area also has no shortage of great places to eat, such as the TwoTen Oyster Bar & Grill, with amazing food and awesome service.
23) Putnam, CT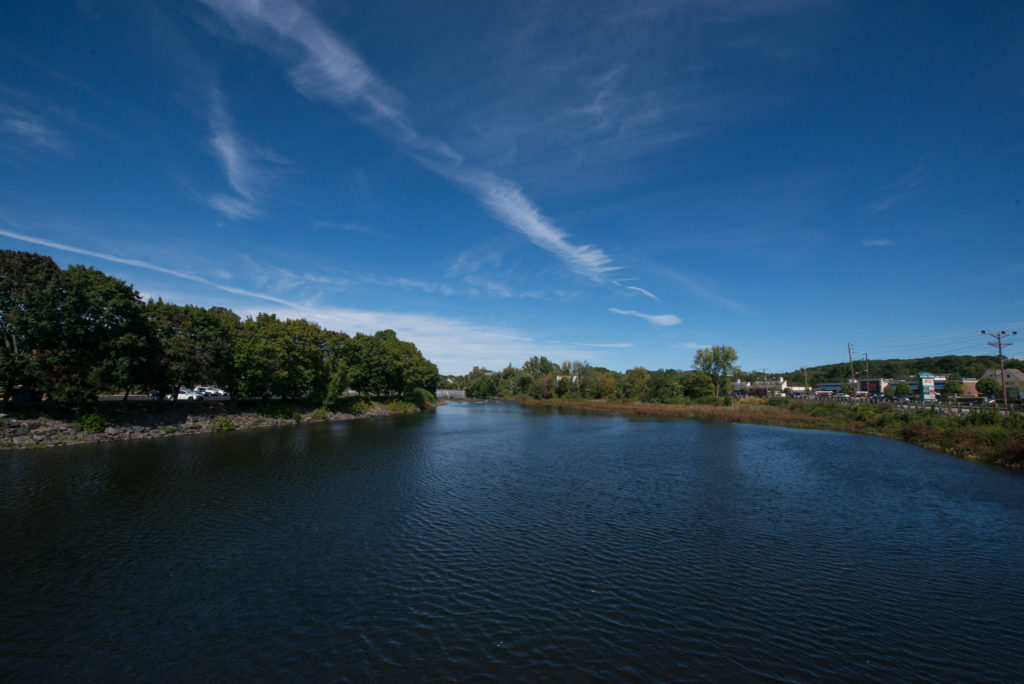 Population: 9,347
Unemployment: 8.6%
Average Housing Price: $255,339
An underrated little gem on the banks of the Quinebaug River is Putnam, CT, an idyllic town full of arts and outdoor opportunities for visitors. Charming downtown Putnam boasts a rich selection of unique shopping experiences, from Antiques Marketplace on Main Street, Putnam to Sawmill Pottery, with classes and workshops to choose from. There's also Block 134, a community arts and wellness center.
As far as food and drink in and around the charming Putnam area, we like Bear Hands Brewing Company on Main Street, serving locally made beer and a pub menu. There's also 85 Main serving lunch, dinner, and happy hour specials like a shaved steak sandwich with crumbled blue cheese, or a caprese salad with snipped basil.
After dinner, take in a show at The Bradley Playhouse, with live theater, comedy, and music. The autumn months are also a great time to visit Putnam, with great seasonal events like the Great Pumpkin Festival, a zombie fashion show, and an annual scarecrow contest, where local residents show-off their own unique scarecrow designs. Closer to the holidays, visitors experience the Dazzle Light Parade through downtown Putnam, with floats, music, and a seasonal light show.
Unique lodging opportunities in Putnam are a little limited, but not to worry. Nearby Sturbridge boasts the Publick House Historic Inn, with dining, accommodations and special event space with an historic Northeastern feel.