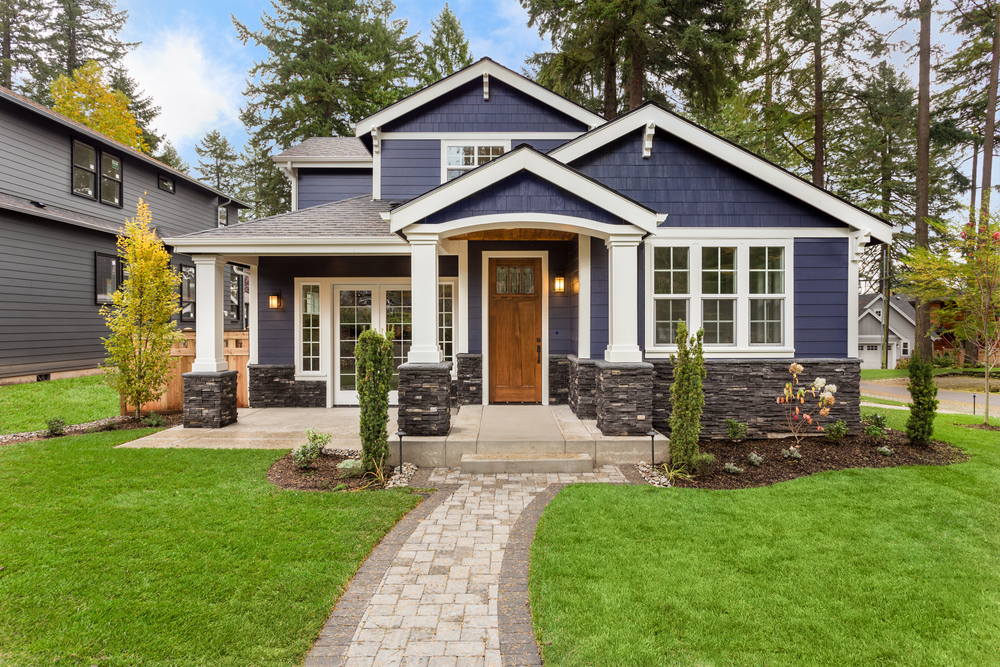 Home ownership is a pretty big decision, so you obviously want to consider all of your options first. You've probably also noticed just how competitive the housing market is these days. If you find your dream house on the market, there's a pretty good chance that dozens of others also think they've found their dream home. 
So wouldn't it just be easier to build your own home? Well, if you're looking for a home that checks off every box on your wish list, it might be preferable to design, contract out, and build your perfect dream house. But it might not necessarily be the most affordable option and certainly isn't the easiest way to get a new home.
Then again, the market for existing homes is about as expensive as it's ever been. According to MarketWatch "Rising home prices are the driving force behind worsening affordability. Home prices were up at least 10% for more than three-quarters of the counties studied. And across 90% of housing markets nationwide, price appreciation is outpacing wage growth."
In other words, whether you should buy or build a house depends on:
your budget
your priorities
the housing options available in the real estate market
building materials and construction costs
Is it better to build or buy a house? Before you make this very big decision, let's dig a little deeper on this question and look at the real estate industry. Consider these key dimensions before you decide whether to buy or build a new home. 
What is your budget for a new home?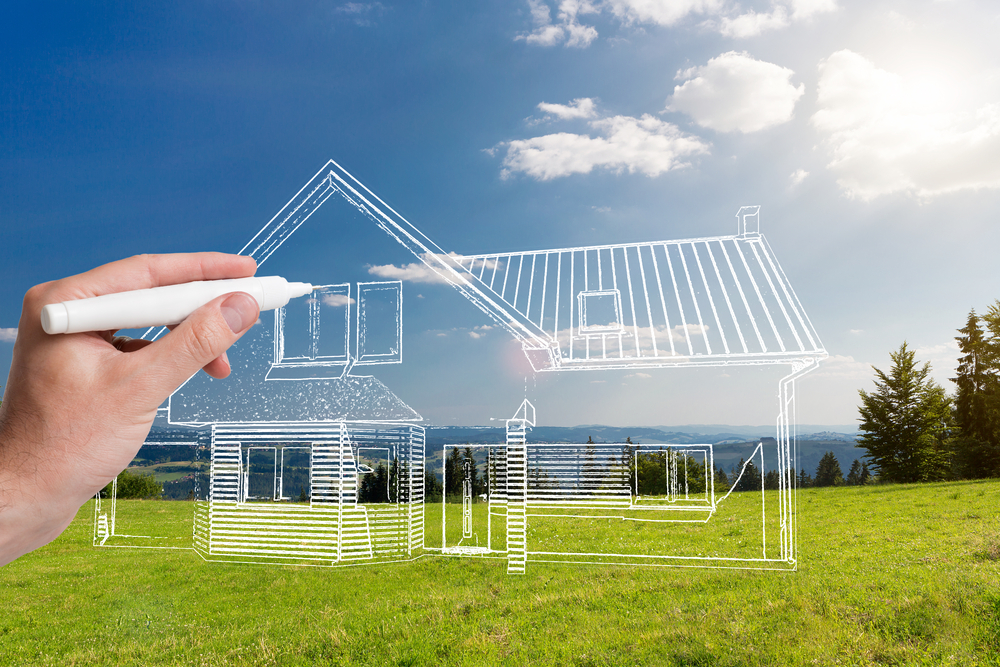 This is the first and most important question for should I buy or build a house. Cost can be a disqualifying factor for some would-be builders. Though the numbers may be deceiving at first, it is generally a great deal more expensive to build your own house than to buying existing homes.
Bankrate notes that "The median sales price of an existing home was $454,900 as of October 2022, according to the National Association of Realtors, while the average cost of building a house is $543,600."
Home Advisor estimates the cost of building a house in 2023 in a range of $111,105- $459, 455.
When it comes to a new build, there are numerous other costs that you must also tally into your consideration.  The potential price of building your home will ultimately include a large range of expenses unique to the home building process including:
permits
land use costs
mortgage interest rate
And of course, as a homebuilder, you can make a number of decisions about custom finishes, materials, and special features that can account for some elasticity in the potential price. These and other costs account for the discrepancy between the upfront cost of building a home and the actual price tag after all is said and done.
According to the National Association of Realtors, when all figures and costs are accounted for, the average cost for homeowners to buy an existing single-family home in December 2022 was $366,900, whereas the average cost to build a brand new home was more than $485,000. That's a pretty significant difference, one that can price out a significantly percentage of prospective home-builders.
If your housing budget is closer to $300K than $500K, you would likely be better served by purchasing an existing property rather than building your own. Naturally, if you are a skilled craft person with deep connections in your local lumber, concrete, or granite markets, or with an affordable in-road to otherwise costly home-building supplies, you may be able to save on both labor costs and materials. But this wouldn't likely change the overall calculus for those on the lower end of the budget spectrum.
The initial cost of building your new home tells only part of the story. And just like the cost of a house that already exists, that story can change from one region to the next, and from one zip code to the next. The cost of land and price per square foot is highly variable based on the desirability of a given locale and the scarcity of available acreage for building. But it is usually also true that desirable zip codes with limited land for building also offer higher-than-average mortgage rates as well.
No matter which option you choose, building a home vs buying, land has its own value that is a direct function of its surrounding region and community. This is something you must bear in mind as you consider any construction projects.
In addition to purchasing the land for your new home, clearing the land, and framing the parcel for your new home, which could cost anywhere from $25,000 to $200,000+ depending on the value of your land, Bankrate notes that you will also pay for:
Plumbing Installation
Electrical Wiring
HVAC
Foundation
Roofing
Windows
Exterior Painting
Bankrate estimates that these expenses could cost you anywhere from $42,000 to $108,000+. And none of this accounts for what is likely to be your biggest expense, which is the interior build and finishing. This, estimates Bankrate, could cost you anywhere from $50,000 to $175,000.
What is the outlook for your local housing market?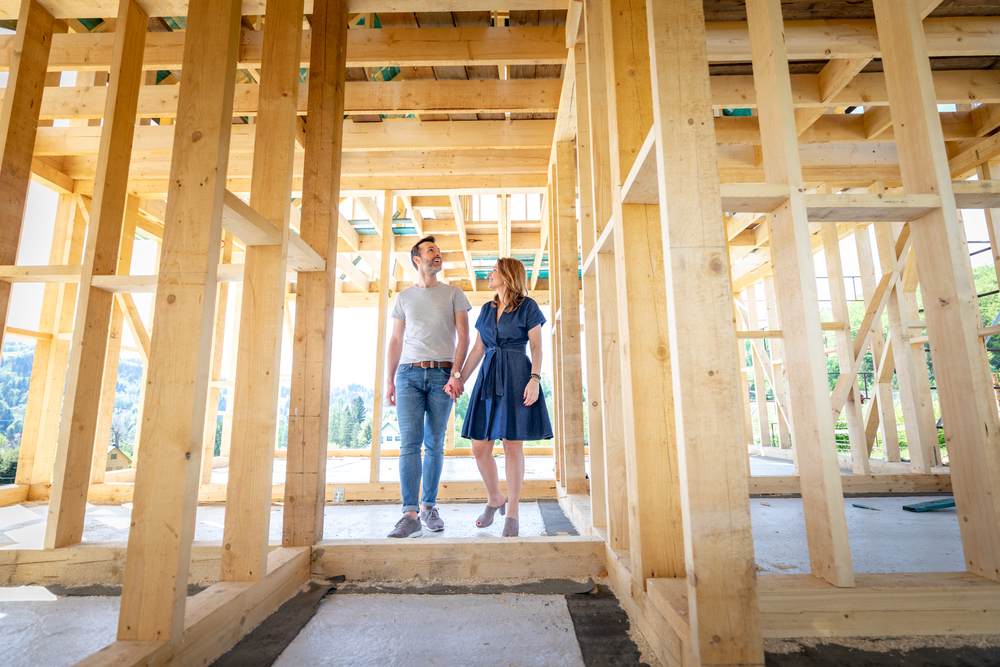 Note that what you can spend to build a new construction home is subject to some fairly wide price variations. There are several reasons for this. First, and most obviously, you have options when it comes to building materials. You can choose between:
oak and bamboo hardwood floors
traditional or stainless steel appliances
granite and marble kitchen countertops
You have a lot of options on materials, finishes, upgrades, floor plan, and custom details as well as landscaping. This gives you some power over your final cost.
But one thing you can't necessarily control is the set of costs specific to your housing market. In fact, the nature of the housing market you're considering may be a pretty big determinant for whether you build or buy. It goes without saying that unused land is more readily available in a rural community or an expanding suburban enclave than in a major metropolitan city. This can be a significant factor in shaping the cost of land, and perhaps even the feasibility of building the home you envision.
Bankrate notes that a parcel of land for a single-family home can go for as little as $3000 in a rural region with a great deal of open land. In a major urban center like Chicago or Philadelphia, a piece of land a fraction of that size could cost in excess of $150,000. In the latter contexts, the local markets might also impose far higher costs for basic supplies like lumber, sheetrock, and even the basic permits you'll need to build.
Naturally, home buying prices are typically also very high in contexts where home building is costly. But you should be aware, if you are considering undertaking new home construction, that your costs will be shaped significantly by where you intend to plant your roots.
Additional Home Buying Costs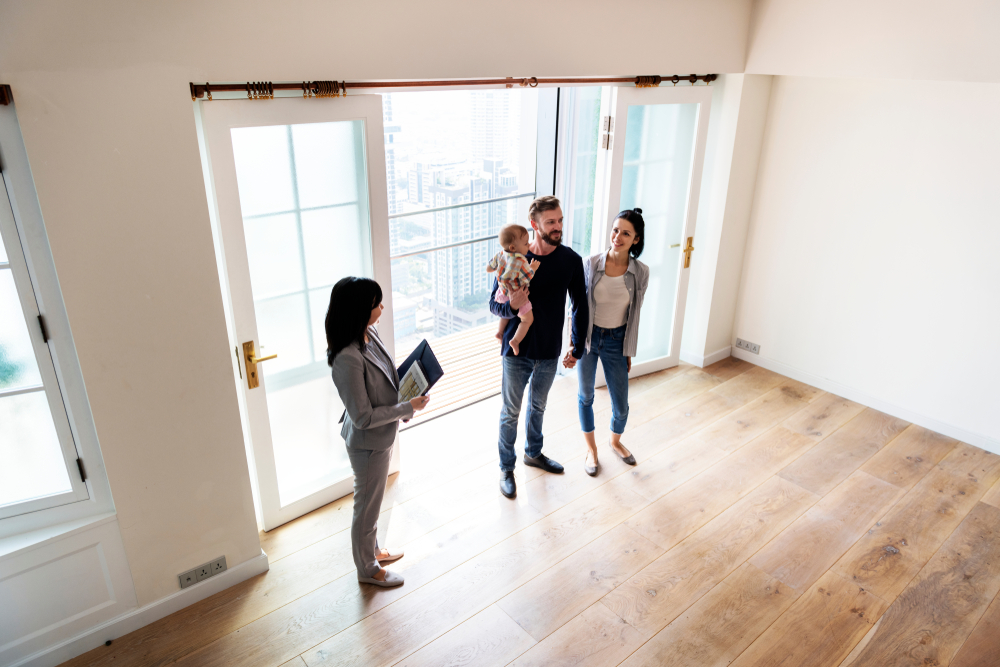 When thinking about is it better to build or buy a house, there are many things to think about. In addition to the purchase price of the home itself, there are several other costs to consider when buying a home and taking out a home loan. Some common additional costs include:
Closing costs: These include fees for services such as title search, appraisal, loan origination, and attorney fees. Closing costs typically range from 2% to 5% of the home's purchase price.
Down payment: This is the initial payment made towards the purchase of the home, typically ranging from 3% to 20% of the home's purchase price.
Home inspection: A home inspector will examine the property to ensure it is in good condition and identify any potential issues. The cost of a home inspection can range from $300 to $500.
It is important to budget for these additional costs when buying a home and to factor them into your overall financial plan. It is often cheaper for first-time homebuyers to buy an existing house than to build.
Using a real estate agent when buying or selling a home can have several benefits, but may be an additional cost.
Advantages of using a local real estate agent include:
Expertise: Agents have in-depth knowledge of the local real estate market, as well as experience with the buying and selling process.
Network: Agents have access to a network of other real estate professionals, including home inspectors, mortgage brokers, and contractors, who can help you through the process.
Negotiating skills: Agents are trained to negotiate on your behalf, which can help you get the best price for your home or secure a good deal when buying.
Time-saving: Agents can handle many of the administrative tasks involved in buying or selling a home, freeing up your time and reducing stress.
Bottom line, it is important to choose a reputable and experienced agent who aligns with your goals and can represent you effectively. Additionally, using an agent may also come with fees, which can increase the cost of buying or selling a home.
The Pros and Cons of Building Vs. Buying
Presuming that you meet the threshold not just for the initial build of your home but for those likely subsequent costs, you must next ask yourself what your top priorities are in your new home. Because if you can afford to build a custom home, there are actually a lot of advantages in doing so. In a seller's market, building can be especially appealing. But it can also come with its own unique challenges such as labor shortages, building codes and construction materials.
The Advantages of Building a New Home
If you're considering the purchase of a new home, it probably won't come as much of a surprise to hear that the housing market is red hot right now. Competition for single-family homes is fierce. The heightened demand for housing is bumping up against emerging supply issues. In fact, economists argue that, in light of this incongruity, we are living in a housing boom, as opposed to the housing bubble that exploded in our faces, sparking the Great Recession of 2007-2009. CNBC notes that "According to the National Association of Realtors, the U.S. has underbuilt its housing needs by at least 5.5 million units over the past 20 years. That's a stark comparison to the previous housing bubble in 2008 when overbuilding was the issue."
All of this is driving housing prices up to new heights. And experts forecast that competition will continue to be fierce, that housing prices will continue to rise, and that the market will remain extremely robust from a seller's standpoint. Buying a parcel of land and building your own home offers an alternative to the bidding wars and above-asking-price offers that characterize today's homebuyer market. And given the imbalance between supply and demand, building your own home puts you in a position to add to the supply of available homes without further inflating the demand.
Reduce Your Long-Term Maintenance Costs
When you buy a home, you buy its history. That history may include an aging roof, a few kitchen appliances on their last legs, a hot water heater from the 1980s, and decades of do-it-yourself home projects and patch-ups long ago completed by a former occupant with something less than expert precision.
When you build a home, there are no mysteries, no impending repairs, no giant renovations on the immediate horizon, and no massively expensive replacement projects lurking in the not-too-distant future. There are no lead paint fiascos. Bankrate notes that "Homes built after 2010 have operating costs equal to around 3 percent of the home's value, while the operating costs on homes built before 1960 are more than 6 percent, according to the NAHB."
Newer homes equals cost savings in the short-term as you avoid the kinds of unpredictable but inevitable needs facing most buyers during those first few years of home ownership, and it leads to cost-savings in the long run as you outfit your house with the newest and most sustainable materials. You can live in better energy efficiency homes.
Make Cost-Saving Decisions
When you build a new home, you can take advantage of the countless innovations in homebuilding that lead to more sustainable energy use today. With new construction, you can use:
energy-efficient materials to build self-heating floors
install double-pane windows with top-of-market insulation
draw energy from solar roof panels
use only EnergyStar laundry and kitchen appliances
In addition to paying lower rates on your heating, gas, water, and electricity bills and reducing the carbon footprint of your home with energy efficient materials, your home will likely be more comfortable. Get control over the climate in your home while contributing to the fight against global climate change.
Home Advisor
To learn more, you can jump to our look at 5 Ways to Save Money and Help the Environment.
Customize To Your Needs and Wants
While practical considerations must take top billing in the search for a new home, there's also a personal element to home ownership. Of course, you're looking for a home that fits your needs, from size and location to cost and amenities, floor plan and interior finishes. But you're also looking for a home that fits your lifestyle, personality and ambitions.
When you build your own home, you have the power to design it around the life you lead and the life you hope to lead. Sometimes, buying an older home can feel a bit like shoehorning your existing lifestyle into a new package. The fit isn't always perfect. Some adjustments may be required. When you build a home, you're in the position to construct a package that fits your life from floor to ceiling, wall to wall.
Outfit With Modern Amenities
It's also a lot easier to add in all the modern bells and whistles when you're working with a brand new house. With a new home, you can build in smart-home technology including keyless entry, automated temperature control, home security cameras, a stereo system wired throughout your house, and a host of other features that, while not necessarily required, can make life more convenient and possibly a little more fun. A brand new home is inherently more readily accessorized with the coolest gadgets and the most advanced technology for modern living. Certainly, these are enhancements that can be made to an existing home, but this implies additional expenses beyond the purchase amount. In other words, add it to the list of projects for your home. With new construction, you can make these enhancements before you move in.
The Disadvantages of Building a New Home
The Waiting is the Hardest Part
Of course, building a home is not all cool gadgets and stainless steel appliances. There's also a lot of hard work and time that goes into building a new home. Obviously, building your dream home doesn't happen overnight, but the difference in timeline between buying and building can be pretty significant. According to Rocket Mortgage, the average homebuyer will move into their existing home in as little as 45 days. By contrast, the average wait time for inhabiting your newly built home is something closer to 7 months. And that figure assumes that everything goes perfectly according to plan during the construction process—which is rarely the case. Consistently bad weather, natural disasters and workplace accidents do happen, and all of these incidents can tack time on to the process. And this is to say nothing of the supply chain problems that have riddled the world of construction since the onset of the COVID-19 pandemic. Delays in shipping and shortages in materials have become commonplace, and all of these occurrences can seriously stall the homebuilding process. Be prepared to wait the better part of a year before spending your first night under a new roof.
Supply Chain Issues Lead to Unpredictability
Speaking of the global supply chain, materials don't just take longer to get to you. They also cost a lot more these days, with supply and demand incongruities causing unpredictable spikes in pricing. When you buy an existing house, you aren't paying a premium on the lumber that was used to build it all those years ago. By contrast, realtor.com says that "according to the National Association of Home Builders, the pandemic's disruption of supply chains has caused lumber costs to triple over the past year. Framing lumber that once set builders back about $350 per 1,000 board feet is now running $1,200—a 250% jump in price."
And of course, there are no assurances that future calamities won't inflate this price further. So be aware, when you enter the home building process, that trouble in the supply chain makes it hard to predict both the cost and timeline for acquiring certain materials.
You May Require Multiple Loans
When you build a house, you may also have to deal with a bit more paperwork. According to Rocket Mortgage, you may actually have to take out two separate loans when you build your home—a land loan and a construction loan. The structure and interest rate of these loans will depend on a combination of factors including your financial outlook, the nature of the lender, and the nature of the property you plan to build.
You Might Live in a Construction Zone
Well, at least, this might be the case for a while. When you build a new home, you may be settling in a neighborhood that is very much under construction. This could mean loud building equipment, muddy roads, and unsightly empty lots during the first year or two of your residency. The long-term sacrifice might be worth it for you, but in the short run, you may experience some annoyance, inconvenience, and perhaps the desire for some aesthetic harmony.
***
Clearly, there is no one-size-fits-all answer when it comes to buying or building a house. Your decision will depend on your budget, your region, and your priorities. For most people, buying a home is the default. But if you're considering building as an alternative, be aware that there are both pros and cons to this decision.
There is a way to strike a middle ground. You could, of course, buy a fixer-upper and invest a good portion of your budget into updates and renovations. But this comes with its own challenges. For more on these challenges, check out our answer to the question, Should I Buy a Fixer-Upper?