Business expenses are any costs that are incurred during the ordinary course of business, such as employee payroll, manufacturing costs, material and inventory expenses, business travel, advertising, and office space costs. Any expenditure that you have to make in order to keep your company running is a business expense. It seems pretty obvious that these costs are necessary to keep a business running, but—despite how elementary it is—not every business owner realizes the need for business expense management software when they are first starting out. Too many businesses become hyper fixated on their sales, neglecting their accounting for entirely too long after they have been established.
The importance of a strong and efficient business expense management system can not be overstated. Any "normal and ordinary" business expenses that you have to pay for are tax deductible. And, in order to be compliant with tax laws in the United States, you must keep track of your Capital Expenses and properly report them to the IRS.
Here are some facts that highlight how important having an expense management system in place that works for your specific business needs:
According to a 2018 U.S. Bank (the fifth-largest banking institution in the United States) survey, there are a couple of interrelated reasons which are the most common causes of small businesses going out of business;
82% of small businesses that went out of business, did so due to either having poor cash flow management skills or because of having a poor understanding of how cash flow works;
79% of small businesses had to close their business due to starting out with not enough money to cover their start-up costs;
73% of small businesses went out of business due to being overly optimistic when it came to projected sales and underestimating how much money would be required to achieve those inflated sales goals, and;
70% closed because they refused to acknowledge what wasn't working for them, and not requesting help, advice, and guidance when they needed it.
Because of its importance in running a successful business, a good expense management system should make tracking your income and expenses easy and fast, in addition to being able to help you stay compliant with State and Federal finance laws and regulations. You don't necessarily need expensive or feature-rich expense management programs if a smaller and more minimalist app is enough to keep your finances sufficiently organized. Because of this, we have chosen a selection of larger expense management apps and programs in addition to a selection of smaller tracking apps. These 20 expense management apps that are great for small businesses have been listed in alphabetical order, as there is no one "best" expense management app for each and every business out there.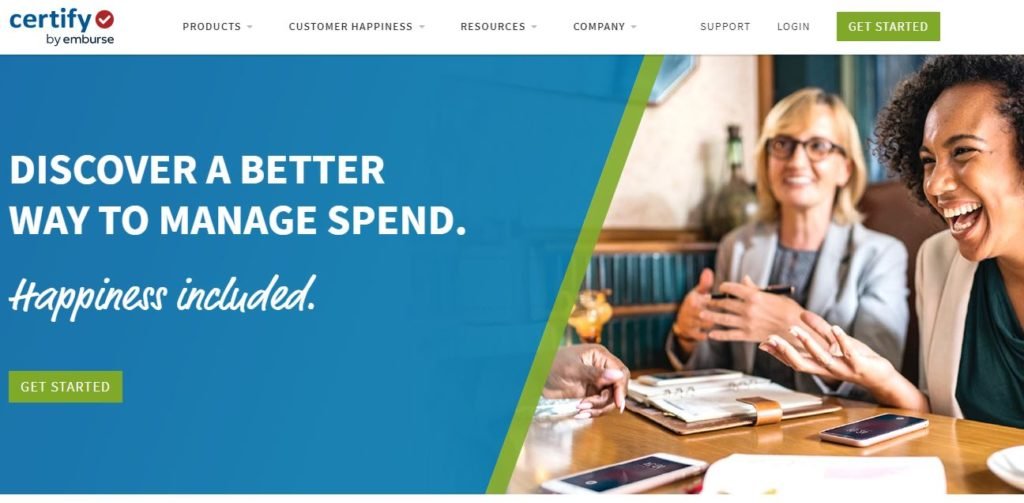 Certify Expense is a company that is brought to you by Emburse. Emburse is a finance and Management Information Systems company that was founded in 2014 by Peter Lai and Roger Gu and is currently headquartered in the San Francisco Bay Area.
Certify is used by many well-known corporations, such as 1-800-Flowers.com, Century 21, Garmin, Men's Wearhouse, and Nature's Way, among many others. Customers of Certify Expense are able to quickly issue secure corporate credit cards (either physical cards or digital cards) to anyone on their team that might need one. Each card can be customized with budgets and policies, among other things, in order to help you have greater control over your company's expenditures.
With Certify Expense is built for global commerce, and comes equipped with many tools that are designed to save you time and hassle. Certify Expense has parity between their desktop program and their mobile phone app, providing their users with added flexibility and convenience. With the mobile phone app, you're able to simply take a picture of your receipts, or email them, to have Certify Expense's patented ReceiptParse® technology automatically track and categorize the data for you.
Price: $8.00 USD per person per month for up to 25 employees, with quotes available for larger workforces by filling out a form.
Founded in SoHo by Adam Dell (brother of Michael Dell, the founder, chairman, and current CEO of Dell Technologies) in 2017, Clarity Money is a venture-backed iOS saving and budgeting app that provides users with an easy-to-use and convenient tool to manage their budget and to improve their finances.
Clarity Money's mobile phone app is available through both the Apple App Store and Google Play. With the Clarity Money app, you will be able to link all of your financial accounts together in one place, where they will automatically have all of the information analyzed. After your financial information is analyzed by the Clarity Money app, you will be given an expense report with personalized spending insights.
The Clarity Money mobile phone app allows users to create a personalized budget with customizable financial goals, open an FDIC-insured savings account, and have recurring payments for services and apps which the user is no longer actually using, and then cancel them within the Clarity Money app itself. Clarity Money was named Apple's App of the Day for July 10th of 2018 and was featured by Apple Inc. as one of their "New Apps We Love" in 2017.
Price: Free to use.
DATABASICS was founded by Alan Tyson (who is still the current CEO) when they launched the first web-based and enterprise-grade time and company expense management system in 1997. The company—which is headquartered in the Washington D.C. Metro Area—uses decades of time and expense management experience in order to shape and drive the direction of the management information systems services that they provide.
DATABASICS provides its customers with cutting-edge Expense Reporting, Timesheet Management, and Invoice Processing automation that is cloud-based and flexible, in order to make your finances-related tasks running smoothly and efficiently. DATABASICS is fully mobile and is capable of smartly automating much of the work needed to keep your expenses up-to-date and accurate.
With DATABASICS, you will be able to. DATABASICS allows for seamless integration of all of your expense reporting, billing, accounting, and your timesheet management processes into DATABASICS' system. There are numerous features that DATABASICS boasts, such as the ability to scan optical character recognition (OCR) receipts, track your cost allocations, quickly move data in real-time between DATABASICS, and most credit card and corporate purchasing card solutions.
Price: Varies depending on your needs, a free quote can be requested by filling out a form.
A product of Halycon Mobile (a Romania-based mobile app design and development firm), Dollarbird was launched in 2011 by founders Szabi Szekely and Levi Szabo. Headquartered in Cluj-Napoca, Cluj, Romania (same as parent company Halycon Mobile), Dollarbird offers personal finance management tools globally. Halcyon Mobile has developed apps for customers such as Red Bull Media House, Henkel, Lego System A/S (The Lego Group), SIGFIG, and Ryalto, among others.
Dollarbird is a desktop application with mobile phone parity. The mobile phone app is available for download on both Apple's App Store and Google Play. This finance tracking and management program is calendar-based and is designed with efficiency and user-friendliness in mind.
Dollarbird automatically calculates your budget for each day, month, and/or year, and these calendar-based budgets can be shared between two or more people, allowing for joint budget management. Users are able to add past, future, and/or recurring transactions into the tracker, and these transactions can be categorized manually or with AI assistance. Dollarbird is not the most robust expense tracker available on the market, but depending on specific business' needs—particularly for small-sized businesses—Dollarbird might be a cost-friendly expense tracking option.
Price: Free to use the base package, custom quotes for the upgraded packages are available when you fill out a form to request a free quote, or by calling them (at +1 541 868 5665) and speaking with a sales representative.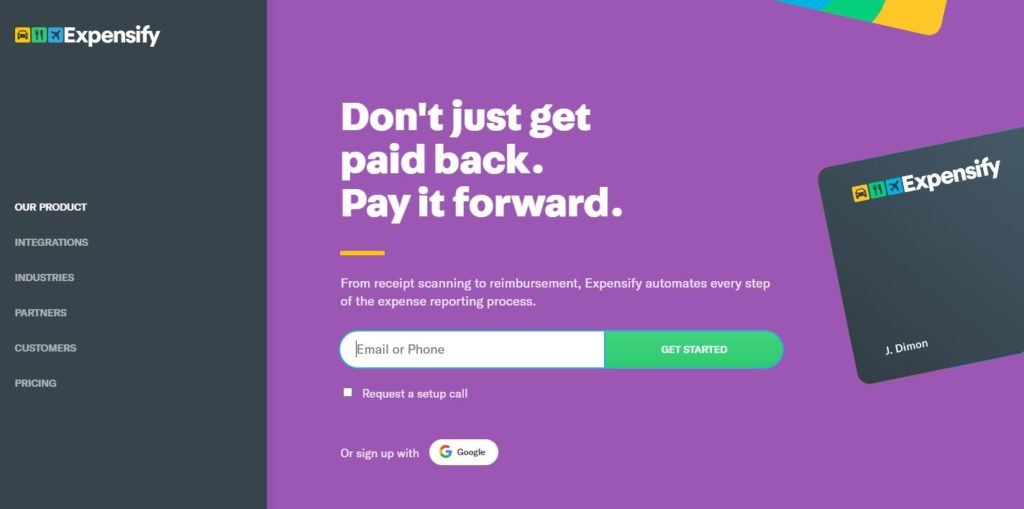 Expensify—which was founded by David Barret in 2008—is a software company that develops and markets an expense management system for both personal and business use. David Barret (the current CEO) has stated that he founded Expensify solely because of his well-known "hatred" for filling out expense reports, which is echoed by the company's slogan of: "Expense reports that don't suck!" Expensify launched their Expensify Card in 2019, which is a corporate card that lets you set spending limits, and which automatically runs each purchase against policy checks in order to ensure that each purchase is fully compliant with your spending policy.
Expensify currently has offices in San Francisco (CA), Portland (OR), Ironwood (MI), London, and Melbourne. The company has received numerous awards and recognitions since 2008, such as winning a Tabby Award (2015, 2018), being named as one of Forbes' Cloud 100, being listed among Fast Company's World's Top 10 Most Innovative Companies (2015), and winning a Readers' Choice Award for Expense and Travel Management Solutions (2018).
Some of the many features that Expensify provides their users with includes the ability to take a picture of your receipts and having Expensify automatically submit an expense report for you, the ability to customize Expensify to flag any expenses for approval over a set amount, and the capabilities of giving your employees next-day reimbursement via ACH direct deposit. Expensify seamlessly integrates various other programs (such as QuickBooks, Xero, Netsuite, and Sage Intacct), allowing for real-time accuracy all in one place.
Price: From $5.00 USD per user per month or $9.00 USD per user per month.
Founded in 2016 by Sivaramakrishnan Narayanan and Yashwanth Madhusudan, Fyle is an expense management platform for all business sizes. Fyle handles a variety of expense and accounting needs, such as dealing with expense law compliances, generating financial analytics, integrating various other management information systems into Fyle's program, providing data security to its users, and automatic purchase card transaction reconciliation with your expenses.
Some of Fyle's customers include 3CX, Capillary Technologies, Pipeline Solutions LLC., TST Construction, and Zivame, among many other companies across more than 20 countries. Fyle currently has a net promoter score (NPS) of 71 out of a total possible score of 100. NPS is a metric that measures how likely a customer is to recommend a product/service/company to a family member or a friend. A company with an NPS score between 71 to 100 is considered to be among the absolute best in their respective industries.
With Fyle, you're able to track your receipts in a variety of ways, like taking a picture of it or uploading it to Fyle's program using your choice of popular messaging or email app (Gmail, Outlook, Slack, and WhatsApp, among others). Your company's expenses will automatically be checked in real-time against the customized business rules that you set, ensuring that there are no fraudulent or dubious statements getting automatically accepted.
Price: $8.99 USD per user per month.
Goodbudget was launched in 2009—just as an experiment that was being run by Dayspring Technologies—under the name Easy Envelope Budget Aid (EEBA). Dayspring Technologies is a San Francisco-based web and mobile development firm and digital consultancy that was founded by Chi-Ming Chien, who was also a member of the team that founded Verso Biosciences, the company that was responsible for MarkerLab.
Goodbudget is a personal and household budgeting and expense tracking app, that can easily be a cost-friendly option for smaller businesses. The normal Goodbudget package is completely free to use but limits the number of "envelopes" (which are folders that Goodbudget uses to organize expenses), accounts, and devices that are allowed to use the Goodbudget app, and the free package only stores 1 year of financial history for you. The upgraded package (priced at $7 USD per month) provides unlimited "envelopes", unlimited accounts, increases the device allowance from one to five, and stores up to 7 years of financial history.
Goodbudget uses "envelopes" as part of what's known as the Envelope Budgeting System, which is an organization system where you have a number of envelopes that are separated into expense categories, and you allot each envelope with a specific amount of money. Once an envelope is empty, you stop spending money on that expense. This helps you to avoid finding out that you've overspent on an expense (such as entertainment) after it's too late.
Price: Either Free or $7.00 USD per month.
Intuit Inc. is a financial software company that develops and sells various financial, accounting, and tax preparation software targeted towards small- and medium-sized businesses (SMBs) and individuals. Intuit was originally founded in 1983 by Scott Cook (the Chairman of the Executive Committee for Intuit, and a director for both eBay and Procter & Gamble) and Tom Proulx (the original programmer of Intuit, and a pioneer of usability testing throughout the 1980s).
Among the many different programs and tools that Intuit offers is Mint. This particular software is an expense tracking and budgeting app that offers a lot of flexibility and control over your finances. Mint aggregates all of your financial information (such as your expenses, bank balances, and even your credit score) into one centralized program for ease-of-access.
Mint is easy and free to set up and use, and once you've fully set up your Mint profile, it will automatically be connected to nearly every financial institution in the United States that is connected to the internet. Mint automatically updates in real-time, so you always know exactly how healthy your financial situation is at any given time. Mint also provides its users with customized financial tips and savings offers, providing them with even more ways to improve their finances.
Price: Free to use.
Mvelopes is brought to you by Finicity Corporation, which was founded in 1999 by Steve Smith (chairman and current CEO), Nick Thomas (current CTO), and Warren Rosner (who previously served as the CFO). Finicity is a cloud data service provider and a financial services company that is headquartered in Salt Lake City, Utah. Finicity has played a key role in developing Experian's Boost program, and Finicity helps Rocket Mortgage by Quicken Loans access consumer-permissioned data in order for them to make mortgage decisions.
Mvelopes has been featured by numerous outlets, such as Kiplinger, Reader's Digest, Forbes, and Business Insider, among others. Additionally, Mvelopes holds an A+ Accredited rating with the Better Business Bureau. Mvelopes has helped more than 500,000 customers to date, by working with various debtors in order to pay off an average of $17,425 USD in debt, and by helping their customers to achieve an average of $6,175 USD in accumulated savings.
Mvelopes uses a digital Envelope Budgeting System—which was made famous by finance guru Dave Ramseys—in order to give customers a solid budgeting structure in order to help them to avoid overspending. With Mvelopes, once you have separated your budget into the different spending categories ("envelopes"), you will begin to receive up-to-date information for each spending category, which shows your actual funds available as you assign your expenses to each of their own appropriate envelopes. The Mvelopes tool is more minimalist in comparison to many of the other expense management apps in this list in regards to how much expense management and tracking you're able to do with Mvelopes. Each of the three service packages ($6 USD per month, $9.95 USD per month, or $19 USD per month) does, however, allow customers to automatically import transactions and to receive highly informative interactive reports on your current finances, your financial history, and how your money is being spent out of each of the envelopes, which will provide you with an easy-to-read way of knowing exactly how each expense is affecting you financially.
Price: $6.00 USD per month up to $19.00 USD per month.
Emburse, a company that was founded in 2014 by Peter Lai and Roger Gu, is the provider of Nexonia Expense Reports. This is Emburse's second expense management app that has been featured in this list, in addition to Certify Expense at the top of the list. Emburse is also responsible for five other business solutions that aren't covered in this article (Abacus, Captio, Chrome River, SpringAhead, and Tallie).
Nexonia Expense Reports is a highly configurable expense management solution that eliminates manual expense reporting, automatically ensures State and Federal compliance, and helps their customers to control their travel and expense (T&E) expenditures. Some of the features that are provided by Nexonia Expense Reports include desktop program and mobile phone app parity, integration of credit cards from more than 30,000 banks worldwide, multi-currency support for 161 different currencies, direct deposit for your employees, and the ability to integrate various ERP / accounting solutions and travel management systems with Nexonia Expense Reports. Software that can be seamlessly integrated includes Sage Intacct, Oracle Netsuite, Intuit QuickBooks, and Xero.
Nexonia Expense Reports provides you with powerful policy control tools, allowing you to customize which expenses are allowable or putting limits on how much can be spent on a specific purchase. Nexonia Expense Reports' compliance enforcement engine will automatically ensure that any guidelines you put in place will always be followed. Additionally, Nexonia Expense Reports will automatically ensure that you're always in compliance with: global taxes, value-added taxes (VAT), DCAA, and the Federal Sunshine Act.
Price: Varies depending on your needs, but a free quote can be obtained by calling them (at +1 416 480 0688 North America or +1 800 291 4829 international) and requesting one.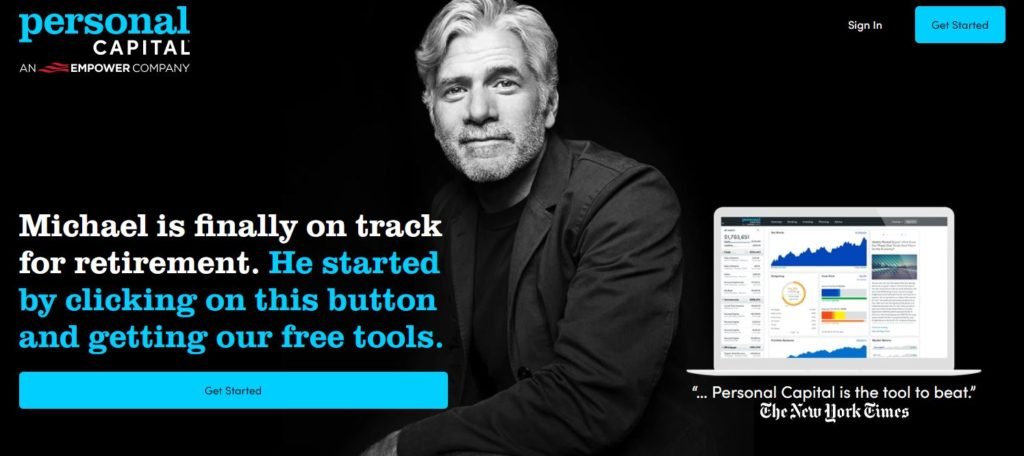 Personal Capital is an online financial advisor and personal wealth management company that was founded in 2009 by Bill Harris, Rob Foregger, Louie Gasparini, and Paul Bergholm. Originally called SafeCorp Financial Corp until a name change in 2010 before being publicly launched in September of that year. Empower Retirement (the second-largest retirement plan provider in the United States) purchased Personal Capital in July 2020.
Personal Capital has more than $14 billion USD in assets under their management (2020) and more than 2.7 million customers (2020). Personal Capital's software provides a few added bonuses that you don't usually see with other expense management services, due to the fact that Personal Capital is a Registered Investment Advisor (RIA), which means they have registered with the United States Securities and Exchange Commission (SEC) and are obligated to follow the fiduciary standard.
With the Personal Capital program, you will be able to easily see all of your income and all of your expenses, and compare the two side-by-side to see the overall health of your finances. You can organize all of your expenditures and your savings automatically by date, category, or by the merchant. You will have the ability to connect all of your external financial accounts (such as your IRAs, your 401(k)s, your mortgages, any loans that you have taken out, credit card debt, and your banking accounts) in order to get a comprehensive view of your finances as a whole. Additionally, you can take advantage of Personal Capital's tools for smart investing, personalized savings advice, and retirement planner.
Price: Free to use.
PocketGuard was founded in 2015 by Artem Seredyuk and Igor Kuznetsov and is headquartered in the San Francisco Bay Area. The goal of PocketGuard was to provide users with a free mobile app that will help them to keep track of their expenses and to provide them with side-by-side comparisons (along with a variety of graphs and charts) of all of the money that they have moving in and out.
PocketGuard is a personal finance management app that has been released for iOS devices, and which allows its users to create budgets, track their expenses, organize their expenses with customizable categories, and quickly detect any recurring chargers and/or billing errors across all of their credit and debit cards.
With PocketGuard, you can personalize the automatically generated financial reports with custom categories and even with hashtags, in order to make finding what you are looking for as easy as possible. PocketGuard allows you to link your bank accounts, credit cards, your current loans, and even your investment all in a central location, so you can keep track of exactly where your finances are, including having up-to-date information on your overall net worth being provided to you.
Price: Free to use.
Headquartered in the Greater New York Area, Ramp is a financial services provider and technology development company that was founded in 2019 by Eric Glyman, Gene Lee, and Karim Atiyeh. Ramp was founded by the same team that built, scaled, and finally sold Paribus to Capital One, which spearheaded Capital One's emergence into the saving technologies market.
When you open an account with Ramp, what you will be getting is two incredibly flexible and powerful tools: their corporate purchasing card and their expense management platform. With Ramp, you will be able to see each and every transaction the instant it is made, allowing you to plan accordingly with up-to-date information. Ramp provides their customers with a variety of perks, such as allowing them to order an unlimited number of corporate purchasing cards (either instant virtual cards or physical cards), the corporate purchasing cards have spending limits that are between 10 times to 20 times higher than other cards on average, and there is no annual fees, hidden fees, or interest.
Ramp's expense management platform is a consolidated expense management solution. You can integrate a variety of different software with it. The Ramp platform allows you to keep track of your receipts and overall expense and your income from all sources, all in one location. Ramp also allows its users to sync or export their data from Ramp with hundreds of accounting providers for a consolidated accounting system, with some of the accounting providers that Ramp can integrate with including NetSuite, Sage Intacct, QuickBooks Online, and Xero.
Price: Free to use the base package, custom quotes for the upgraded packages are available when you request more information.
Sage Intacct, which was previously known as Intacct Corporation, is a provider of cloud-based financial management software and services. Sage Intacct was originally founded in 1999 by Odysseas Tsatalos and David Thomas, before being acquired in 2017 by The Sage Group PLC, which is the world's third-largest supplier of enterprise resource planning software; only being ranked lower than Oracle (the second-largest) and SAP (which is the first).
Sage Intacct has won numerous awards and accolades; peer-to-peer review site G2 ranked Sage Intacct #1 in accounting software solutions for customer satisfaction (2020), FORTUNE named them as one of the Best Workplaces in the Bay Area (2019), and the National Association for Business Resources (NABR) named Sage Intacct as One of the Top Companies to Work For in the Nation and a Best and Brightest for Employee and Worksite Health (2017), among others.
Sage Intacct's Budgeting and Planning software puts many tools at your fingertips. With their Budgeting and Planning software, you will be able to know who last updated the budget planner, quickly give or take away access to the planner in order to keep up with evolving business situations, model revenue and expenses with a user-friendly process, and create financial plans with pre-defined templates, among many other features. Sage Intacct's Budgeting and Planning software even allows you to run various "what-if" scenarios, where you can see how various decisions and events are likely to affect your finances.
Price: Varies depending on your needs, a free quote can be requested by filling out a form.
SAP is a business operations and customer relations software developer that is best known for its Enterprise Resource Planning (ERP) software, and which is headquartered in Walldorf, Baden-Württemberg, Germany. SAP was originally founded in 1972 by founders Dietmar Hopp, Hans-Werner Hector, Hasso Plattner, Klaus Tschira, and Claus Wellenreuther. SAP has many extension partners whose products are certified, sold, and supported by SAP, such as Adobe, Hewlett-Packard, OpenText, and BackOffice Associates. In 2019, SAP announced a three-year partnership with Microsoft known as "Embrace", which would allow the clients of Embrace to move their business processes into the cloud.
Concur Expense offers parity between the desktop application and their mobile phone app. With Concur Expense, you can give your employees the ability to submit, review, and even approve expense reports with both the desktop application and the mobile app. The Concur Expense app can automatically fill out expense reports using electronic receipts. You can reconcile your business expenditures made with a wide range of company card types, allowing for a more streamlined expense reporting system.
SAP's Concur Expense is certified in—and audited for—its compliance with ISO-27001, SOC 1 / SSAE16, and PCI standards, meaning your information will be completely secure when using Concur Expense. You can easily implement and automatically enforce spending guidelines across your whole company, and all of your expenses will be collated into Concur Expense's easy-to-use UI, allowing you to get a full picture of your company's total financial situation without any effort.
Price: Varies depending on your needs, a free quote can be requested by filling out a form, or by calling (at +1 888 883 8411) to speak with a sales representative.
Headquartered in Durham, North Carolina, Shoeboxed is a cloud-based accounting and expense software company that was founded in 2007 by Simon Foster, Taylor Mingos, and Tobias Walter. Today, Shoeboxed is one of the industry leaders in receipt and e-receipt management and organization, with more than 1 million users worldwide. Shoeboxed's parent company is Earth Class Mail (founded 2004 by Ron Wiener), which provides virtual mailboxes and virtual addresses to such customers as Lyft, Reddit, and Zapier.
Shoeboxed offers its users a variety of ways to organize their receipts in order to be able to streamline their expense reporting and to collate important financial information into one central location. With the Shoeboxed mobile app, you can upload pictures of your receipts directly to the app. You can also email pictures of your receipts to the program, drag and drop scans of your receipts from your desktop to the program, or even use Shoeboxed's custom Gmail plug-in to automatically import receipts from your email account.
Shoeboxed makes inputting receipt information even easier, with their Magic Envelope™ system that they offer to their customers. The Magic Envelope™ allows you to send your physical receipts directly to Shoeboxed's processing facility completely free with a postage-paid Magic Envelope™, after which your receipts will be scanned by them, and the information will be synced with your Shoeboxed account. Shoeboxed extracts the most important data points from your receipts, and then automatically categorizes them by the vendor, total amount spent, date, and the payment type used.
Price: $23.00 USD per month up to $71.00 USD per month.
SutiSoft, Inc. is the company that owns SutiExpense. SutiSoft is a cloud-based business management solutions company that was founded in 2006 by N.D. Reddy, and which is headquartered in Los Altos, California. Prior to launching SutiSoft, N.D. Reddy founded and served as the Chairman, the President, and the CEO of Alliance Semiconductor Corporation from its launch in 1985 up through 2005.
Some of SutiExpense's customers include CEAT, Cineplex, Flyers Skate Zone, The Philadelphia Flyers, Yamaha, and the National Immigration Forum (NIF), among many others. SutiExpense has parity between their desktop program and its mobile phone app, which is available for both iOS and Android phones. With the SutiExpense mobile app, you can capture, submit, and approve expense reports easily regardless of where you are. SutiExpense can also be used to create, edit, and manage expense reports when you do not have internet access, as it works even when offline.
Important data can be imported to SutiExpense from a variety of popular programs, such as Salesforce, Google Calendar, Office 365, Sage, Dropbox, and SAP, among others. SutiExpense offers seamless integration of both corporate purchase cards and personal cards, pulling important information directly into the SutiExpense program without the need for manual entries. SutiExpense also has a host of useful reports and analytics with numerous customizable options, allowing you to choose which pieces of data are the most important to you.
Price: $6.00 USD per user per month for the base plan, upgraded plans will require filling out a request quote form.
Travelator, Inc. (which was founded in 2015) is the company that is responsible for creating and selling TravelBank. Travelator, Inc is headquartered in Daly City, California. TravelBank is an all-in-one business travel and expense management platform that was launched in 2016 by parent company's founders Ching-Ho Fung, Duke Chung, and Reid Williams. TravelBank currently boasts a 4.3-star rating out of 5 on Google Play and a 4.7-star rating out of 5 on Apple's App Store.
TravelBank helps its more than 120,000 customers from more than 50,000 companies worldwide with business travel, expense reporting, and card management solutions. More than 1 million expenses have been reported to TravelBank since 2016. TravelBank has been featured by a number of different publications, including VentureBeat, CNN, Forbes, and Fast Company, among others. Some of TravelBank's customers include Doordash, Clearlink, and Acorns, among many others.
TravelBank offers three different service packages: a stand-alone Travel management program, a stand-alone Expense management program, or an all-in-one that combines the two at a reduced price point. Unlike many other programs that were designed to handle similar tasks, TravelBank focused on creating the mobile app version of their program first, because they understood that mobile phones are often the go-to for busy employees and business owners. Not everyone has desktop access throughout the entirety of a business day, but virtually everyone has their phone with them at all times. After perfecting their mobile phone app, they built a desktop counterpart that fully takes advantage of all of the mobile app's functionality.
Price: $8.00 USD per user per month (if paid annually) or $12.00 USD per user per month (if paid monthly).
Headquartered in Dubai, United Arab Emirates, Wally is a financial services and mobile payment services company, which was founded in 2013 by Saeid Hejazi. Wally has been recommended more than 150 times since it was first launched by various publications, such as Forbes, The Economic Times, BBC, HuffPost, The Guardian, and Business Today.
When Wally first launched, it was only available on iOS phones, where it maintained a global average rating of 4.7 out of 5 stars through Apple's App Store. The iOS app reached the #1 ranking for the finance app category in 22 countries and reached the top 10 list in 52 more countries. Today, Wally is available on both iOS and Android phones, where it is available in 18 different languages. Wally is a completely free to use stand-alone app, regardless of what device(s) you download and use it on.
Wally is another free mobile phone app that is more targeted towards personal finances but could be very beneficial for business owners, particularly owners of small- and medium-sized businesses. Wally brings all of your finances together in one place. You can manage multiple accounts, tag other people in your expenses, add pictures to your expense report, and even compare your spending and savings patterns with your friends or others that have similar habits. Wally currently has the widest global network of similar apps, with more than 15,000 banks that are available in 70 countries worldwide. Additionally, Wally is compatible with more than 200 different currencies, allowing you to easily track and convert any foreign transactions that you make. Because of the flexible and minimalist design of Wally, many small business owners choose to rely on (or to supplement another expense management app with) it. If the free version of Wally does not meet your business needs, Wally offers the Wally Gold plan, which is $1.99 per month (or $24.99 yearly) which adds 8 more features on top of the base app's feature list.
Price: Free to use or $1.99 USD per month for the Wally Gold plan.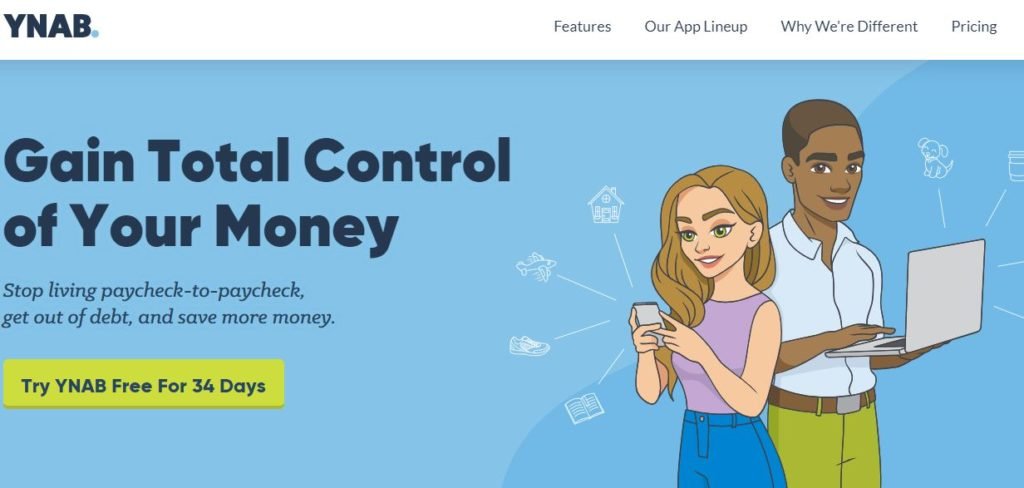 YNAB, which stands for "You Need A Budget", is a multi-platform personal budgeting and finances program which follows the Envelope Budgeting System of budgeting, which was made popular by Dave Ramsey, the author of the best selling personal finance book The Total Money Makeover: A Proven Plan for Financial Fitness; which as been on The Wall Street Journal's for more than 500 weeks. YNAB was founded in 2004 by married couple Jesse Mecham and Julie Mecham and is headquartered in Lehi, Utah.
YNAB was named as one of Utah's "Fastest Growing Companies" for five consecutive years (2009 through 2013). Additionally, YNAM was named as the 10th "Fastest Growing Company in Utah" out of 100 companies by MountainWest Capital Network (MWCN) in 2011. Currently, YNAB boasts a 4.9 out of 5 stars on Amazon, 4.8 out of 5 stars on Apple's App Store, and 4.2 out of 5 stars on Google Play. YNAB is available on desktop, iOS phones, Android phones, iPads, Apple Watches, and on the Amazon Echo system.
YNAB's software automatically imports all of your transactions, which you can categorize with just a single click. YNAB displays up-to-date financial reports, that displays the overall health of your finances at a glance. YNAB additionally has numerous open-source add-ons that offer users a variety of additional expense and finance reporting tools. YNAB takes a more unique approach to budgeting and finances. Instead of just providing financial and expense reports after the fact, YNAB assists their users to think through all of their priorities—immediate priorities, and both short-term and long-term priorities—in order to better allocate their money. Because YNAB is a proactive financial tool, as opposed to a reactionary financial tool, it can be an excellent budgeting tool for those that have had issues getting other budgeting tools to work for them.
Price: $11.00 USD per month or $84.00 USD annually.