One of the largest hurdles that many small businesses will face after getting off the ground is being able to quickly and easily pay the company's employees. From just a few employees to a large workforce, it is necessary that you're able to ensure their financial security and stability.
Choosing a payroll program that works for you and your unique needs and goals is one of the most important decisions that you will make for the future of your company because not having a dependable and user-friendly payroll program can very easily lead to employee troubles, which in turn will likely undermine your ability to meet your customer demands.
Unfortunately, finding a payroll app or program that will best meet your needs in a sea of payroll apps and programs that are all vying for your hard-earned money can be a daunting task. Researching each service provider by going to their respective sites to sift through their program's features, reading customer reviews for each program, and trying to make side-by-side comparisons between two or more payroll programs can be incredibly time-consuming; and that is time that could better be spent growing your customer base and your business as a whole.
Because we understand how important a business owner's time is, we had the goal of culling down all of the available payroll programs into a compilation of the 30 best payroll services on the market today to small- and medium-sized businesses.
The key points that we used in order to curate this list of the 30 most popular payroll apps and software providers included criteria such as (but not necessarily limited to):
How intuitive and user-friendly the app or programs is, which is important because it will save you time and energy;
How accessible their customer service is, in regards to both their operating hours and whether or not you're able to speak with a customer service representative using a variety of means (email, phone, or even a real-time messenger on the payroll program's site, or on the parent company's site);
Overall customer and professional-user reviews of the program and of the service provider;
How flexible the payment options are; does the service provider offer multiple payment options (on-demand or recurring payment subscriptions), and does the service provider allow you to pay month-to-month for access to their program, or do they only provide a yearly subscription to their program, and;
How flexible the service is as a whole–such as whether or not they provide the users of their payroll program with options and features, such as mobile phone parity with their computer program or app, or if any additional services are provided to the user, such as providing employee benefit services or time-keeping services, and;
How affordable the service is, and whether or not the provider offers different price-point tiers for different service packages, allowing their customers to tailor a payroll program to their specific needs. However, please note that some companies do not give out their pricing unless you call and get a specific quote for your company's needs.
Due to the nature of how unique each and every small business is, each of these payroll service programs may not necessarily meet each company's every need. Each payroll program will obviously have their own pro's and con's, and a specific service's features that would be a strong pro for one company could very well be a con for another company.
Because of this, there's really no way we can tell you if one program is guaranteed to be better than another program in each and every circumstance for every business, so we have not curated a ranked Top 30 list of payroll programs. Instead, they are presented alphabetically.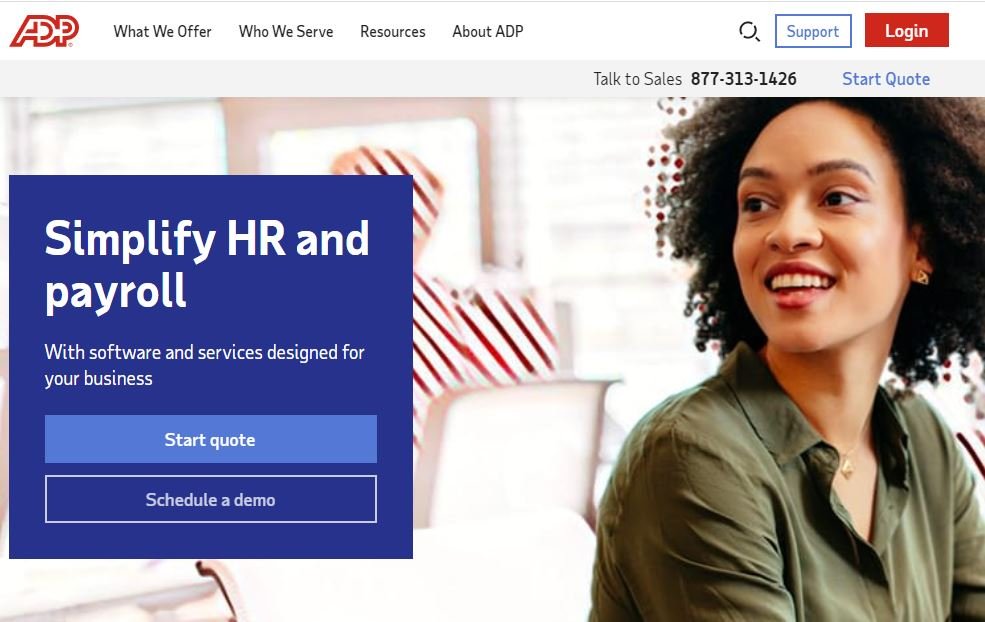 ADP is usually used by mid-sized to larger companies, but they are highly respected and are industry leaders in Human Resources Management Systems (HRMS), so if you can afford to use their services and want some of the most top of the line service, then looking into what ADP can offer you wouldn't hurt. Sadly, we are unable to provide concrete pricing for this specific payroll service provider, as the cost fluctuates based on a variety of factors, such as company size. You will have to call them using their business number or obtain a quote by filling out a form on their website.
The regularly praised service that ADP receives from their customers, and the number of different industries that they work with (such as Restaurant / Hospitality, Manufacturing, Construction, Retail, Healthcare, and even in Government) means that not only does ADP provide their customers with superior service and payroll options, but they are also highly experienced regardless of what the business is that they are serving.
Some of the key features that ADP provides are the ability to run payroll from anywhere in the world, the flexibility of their plan options in what they can provide, and the assistance that they can provide with tax and general HR compliance. Some of the plan options include RUN (a web-based payroll and HR program), Workforce Now® (an all-in-one platform), and a handful of plan options that are aimed at large multinational businesses (such as their ADP GlobalView® Payroll program, which allows users to utilize a single system of record for up to 42 different countries). Additionally, their customer service is available on the phone 24/7, through email, and on their site's web page.
Price: Depends on company size / employee count; call (at +1 844 999 2184) for a personal quote.
With more than 35 years of experience providing customers with payroll solutions, Ascentis is widely regarded as an industry leader. Their programs are easy-to-use wizard tool-driven programs, which makes doing payroll extremely fast and intuitive, and does not leave a lot of room for mistakes.
Ascentis' web-based payroll program is touted by them and their customers as being incredibly flexible, which becomes readily apparent that they are not exaggerating once you take a look at the program. Ascentis' states on their site that payroll can be completed in just 5 easy steps. Ascentis' payroll program has been able to reduce its customers' overall payroll processing time by up to 30%, which is very impressive.
The features that Ascentis' payroll wizard program provides, includes tax filing services and assistance, a real-time paycheck simulator and previewer which allows the user to change different fields (adjusted with-holdings, changes to their 401(k) contributions, etc.) in order to see how it will impact their take-home money, and access to a mobile app for your employees. This mobile app will allow them to see their paycheck earnings, their full paycheck history, and to receive important push notifications.
Price: Depends on company size / employee count; call (at +1 866 556 5796) for a personal quote.
With clients such as Panasonic, Lockheed Martin, Lafarge, Aura Motors, and even the Norwegian Armed Forces, Lenvica has a lot of experience as an industry leader in Human Resources Management Services.
With some big-name companies as customers, it might come as no surprise to you that their payroll program has many benefits. Your employees will be able to receive their payslips by email, or on their mobile phones. The program automatically calculates your employees' income tax and prepares the necessary statements to be turned into the IRS. The program also automatically takes care of your company's statutory reports, including Pay As You Earn (PAYE), Employee Provident Fund (EPF / PF), Employees' State Insurance (ESI), and Tax Deducted at Source (TDS).
One drawback of this payroll program is that Lenvic also charges a one-time $160 USD charge per employee, in addition to requiring that the company have a minimum of 30 employees. This equates to a base starting price for their cheapest package being $4,800.00 to start, and a recurring charge of $15.00 per month at a minimum. This isn't a completely insurmountable start-up cost, but it does mean that AttendHRM Payroll might not be fiscally reasonable for some companies that are still growing.
Price: $0.50 USD per employee per month up to $1.00 USD per employee per month.
Founded in 2008 by Ben Peterson and Ryan Sanders, BambooHR is among the top-rated online HR service providers today. Payroll is just one of the many services that BambooHR provides their customers, with other services in the suite including Applicant Tracking Systems (ATS), employee satisfaction feedback and performance suggestions, employee onboarding and offboarding software, employees' time tracking, and Paid Time Off (PTO) tracking and requesting features.
BambooHR's web-based program even has mobile phone parity. Your employees can access and view various reports from their mobile phones, such as their pay history, timesheets, place requests for vacations and other PTO, among various other things. The mobile app is also where your employees can leave feedback on how they feel the company is growing, and provide suggestions to help further that growth and enhance company culture.
Not being able to readily see their pricing isn't great for transparency sake, but if you think that you might like to try BambooHR out for yourself before calling for a quote, they offer a free demo that you can try with no risk or obligation.
Price: Depends on company size / employee count; call (at +1 866 387 9595) for a personal quote.
Ceridian has been named a Great Place to Work® Certified™ for five consecutive years, from 2014 to 2019. In 2018, Ceridian was named as a recipient of the Glassdoor Employees' Choice Awards. Ceridian has been listed among Canada's Top 100 Employers List for 16 consecutive years and has been previously awarded the Global EDGE Certification for Gender Equality in the Workplace. These are just a few of the accolades that Ceridian has achieved over nearly two decades of operation.
With such a strong résumé, it shouldn't be surprising that many businesses worldwide hire Ceridian for their HR management and payroll needs. The payroll program from Ceridian has a variety of important features, such as net pay of employees gets automatically updated in real-time whenever anything that would have an impact on the net pay gets changed in the system, the program combines both payroll software and time tracking data so you can both access and work on payroll data during any time within the pay period, and Ceridian's experts constantly monitor the laws that impact their applications so any changes that might need to be made to the processes will get changed as soon as possible.
Other payroll features that are a part of Ceridian's payroll program are: automatic tax management and adjustments, easy-to-use and quick user interface and data entry, in-app verification services for properly identifying employees, easy-to-access payroll and employee reports, and employees can access and view relevant information (their pay information, their tax information, and their personal data) from their mobile phone whenever they want.
Price: Depends on company size / employee count; call (at +1 866 766 7696) for a personal quote from their Small Business Sales department, or one of their other numbers that are for Large Business Sales and / or for customers outside of the United States.
CheckMark Payroll caters to small business owners. Small business owners can complete their payroll process in just five easy steps: import employee hours directly or enter them manually, select your pay period dates and your pay date, review your payroll and review each employees' incomes and deductions individually or all at once, print either a physical check or create a direct deposit file with your bank, and finally view and / or print the payroll reports.
CheckMark Payroll provides real-time Federal and State tax withholding tables (with access to printable IRS forms included), and CheckMark Payroll is one of the few payroll service providers out there that doesn't charge any monthly fees for using their program. They also do not charge you per employee, or any other fees that are common among their competitors. You will be able to use CheckMark Payroll for as long as you want, after paying just a single one-time fee.
As another bonus, CheckMark Payroll is available to try for free for a limited time, with no risk or obligation. You have a full 60-days to try it out to make sure that this program meets your payroll needs.
Price: A one-time fee of either $429.00 USD or $499.00 USD, depending on the chosen plan.
Ento was founded in 2009 and is now the chosen payroll provider for more than 1,500 workplaces, with representation in the fields of Retail, Hospitality, Healthcare, and more. According to their site, they roster more than 30 million shifts, for businesses that range vastly in size, from those with only 10 employees to those with more than 2,000 staff members.
Ento is not just a payroll system, instead, it integrates your payroll system into their overarching employee architecture. Through Ento you can integrate your accounting systems, booking, HR systems, payroll, point-of-sale (POS) systems, and others. While it is not a payroll system on its own, Ento provides its customers with the ability to readily keep track of employee pay rates—while keeping them confidential from other employees—as well as manage and track your company's various expenses, including payroll costs. We've included Ento in this list of payroll apps because of how much it augments other sole or all-in-one payroll systems.
Your staff can access an included mobile phone app, which will alert them to changes to their schedules immediately, alert you that they acknowledge changes to their schedules, and access automated staff onboarding, among other things. You, or someone you approve as being allowed to do so, can make changes to the schedule. Ento also provides what is, in our opinion, an incredibly strong tool for business owners: demand-based rostering. This will schedule employees based on a variety of factors, such as recent sales trends, upcoming holidays, upcoming major sporting events nearby, and weather. Regardless of the pro's, there is still the major con that you will have to pay a different payroll service provider in addition to Ento, as they currently do not provide their own payroll services in-house.
Price: Depends on company size / employee count; call (+03-9982-1915) for a personal quote.
This company was created in 2018 by Ron Ross when his daughter left home to attend college. He has stated that she made enough money working to cover all of her expenses, but she kept running out of money because the timing of her paychecks and when her bills were due did not line up. After looking into this, Ron Ross found that this was a fairly common experience for many Americans, and decided that he wanted to create a better payroll experience.
Everee has two different payroll options for their customers to choose from Everee Basic and Everee Premium. Everee Basic includes pay on-demand for employees with no extra charges or fees, manager verification, timecard tracking, geotagging, automatic payroll, basic reporting, onboarding, tax filing assistance, and mobile app parity with their computer program. Everee Premium includes all of the previous, in addition to allowing employees to choose if they want to be paid weekly or daily, and provides your company with a dedicated HR / Payroll Specialist to assist with any questions or issues that you may have.
Everee is fairly comparable to some other payroll service providers on the market, despite only having emerged into the market in 2018. The ability to allow your employees to choose if they want to be paid daily or weekly—with no additional fees for either the employee or the employee—with the purchase of the Everee Premium plan really helps Everee to stand out from its competitors, in our opinion.
Price: $12.50 USD per employee per month, or $22.50 USD per employee per month, depending on the chosen plan.
Fingercheck's payroll services are currently available in 40 states in the United States (with the states that are currently excluded from the service area being: Alaska, Hawaiʻi, Iowa, Maine, Montana, North Dakota, South Dakota, Vermont, West Virginia, and Wyoming).
The payroll services through Fingercheck is included in the All-in-One HR Platform program, which—in addition to including payroll services—also provides their customers with hiring assistance, onboarding programs, employee time tracking and PTO accrual, employee benefits services, employee insurance plans, and various other HR and HR management related services and programs.
Unfortunately, they do not offer their payroll services as a standalone option, and the only other plan is their Time Clock Software package (at $3.00 USD per month per employee in addition to a $20.00 USD subscription fee), which only includes the services of PTO tracking, accurate reporting on employee clock-ins and clock-outs, and a variety of different clock in methods (including mobile app for iOS and Android phones and tablets, fingerprint time clock tracking, web browser clock in tracking, and text message clock in tracking). Regardless, their All-in-One HR Platform program includes everything that you might need for your business, and their customer support can be contacted by phone, email, or through an on-site chat messenger to answer any questions that you might have about the services they provide.
Price: $8.00 USD per employee per month, with an additional cost of $39.00 USD as a subscription fee.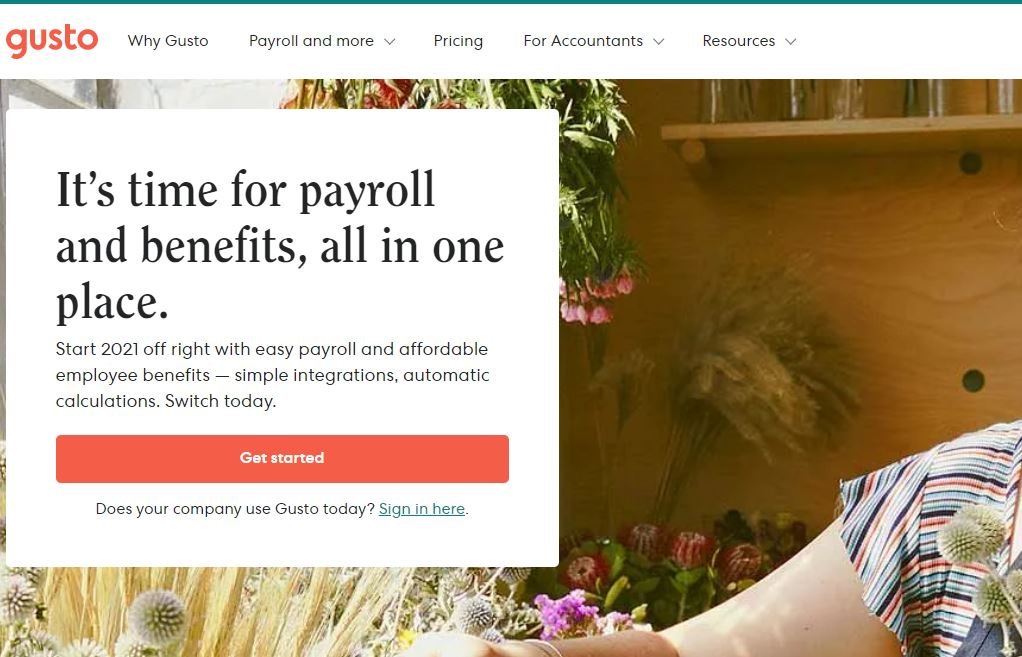 One year after being launched in the winter of 2012, ZenPayroll (Gusto's original name) announced that they would provide support for paying contract workers (including making sure that everything was tax compliant by filing the relevant Form 1099 and other necessary paperwork). This announcement gave the company an advantage over some of their other, more established competitors, such as ADP and Paychex, both of which used payroll software that was claimed at the time to lack the flexibility needed to accommodate the handling of contract workers' payrolls.
Today, Gusto still strives to give its customers high-quality service and assistance, regardless of their specific payroll needs. The Basic plan (which starts at $19.00 USD per month, with an additional cost of $6.00 USD per employee per month) includes features such as full-service payroll in any one state, worker's compensation administration, 4-day direct deposit for your employees, and Paid Time Off policies. In addition to the Basic plan, Gusto also offers at Core plan ($39.00 plus $6.00 USD per person monthly), a Complete plan (same as the Core plan, but with an increase to $12.00 USD per person per month), and a Concierge plan ($149.00 per month, plus $12.00 per person per month).
The Concierge plan includes all of the Basic plan features but has changed to be full-service pay across all continental U.S. states (with Hawaiʻi and Alaska also being eligible). Additionally, the Concierge plan includes next day direct deposit (as opposed to the 4-day period of the Basic plan), accounting and time tracking integration, time management tools, health insurance administration, an employee directory and access to employee surveys, Gusto's HR resource center, and access to Gusto's certified HR professionals for any assistance you might need. Additionally, your employees will get access to the Gusto Wallet app, and your payroll process will be on Gusto's Autopilot® program, which will automatically handle your payroll once you set it up.
Price: A fee of $19.00 USD per month, plus $6.00 USD per employee per month and up to a fee of $149.00 USD per month, plus $12.00 USD per employee per month.
Co-founders Tom Sagi (a construction company owner) and Shay Litvak (a technologist with 20 years of experience, at that time) created Hourly after Tom Sagi spent a large amount of time searching for an app or program that would help him to manage his growing hourly-paid construction employees, and was unable to find one that he felt properly met his needs.
Hourly has grown since then by leaps and bounds. They are also more than happy to let you test out their Hourly services at no risk and no obligation. You can try it completely free for a 14-day trial period, just to let you get a feel for whether or not it is right for you and your workforce. The payroll stand-alone option that is offered by Hourly (the second-cheapest option, after the stand-alone time tracking option) includes a variety of benefits to you and your employees, such as unlimited payroll runs, direct deposit, and optional paper checks, automatic tax filing of 1099's and W2's for both your salaried and hourly-wage employees, unlimited support by phone with Hourly customer support.
You can also purchase the two stand-alone options in a single package, at a discount of $20 off of the base cost per month, and a further discount of $4 per person per month. In addition to getting all of the benefits that are offered through both of the stand-alone packages, the bundle also includes smart worker's compensation insurance, priority phone support with Hourly customer support, and even HR support from an Hourly professional.
Price: A fee of $60.00 USD per month, plus $10.00 USD per employee per month or a fee of $80.00 USD per month, plus $14.00 USD per employee per month
Intuit was originally founded in 1983 by co-founders Scott Cook and Tom Proulx in Palo Alto, California, and the first version of Quicken was coded and released soon after. Intuit is the company that is behind popular consumer financial assistance programs, such as the line of QuickBooks programs and TurboTax, among others. Today, Intuit helps more than 1.4 million businesses to manage their payroll and to file their taxes.
With Intuit's QuickBooks Online Payroll application, you will have access to a variety of their different tools and services. With the QuickBooks Online Payroll application, you won't ever have to manually pay your employees, as once you set up your payroll profile, each payroll will be fully automated. QuickBooks Online Payroll will also automatically calculate, file, and pay your payroll taxes.
QuickBooks Online Payroll will—with the purchase of certain payroll package plans—give you access to a Mammoth HR advisor that can assist you with things such as compliance, hiring best practices, and writing job descriptions. You will also be able to have your payroll be reviewed or completed by an Intuit expert, either by phone or through Intuit's online chat.
Price: From $25.00 USD per month, up to $150.00 USD per month, depending on the plan.
Justworks is an Employer Services Assurance Corporation (ESAC) accredited PEO that has been in business since 2012.
Justworks is great not only for just regular payroll payments but also for completing one-off payments, as the program was designed to handle any and all payroll needs. Justworks has seamless integration with a variety of different payroll apps and software, such as Quickbooks Online and Xero. Justworks also keeps all employee time cards and your payroll in one place, ensuring that everything you need to pay out payroll without any errors is readily available to you. The payroll reports that Justworks provides to their customs breaks down your company's expenses (such as hours worked and employee benefits deductions) so that you can easily identify and track your payroll expenses.
Justworks completely automates direct deposits for both full- and part-time employees and supports weekly and bi-weekly pay frequencies for all of your employees, regardless of whether they are hourly-wage earners or if they are salaried.
Price: $39.00 USD per employee per month, up to $49.00 per employee per month for the Basic plan, and $79.00 USD per employee per month, and up to $99.00 USD per employee per month for the Plus plan.
This service ranked among Louisiana State University's "One Hundred" list of the fastest-growing Tiger alumni-owned and/or Tiger alumni-led businesses in the world for nine consecutive years, from 2011 to 2020.
Netchex's payroll service is a fully integrated system. This payroll service allows you to have flexibility in the way you pay your employees, by letting you pay by direct deposit, standard paper checks, or even with reloadable pay cards. This service also offers automatic and accurate tax deductions and reporting. You can call their amazing customer service representatives during regular business hours, or you can send them an email with any questions or concerns you might have. Actually, Netchex's website brings attention to the fact that more than 4,500 different businesses rate Netchex's customer service as being the best in the business.
Many industry leaders for various companies use one (or more) of Netchex's various HR-related services, such as the Brian Harris Auto Group, The Colony ER Hospital in Texas, Dexas International Ltd., and many others. In addition to payroll services, Netchex also provides reporting and analytics, performance management tools, recruiting and onboarding tools, employee benefits administration, and timekeeping services.
Price: Depends on company size / employee count; fill out a quote request form for a personal quote.
OnPay grew out of the founder's long-standing family payroll business. Jesse Burgess first joined that family-owned company in 2007 and immediately made it his first priority to help the company's six payroll clerks to be more efficient and to make changes that would help to reduce the frustration that comes from being a small family-owned company with massiver user volume. Soon after making changes to streamline the processes that his company used, OnPay was born. The company had more than 30 years of experience handling the payroll needs of small businesses before becoming OnPay.
OnPay's payroll services are all covered in the monthly base cost of $36, and the additional $4 per person per month. There are no hidden fees or extra charges, aside from the following payroll processes that are outside of the scope of OnPay's normal service: there's a small fee for requesting that OnPay print out W-2 and 1099 forms and mail them directly to your employees (there is no fee if the client self-prints and distributes these forms on their own), there is an insufficient funds fee if you're unable to cover the cost of a pay run, and you must pay the premium of any health insurance, retirement fund/plan, or workers' compensation policies that you choose to add to your payroll package.
OnPay integrates with some popular HR software products. Software products that are currently fully integrated with OnPay are Deputy, Humanity, PosterElite, QuickBooks Desktop, QuickBooks Online, ThinkHR, TSheets, WhenIWork, and Xero. Additionally, OnPay's service package offers many different benefits and features, including mobile app parity, built-in document templates, direct messaging with employees, multi-state payroll, custom PTO policies, up to three accrual tiers with automatic accrual tracking, a searchable company directory for you to fill out, fully integrated worker's compensation administration, and access to an HR resource library.
Price: A fee of $36.00 USD per month, plus $4.00 USD per employee per month
Having previously been named as the Winner of European Region in the Visa Everywhere Initiative, Deloitte (one of the "Big Four" accounting organizations, and is the largest professional services network in the world) counted Papaya Global in their list of Israeli startups that are changing the work-tech landscape on a global scale.
Papaya Global has also been featured in various reports from Gartner (the world's premier research organization), NelsonHall (a market leader in business process outsourcing), Staffing Industry Analysts (one of the leading advisors on contractor management), and 451 Research (which is a leading research firm that provides unique market insights), among others. Gartner even recognized and named Papaya Global as being one of the global payroll leaders.
Customers that are on the fence about having Papaya Global handle their payroll needs, don't need to worry about the company's track history. At the time of writing, they report that they have more than $1.3 billion USD under their management, which is being handled on behalf of the more than 300 companies that use Papaya Global as their payroll provider. Some of the companies that they handle the payroll for include: Fiverr, Intel, Johnson & Johnson, Microsoft, and Toyota among others. Papaya does not charge a monthly base fee or an annual fee, unlike many of its competitors. Instead, customers just pay a monthly rate for each of their employees, starting at just $20 per employee.
Price: No annual fees, and rates starting at $20.00 USD per employee per month, up to $100.00 USD per employee per month.
With more than 30 years of experience under their belts, Patriot Payroll is a major provider of easy-to-use, fast, and affordable payroll solutions. Patriot Payroll takes the security of each of their customers' and their customers' employees' information very seriously, to the point that they actively provide transparency on their website in regards to the measures that they take to ensure this information stays confidential.
According to them, they use some of the highest security hardware technologies and software techniques that are available on the market, they adhere strictly to all required Federal privacy, anti-fraud, and security laws, they submit themselves to outside audits and security scrutiny by experts and specialists, and they are rigorously thorough with the skill and aptitude tests, background checks, drug tests, and reference checks that they perform on each and every potential new hire.
There are two payroll package options that are available, both of which have a 30-day no-risk and no-obligation free trial period. Their Basic payroll plan has many features, including free expert support from Patriot Payroll employees, free payroll setup, free direct deposit, a free employee portal, free worker's compensation integration, unlimited monthly payrolls, and others. The Full-Service package includes all of the Basic plan's features, with the addition of Patriot Payroll will file and deposit Federal, State, and Local taxes, they will file year-end payroll tax filings with no additional fees, and they will file year-end 1096's for contractors to the IRS and to qualifying states, all with a 100% on-time and accuracy guarantee.
Price: $14.00 USD per employee per month, or $34.00 USD per employee per month.
Founded in 1971, Paychex served customers out of their very first office located in Rochester, New York for a number of years. But, today, Paychex has grown and is now able to serve businesses of all sizes all across the United States, throughout Germany, in Denmark, and even in Sweden. With more than 50 years of experience that they are able to use in order to make their business decisions and continue growing their company, Paychex is a well-established HR services provider that has evolved in order to keep up with new business trends and technology.
With tailored payroll solutions and HR services for small businesses, mid-sized businesses, and enterprise businesses, Paychex makes it easy to get the help that you need. To process your payrolls, you can use either their Paychex Flex® (which allows you to easily and quickly submit your payroll online with Paychex's proprietary software, which can import your payroll into the system in as few as two clicks), or you can process your payroll using the Paychex Flex mobile app (which is available for both iOS and Android phones and tablets).
You can also choose how your employees get paid, either with a standard paper check, through direct deposit, or by loading their pay onto a reloadable pay card. Your employees can also be offered various perks through Paychex, such as access to their Paychex Pay-on-Demand program, which allows a participating employee to pay one low-cost fee of up to $5 USD per each pay period which will let them use Pay-on-Demand for instant access to their net wages, up to $500 USD per each pay period.
Price: Depends on company size / employee count; call (at +1 833 729 8200) for a personal quote.
Paycom became one of the first payroll processing providers to take their payroll handling entirely online, in 1998. Over the following 20+ years, Paycom has continued perfecting the payroll handling process; continually striving to make it faster, easier to use, and more convenient and flexible than ever before. Some other payroll and HR management service providers will purchase already completed pieces of an application from a third-party company, and just integrate it into their HR management tools, but Paycom feels strongly that this is not how you make a flawless and user-friendly program. Due to this, they have built every part of their HR management program and their tools from the ground up in-house.
Paycom's site highlights and example of why they feel that this approach is better, by pointing out how when an individual enters their name and relevant contact information when they are applying for a job, that same data automatically gets synched up and correctly entered into various parts of Paycom's HR program (such as the onboarding section, employee benefits, and payroll information) if and when they get hired so that the HR department or business owner never has to manually plug this information into the program.
Paycom also makes sure that each of their customers has the tools for success at their disposal when it comes to Paycom's payroll services. Your first payroll will be processed in tandem with a Paycom customer service representative, and during the implementation of the payroll system, Paycom will assign a primary point-of-contact that has been fully trained on Paycom's tools and systems, and who will make an effort to get to know you, your business, and your payroll needs so that they can better help you succeed.
Price: Depends on company size / employee count; fill out a quote request form located at the bottom of the page for a personal quote.
Payroll Guru offers a variety of payroll services to all 50 states in the United States, such as payroll calculation and processing, payroll direct deposit, both Federal and State electronic tax payments, check printing services, check signing services, and electronically filing W2's and 1099's in addition to electronically filing quarterly payroll reports. Additionally, Payroll Guru also delivers Payroll Journals, Payroll Registers, and your employees' W2 and 1099 / 1098 / 1096 forms.
Payroll Guru offers to their customers a money-back satisfaction guarantee, and they claim to be able to save most of its customers between 35% to 50% on their current payroll costs. Payroll Guru allows its customers to perform payroll tasks either online on their computer, or on their mobile phones with the use of Payroll Guru's app which is available on both iOS and Android devices.
Payroll Guru also has a couple of free resources that can also be helpful. Their mobile app has free tools that can be used even without having the paid version of the app. The free tools available on the mobile app will allow you to calculate net paycheck, calculate Federal taxes, and to figure out payroll withholdings (including both State Disability Insurance and State Unemployment Insurance payroll taxes). These same free calculators are accurate for all 50 states, and they can also be accessed on Payroll Guru's site if you do not want to download a mobile app.
Price: Depends on company size / employee count; you can request a personal quote from here underneath Quote Request.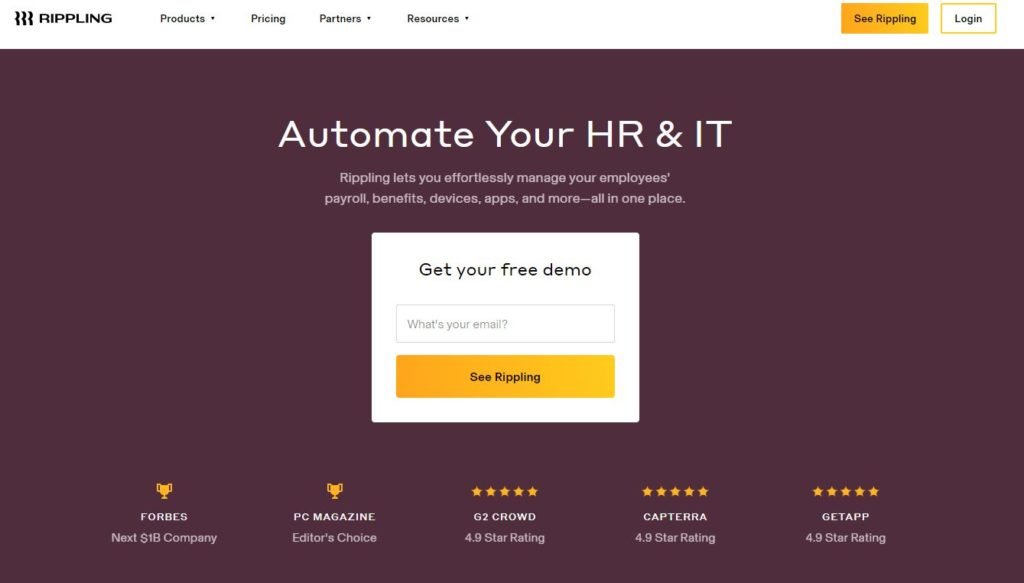 Formed by co-founders Parker Conrad and Prasanna Sankar in 2016, Rippling has a business goal of eliminating the administrative work that is currently necessary to run a company, and that software should manage everything that doesn't require an actual person to do. Rippling has offices in both San Francisco, and in Bengaluru, India.
Rippling syncs all of your HR data with your payroll, so you never have to manually enter data or make any calculations. After hitting "Run" it just takes an average of 90 seconds to fully complete your payroll. Rippling's payroll service will automatically handle your tax filing, and will automatically ensure that you stay compliant with Federal and State laws, such as correctly handling and filing your W2's and 1-9's.
You will be able to track all of your employee's hourly work, their PTO policies and eligibility, get reports on employment costs and other overhead costs. Additionally, by using Rippling, you will be able to sync various other systems with their payroll program. More than 500 apps can be synced and integrated seamlessly with Ripplins, such as QuickBooks, NetSuite, TSheets, Deputy, Slack, and Dropbox as a couple of examples.
Price: Starts at $8.00 USD per employee per month, and quotes for packages outside of the base package can be received by filling out their free quote form.
In terms of revenue, SAP SE ranks as the non-American software company and is the third-largest software company in the world. Originally founded in Weinheim, Germany in 1972, SAP SE was originally known as SAP Systemanalyse und Programmentwicklung (SAPD). The company that is now known as SAP SE would go through a few more name changes over the years.
With SAP's SuccessFactors software, your payroll process will be fully and accurately automated. The program has built-in corrective technology to ensure that the entire payroll process goes smoothly. There are retroactive calculations that will assist in keeping everything accurate and up-to-date. SuccessFactors can provide your employees with the tools necessary to be able to check their paycheck history and other important information that they might need to be able to keep an eye on.
SuccessFactors comes equipped with an embedded payroll tax localization functionality, which will keep you compliant with not only Federal laws and regulations but also with State and other local laws that have an impact on your payroll process, such as taxes. You can even augment SuccessFactors by allowing partner software from SAP's app center to be integrated with your payroll processes.
Price: Starting at $6.59 per employee per month, with other packages requiring you to fill out a Request Quote form.
When it was first founded in 1980, the SBS originally sold a suite of third-party software applications direct to consumers. However, it wasn't long before the demand grew for an accounting system that could readily and easily be adapted to nearly any industry imaginable. As a result of this growing demand, SBS began to develop and to support its own enterprise financial software with the aim of providing businesses with the accounting system that they were clamoring for.
Today, SBS' product lines include the SBS Financials Suite, the SBS Payroll and HR Management Suite, and the SBS Procurement Suite. SBS' Payroll and HR Management Suite includes many different features, some of which can often be found being sold as a premium add-on from other software vendors.
The Payroll and HR Management Suite will allow you to automate your payroll process, track labor costs, and automate your employees' requests for days off or PTO. SBS Payroll also lets you efficiently process employees' shift times by letting you import the data from third-party time clocks, fixed-mount time clocks, Excel spreadsheets, badge swipe systems, and various other popular front-end systems.
Price: Depends on company size / employee count; fill out a quote request form for a personal quote.
Founded in 2009 by Jack Dorsey, the co-founder and CEO of Twitter, Square is one of the most popular mobile payment apps currently on the market. The company's name was a direct reference to the company's square-shaped card readers that they used.
Square's Employee and Contractor online payroll service is available to all employers regardless of company size, as long as they are located within the United States. Employers can choose from either Square's Employee and Contractor payroll or Square's Contractor Only payroll, depending on their needs, with the Contractor Only payroll option not requiring a base monthly fee, unlike the full Employee and Contractor payroll option.
Square Payroll includes many features that will make handling payroll quick and easy, so you can focus on other areas of running your business. Some of the features of Square Payroll includes automatic tax calculations (for both State and Federal taxes), the option to pay your employees by either standard check or with direct deposit, employee and contractor time tracking and overtime calculations, and the ability to automatically generate and file your 1099-MISC at the end of the year.
Price: $29.00 USD per month, plus $5.00 USD per employee per month.
Originally founded in 2000, SurePayroll is one of the best payroll service providers for business with one to 100 employees. In 2011, SurePayroll joined with Paychex, Inc. as a wholly-owned subsidiary, which allows them to provide even more resources than they were originally capable of. Today, SurePayroll boasts an almost perfect Google Review score, and currently holds an A+ rating from the Better Business Bureau.
To date, SurePayroll has handled more than $10 million USD in payroll runs, and their payroll programs support more than 6,000 different types of tax codes and regulations, making their payroll services very accessible regardless of where in the world you're operating your business.
With SurePayroll's payroll service, you will be able to stay automatically compliant with any and all local, State, and Federal tax laws and regulations, and have all of the necessary taxes filed for you automatically. As a customer of SurePayroll, you will also be able to have access to their in-house experts, who can assist you with any technical questions that you might have with the program, or in-house experts that can walk you through any compliance questions that you might have.
Price: Depends on company size / employee count; fill out a quote request form located on the company's main page for a personal quote.
UZIO was founded by Sanjay Singh, who is also the founder of hCentive, a software development company that specializes in cloud-based services for health insurers and state health agencies. He was named "Entrepreneur Of The Year" by the American Business Awards® in 2020.
With UZIO's integrated payroll management platform, everything that you need to successfully manage your HR resources will be seamlessly integrated, including your employees' benefits (health insurance, 401(k), workers' compensation), your employees' time and attendance records, and any compliance information that is relevant to you (such as State, Federal, and local tax laws and regulations).
Everything will be accurately and automatically calculated for you. All deduction calculations will be performed quickly, and your payslips will be automatically generated for you every pay period. Additionally, UZIO constantly checks for and adapts to any and all changes to relevant tax laws, so you never have to worry about that.
Price: Depends on company size / employee count; fill out a quote request form for a personal quote.
WebHR was founded in 2011 and is headquartered in Fremont, California. WebHR is a cloud-based HR Information System that handles all aspects of Human Resources for its customers, such as employee recruitment, employee turnover, employee benefits management, and payroll.
WebHR is trusted and used by more than 25,000 companies in more than 198 countries worldwide. Some of WebHR's customers include jiffy lube, GMC, Chevrolet, Nissan, Infiniti, and Budget.
WebHR's program will also seamlessly integrate many popular resources for you, such as GSuite, Slack, QuickBooks, Glassdoor, LinkedIn, Indeed, Cortana, and Amazon Alexa, among others. This program is an All-in-One HR suite, and it is available in 30 different languages, which makes it incredibly accessible.
Price: For the base module with the payroll option, WebHR costs $3.00 USD per employee per month.
Workful was founded in 2017 and is brought to you by the same people that created TaxSlayer, a tax preparation and financial technology company that was founded in 1965, and which is based in Augusta, Georgia. TaxSlayer is also known for its many sports sponsorships, such as the TaxSlayer Bowl, which is a major college football bowl game that is held in Jacksonville, Florida, previously known as the Gator Bowl.
Workful automatically tracks State and Federal taxes, making it simple for you to stay compliant and file the necessary paperwork at the end of the year. Workful also allows you to create and view a variety of reports, such as expenses, payroll register details, tax liabilities, employee time off, and employee hours.
With Workful, you will be able to run your payroll in less than five minutes, according to their site. All you need to manually do in order to run your payroll with Workful is: add an employee, approve employee time off requests, time clock adjustments, and expenses. After that, it just takes four clicks to confirm everything and actually run the payroll process.
Price: $25.00 USD per month, plus $5.00 USD per employee per month.
Xero is a New Zealand-based company with additional offices in Australia, the United Kingdom, the United States, Canada, Singapore, Hong Kong, and South Africa. Xero was originally established in 2006 by Rod Drury and Hamish Edwards. Xero announced in 2019 that they had hit a milestone: they had reached more than 2 million global users.
Xero is an accounting software suite that is partnered with Gusto, and which is specifically targeted towards small business owners. Xero's software makes keeping track of your inventory, money, and employees easy, as everything is all in one place for you.
With Xero, you can quickly categorize your bank transactions, view reports and breakdowns of your money flow, pay your business bills, track expense receipts, and more. Payroll is available for all 50 states, and the District of Columbia. There is mobile app parity with the computer software, which makes using Xero a flexible choice.
Price: Flat rates from $9.00 USD per month to $60.00 USD per month.
Zenefits is headquartered in San Francisco, California, and was originally founded in 2013. Zenefits is used by more than 11,000 businesses in the United States, with 35 different industries being represented.
Zenefits uses a fully-integrated payroll system, which boasts numerous features, such as the ability to sync all important information (employee PTO, employee benefits deductions, automatic salary change syncing, time tracked), dynamic paystubs, the ability to add messages to employee pay stubs, automated reminders, automatically prorate payments for new hires, and many more.
New hires will automatically have their information be synced with the onboarding program, and employees will be able to access all of their documents on their own, even after they have left your company, which will cut down on time spent on answering questions or providing documents to your former employees. Additionally, with Zenefits, you will be able to upload earnings information in bulk, allowing you to take payroll actions for entire teams.
Price: From $10.00 USD per employee per month to $27.00 USD per employee per month.