Is there any food more widely beloved than pizza? You can eat it for breakfast, lunch, dinner, appetizers, or even dessert. Dress it up with gourmet flavors and ingredients, or keep it simple, classic, and humble. However you prefer to eat it, the Northeast is home to many of the best pizzas in the United States.
Pizza in the Northeastern United States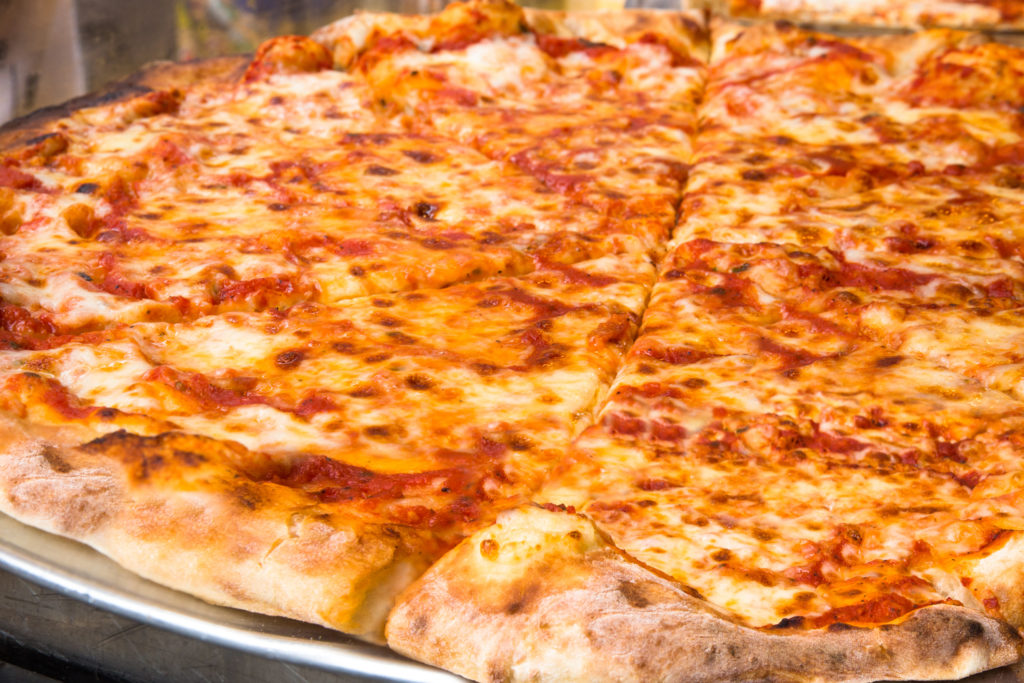 Pizza has a long and legendary history in the Northeast. In fact, the very first pizza place to open its doors in America did so in New York City back in 1905. In particular, pizza shops in the Northeast tend to feature New York-style pizza, with its hand-tossed, delectably crispy yet soft crust. Northeastern states are also known for other regional pizza treats, like the oblong New Haven-style pizzas that hail from Connecticut, the New England Greek-style pizzas, and the (distinct) tomato pies served in Philadelphia, PA, and Trenton, NJ.
It's no wonder that New England and the Mid-Atlantic states are peppered with pizza parlors that defy the ordinary and make "just" getting a pizza into a gastronomic event.
The Northeast also has an exceptionally high density of pizzerias. In fact, Rhode Island leads the nation in pizzeria density, with upwards of 37 pizza shops per 100,000 residents. Connecticut is a close second with a pizza joint density of 36.8. Other states in the Northeast where pizza places are plentiful include Pennsylvania with a pizza shop density of 36.2, New Jersey with 35.7, Delaware with 34.0, Massachusetts with 33.6, New Hampshire with 33.5, New York with 29.4, and Vermont with 28.2.
With so many options, it's difficult to know which pizza joints in the Northeast really shine and which are just average. That's why we set out to identify the best pizza shops all across the Northeast, highlighting can't-miss parlors, pizzerias, ristorantes, and more.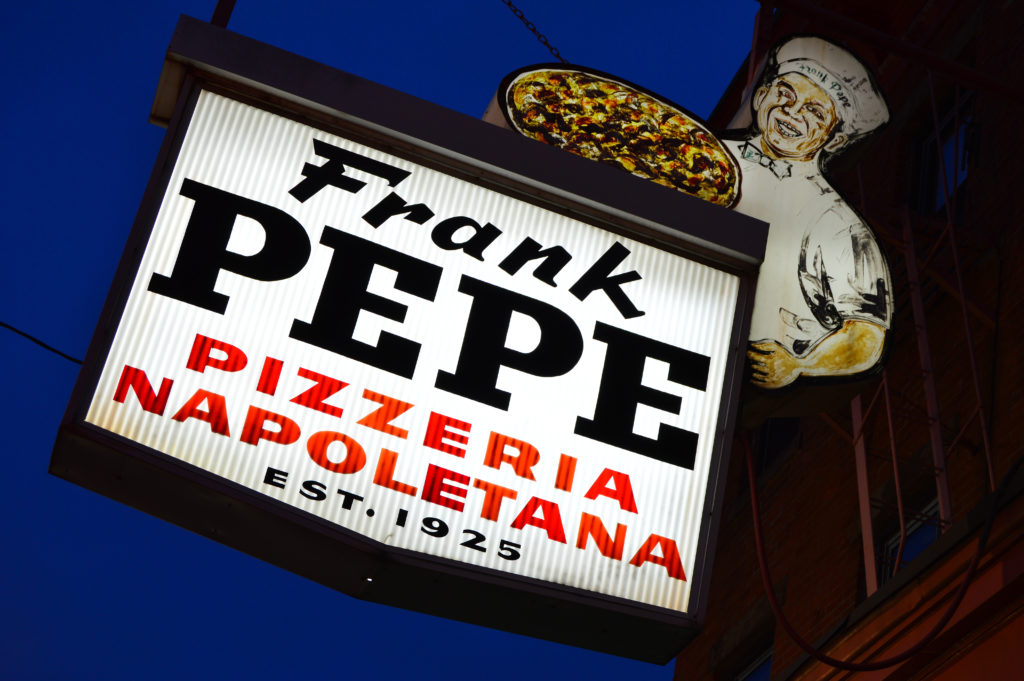 Consistently named the best pizzeria in America by The Daily Meal and praised by the likes of Spoon University and USA TODAY, Frank Pepe Pizzeria Napoletana has exemplified outstanding pizza for almost a century. Founder Frank Pepe, a humble Italian immigrant, pioneered the New Haven-style of pizza when he founded his pizza shop in 1925.
The pizza shop remains family-run to this day, under the operation of Frank's seven grandchildren. The pizzeria's thin crusts are still coal-fired to crispy, chewy perfection, and fresh ingredients are still the foundation of the incomparable pizzas. What has changed since Frank Pepe first began selling pizza is the size of the menu. Where the pizza shop once sold only two types of pizza, today's customers can choose from nine specialty pies or build their own pizza from a selection of two dozen toppings.
Frank Pepe's signature pizza is the White Clam Pizza, with no tomatoes but plenty of garlic, oregano, olive oil, grated pecorino romano cheese, and fresh clams. Topping options also include shrimp and anchovies. If you're not a seafood lover, consider the Original Tomato Pie, the Fresh Tomato Pie, the Meatball and Ricotta Pizza, or the Veggie Special.
Salads are also on the menu, with Pepe's Salad consisting of seasonal greens, shredded red cabbage, grape tomatoes, kalamata olives, cucumber, grated pecorino romano cheese, and a balsamic vinaigrette dressing. Save room for dessert and order tiramisu made with imported ladyfingers and mascarpone or a slice of the cannoli pie.
Today, Frank Pepe has seven locations in Connecticut: the main operation on Wooster Street and branches in Fairfield, Danbury, Manchester, West Hartford, Waterbury, and Mohegan Sun. There are also three locations in Massachusetts (Burlington, Chestnut Hill, and Watertown), as well as one in Warwick, Rhode Island, and one in Yonkers, New York. However, pizza lovers say the main location on Wooster Street—next door to Frank Pepe's The Spot at 163 Wooster Street, which was the original location of Frank's bakery—is worth the trip.
The Second-Best Pizza Shop in the Northeast: John's of Bleecker Street, New York City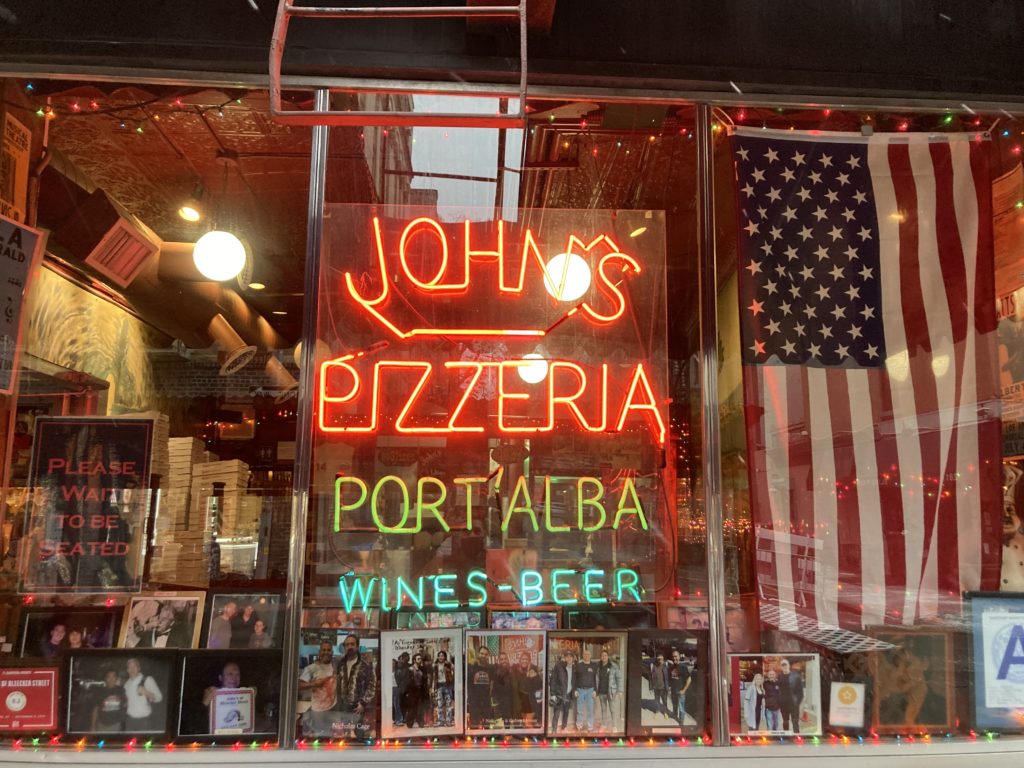 If it's the best New York-style pizza you're after, the Big Apple is the only place to go. The one pizza place in New York City that you truly can't miss is John's of Bleecker Street—identified in signage as simply "John's Pizzeria"— in Greenwich Village, Manhattan.
Narrowing down the best pizza joint in NYC is a contentious undertaking. For one thing, there's a lot of competition. The New York City Health Department recognizes 526 restaurants serving pizza in Manhattan, 450 in Brooklyn, 389 in Queens, 272 in the Bronx, and 118 in Staten Island. Unsurprisingly, several of these pizzerias have been serving up mouth-watering pies for decades, long enough to reach "legendary" status. Naturally, John's of Bleecker Street is one of them. Even good restaurants don't always hold up to the hype around them, especially in a tourist destination like NYC, but John's continues to live up to its reputation more than 90 years after its founding.
John's of Bleecker Street sells pizza by the pie—not the slice—but when the pizza is this good, you'll find room in your stomach for an extra slice. What makes John's so special is that it's not just the toppings that surpass your expectations, but the fundamentals. Pizza lovers rave about the coal-fired crust, which is the ideal amount of doneness to achieve a crispy crust that's just the right level of charred. The sauce is robust and flavorful, and the cheese complements it perfectly.
Even a classic cheese pizza from here is to die for. If you are feeling more adventurous, though, John's of Bleecker Street offers eight specialty pizzas with names like "The Boom Pie" (roasted tomatoes with ricotta cheese, basil, and garlic) and "The Jimmy Gambino" (sausage, peppers, ricotta cheese, and basil).
If you're going with a large enough group to handle a whole pizza plus other treats, you might be interested in John's of Bleecker Street's appetizers, sandwiches and pasta dishes. Otherwise, you may be better off focusing on the pizza that earned the restaurant's its well-deserved reputation as one of the best.
The Third-Best Pizza Shop in the Northeast: Santarpio's Pizza, East Boston, Massachusetts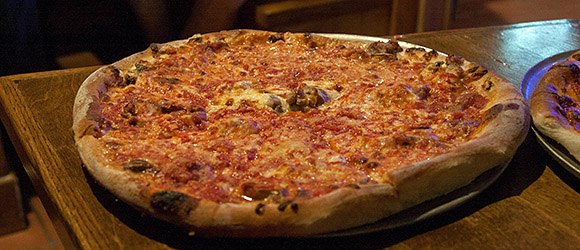 New York isn't the only major city where the best pizzerias are as much iconic landmarks as they are dining establishments. In Boston, Santarpio's Pizza on Chelsea Street has long been the place to go for Boston-style pizza, as well as the most well-known landmark of the "Eastie" neighborhood of Boston, as the locals call it.
The pizza shop originally started as a bakery in 1903, so you know its crust has to be good. In fact, Santarpio's didn't just start as a bakery—that was its claim to fame until 1933 when it finally began selling pizza after 30 years in business. Food journalists have sometimes described the crispy yet doughy crust as being reminiscent of Italian bread.
Perhaps the biggest surprise Santarpio's has to offer is that the toppings aren't on the top at all. Instead, they're added directly onto the crust and then smothered with sauce and cheese. The result is a delicious balance of classic pizza flavors put together in a way that's at once old-school and unexpected. Pizza lovers with a penchant for meaty flavors rave about the house-made sausage.
Although there are nearly two dozen pies on the menu, most aren't fancy—just combinations of two or three favorite topping blends. Exceptions include the Italian Cheese, Chicken, Broccoli, & Garlic pizza and the Shrimp Scampi pizza, both served white, and The Works, which is available with and without anchovies.
Besides having earned accolades from Food & Wine Magazine, The Daily Meal, USA TODAY, and many others for their pizza, Santarpio's also cooks up some mean barbecue dishes (as odd of a combination as that may sound). Try the chicken, steak, lamb, or sausage.
Santarpio's Pizza also operates a second location on Newbury Street (Route 1) in Peabody, MA, where it has a room available for group functions and events.
The Best Pizza Shops in Maine
The Best Pizza in Portland, ME: OTTO, Congress Street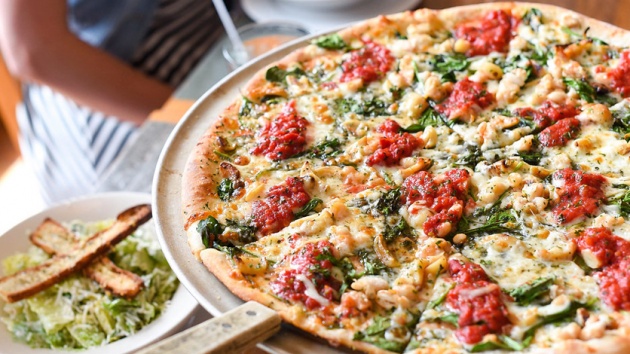 The Maine-based 16-location local chain OTTO proves that pizzerias don't have to have half a century of history to rank among the best. Founded in 2009, OTTO is a fresh new take on the reliable old standby that is pizza.
Mashed potato, bacon, and scallions on a pizza? Why not? How about Mango and barbecue pulled pork, sriracha chicken and avocado, or butternut squash with ricotta cheese and cranberry?
OTTO puts an end to the thin crust vs. thick crust debate by offering a "double dough" option for thick crust fans. The pizza shop chain strives to accommodate different diets and food allergies by offering a gluten-free crust option and vegan cheese substitute.
You'll find OTTO restaurants throughout Maine and Massachusetts.
The Best Pizza in Bangor, ME: Blaze, Broad Street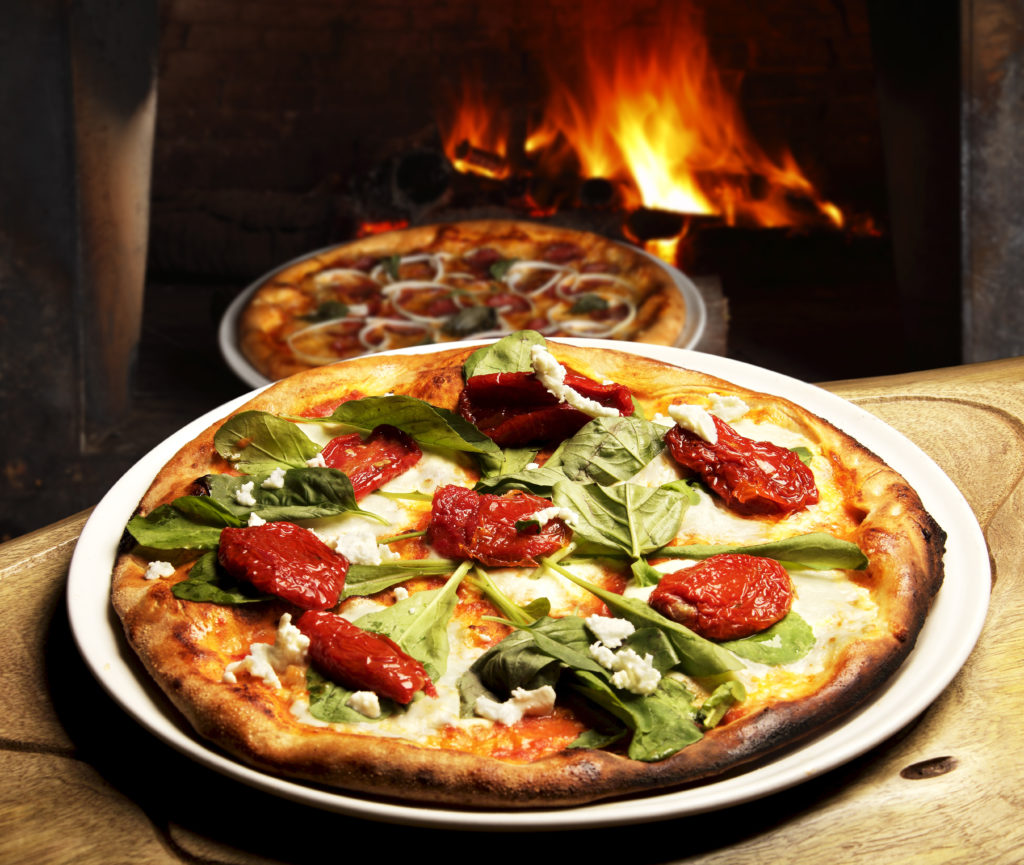 Sometimes you want great pizza, but not just great pizza. Aside from its robust pizza flavor combinations, Blaze has a reputation for making culinary delights in all kinds of varieties: starters, sandwiches, specialty tacos, oak-fired burgers, and more. The bar's offerings are equally impressive. With more than 50 craft beers available on tap, Blaze has the largest selection in the area, not to mention cocktails made with spirits distilled right here in Maine and handcrafted wines (because a great pizza deserves a great drink to accompany it).
The simplest pizza here, the Grandma, starts with a garlic olive oil base and includes tomato, mozzarella cheese, and fresh basil. From there, things get more interesting with unique sauce bases like the Blaze BBQ that appears on the BBQ Chicken pizza. The BLT pizza features roasted tomato, Bibb lettuce, a garlic aioli, and candied maple bacon on top of white ricotta cheese. That same ricotta base appears on the Chorizo Manzana pie, which features smoked cheddar cheese, fire-roasted apples, bacon, chorizo sausage, sriracha aioli, and cilantro. You can also build your own pizza or ask for a gluten-free crust or soy cheese to accommodate dietary restrictions.
The Best Pizza Shops in New Hampshire
The Best Pizza in Belknap County, NH: Tilton House of Pizza, Main Street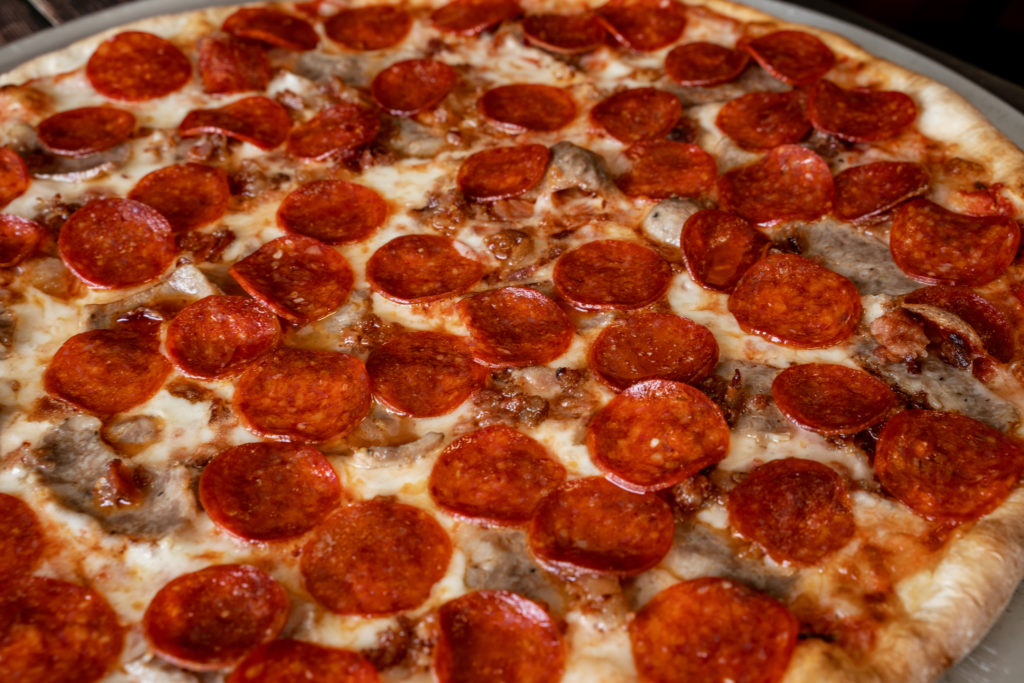 The Tilton House of Pizza, situated in the historic town of Tilton, NH, has a pretty expansive menu: hot and cold grinders and subs, spaghetti dinners, seafood dishes, fresh salads, and more. Of course, what really stands out is the pizza.
You can, of course, get a traditional cheese pizza here. For more adventurous eaters, though, the specialty pizza choices elevate classic crust, sauce, and cheese into something more. You could go with a tamer vegetarian or meat lover's pizza, but you could also opt for more creative flavors like Fajita, White Balsamic Chicken, Loaded Potato, Bacon Cheeseburger Supreme, and Grilled Chicken Broccoli Alfredo.
The Best Pizza in Manchester, NH: Alley Cat Pizzeria, Chestnut Street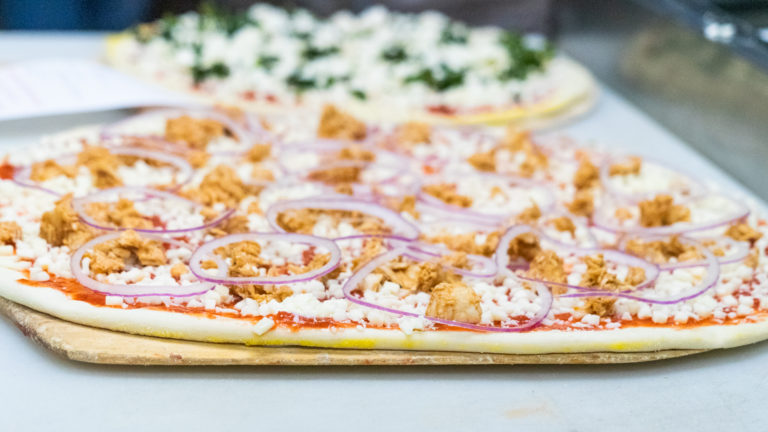 Go big or go home—and it doesn't get any bigger (or better) than Alley Cat Pizzeria. The 20-inch XXL-size pie feeds a crowd, and the quality equals the quantity. It starts with a perfect New York-style thin crust that is both chewy and crispy. Pile it high—or not—with your choice of toppings, or select one of the specialty pies, each of which has a cat-inspired name: The Attack Cat, The Fancy Cat, The Tom Cat, The Maui Cat, The Fat Cat, The Black Cat, and The Aristocat.
The Best Pizza Shops in Vermont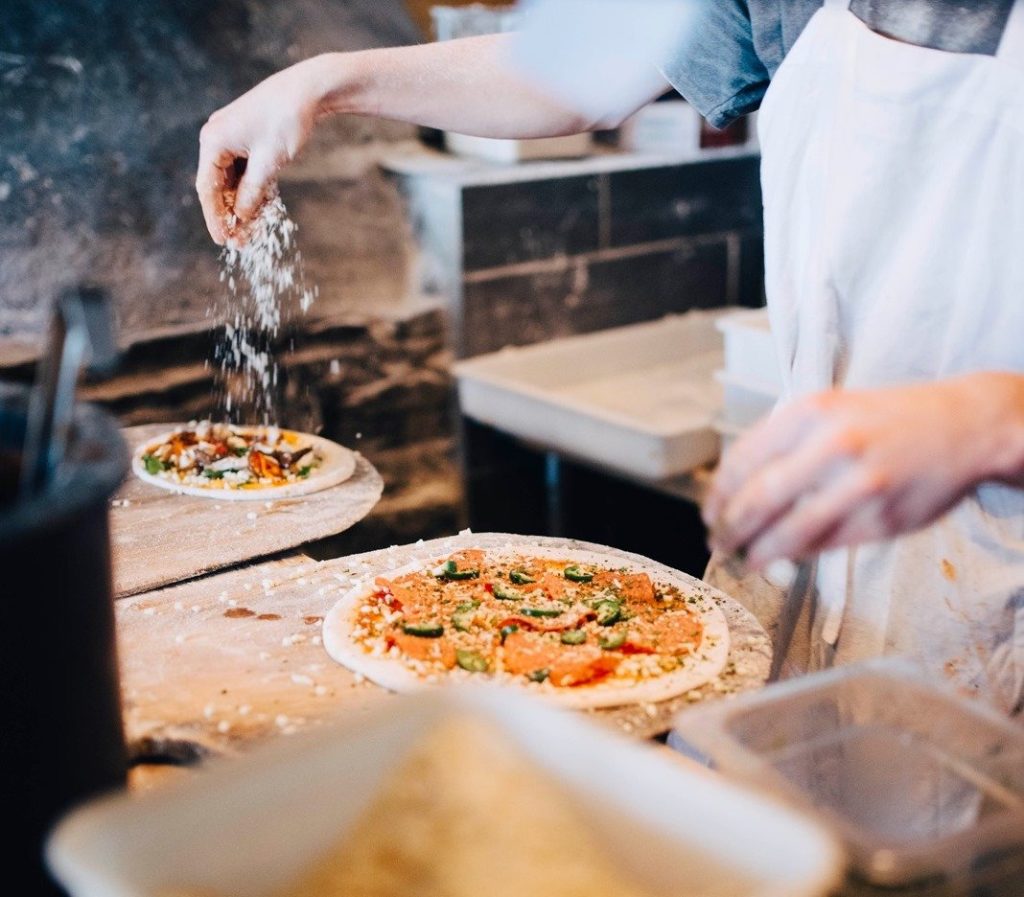 American Flatbread is a local franchise founded in Waitsfield, VT, with multiple locations throughout Vermont and Massachusetts and a presence in five states total. Visitors and locals say the franchise's flatbreads are some of the best pizzas they have ever had.
We know the relationship between flatbread and pizza is controversial, but hear us out. Are pizza and flatbread the same, different, or equivalent? It depends on who you ask. Some foodies view one as clearly superior to the other, while others consider pizza to be, in fact, one variety of flatbread.
Officially, the distinction between pizza and flatbread is the difference in the composition of the dough that forms the crust—so, while flatbread might not technically be the same as pizza, it's a close enough cousin to count. Despite the nuances of flatbread vs. pizza, either option has the crust, sauce, cheese, and toppings to satisfy a pizza craving.
There's no shortage of choices on the menu at American Flatbread, including the option to build your own flatbread. If you're feeling something classic, you can't go wrong with Medicine Wheel, which keeps things simple yet delicious with a wood-fired cauldron organic tomato sauce, fresh herbs, and a blend of mozzarella and Grana Padano cheese.
The oddly-named signature recipes get plenty of love, too. Punctuated Equilibrium is a popular pick, with three kinds of cheese—mozzarella, Grana Padano, and Vermont Creamery chevre—plus roasted red peppers, red onions, kalamata olives, and fresh rosemary and herbs. Diners also love the Revolution flatbread, which adds mushrooms and caramelized onions to the foundations that make up the Medicine Wheel. For a little spice, try the Roasted Tomato Salsa flatbread or the buffalo chicken-based Power to the People concoction.
What makes the Burlington American Flatbread location—which is under an hour's drive from the original American Flatbread location—extra special is its affiliation with Burlington Hearth & Brewery. The selection of handcrafted beers is the perfect accompaniment to the artisanal flatbreads bursting with flavor. You also can't go wrong with wine, a Vermont hard cider, or a house cocktail to wash down your meal.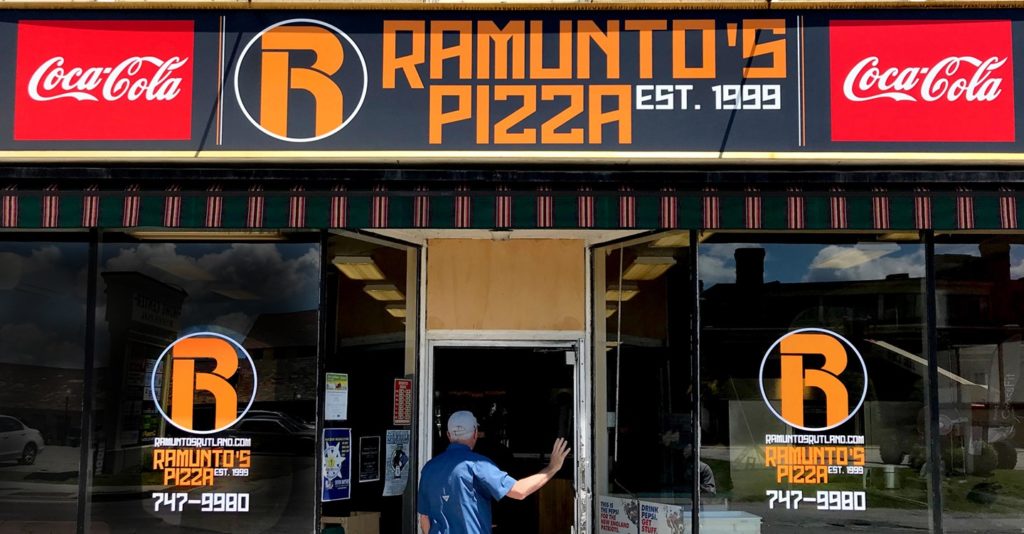 Food lovers who are in the know typically prefer to frequent the restaurants locals enjoy over the tourist traps that tend to be crowded, overpriced, and generally not that good. How much locals love Ramunto's is a clear sign of the quality of this pizza parlor where there's something on the menu for every pizza aficionado.
The first thing you'll notice about Ramunto's menu is the variety. The pizza shop makes both New York-style thin-crust pizzas and thick, square Sicilian pizzas. Start with a simple base that consists of freshly made dough and sauce and top with your favorite meat, veggie, and cheese flavors, or try one of the specialty pizzas. While you'll find classics like White, Veggie, Meat Lovers, Hawaiian, Greek, and the Works, you can also enjoy more inspired creations. The Garlic Knot is a thin-crust pizza with a crust of garlic knots. Foodies love the Buffalo Chicken, BBQ Chicken, Chicken Ranch, Chipotle Chicken, and Spicy Ranch specialty pizzas.
The Best Pizza Shops in Massachusetts
The Best Pizza in Cape Cod: George's Pizza House, Harwich Port, MA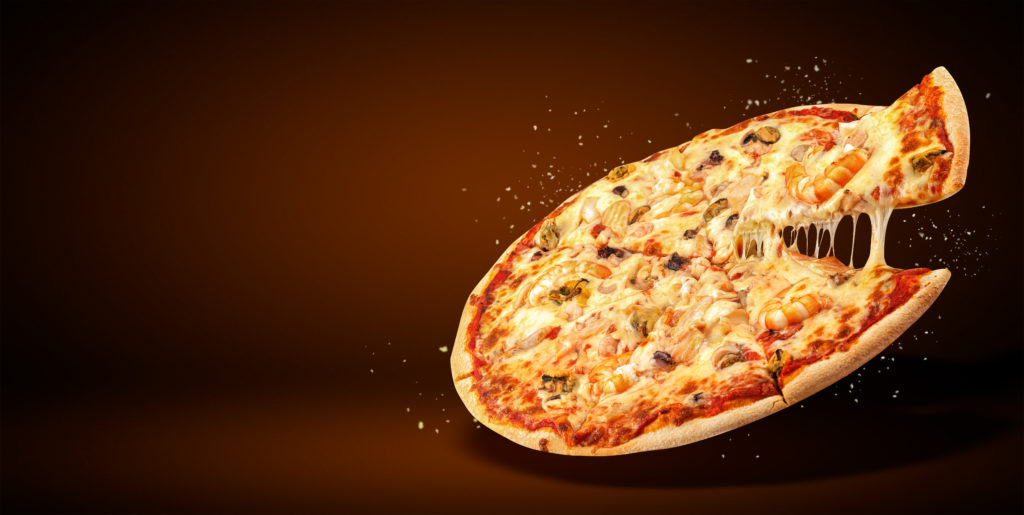 Boston may be "The Hub," but there's a lot more to Massachusetts—geographically and gastronomically—beyond the city limits. If you get hit with a sudden pizza craving while
venturing over to Cape Cod (perhaps visiting Martha's Vineyard or Nantucket), stop by George's Pizza House in Harwich Port.
The family-owned restaurant is a local gem here. Over its more than 50 years in business, George's Pizza House has won numerous awards from publications and organizations like the Cape Cod Times, the Cape Cod Community Newspaper Company, Cape Cod Life magazine, and the Harwich Chamber of Commerce.
Concoct your own perfect pizza with any combination of the more than two dozen toppings available, or choose a classic pie like a Meat Lover's or Vegetarian. Ordering "The Works" here will get you hamburger, sausage, pepperoni, and linguica with onions, green peppers, mushrooms, and optional anchovies. George's gourmet pizza options up the ante with favorites like Greek pizza, Kimopita pizza, and Farmer's pizza.
The crust at George's is on the thicker side but not too thick, and it still comes out with a delightfully crispy texture. The restaurant's other food offerings include calzones like Chicken Parm and George's Special, which consists of shaved steak with pizza cheese, feta cheese, spinach, and a side of Greek dressing.
Best Pizza in Springfield, MA: Red Rose Pizzeria, Main Street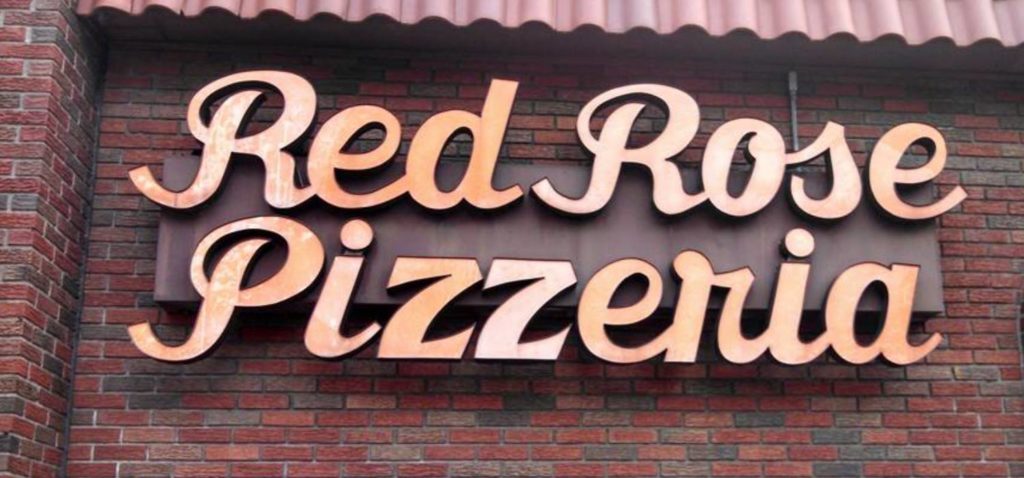 The Caputo family opened Red Rose Pizzeria in 1963, shortly after immigrating from Italy, and the restaurant remains family-operated to this day. The dough is made in-house from scratch in 200-pound batches at least four times per day.
In addition to the house recipe that consists of mozzarella cheese, pepperoni, and red and green sweet peppers, the restaurant offers Hawaiian, Margherita, Primavera, Pulled Pork Barbeque, and Spicy Buffalo specialty pies. No matter what toppings you choose, the hand-stretched, hearth-baked dough and other fresh ingredients are the keys to this award-winning pizza.
The Best Pizza Shops in New York
The Best Pizza in the Finger Lakes: Apizza Regionale, Syracuse, NY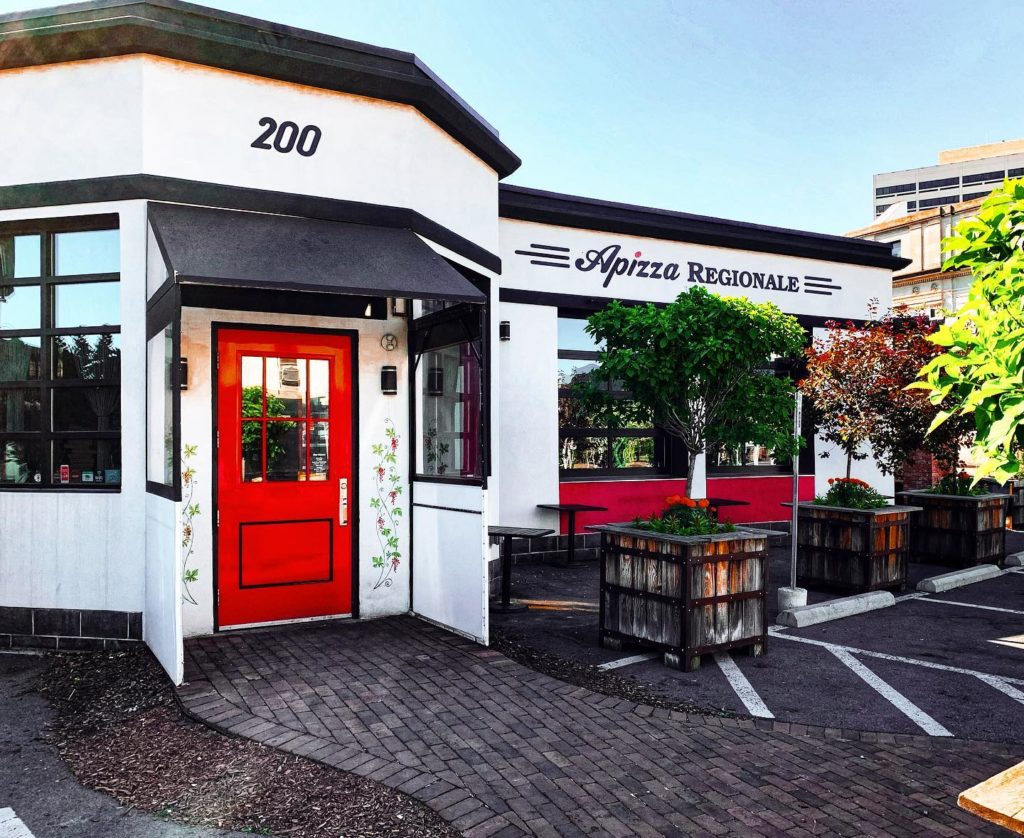 When it comes to pizza joints in the Empire State, New York City tends to steal the spotlight. On any given list of the best pizzas, you're likely to find NYC pizzerias overrepresented—but there's outstanding pizza to be had elsewhere in New York State, too. Case in point: Syracuse's Apizza Regionale in Finger Lakes Wine Country.
Apizza Regionale builds its Neapolitan-inspired pies from top-quality ingredients, some locally sourced and others imported from Italy, so it's no wonder that the restaurant strikes a perfect balance between traditional Italian pizza and New York-style pizza. Each pizza is wood-fired in an oven that was handmade in Naples, Italy. Cheese is an integral part of most pizzas, and Apizza Regionale makes their mozzarella cheese—as well as their sausage—in-house on a daily basis.
The pizza options offered at Apizza Regionale are perfectly crafted blends of flavors. The popular Rucolo pizza comes with smoked prosciutto, fontina and mozzarella cheeses, arugula, and red wine vinaigrette. The Patata is topped with Yukon gold potatoes, aged gouda cheese, caramelized onions, and fresh rosemary. Keep things simple with a Garlic & Herb or classic Apizza pie, or pile on toppings like house-made sausage, roasted or pickled peppers, or even an egg. Vegan, vegetarian, and other allergen-conscious options are available.
Beyond the pizza, Apizza Regionale offers antipasti like meatballs and pork store arancini, salads, pasta dinners, and dessert. There's also a full-service bar where you'll find wine, beer, and cocktails.
The Best Pizza in the Adirondacks: Puterko's Family Pizzeria, Indian Lake, NY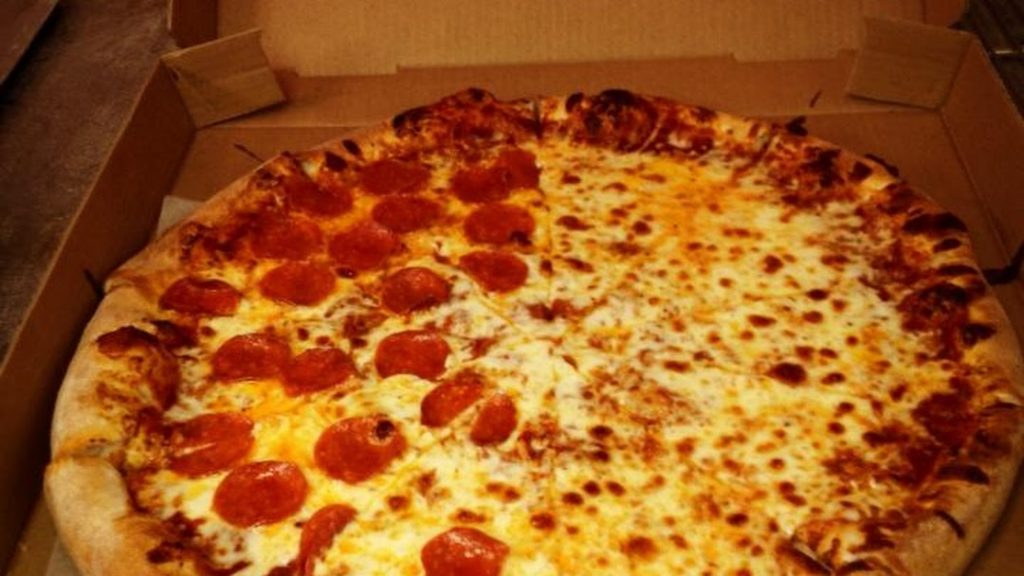 Farther upstate, near the border of Vermont, is another famous New York landmark: the Adirondack Mountains. The standards for what makes a good pizza place here are as high as the 5,000-foot elevations. If you're visiting Adirondack Park or the lakeside resorts of Lake Placid, Lake George, and the other lakes surrounding the mountains, stop by Puterko's Family Pizzeria for a slice of cheesy, saucy goodness.
Puterko's Family Pizzeria in Indian Lake is about an hour and a half drive south of Lake Placid. Since 2008, the family-run restaurant has offered pizza and so much more: pasta, subs and hoagies, salads, and appetizers.
If you're in the mood for thin crust, choose classic New York City-style hand-tossed pizzas with the toppings of your choice. Specialty pies like The Cowboy, Black Bear, Bleu Buffalo, Turkey Club, and Chicken Bacon Ranch pizza come in both pan crust and thick crust options. The Snowy Mountain is a white specialty pie bursting with mozzarella and seasoned ricotta cheese. The signature Polander swaps spicy brown mustard for traditional tomato sauce and tops the pizza with mozzarella, sliced kielbasa, and sauerkraut.
The Best Pizza Shops in Rhode Island
The Best Pizza in Providence: Al Forno, Main Street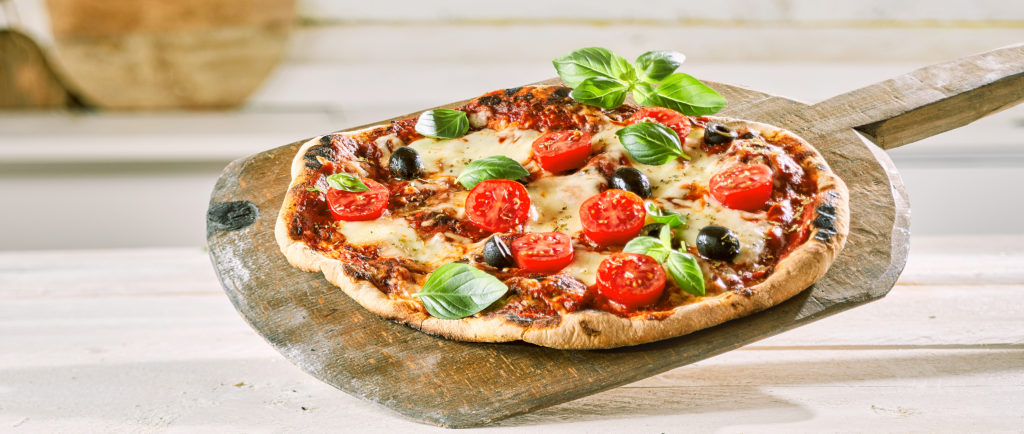 A riverfront restaurant where the pizza is inspired as much by New England flavors as by Italian flavors, Al Forno has been serving up outstanding food for more than 40 years. If you're open to pizza topped with corn or calamari, this is one delicious Rhode Island dining experience you won't want to miss.
People often talk about wood-fired or coal-fired pizzas, but at Al Forno, the pizza is instead grilled to perfection. And perfection is exactly what it achieves, even though purists may consider Al Forno's pizza to be more flatbread-like with its thin, unusually shaped crust.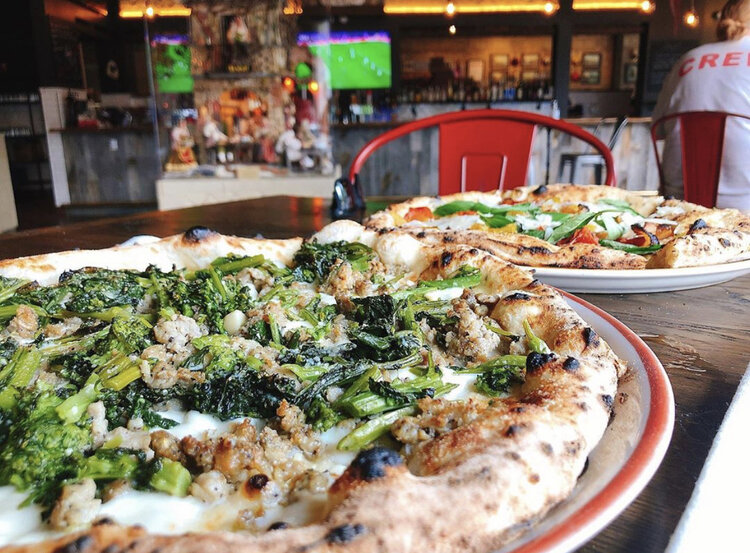 In true Neapolitan style, Pasquale's uses handcrafted ingredients to make next-level pizza. The crust is made with a dough that consists of fresh yeast, Italian milled 00 flour, and Sicilian sea salt. The dough is both hand-kneaded and mixed with an Italian fork dough mixer and is fermented in two stages. The menu contains upwards of 25 pies, as well as a daily pizza special.
The Best Pizza Shops in Connecticut
The Best Pizza in New Haven (Part 2): Sally's Apizza, Wooster Street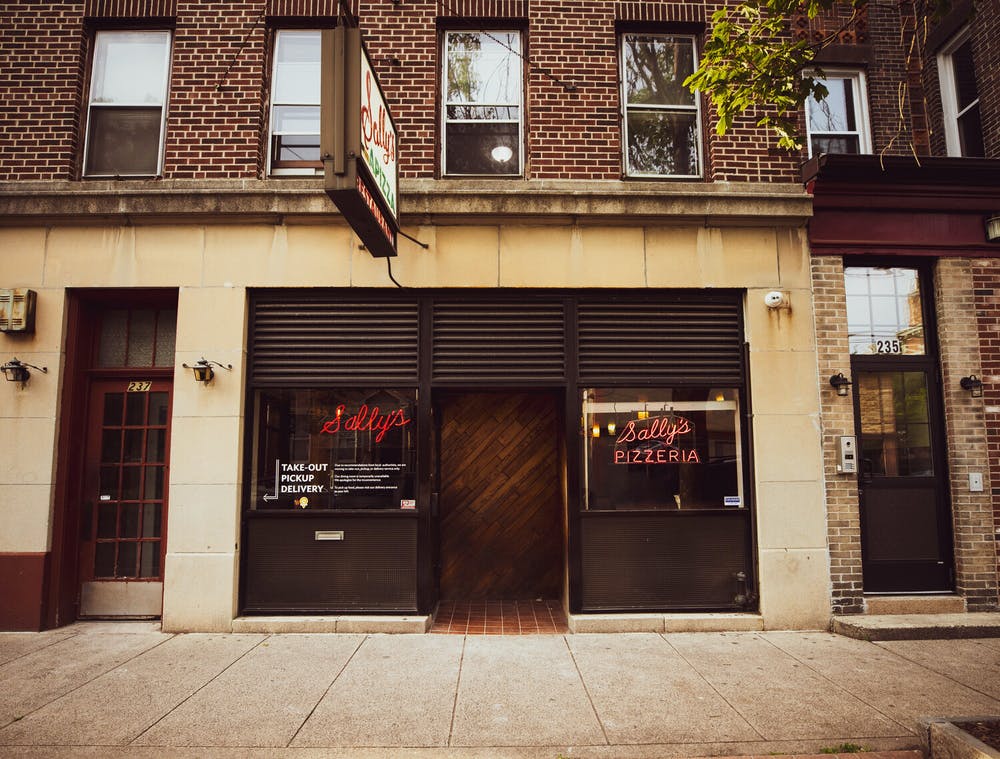 Frank Pepe isn't the only pizza icon gracing Wooster Street in New Haven. Sally's Apizza is another Connecticut pizzeria consistently ranked among the best in America. That's not surprising, given that Salvatore Consiglio, the founder of Sally's Apizza, learned from the best: his uncle, Frank Pepe.
Like Frank Pepe, Sally's Apizza serves up a cheeseless tomato sauce pie (which pizza lovers rave about) and a clam pie (which, they admit, may not quite live up to Frank Pepe's). You'll find unique flavor combinations here, though, that you won't find elsewhere. The White Potato Pie, sans sauce, builds on hearty potatoes with imported parmesan cheese, mozzarella, onions, and rosemary. The Garden Special Pie piles on zucchini, fresh tomatoes, onion, basil, and mozzarella.
Sally's Apizza is wildly popular, so you'll sometimes have a long wait for dine-in seating or pickup. Don't worry—fans say the food is worth the wait! As of 2021, the pizzeria is expanding, opening a new location in Stamford.
The Best Pizza in Hartford: Blind Pig Pizza Co., Arch Street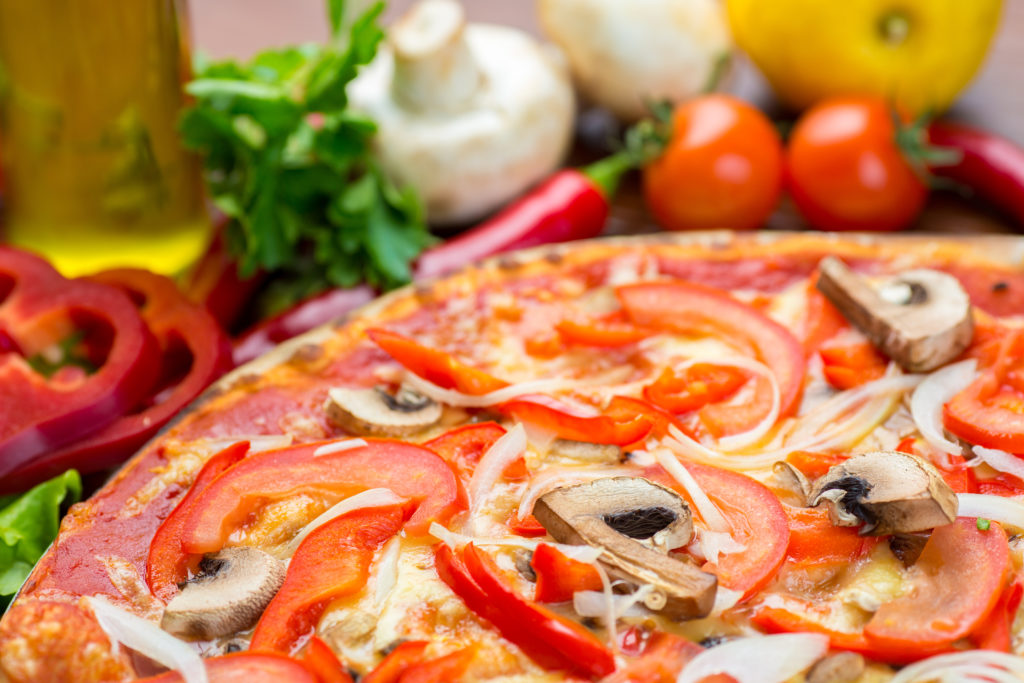 New Haven may be the "pizza capital of the United States," but sensational pizza can be found elsewhere in Connecticut, too. An oddly-named but oh-so-good pizza joint in Hartford is the Blind Pig Pizza Co. The pies here are gourmet but not pretentious, bursting with the traditional flavors of freshly made dough and tomato sauce and unexpected flavors like barbecue sauce, ranch, honey, eggs, and crushed Doritos. Try the line of Bear's BBQ Pies and specialty pies like Shroom, Smoked Wing, and CrunchPie Supreme.
The Best Pizza Shops in New Jersey
The Best Pizza in North Jersey: Razza Pizza Artigianale, Jersey City, NJ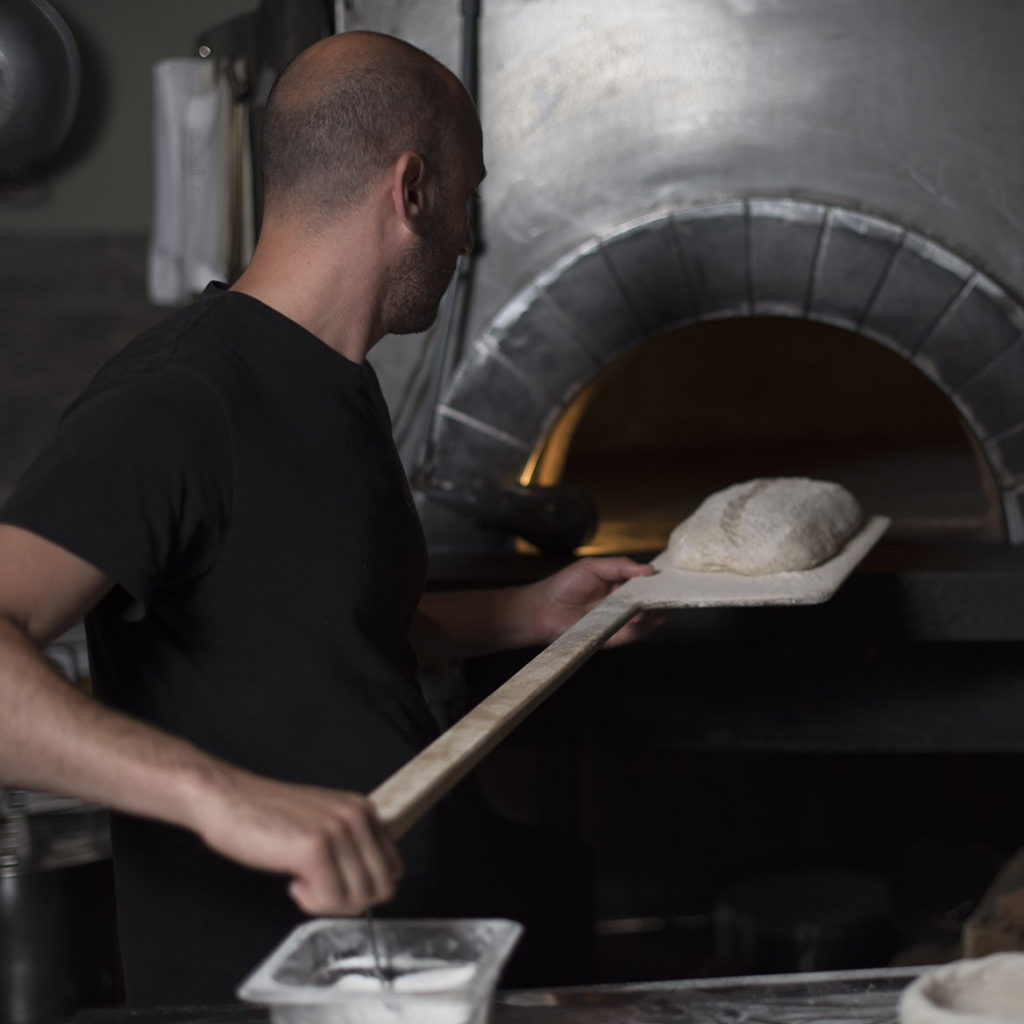 Any New Jerseyan will tell you that North Jersey and South Jersey are practically different states. One North Jersey pizza shop with a stellar reputation is Razza Pizza Artigianale, where fresh, local, in-season ingredients and a commitment to continuous improvement combine to accomplish award-winning pizza.
A lot of pizza restaurants claim to use fresh ingredients, but Razza Pizza Artigianale doesn't just talk the talk. It walks the walk, changing the menu daily to reflect what's fresh and in season. Every ingredient is handpicked (including the beer and wine list and even the salt used to season the pizza), locally produced (like the flour milled in nearby Clifton, NJ), or made in house (like bread, butter, and the yeast culture used for the pizza crust).
You can't go wrong with the classic—and popular—Margherita, but the shop is also known for unusual flavors like Asparagus Pie and Pumpkin Pie pizza. The Di Natale pizza incorporates raisins, pine nuts, olives, and chili oil, while the Funghi features mixed mushrooms. Whatever toppings you choose, they'll sit atop a base of thin crust that foodies have raved is at once light, airy, and crisp.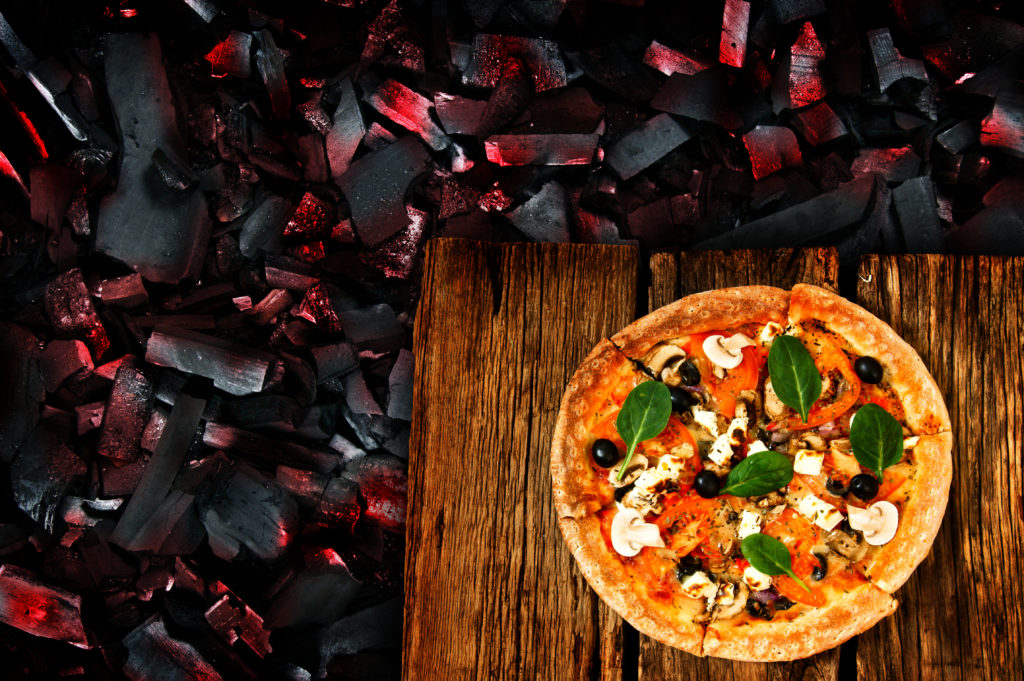 The South Jersey shore towns, like Ocean City and Wildwood, may be home to the unique class of boardwalk pizza (Manco and Manco's, anyone?), but foodies say there's an even better pizzeria in Camden County. Bricco Coal Fired Pizza in Westmont is situated between Collingswood's restaurant row a mile east and the shops of Haddonfield a mile west. It's close enough to Philly for visitors from the City of Brotherly Love to make the trek there by train and avoid congestion crossing the bridge.
Everything about Bricco's pizza is special. The crust is the cornerstone of a pizza, and Bricco builds every pizza on the foundation of a crispy thin crust made from aged dough unique to the restaurant. The custom pizza oven runs exclusively on clean-burning anthracite coal and—with a two-hour pre-lighting process and hourly monitoring—reaches the 1,000 degrees necessary to produce a perfectly charred crust.
Fun fact: although coal is integral to its cooking process, Bricco's use of anthracite coal makes its pizza preparation sustainable and environmentally responsible. This coal comes from formerly abandoned mines and leaves less of an environmental footprint than wood, oil, or even electricity, and its purchase helps fund environmental initiatives.
Build your own coal-fired tomato pie—with a base of sauce, cheese, or both—out of the more than 30 toppings offered. Alongside favorite topping choices like pepperoni, sausage, and mushrooms, you will find options like zucchini, eggplant, long hots, pancetta, artichokes, prosciutto, clams, short ribs, and vegan cheese. Classic specialty pizzas include Margherita, Carbonara, Spicy Chicken, Short Rib, Summer Corn, and the Stinger. Vegan and gluten-free options are available.
The Best Pizza Shops in Pennsylvania
The Best Pizza in Philly: Pizzeria Vetri, Fairmount and Rittenhouse Square, Philadelphia, PA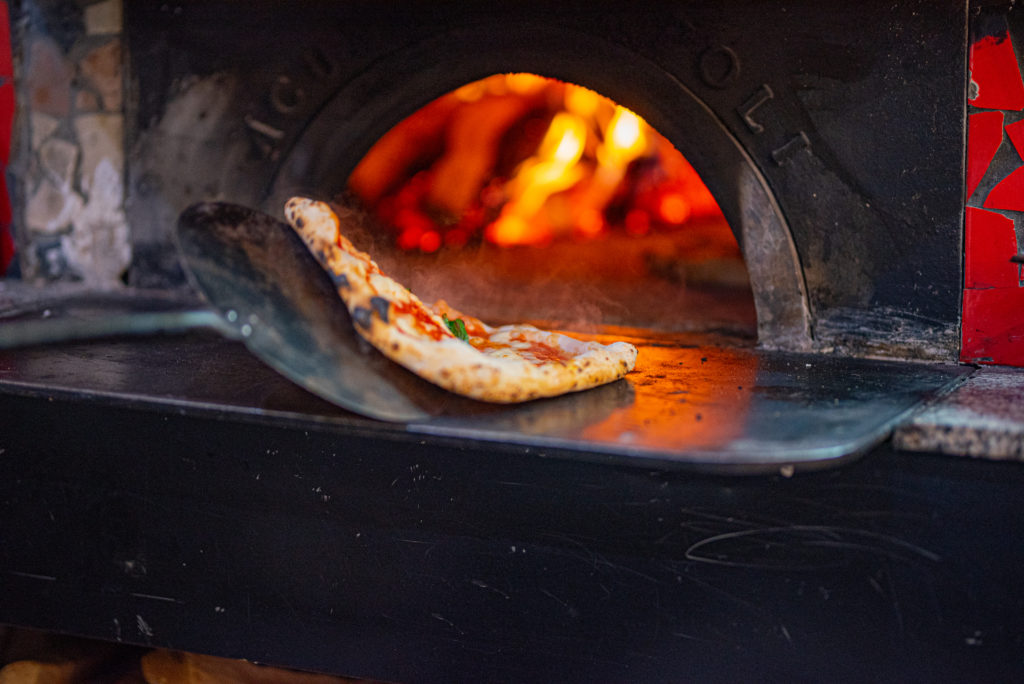 The battle for the best pizza in Philadelphia is a tough one, but one pizza shop sure to please foodies is Pizzeria Vetri. With two Philly locations and a third location elsewhere in PA—plus a pizza truck outfitted with a mobile wood-burning pizza oven—Pizzeria Vetri has cultivated a reputation for serving authentic and delicious Neapolitan pizzas. The house-made dough ferments for four days before baking, which is what helps the pizzeria's chewy yet light and crispy crust develop the perfectly charred bubbles that give the pizza its signature "leopard" look once it's heated in the 650-degree wood-fired oven.
Pizzas here come in two shapes and sizes. The 12-inch round Neapolitan feeds one to two, while the rectangular Metro feeds three to four people, at 28 inches long. You can get classic pies like the Margherita, Marinara (sans cheese), and Pepperoni, but there's also a lot more to explore here. The Heirloom pie is named for the marinated heirloom cherry tomatoes that grace its surface. The Eggplant pizza also incorporates tastes of oregano, crushed San Marzano tomatoes, and stracciatella cheese. Other specialty pizzas include the Shroom, Fennel Sausage, Spinach, Maurizio, and Crudo.
Pro tip: start your meal with the Rotolo appetizer, a signature dish at Pizzeria Vetri that in 2013 was named The Philadelphia Inquirer's "morsel of the year." The popular rolled dough dish features ricotta cheese, sliced mortadella, and a topping of pistachio pesto.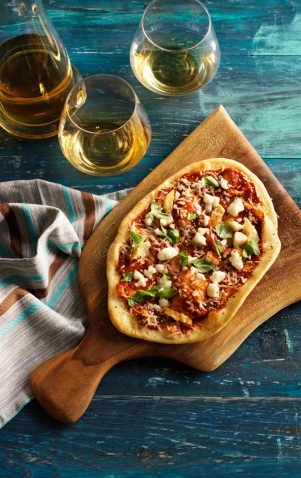 Since 2013, Proper Brick Oven and Tap Room has brought outstanding food and drinks to the cultural center of the Steel City, featuring dishes made in-house and from scratch using local, seasonal, and sustainably produced ingredients. The pizza here begins with made-from-scratch dough concocted from an organic yeast starter and given three days to rest. A spell in the wood-burning oven transforms it into a crispy crust that's sturdy enough to hold some pretty hearty toppings.
The basic pizzas here are the Margherita and the Bianca white pizza. Of course, neither one is truly "basic," with the Margherita's San Marzano tomato sauce and house-made mozzarella and the Bianca's roasted garlic sauce and combination of Parmigiano-Reggiano, fontina, ricotta, and imported Italian burrata cheeses.
The Carnivore pizza, made with pepperoni, pork belly bacon, and house-made sweet and hot sausage, is just what meat lovers are looking for. The Black & Gold pie inspired by the restaurant's Pittsburgh location takes sliced Yukon gold potatoes and fresh cracked black pepper to new heights of flavor with red onion, fresh rosemary, and fontina and grated pecorino cheese all atop the roasted garlic sauce. Other popular specialty pies include the Forest, Mediterranean, and Pesto pizzas.
The Best Pizza Shops in Delaware
The Best Pizza in Wilmington, DE: Gianni's Pizza, Trolley Square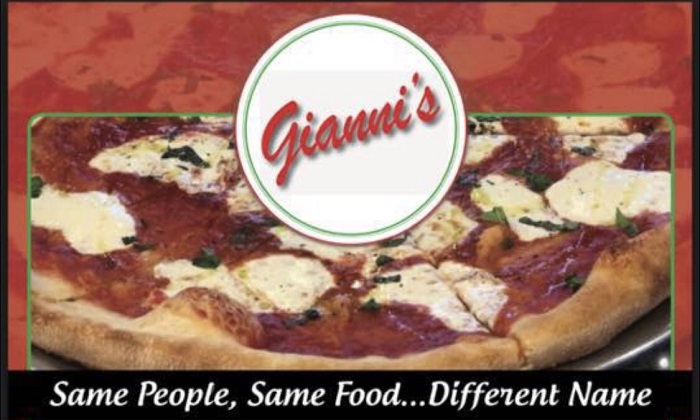 For more than 18 years, Gianni's Pizza (formerly called Ciao Pizza, but still under the same owner and using the same tried-and-true recipes) has served up delicious dishes ranging from appetizers and salads to sandwiches and wraps, Italian dinners, and calzones and strombolis. It's the pizza that stands out the most, though, bursting with crunch and flavor no matter which toppings you choose.
If you like to keep your pizza traditional, choose from round pizzas—available both by the slice and as a whole 14-inch or 16-inch pie—or square 16-inch Sicilian pizzas. Top with any of 20 different meats, vegetables, and other topping options. There are also 25 gourmet pizza options to choose from, like BBQ Chicken, Buffalo Chicken, Eggplant Parmigiana, Chicken Alfredo, Lasagna, and Baked Ziti pizzas.
The Best Pizza Shops in Maryland
The Best Pizza in Baltimore: Matthew's Pizzeria, Highlandtown, Baltimore, MD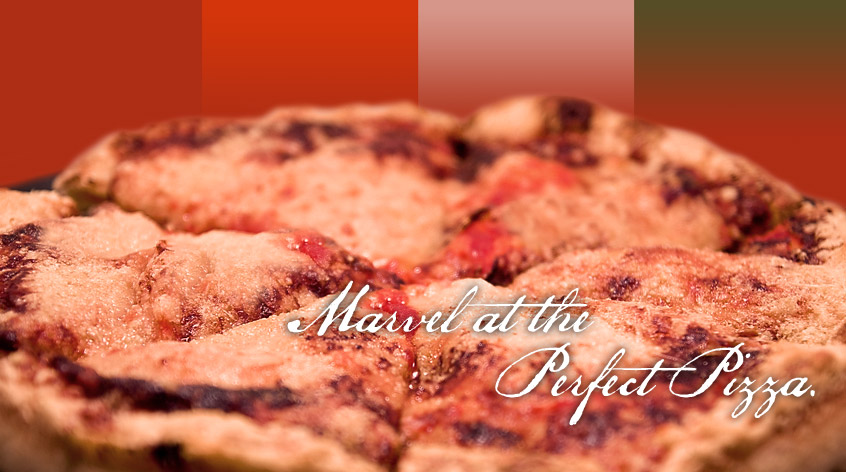 With a culinary history dating back to 1943, Matthew's bills itself as the first pizzeria ever established in Baltimore. During those decades, the pizzeria earned numerous awards and accolades, being named the best in Baltimore more than 80 times.
Pay attention to the menu here, because it contains some surprises. The Original pizza at Matthew's is a cheeseless tomato pie, while the Traditional pizza is topped with grated reggianito cheese. You can also opt for the "Popular" pie with mozzarella, the "Both Cheese Pie," or a "3 Cheese Pie" and still stick to the basic flavors of crust, sauce, and cheese.
Feeling adventurous? The Crab Pie is a favorite here, made with 100% backfin crab meat, caramelized onions, Old Bay seasoning, and both types of cheese. The Great White pie skips tomatoes and tomato sauce entirely but adds sweet onions. There's a Spinach pie with optional chicken or shrimp, a Fra Diavalo pie made with Thai chili sauce, and Anna's Stuffed Pie featuring your choice of salami, proscuittini, or capricolo along with provolone and mozzarella cheese.
Conclusion
There you have it: 23 of the best pizza shops in the Northeast, each with its own special flavors, methods, and stories. The beauty of pizza is that it can be fancy or casual, innovative or traditional, with all different kinds of crusts, sauces, cheeses, and toppings. What constitutes the "best" pizza is up to you to decide.