You've decided it's time to understand the business world, which is great. Now the question is where to start. Warren Buffet reads over 500 pages a day to help him learn. Reading the best business books will help teach you what you need to know.
There are so many books to choose from that you can have a hard time figuring out where to start. The following are the best business books to read if you are ready to start self-instruction in business. They are time tested and proven to teach the topic well and yield beneficial results.
We've broken them into six categories so you can focus on one key aspect of your business, or read one book from each section. Let's get started!
Business Creation
If you're ready to start your business, these books give you the roadmap to make it successful. They can even help you with a company you've already started. You'll learn how to correct problems you may have made during the creation.
1. The Lean Startup by Eric Ries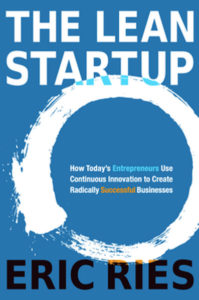 Creating a startup is one of the most uncertain things you can do. It is hard to get a business off the ground. Almost 25% of these startups fail in the first year, and 90% of all startups fail within ten years.
That is not a great percentage to see when you want to create your business. The Lean Startup by Eric Ries will help make those odds better.
Eric Ries outlines practices that will help you streamline your company. These new ideas help give you a better chance at success. It avoids many old traditions that don't work anymore. By staying lean, you have less overhead to weigh you down.
The Lean Startup studies the most successful aspects of startups that stayed in business. It looks at how you can implement those practices into your startup. Focusing on reliable methods will give you a better chance to beat the odds and survive your first year and much longer.
2. Ready, Fire, Aim by Michael Masterson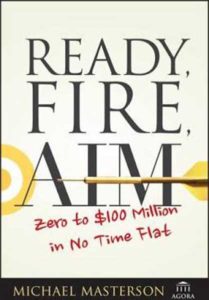 That isn't a typo. Ready, Fire, Aim references the idea that sometimes you have to start a business even if you don't have a fully formed plan.
The book studies how the processes and methods of starting and maintaining a successful business have changed.
Michael Masterson shows you the tips and tricks he has learned from creating two multimillion-dollar businesses. He looks at what he did right and what he did wrong so you can learn from his example.
The book breaks down different steps in keeping a successful business. These include starting the business, restarting a stalled business, and maintaining a business's growth. It can help you run your business right after you create one.
Even if you have already started your business Ready, Fire, Aim can help you make your business more lucrative and productive. You can apply the advice in the book to companies at almost every stage of their development.
3. The E-Myth Revisited: Why Most Small Businesses Don't Work and What to Do About It by Michael E. Gerber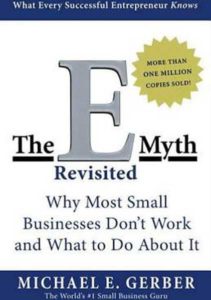 Many small business owners tend to be very hands-on. It makes sense; you go into your specific business because you are good at aspects of that business. When you are too hands-on, though, you can lose sight of the bigger picture.
Michael E. Gerber focuses on the distinction between working in your business and working on your business. He teaches you how to take a business from its small beginnings, through some rough stretches, and into its mature, productive stages.
More than 60% of small business employees claim their boss micromanages them. The problem with being so involved in day-to-day work is that you neglect growing your business.
By focusing your energy on the right parts of the business, you will give yourself the best chance to succeed. The E-Myth Revisited makes sure that your business priorities are in the correct order.
4. The Hard Thing About Hard Things: Building a Business When There Are No Easy Answers by Ben Horowitz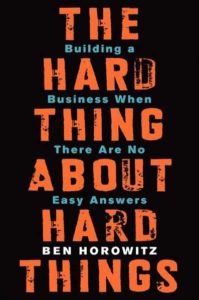 Many books focus on the best parts of business. Their goal is to get you excited about the process. They think that excitement will get you through the challenges. Ben Horowitz chooses to give readers a much more realistic look. It studies the trials and tribulations of business.
The Hard Thing About Hard Things focuses on Horowitz's most challenging moments in business. It looks at mistakes, tough decisions, and high-stress moments that he faced when trying to start and run his business.
By looking at these events openly and honestly, he helps prepare readers for what they can expect. It covers challenges in all the different stages of business. Learning from the difficult moments and seeing that you can still be successful will give you hope.
This book isn't all doom and gloom. Horowitz writes with humor and wit to help you smile, even when he tells you hard truths. It shouldn't discourage you. It is there to educate you, so you are ready to face the problems head-on.
5. Hooked: How to Build Habit-Forming Products by Nir Eyal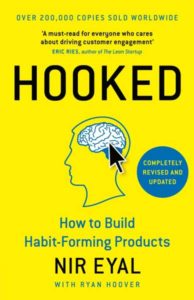 This book looks at creating and selling a product that will be sought after by consumers. It studies how and why some products become popular and some products flop and fail. By seeing the different actions of both these events, you have a better chance to succeed.
Nir Eyal has studied many different companies to find out how they hooked their customers. These methods ensured that they would come back and continue to buy from these companies.
You won't only learn how to make the products people can't stop using. You will also see how to capitalize on the buzz and excitement your product is creating.
The tips in this book work for established companies. However, the recommendations can also help new businesses find their place in the market. People like having helpful habits. You'll keep the customers with less work once you hook them.
Hooked breaks this topic into four easy to implement steps. These steps can help you make products your customers want.
Process
A business process is vital to making you successful. It covers all the activities you have to take to achieve your goals. These are the best business books to help you develop and institute efficient processes. The lessons they teach will make your business function better.
6. Deep Work by Cal Newport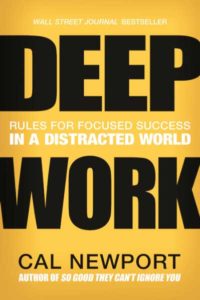 Have you noticed how many people seem to have shorter attention spans right now? There are so many things drawing your attention it's hard to focus. Deep Work looks at a skill that people don't use as often today.
Cal Newport examines how the world has transitioned to fast scrolling and shallow attention spans. Distractions are all over the place, and deep work is becoming less common through it all.
Deep Work helps teach you how to get your concentration back. It focuses on learning how to pay attention to the topic at hand. This focus allows you to put all your effort into every task you have.
The premise is that you will get a lot more done by using more of your energy on the essential things. You will save significant time. You will learn how to manage distractions and become more effective as a result.
7. What Got You Here Won't Get You There by Marshall Goldsmith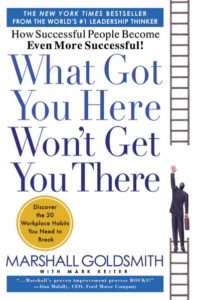 You have done pretty well for yourself and made it pretty high up in the world of business. That's great, but now you want to learn how to go even further. You want to surpass your current position and take it to the next level. That's where this book comes in.
Marshall Goldsmith is an executive coach that has helped people improve upon already substantial performance in business. He enables you to improve on everyday interactions that can be holding you back.
He looks at and dissects behavioral and personal skills that you are using at work every day. He shows how some may misinterpret your actions, even if that was not what you intended to convey.
By learning how others view your actions, you will ensure that you are getting your desired response from them.
What Got You Here Won't Get You There will teach you how to conduct yourself properly, so your company sees you as leadership material. It can help you break through that barrier and gain your spot at the top.
8. Linchpin: Are You Indispensable? by Seth Godin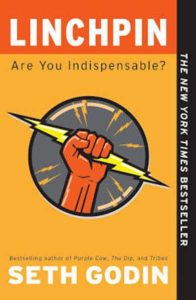 Have you ever interacted with a person who seemed to take joy in their job? The type of person who turned even the small tasks into fun and effective opportunities to make the business better? Those people are Linchpins, and you can be one too.
Seth Godin uses this book to look at you and see what you can do to become one of your company's most essential parts.
He explains that many people can become these linchpins but are too scared. They take on lesser roles instead of maximizing their potential.
Linchpins don't always follow the rules. They create their own solutions to problems at work that are more helpful.
After reading this book, you will understand how important it is to become a linchpin. In doing so, you will make your whole business experience better and more fulfilling.
Linchpin gives you the tools and fortitude to become the linchpin you should be.
9. The Art of Client Service by Robert Solomon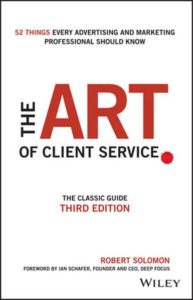 Clients are at the heart of many businesses. This pocket-sized manual outlines a bulleted list of 58 things you can do to achieve better client service. These actionable concepts cover every aspect of working with a client.
Learning how to maintain a quality relationship with your clients is indispensable. Robert Solomon has had years of experience on both sides of the client service relationship. He has been an advertising CEO and then started his consulting firm.
He offers you suggestions that can help your whole team have better client interactions. Though he focuses on advertising, you can use these ideas in almost any industry. This book is excellent for anyone who has to deal with clients, even in limited capacities.
The Art of Client Services covers a wide range of topics and situations. It does this with brevity and humor. It distills complex topics into more manageable easy to understand ideas. You can use these concepts every day.
10. Thinking, Fast and Slow by Daniel Kahneman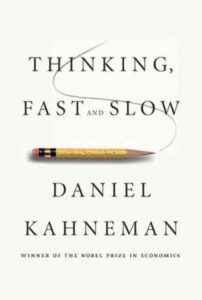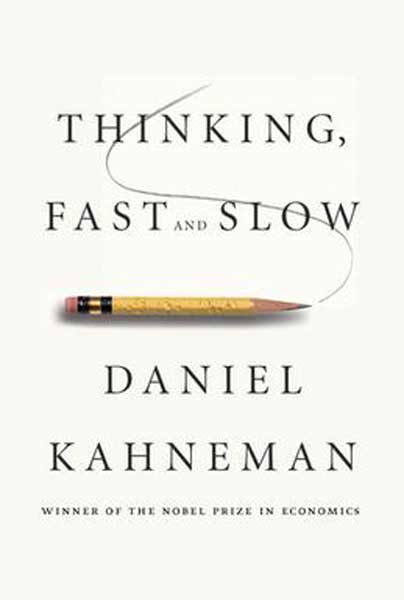 Daniel Kahneman is a Nobel laureate, and in this book, he looks at the two different styles of thought. He explains the differences between fast thought and slow thought. He looks at how they work and what they do best.
Fast thought is instinctual. It relies on emotion to get to answers quickly.
Slow thought is more deliberate. It studies and uses logic.
In this book, you learn that you need both styles of thought to achieve your goals. Fast thought allows you to make quick decisions, but fear and bias can heavily influence them. Slow thought is a great reasoning tool, but you don't always have the time to weigh every option.
You will learn how to reframe difficult questions into easier ones. Breaking them down will let you analyze them to the best of your ability. By understanding how you think about a problem, you can put yourself in better positions to make positive decisions.
Thinking, Fast and Slow teaches you how to mitigate both these styles' negative aspects. You learn how to use the thoughts in tandem when you make decisions.
11. Fooled by Randomness: The Hidden Role of Chance in Life and in the Market by Nassim Nicholas Taleb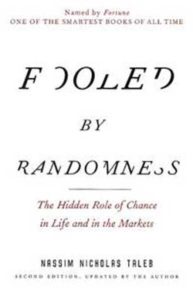 Taleb looks at the current understanding of luck and randomness in a humorous and captivating narrative. It will help you better understand how the market works. He is not actually teaching you about luck. He is teaching you how and why you perceive luck.
To do this, Taleb looks at how willing people are to find patterns and meaning where little or none is present. He explains why we are eager to focus on successful people. He also explains why you ignore the much more frequent failures.
By studying the impact of luck on your perception of how a system works, you can make better decisions. Instead of luck seducing you, you have to start using probability and math. Then luck will have less effect on your business overall.
Fooled by Randomness will help you better understand your motivations when making decisions. Learning to base these more on fact and less on luck will have long term positive effects.
12. Simple Numbers, Straight Talk, Big Profits!: 4 Keys to Unlock Your Business Potential by Greg Crabtree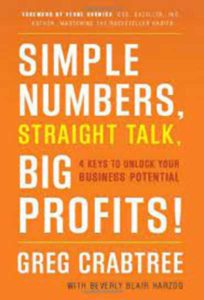 Understanding your business's financials can be a daunting task. Complicated ideas and concepts written in technical jargon add to the difficulty. They can make it hard to understand.
Greg Crabtree cuts through a lot of the fluff. He gives you four straightforward methods to help you figure out your business financials with less hassle.
The book teaches vital financial indicators that you can look for and what to do once you see them. These indicators cut down on calculation. They can help you make decisions from things you can see clearly.
He also gives you advice on handling other financial activities in your business like budget and taxes. Learning better methods to address these problems will free up more time for you to get more important things done.
Simple Numbers, Straight Talk, Big Profits! is easy to understand even without a background in finance. It will help you make better financial decisions so you can make more money.
13. The 80/20 Principle: The Secret to Achieving More with Less by Richard Koch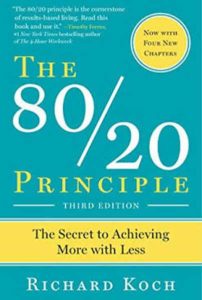 This book explores the idea that 20% of your effort accounts for 80% of your profit. Focusing your efforts on the things that are helping you succeed is more rewarding. It wastes less time on less productive expenditures.
You can use this concept in all aspects of life, not just business. Try to identify the activities and practices that bring you the most rewards. Then put more energy into those. Find the things that you are working hard at that aren't producing and let them go.
When appropriately applied, this method can save you time, energy, and resources. It will also increase your revenue and productivity.
Learning when to stop pursuing something that isn't yielding results can be difficult. Some people can see it as a failure. However, using your time better makes each moment more successful overall.
The 80/20 Principle helps you identify the things that make you successful in business. You can then pursue the important things. It also teaches you to let go of things that waste your time.
14. The Power of Full Engagement: Managing Energy, Not Time, Is the Key to High Performance and Personal Renewal by Jim Loehr and Tony Schwartz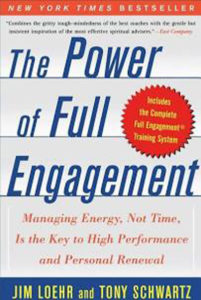 This book suggests that if you can use your energy more productively, you will get more out of your work and better utilize your resources.
It focuses on finding ways to maximize your energy for tasks. The energy allows you to complete the job while staying happy and fulfilled.
You can achieve these energy goals by ensuring that you are fully present on the task at hand. You are not wasting energy on tasks you are not currently working on. Whether you're working or recharging, your focus should be entirely on those activities.
By allocating your energy rather than your time, you will create a better, more rewarding relationship with your tasks and goals. Using your energy correctly will allow you to get more done with less stress.
Since this is a new method, you have to learn and practice new skills to make the most out of your energy management. Once you know these new procedures, you can use them on every task you have to do.
The Power of Full Engagement shows you a unique perspective on creating a schedule. It may be able to revolutionize how you think about your daily tasks.
15. Bargaining for Advantage: Negotiation Strategies for Reasonable People by G. Richard Shell
a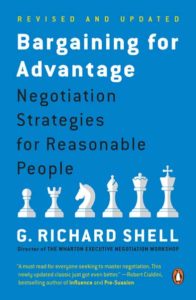 Being able to negotiate is a critical skill in business. Shell's research on negotiation helps you understand ways to approach topics that will gain you the best results.
Shell covers negotiation with an easy to use step by step approach that he developed for his workshop. It covers details for online and in-person talks. It looks at unique strategies for both.
This book has a test that reveals your negotiation IQ. It summarizes your strengths and weaknesses in negotiation. It can help you improve upon the skills you've already developed.
Bargaining for Advantage will help teach you how to get the most out of every negotiation. You will learn how to get the discussion back on track when it loses focus. You can ensure that you arrive at a beneficial deal for both sides.
Biographies/Advice
Sometimes looking at the lives of successful people will help you become more successful yourself. You can learn valuable lessons from others' successes and failures. The best business books about people's lives give proven tips and ideas that work by people who have done great things.
16. Titan: The Life of John D. Rockefeller, Sr. by Ron Chernow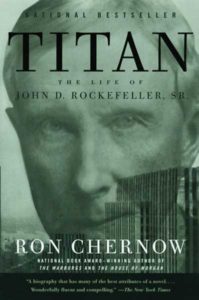 If you're looking for tips, it doesn't hurt to start at the top. John D. Rockefeller built a financial empire in the oil industry. This book looks at his start from modest beginnings in upstate New York. It covers his business career and how he became one of the world's wealthiest people.
The book looks at everything he did to become successful. It doesn't shy away from corruption and controversy that became part of his legacy. It also investigates his philanthropic actions and how they shaped his life.
Titan: The Life of John D. Rockefeller Sr. gives quotes from Rockefeller himself. You get an idea of the type of person he was and his outlook on the world and business. It is a useful tool to understand what made him the success he was.
17. Poor Charlie's Almanack: The Wit and Wisdom of Charles T. Munger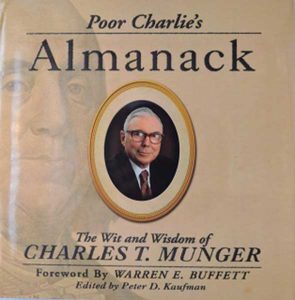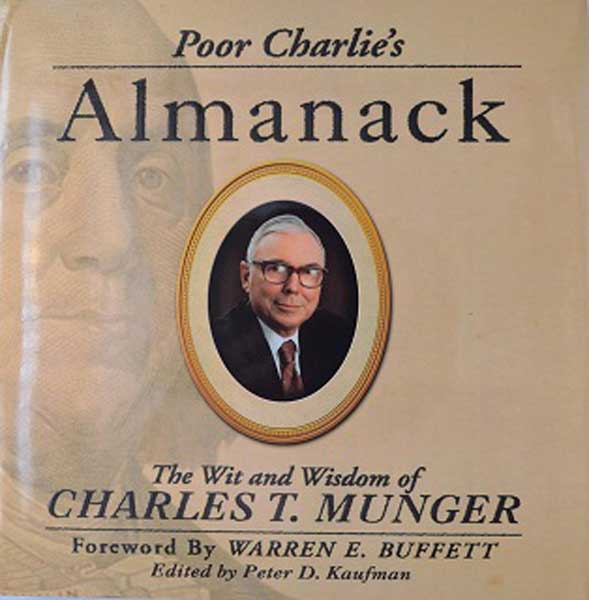 The name invokes Benjamin Franklin's work, Poor Richard's Almanac. Like that classic, this book gives you tips and tricks that will help make you more successful in life and business.
The book gives you many observations and lessons learned from a lifetime in the business world. It covers Munger's time as vice-chairman of Berkshire Hathaway.
Unlike many books on this list, Munger's lessons aren't in a particular order. Instead, they are just there in unordered randomness that is strangely refreshing.
There are also transcripts of speeches that Munger gave at 11 different places. The speeches all study various aspects of business, education, and life.
Poor Charlie's Almanack: The Wit and Wisdom of Charles T. Munger gives you insight from a successful person. He does not take himself too seriously. Humor and wit pervade this book, so it will entertain you as you gain his advice.
18. The Snowball: Warren Buffett and the Business of Life by Alice Schroeder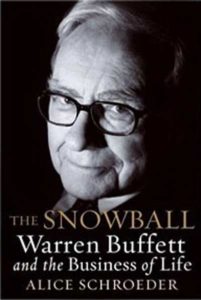 This look into Warren Buffett's life can help the reader understand the importance of productivity and hard work. It focuses on lessons learned by Buffett through his business life.
The book discusses the importance of deciding what you want to do in life as soon as possible and then spending your time and energy to achieve that goal. It looks at ways that Buffett did that successfully and times that he failed at it.
The book also explains the importance of giving back to the world once you've made yourself successful. It gives ideas on how you can do that.
The Snowball compiles Buffett's personal notes and interviews with his family and friends. Buffett gave instructions that if the interviews differed from his account, Schroeder should use the less flattering account. This method provides the reader with a more accurate story.
19. Principles: Life and Work by Ray Dalio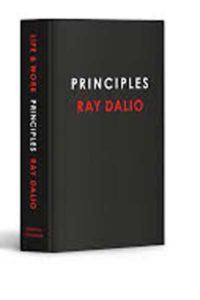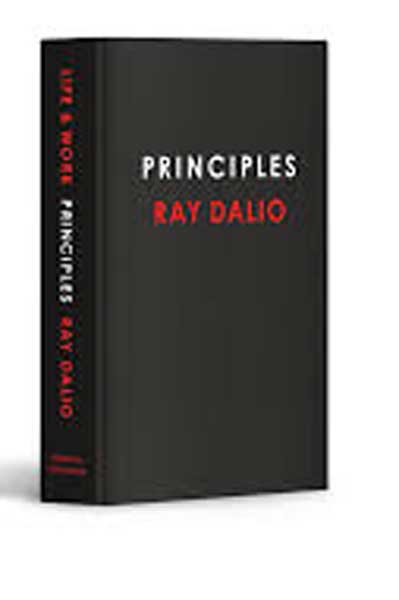 Dalio breaks down his principles into two categories: life and work. He explains how you can apply these principles to achieve more in both of those aspects of life.
The book starts with a look at Ray Dalio's life and how he developed the principles he uses from a lifetime of learning and testing. Then the book gives you the principles in detail in their section of the book.
The biography portion of this book may seem only to be the first third. However, the entire time Dalio teaches you about his principle, he is looking back at events in his life that made them necessary.
Principles: Life and Work is an exciting look into the processes Dalio has used to lead a successful life and career. He lays out his method clearly so that you can learn from it.
20. Steve Jobs by Walter Isaacson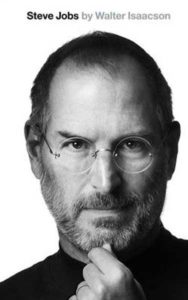 This book looks at the life of Steve Jobs. It covers his successes and his failures in a way that allows readers to learn from both.
You see how Jobs was able to revolutionize six industries, computers, music, phones, tablet computers, animated movies, and digital publishing. He did this all with the introduction of new technology.
You'll also learn how he was able to reinvent his company when it was flailing. He used innovation to get it back on track to be one of the world's most successful tech companies.
Walter Isaacson compiled this biography from 40 interviews with Jobs. He also used more than 100 interviews with his family, friends, and associates.
Steve Jobs by Walter Isaacson is an exciting read. It treats Jobs's life with respect and looks at all aspects of his exciting adventure.
21. The Subtle Art of Not Giving a F*CK: A Counterintuitive Approach to Living a Good Life by Mark Manson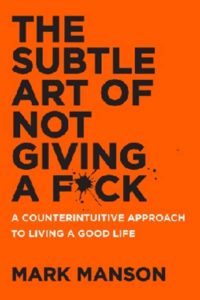 Mark Manson takes the ideas of positive-thinking and turns them upside down in this book. He talks about accepting the world the way it is, with all its failures and foibles. It uses irreverent humor to drive home some hard truths about life and business.
This book teaches you to place all your effort into the things you care about and not worry about anything else. By finding the right places to focus on, you will be able to live your best life. You will be free from the concern of worrying about the things that don't matter.
The Subtle Art of Not Giving a F*CK: A Counterintuitive Approach to Living a Good Life teaches you to accept the reality of the world. Reality doesn't have to be a bad thing, and you can learn how to use it to your advantage.
22. So Good They Can't Ignore You: Why Skills Trump Passion in the Quest for Work You Love by Cal Newport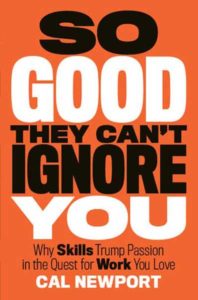 Everyone has heard that ageless saying: Follow your passion. This book examines that saying and refutes it. Cal Newport argues that you should start with your skills and that passion will follow.
Newport argues that having passion in a vacuum is a rare thing. Finding it can be time-consuming and often lead to a lot of career changes. Then if you're lucky, you may stumble onto something that illicit passion, but more often, you continue to search for that.
The book states that instead of leaving it to chance, you should start to work hard to develop skills in a field. Once you have the skills and become good at something, the passion will follow.
So Good They Can't Ignore You helps teach you skills. It shows how learning these skills can lead to finding your passion. You'll save time and get more out of that journey.
23. Business Adventures by John Brooks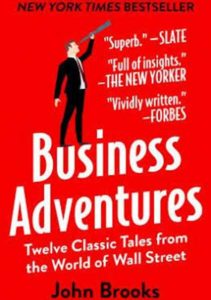 In this book, you learn about 12 different business stories. Each of these stories illustrates significant moments in a company's history. It shows how these events have gone on to define that company from now on.
This book teaches about the importance of these big events. How responding differently could have had both positive and negative effects on what was happening and how the public perceived the event.
You will learn about business history, and you will see how the old adage of history repeating itself has come true for businesses.
Business Adventures is one of the favorite books of influential people like Bill Gates and Warren Buffet. It takes a look at business that highlights the excitement and thrill.
Leadership
Being able to lead can give you a step up in the business world. There are traits and skills that the most successful business leaders share. Showing the ability to lead will increase your workload, but it will also help you get ahead. The best business books about leadership give you new ideas about how to manage your team.
24. The Five Dysfunctions of a Team: A Leadership Fable by Patrick Lencioni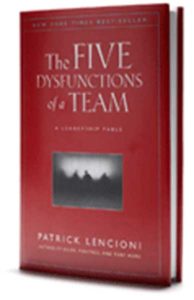 Have you ever wondered why some teams fail? Even when you put together people who are great on their own, that doesn't always lead to team success. Patrick Lencioni looks at five problems that can make even the best teams useless.
Lencioni wraps his five dysfunctions into a fictional fable narrative that teaches you lessons and entertains. It is a compelling way to introduce a useful concept. It will help you remember both the dysfunctions and the solutions to the problem.
The Five Dysfunctions of a Team is a fun way to learn about team building problems and solutions. Identifying these five problems might allow you to make your team more effective.
25. Tribes: We Need You to Lead Us by Seth Godin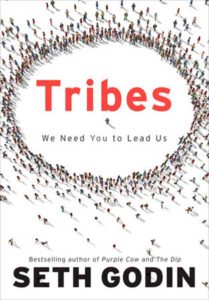 This book looks at tribes, groups of people with similar interests, and asks the critical question who will lead them?
Today it is easier than ever to find a group of people who share your interest. Facebook did whole commercials on niche groups you can find on the platform dedicated to all kinds of hobbies. Though the ability to find these groups is great, where do you go from there?
Seth Godin looks at the fact that tribes need leaders. You may not think you are ready for that role, but it might be something that you should do. Not all leaders come in the same fashion, and he explores different types of leaders out there.
Tribes helps you learn how to become a leader to make your organization better and more engaging. It looks at the importance of leadership and how it can change every tribe.
26. Dream Teams by Shane Snow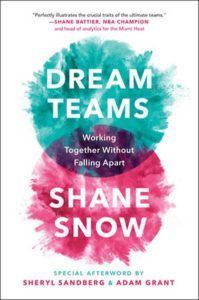 Dream Teams looks at teamwork and how it creates some of the most shocking stories in history. It looks at interactions between great teams that succeeded against the odds. It also looks at bad teams that failed, with all the advantages.
The book explores the psychology behind building a team that will succeed. It looks at the difference between making each member stronger and just barely getting through a problem.
You learn the problems that can come from poor interactions. You will see what signs to watch out for that may cause the team to fall apart and become less effective.
Dream Teams teaches you how to communicate as a team to develop a relationship that helps every team member succeed. When everyone on the team becomes better, you will be able to do more than you could as individuals.
27. First, Break All the Rules: What the World's Greatest Managers Do Differently by Marcus Buckingham and Curt Coffman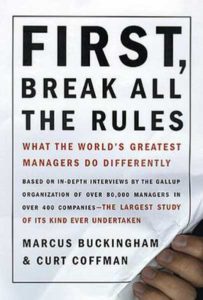 Buckingham and Coffman wrote this book after interviewing 80,000 managers over 25 years. With this wealth of data, they could compile a list of things that successful managers do and don't do.
Some of what this book learned flew in the face of conventional wisdom. The new different methods can make some of the best and most unique managers in business.
It shows both positive and negative examples of how managers should work. They should treat their employees as individuals. They shouldn't try to fix all of their employees' weaknesses. Instead, they should focus on improving and using their strengths.
First, Break All the Rules can help managers at every level. It teaches skills that will make you a better manager and help you achieve your goals.
28. The Essential Drucker: The Best of Sixty Years of Peter Drucker's Essential Writings on Management by Peter Drucker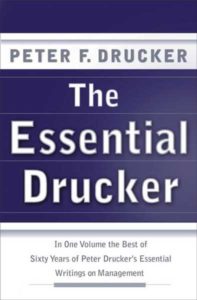 Peter Drucker has been studying and writing about management for over 60 years. In this book, he compiles some of his most important lessons and presents them in one spot.
The book collects 26 selections that cover different principles and concerns that managers have to face consistently. It gives the reader insight and solutions that will help them handle the situations well.
The Essential Drucker gives managers the tools and the knowledge to help their team deal with problems they face today and in the future.
Sales
When you boil business down to its most primary levels, you get to sales. Whether you are selling a product or a service, studying the process will help you do your job better. The best business books about sales teach you better interactions with people so that you will sell more.
29. How to Win Friends and Influence People by Dale Carnegie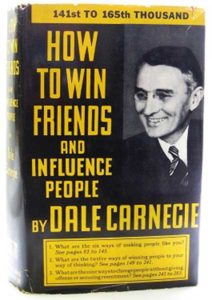 Very few books on this list will date back to 1936. However, the information and lessons taught in this book will never go out of style. They are still helping people every day.
Dale Carnegie has helped people learn how to interact with others for almost a century. There are workshops today that help pass on the lessons he taught. This book will help reinforce those lessons. By using his methods, you will find that you interact with people more productively.
To do this, he gives you a list of six ways to get people to like you and a list of twelve ways to win people over to your side. Though these methods can help in every interaction, they are vital to being successful in sales.
How To Win Friends and Influence People is a classic for a reason. It is one of the best business books ever. It can still teach techniques that will help you with all your personal and professional relationships.
30. Influence: The Psychology of Persuasion by Robert Cialdini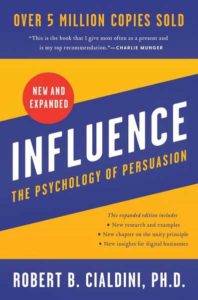 This book looks at the reasons that people say yes. They break these reasons into six categories and teach the reader how to use them. When you understand the reasons, people say yes, it is easier to get a positive response.
Learning how influences work not only makes you better at persuasion, it also helps you develop defenses against persuasion. By working on both these skills, you will find yourself in better control of situations.
The ability to influence can be a powerful and useful tool. Once you understand the concept better, you will be able to apply it with less push back. Knowing how to get a yes can make a huge difference in your business.
Influence took Robert Cialdini almost 35 years of research to create. The methods it teaches aren't limited to the business world. You can apply them to every aspect of life.
31. The Sales Acceleration Formula: Using Data, Technology, and Inbound Selling to go from $0 to $100 Million by Mark Roberge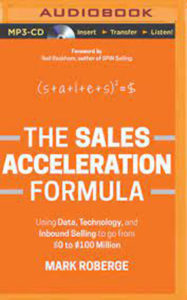 Data is almost everywhere you look today. Thanks to advancements in technology, it is easier than ever to compile information on every topic out there. Why not use this data to make a better sales team?
Using data and following specific formulas will take the guesswork out of creating your sales team. It will make pursuing your customers more scientific and less of an art. You will be able to place your resources in positions that help you get the most out of your team.
Once you can get the right team in place, you have to use your data to maximize technology use. You will be able to reach the most customers this way and increase your sales.
The Sales Acceleration Formula is a metrics-driven program. It can help you make the most out of every aspect of your business. By maximizing your components, the whole company will work better. It will help you deliver quality results.
32. The Challenger Sale: Taking Control of the Customer Conversation by Mathew Dixon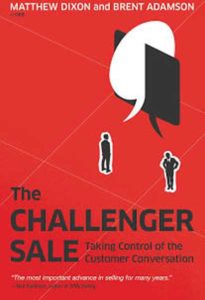 There is an old saying in business, the customer is always right. Mathew Dixon disagrees with that old wisdom. He asserts that the best sales teams aren't just yes men for the customers. They approach each one as an individual and come up with plans tailored to help their specific needs.
The book looks at all five different categories of salespeople and shows what they are capable of doing. However, the book focuses on challengers because they are the group with the ability to deliver the highest returns.
Almost every salesperson can be a challenger. By following the methods detailed in this book, you can change your mindset and strategies to better engage your customers.
The Challenger Sale offers methods and plans that will help make you and your whole sales team capable. By challenging your customers you ensure, they get the best rewards. It will lead to increased sales and better relationships with your customers.
33. The Sales Bible: The Ultimate Sales Resource by Jeffrey Gitomer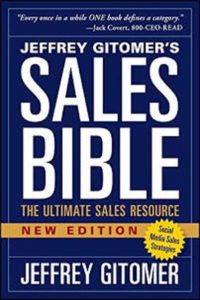 This book helps cover every aspect of sales. These include finding and building leads and closing customers in less time and less work.
The book plays with its theme as the bible by offering tips like the 10.5 commandments of sales. It also has quotes that cover many aspects of the business world, similar to psalms.
Jeffrey Gitomer helps you develop every skill you will need to be a better salesperson. He covers the questions that you should be asking customers. These questions make sure customers leave happy and help drive in more sales for you.
The Sales Bible is a must-read for anyone who is even tangential dealing with sales. It teaches readers tips and concepts that will help make every sales experience better.
34. SPIN Selling by Neil Rackham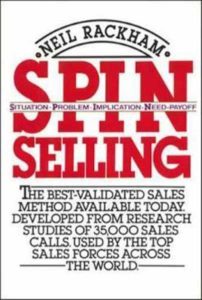 This book covers the SPIN strategy, which stands for Situation, Problem, Implication, Need-payoff. The system can help with large sales and show how they differ from smaller sales.
Neil Rackham teaches the methods you have to employ to change consumer product sales to major sales. It covers what changes between the two mindsets. It shows how you can take advantage of the different markets.
The SPIN strategy may take some new training, but it can change the entire company's productivity. By looking at problems with this new strategy, you can increase sales for everyone.
SPIN Selling focuses on a new approach to sales. It uses examples from the real business world and studies to show you how effective the SPIN method can be.
Marketing/Advertising
No matter how good you are at what you do, it will be hard to succeed if no one else knows about your business. The best business books about marketing and advertising teach you how to get your name out there. Without reliable marketing and advertising skills, a company will flounder.
35. Positioning: The Battle for Your Mind by Al Reis and Jack Trout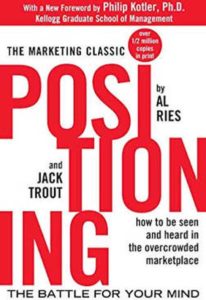 This book looks at how important it is to create a position for your company. Your position helps you understand the needs and uses of your business. To do this, you have to look at your business and all your competitors to find relative positions.
You don't have to be in the first place to build a successful business. Knowing your position can help you make the right decisions to maximize your profits.
Once you have found your position, it is vital to identify why you are there. It also helps to learn why others are in front of you and below you. Discovering what it is about your business that makes it unique is important. You can capitalize on the differences and achieve even better positions in the future.
Positioning provides you with examples of how companies have made the most out of their position. It also helps you develop your unique position and utilize it to maximize your business.
36. Duct Tape Marketing Revised and Updated: The World's Most Practical Small Business Marketing Guide by John Jantsch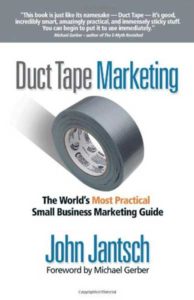 Marketing can be a daunting and expensive task. This book breaks down reliable marketing practices that are easy to do, affordable, and still create results.
The book is extremely practical. It discusses complicated marketing concepts in simple and understandable terms for everyone. It is a guide that can help everyone use marketing for businesses of any size, large or small.
John Jantsch teaches you what marketing is necessary at different stages of business. Knowing where to focus on your marketing will help you get the most out of it.
Duct Tape Marketing helps you create proven online and offline techniques that can work for small companies.
37. Blue Ocean Strategy: How to Create Uncontested Market Space and Make the Competition Irrelevant by W. Chan Kim and Renée Mauborgne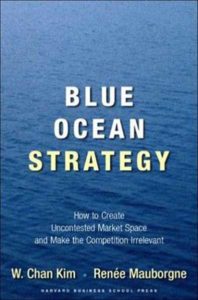 It makes sense that when you are trying to find your spot in the market, it is important to compete and defeat your competitors. Finding space in the market can be challenging.
This book looks at the problems with that style of competition. It claims that when too many companies are competing for space, the waters become bloody. You are fighting over a shrinking market.
Instead, Kim and Mauborgne suggest that you should go out there and find blue waters to operate. You create these waters by finding new and innovative products, making significant changes to an existing product, or finding new markets and methods to sell the product.
Blue Ocean Strategy shows real-world companies that found their blue ocean. It shows how they took advantage of being the only one fulfilling specific services in a market. It gives you ways you find your open ocean.
38. Guerilla Marketing: Easy and Inexpensive Strategies for Making Big Profits from Your Small Business by Jay Conrad Levinson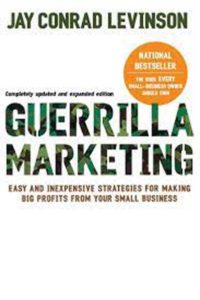 Many small businesses don't have the financial ability to market the same way that more prominent companies do. This book examines the methods and options that companies of any size can use to increase their customer traffic.
The book focuses heavily on getting the most out of existing customers. It shows how to use them as a source of new customers through referrals. The book's latest edition teaches you how to use technology and social media to attract more customers.
The goal is to get the broadest reach from your marketing while using very few resources. The book teaches you how to use your current popularity and expand it.
Guerilla Marketing helps you create a marketing strategy, even if you don't have the budget to put that much into it. The plan uses many of the things you already do. You just have to take advantage of them, and this will teach you how.
39. Contagious: Why Things Catch On by Jonah Berger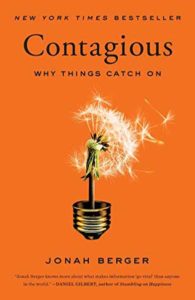 Have you ever wondered what makes some products way more popular than others? Jonah Berger asked that question, and after researching it, he concluded that it isn't because of advertising. People tend to ignore most ads.
He discovered that the reason some products gain popularity has to do with word of mouth. People spread the story of the product between each other. The key is making sure your product gets talked about by everyone.
If you can make your product contagious, more people will discuss it in their social groups. An individual's recommendation goes much further than an ad placed by a company.
Contagious shows you the six principles that help popularity spread and grow for your business. It enables you to understand how to make sure everyone is talking about your product.
40. Content Inc.: How Entrepreneurs Use Content to Build Massive Audiences and Create Radically Successful Businesses by Joe Pulizzi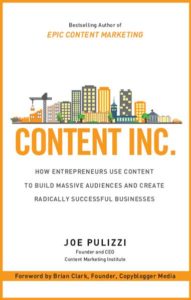 Most businesses start with a product and then try to build a customer base. Pulizzi turns that equation around. He shows you how to create your customer base and then make your product. It shows how to use content creation to start your business.
You can create your customers using social media and search engine optimization (SEO). These tools let you get your content out there in front of people. These customers will then want to support your business and your product.
This method helps you control upfront costs. It lets you get into business without building up a stock of products.
Content Inc. can help companies that don't have a ton of resources carve out a spot in the market to make money.
41. Purple Cow: Transform Your Business by Being Remarkable by Seth Godin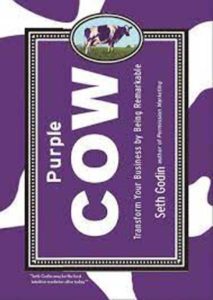 Getting noticed is a huge advantage in any market. You can get noticed by standing out from the crowd. When everyone is doing the same tried and true methods, it is time for you to do something different to get attention.
This book teaches you how to make your business the purple cow that stands out and gets customers to pay attention. The idea is to put something special and unique into everything you do so that you always catch someone's eye.
The purple cow principle can apply to marketing also. You want to make sure that your campaigns catch the attention of everyone who comes across them.
Purple Cow gives you the tools and skills to make your products special in the market. It provides a ten-point checklist that can make your product stand out.
42. Breakthrough Advertising by Eugene Schwartz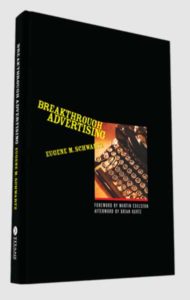 When you are making your advertising campaign, you want to make sure that you get through to your customers. You need to grab their attention from the beginning and then turn that attention into something that gets them to buy your product.
The premise is that you have to break through all other ads and distractions so that the customer notices and remembers your product.
Schwartz takes you through every piece of advertising, from making a headline that captures the reader to motivating the customer to get your product. He looks at how advertising affects the customer both in positive ways and negative ways.
Breakthrough Advertising teaches you how to use the desire that people already have and tie it to the product you are selling. Preexisting desire is easier than creating new desires for your product. It makes your job easier to fulfill your customer's existing wants.
43. The 22 Immutable Laws of Marketing by Al Ries and Jack Trout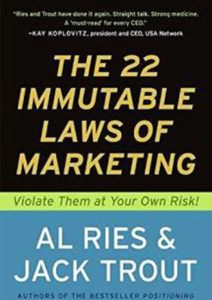 This book gives 22 rules in marketing that you should follow. The concept behind these laws highlights the importance of marketing. No matter how great your business and product are, you will have a hard time succeeding if you make marketing mistakes.
This book looks at underlying principles that govern the world of marketing. It gives you ideas and tips that you can apply to any product and business. If you follow these rules, you will be able to start a functional marketing campaign.
These laws are great for marketing at all levels. It gives you concepts that can scale to any budget and still see results.
The 22 Immutable Laws of Marketing gives you a clear path to a successful marketing campaign. It is a quick and easy read that you can use to ignite your marketing goals.
44. My Life in Advertising and Scientific Advertising – Claude Hopkins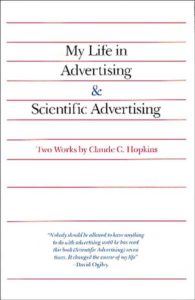 This book puts together two Hopkins books. Hopkins first published these books in 1923 and 1927. The concepts covered in this book are still true now. Hopkins wrote some of the most long-lasting campaign ads in history, and his wisdom can help your advertising campaigns today.
Hopkins is the father of marketing, and these books have influenced so many ad campaigns. The stories and ideas found in these books will help you create a framework for your business's marketing.
Hopkins believed that advertising was only possible if you understood the product. He would spend a long time researching the product and the market. By understanding the product and what made it special, you could sell it easier.
Hopkins wrote My Life in Advertising and Scientific Advertising nearly a century ago, and they are still helping shape the world of marketing. The book teaches valuable lessons based on sound foundations, so they are still viable now.
45. Ogilvy on Advertising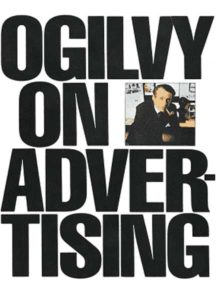 Ogilvy talks about the world of advertising and how to make it in the industry. Ogilvy is one of the world's largest advertising companies and has created some of the longest-lasting and best-known campaigns out there.
He discusses how people see advertising. There are specific ways that consumers look at an ad. Knowing this approach, you can format your ads so that people notice them and read them.
The book talks about the importance of images in your campaigns and how they will be the first thing your customers see. Images need to be eye-catching and unique. If there is nothing to grab attention, an ad may go unnoticed.
Ogilvy on Advertising is nearly 35 years old, but the book's ideas remain useful today. It covers concepts that you can easily adapt to any advertising campaign. It can be the difference between getting noticed and getting ignored.
Start Reading!
Now that you have seen the best business books, are you ready to commit yourself to read them? By starting with this list, you will build a foundation to help you in the business world.
Using the tips and tricks found in these books has led to proven success. Reading any one of them will have a positive effect. When you read them all, you will see an incredible increase in your business acumen.