Is good health really priceless? It certainly isn't free.
Your health is a complex state of well-being that represents the impact of many different variables. Some of these variables you have at least some control over: the food and supplements you consume, the amount of physical activity you get, and whether you get medical care (including preventive care) when warranted.
These factors are some of the biggest contributors to the cost you will pay to attain or maintain good health. Even these factors, though, depend on the resources you have available, including money, time, and access to health care.
Other factors you may have no control over, such as your genetics and any past or pre-existing medical conditions. These factors may contribute to health care costs, too—and they can be particularly frustrating precisely because they're out of your control.
To understand the cost of being healthy, we're investigating some of the most common categories for health and wellness spending in America.
Comparing the Cost of Healthy vs. Less Healthy Foods
To live, we need food to fuel our bodies. Food is a basic necessity, but it's also one of the first and biggest factors that affect health.
Naturally, if we're malnourished and don't get enough food to eat, our health suffers. Poor diets, too, can affect health in negative ways. Too much sugar can contribute to developing type 2 diabetes. Too much salt can contribute to high blood pressure. Too much intake of fried and fatty foods can increase your cholesterol and put your heart health at risk.
Does healthy food cost more money? If so, how much more?
Healthy Diets Cost Four Times More
In her 2021 article "Three billion people cannot afford a healthy diet," published online at OurWorldInData.org, Deputy Editor and Science Outreach Lead Hannah Ritchie wrote, "Healthy diets are expensive; more than four times the cost of a basic, calorie-sufficient one." Poorer families worldwide may spend more than 50% of their income on food alone, often resorting to starch-based "calorie sufficient" diets that fill bellies but rarely provide the full array and amounts of nutrients required for optimal health, according to Ritchie.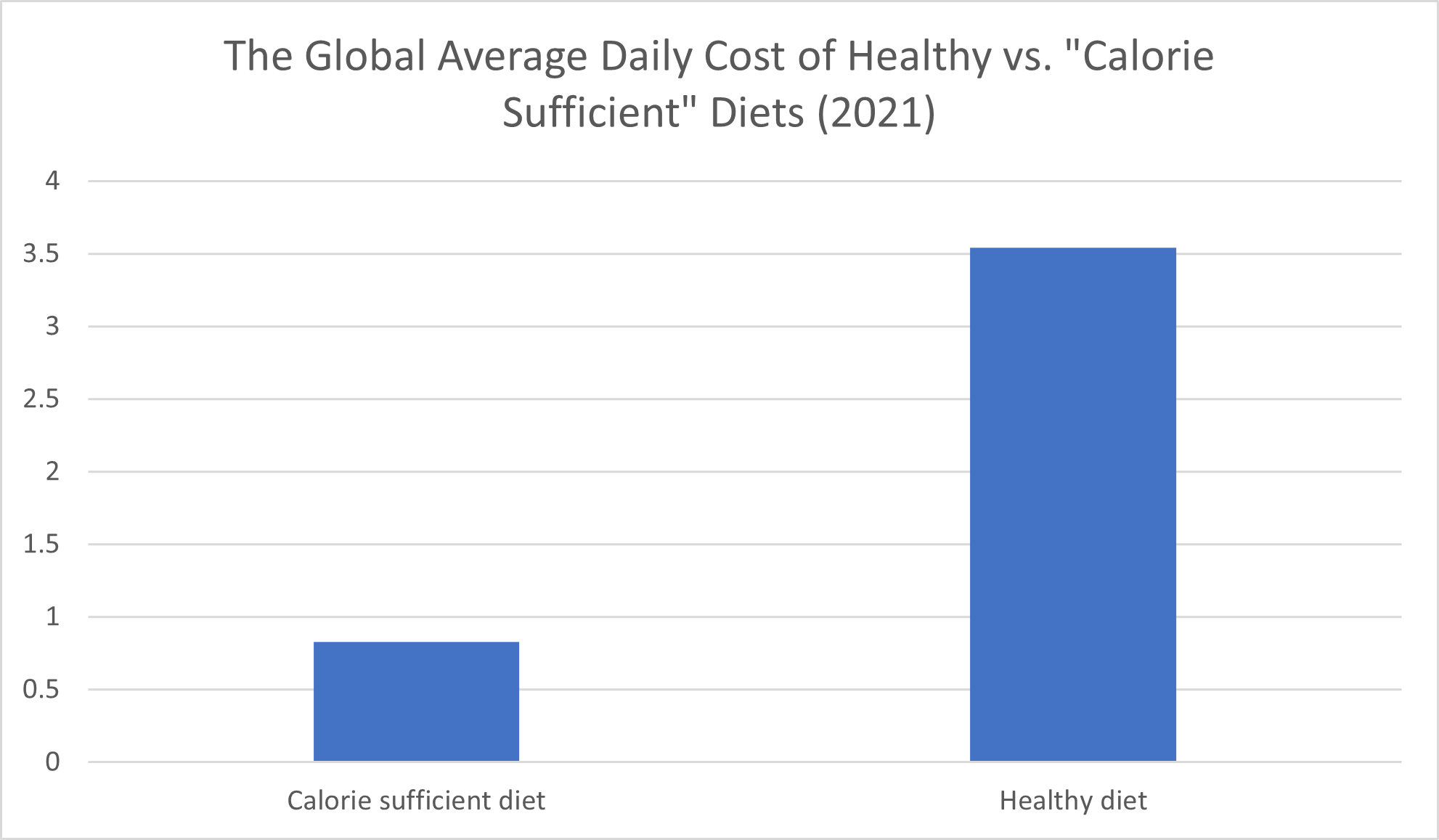 A family that's already spending as much as 50% of its income on food that allows them to survive literally can't afford the four-times markup for the healthy food it would need to thrive.
The cost of a healthy diet isn't as far out of reach for workers earning the median national salary in America as it is for those in poorer nations. However, the unaffordability of eating healthy consistently is a big enough problem in America that experts consider it a public health issue—one that shows no sign of abating as grocery prices have spiraled in recent years.
How Much Are Americans Spending to Eat Healthy?
In an article published in the Journal of Nutrition Education and Behavior, researchers concluded in 2017 that the average family of four spent $1,000 to $1,200 per month on food if following recommended dietary guidelines. That amount, according to Utah State University Extension Nutrition, was twice the $6,224 average food cost for middle-income Americans and four times the $3,862 per year average food expense among low-income families.
The cost of being healthy is in the range of thousands of dollars per year for food alone.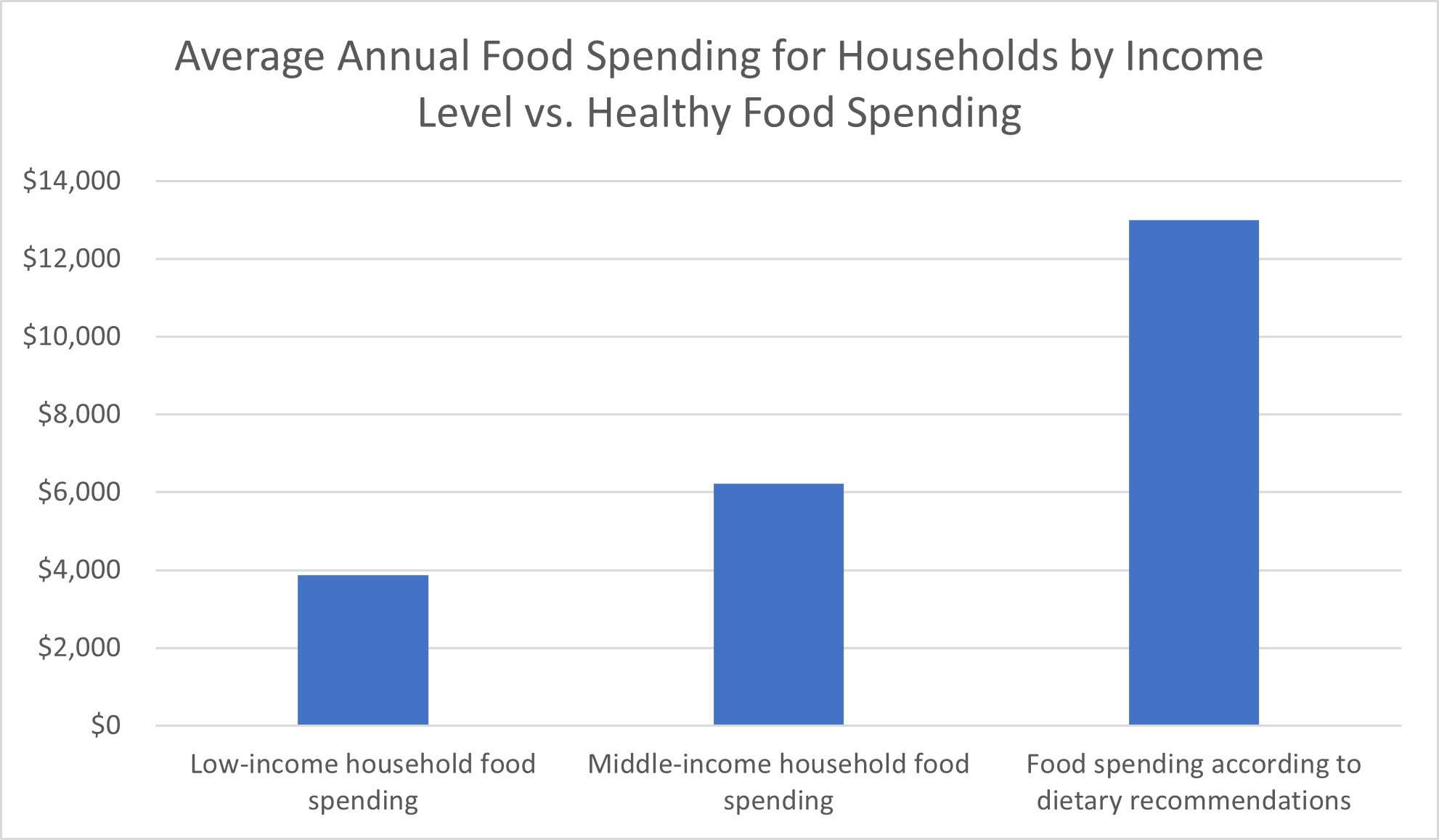 Unfortunately, the problem seems to be getting worse. Not only did healthy food cost more to begin with, but recent price increases on healthy options have also surged more than on less healthy options. Researchers concluded in an article published in the International Journal of Environmental Research and Public Health in 2023 that the price increases of healthy foods surpassed those of unhealthy foods by a considerable amount—12.8% compared to 7%—between 2021 and 2022.
Spending on Supplements
Food isn't the only substance we put in our bodies to attain better health. Supplements are a large and growing industry in the United States and worldwide. In 2022, 75% of Americans surveyed said they took at least one dietary supplement, the Council for Responsible Nutrition reported. It's safe to say that the majority of Americans are shelling out at least some money to purchase supplements intended to boost health and wellness.
While Millennials reported the lowest spending on supplements, $62.73 per shopping trip, older generations were spending $82.06 (Gen X), $111.59 (Baby Boomers), or even $129.58 (the Greatest Generation, according to a 2022 report by Zippia. The average vitamin and supplement shopping trip across generations amounted to nearly $100, Zippia reported.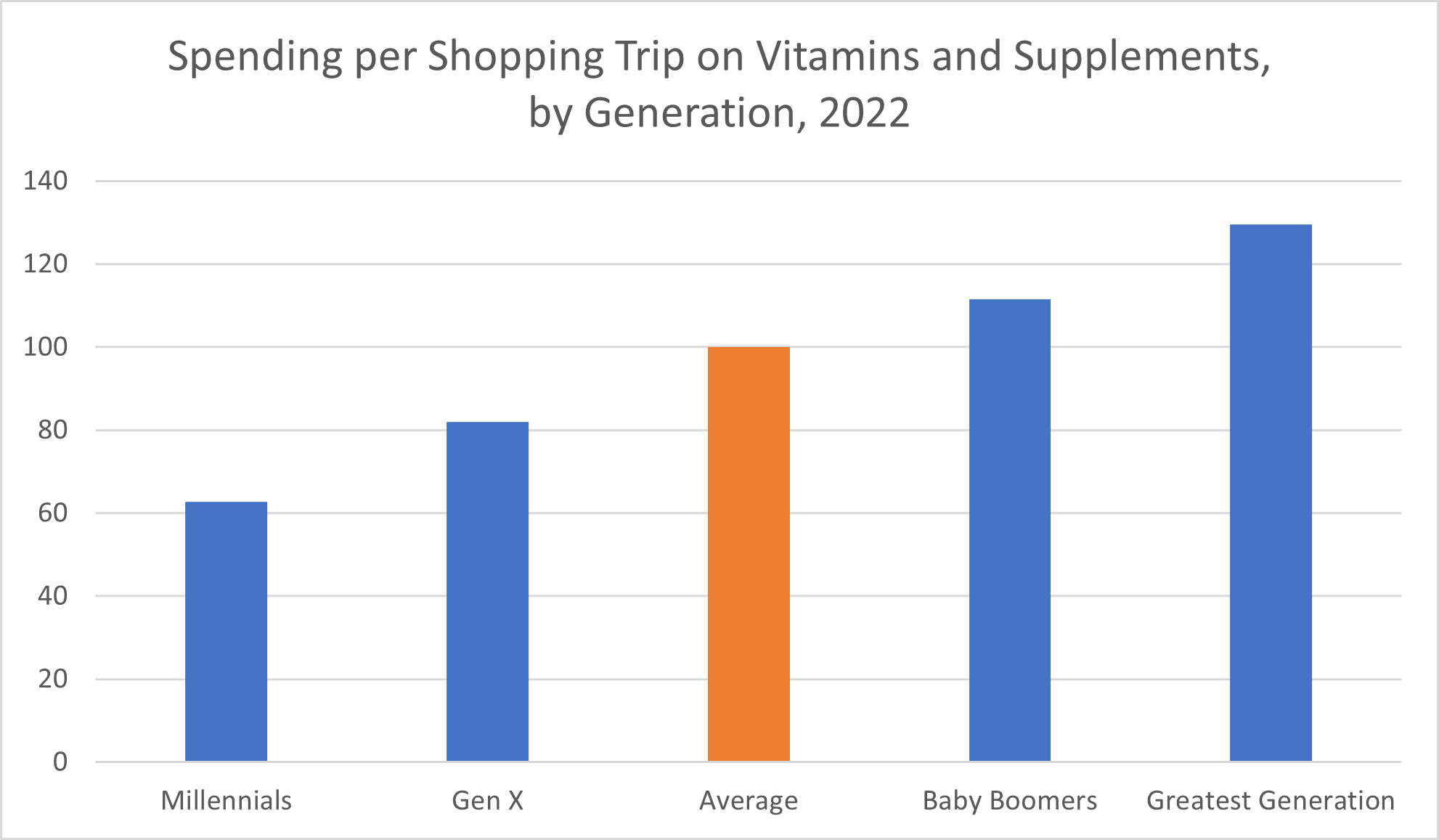 Even if we're assuming 90-day supplies of supplements, that's a few hundred dollars per year. If you're a hardcore fitness fanatic routinely buying protein powder, pre-workouts, and recovery supplements, you can easily rack up costs in the range of $60 per month, if not more, for supplements.
Putting a Price on Physical Activity
One of the easiest ways to get—and stay—healthy is to get enough exercise. Regular exercise can help you manage your weight, strengthen your muscles, cope with stress, and improve your mental health. All of these effects can help reduce the likelihood of developing chronic health conditions or serious health complications.
On the surface, exercise may seem like the cheapest way of achieving and maintaining good health. Walking, jogging, and doing pushups at home or in your neighborhood are free, right? So why is it that the United States fitness industry is worth $30.6 billion (according to Statista)?
Gym Membership Costs vs. the Price of Home Exercise Equipment
Gym memberships, at-home exercise equipment, and personal trainers are all part of this industry. The average gym membership cost as of 2023 ranged from $40 to $70 per month depending on geographic location and the gym's amenities, GoodRx reported.
Even on the lower end, this adds up to nearly $500 per year, not counting any additional fees, workout clothes, and other gear. At the higher end of this spectrum, membership fees alone amount to more than $800 per year.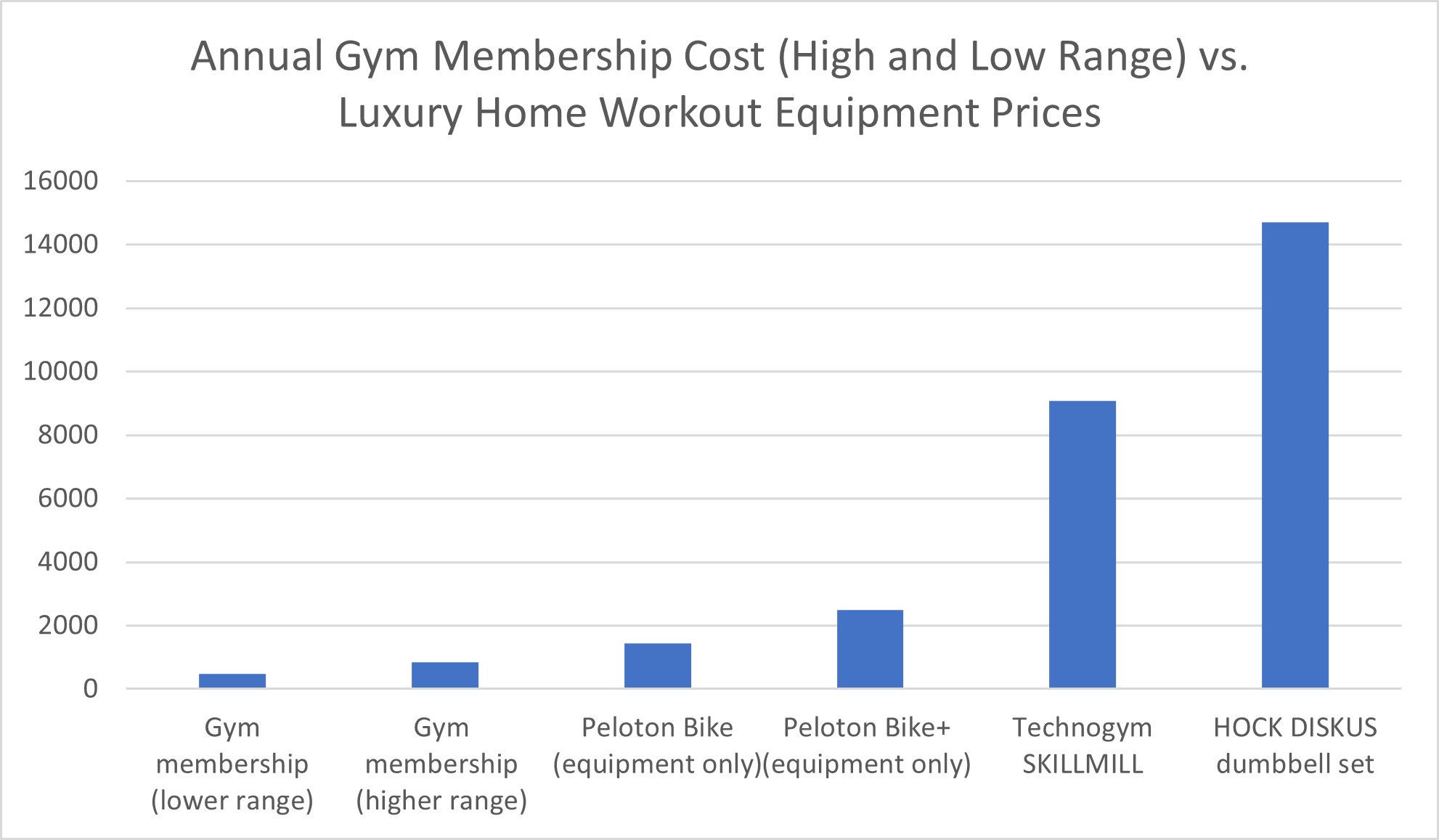 Suppose you skip the monthly gym membership and opt for at-home equipment instead. A Peloton bike costs $1,445 in 2023, according to USA Today, while the upgraded Bike+ costs $2,495. That's not including the monthly costs of the membership you need if you want to take part in classes and get the full experience of the high-end exercise machine.
If you have your heart set on high-end equipment from luxury fitness brands, you could wind up paying $5,000, $10,000, or even $15,000 to outfit your home gym. Sure, you don't have to pay the gym membership anymore, but it will be a long time before you break even.
What About Health Insurance Costs?
In the United States, of course, we can't forget the cost of health insurance when assessing the price of good health. In fact, for many Americans, health insurance is one of the steepest costs involved in health spending.
The Cost of Not Having Health Insurance in America
If we accept that wellness exams, routine laboratory work, vaccinations, and regular screening tests are part of optimal health, then we have to consider the cost of having access to this medical care. For most Americans, the out-of-pocket costs of medical care are simply too high to fathom without health insurance coverage.
Consider as an example the cost of routine bloodwork. Around 14 billion of these tests are ordered each year, according to the Centers for Disease Control & Prevention, and these tests are the basis of 70% of medical decisions.
In other words, these tests are common even for healthy patients and important for determining patients' prognosis. The cost of a panel of routine blood tests can quickly top $1,000 without insurance—considerably more money than most of the uninsured population can justify spending when they're not even sick.
More extensive tests, like routine screenings that can detect cancer early, are even more expensive. The national average cost of a colonoscopy amounted to $2,750 as of 2023, medical financing company CareCredit reported. This test is recommended for all adults age 50 and over to screen for colorectal cancer—even if no symptoms are present.
Most health insurance plans insulate policyholders somewhat from the outrageous healthcare costs without insurance. Even so, 25.3 million Americans remained uninsured in the first quarter of 2023, the U.S. Department of Health and Human Services reported—and the cost of health insurance was a big reason why.
Average Health Insurance Costs
Health insurance costs vary significantly depending on the kind and level of plan, the age of the insured, and geographic location.
Even for Americans who qualify for employer-sponsored health insurance, this benefit often isn't free. Most Americans today pay a significant portion of employer-sponsored health insurance coverage through required contributions to premiums and their deductibles and copayments.
Things like the size of the employer and whether and to what extent the employer provides coverage for dependants matter in determining the cost of health insurance.
Many Americans don't qualify for employer-sponsored coverage, including those who do contract work, are classified as part-time, or work for organizations that don't offer insurance benefits. They may have to purchase private health insurance policies themselves, either through the national Health Insurance Marketplace or a state marketplace.
Health Insurance Cost by Plan Level
Under the Affordable Care Act of 2010, health plans available on the federal exchange or state marketplaces generally fall into the following categories:
Bronze plans: A Bronze plan offers the lowest monthly premiums but the highest costs for getting medical care, including high deductibles. The national average lowest-cost Bronze premium for a 40-year-old individual was $342 per month as of 2023, according to KFF (formerly the Kaiser Family Foundation).
Silver plans: A Silver plan is a more moderate choice when it comes to both insurance premiums and cost-sharing obligations. If you qualify for premium tax credits, subsidies, or other measures that reduce your health insurance costs, you must choose a Silver plan to use those credits. The average lowest-cost Silver plan premium amounted to $448 per month, according to KFF.
Gold plans: Gold plans are the next step up from Silver plans. The national average lowest-cost Gold plan premium in 2023 was $472, KFF reported.
Platinum plans: A Platinum plan is the highest-level health insurance plan. The average cost of individual health insurance premiums for a Platinum plan was $709 per month in 2022, eHealth reported.
At first glance, the average monthly cost for individual health insurance plans may leave you with sticker shock. Individual coverage can cost between $4,000 and $8,500 per year based on average monthly premiums, depending on the level of plan you choose.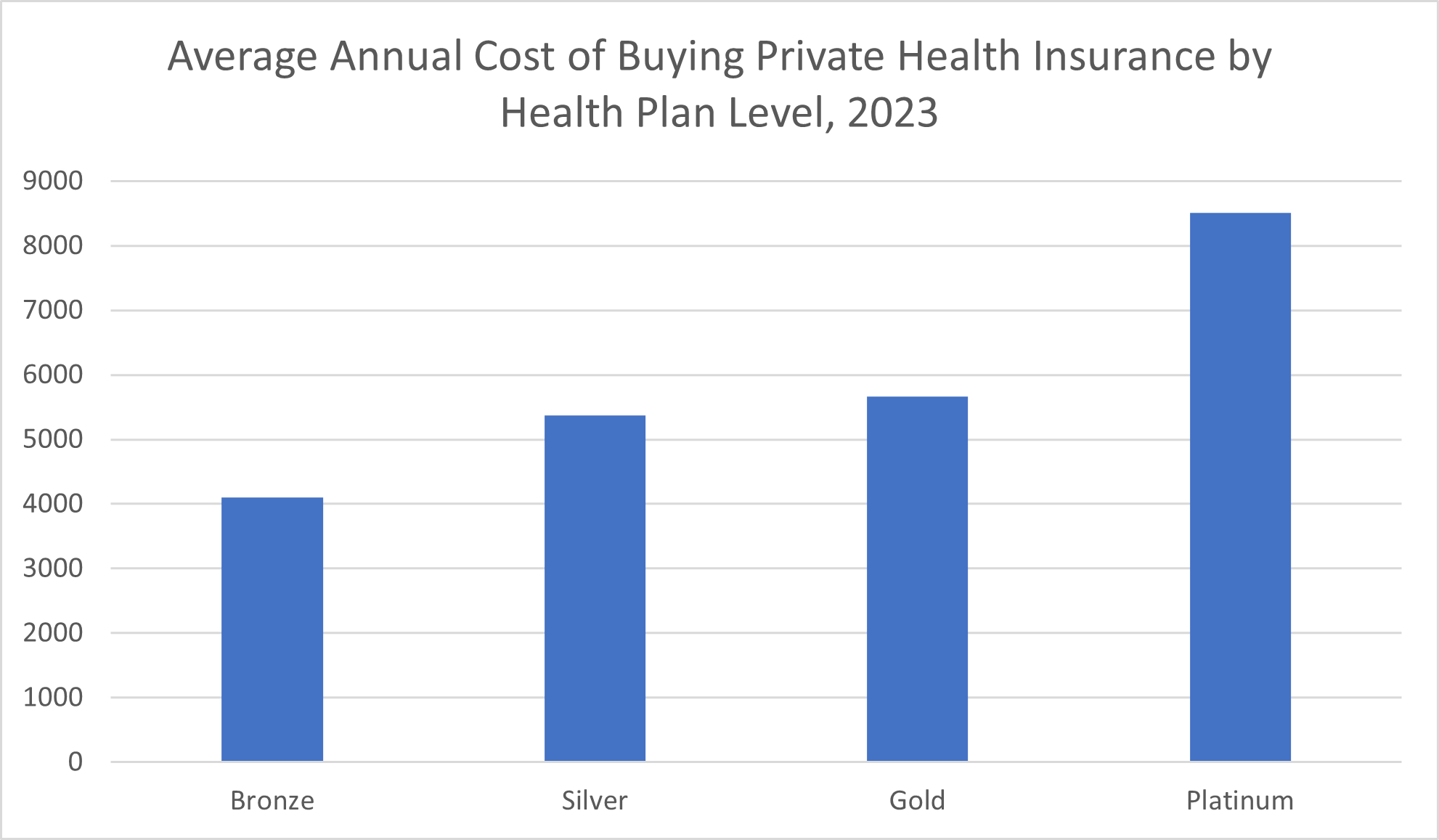 For many Americans, premium tax credits and other cost-saving subsidies can help make health insurance more affordable, if still one of the biggest financial burdens most families face.
Healthcare Services Costs
All these thousands of dollars spent on health insurance rates don't do anything to improve health. All they do is provide healthcare coverage—access to (relatively) affordable healthcare.
For healthy Americans with health insurance, many healthcare services costs are covered, at least to some extent. Under the Affordable Care Act, most plans are legally required to cover preventive care, often at no expense to the patient. That means you shouldn't have to pay for most wellness visits, vaccinations, and routine preventive screenings.
Still, even the healthiest people get sick or hurt some of the time. The per capita out-of-pocket health care expenses for Americans in 2021 amounted to $1,233, Statista reported.
If you have a chronic health condition, managing that condition is a huge part of achieving good health. It can also be very expensive. Take diabetes, for example. Managing this condition costs a "typical" patient with diabetes $4,800 annually, even with health insurance, GoodRx reported in 2020.
Although the most healthy among us may get away with little extra cost in the way of healthcare services, for many Americans, these costs can add up to at least hundreds of dollars—if not multiple thousands of dollars per year.
The Impact of Health Spending on Professional Athletes
Because their physical health is such a critical part of their lives, professional athletes truly exemplify the impact of health spending on physical performance.
To better understand how much good optimal health costs and how it improves physical performance, let's look at the two professional athletes at the center of the current debate over who is the National Basketball Association's Greatest of All Time: LeBron James and Michael Jordan.
Looking at the health habits (and spending) of both of these superstar players and their performance late in their careers can help us gain some insights as to the physical performance money can buy.
The Cost of LeBron James' Health and Physical Performance
For years, LeBron James has reportedly spent $1.5 million on his body, according to Business Insider (and numerous other sources). Among the costs this spending covers are:
James' state-of-the-art home gym, where the equipment is reportedly covered in his logo
Equipment for cryotherapy, hyperbaric oxygen therapy, and compression therapy
Personal trainers with specialized expertise in areas like biomechanics
Massage therapists
Personal chefs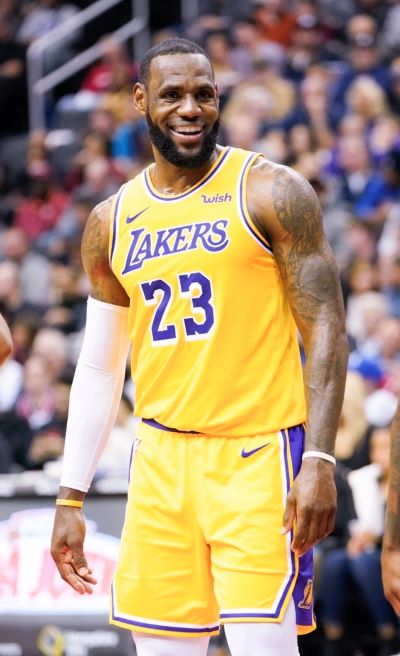 This dizzying price tag isn't such a massive splurge for James, relatively speaking. The Los Angeles Lakers player earned $44.5 million playing for the 2022-23 season and will earn an estimated $46.7 million in the 2023-24 season, according to CNBC.
James is spending a little over 3% of his income on his body. Many middle-income families spend far more than 3% of their income on health insurance coverage alone.
By all accounts, the $1.5 million James spends on his body is a profitable investment. While the average age of retirement from the NBA is generally reported to be mid-30s—and listed as low as 28 by some sources—James is still going strong at 38 years old. He's now the highest-paid player in the league under a contract that will carry him into his 40s.
The money James has invested into his body is a direct cause of his longevity in the physically demanding sport of professional basketball. The Business Insider article referenced above detailed how, in 2015, James was suffering from back problems.
Other NBA players in their early 30s might have resigned themselves to slowing down and preparing for retirement in a few years. However, James hired biomechanics expert Donnie Raimon to help him improve his core strength, "eventually fixing his back problems," Business Insider reported.
Money may not be able to buy health directly, but in this case, it certainly bought something health-adjacent: the specialized training James needed to address a problem that might otherwise have ended his career early or at least disrupted it. Hiring a biomechanics expert full-time cost considerable money, but it bought him time: years of earning tens of millions of dollars per season continuing to play his sport professionally.
Michael Jordan's Investment in Health
Michael Jordan may just be the most instantly recognizable name in basketball, even two decades after he retired from the sport. The majority of basketball players surveyed—58%—named Michael Jordan as the greatest basketball player of all time in April 2023, according to NBC Sports.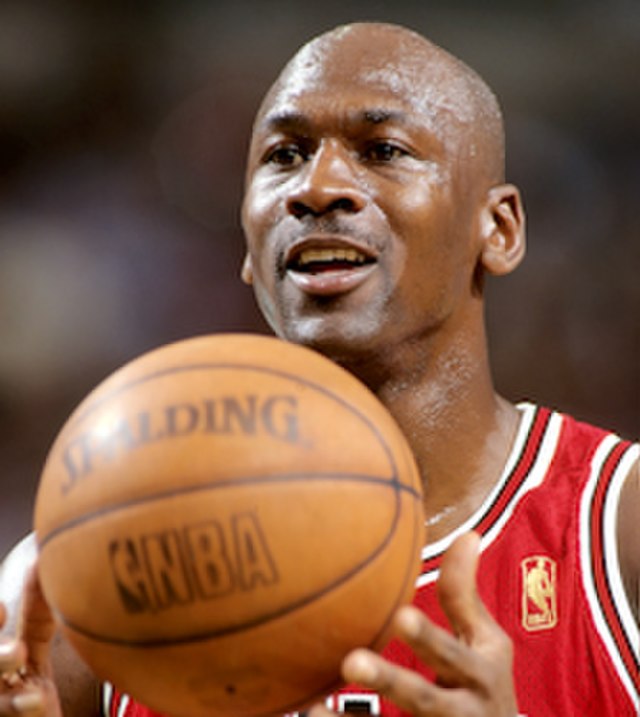 Over the course of Jordan's 15-season career with the NBA, he was named MVP five times, NBA Finals MVP six times, and an NBA All-Star 14 times. Jordan holds a well-deserved spot in the Hall of Fame and is among the top five scorers in NBA history, according to Basketball Reference.
Yet Jordan, who retired for the third and final time in 2003 at age 40—following short-lived retirements in 1993 and 1999—wasn't performing at the same level during the final years of his NBA career. Look at points scored per game, for example.
At his peak, Jordan had scored an average of 37 points per game during the 1986-87 season—considerably higher than James' 30.3 points per game peak achieved during the 2021-22 season. Yet during the final years of his career, 2001-02 and 2002-03, Jordan's average points per game sank to 22.9 and 20.0, respectively.
That sort of decline is expected in a physically demanding sport like basketball. It's also worth noting that Jordan had spent the previous three years retired from the NBA and that his pre-retirement points per game during the 1997-98 season amounted to a respectable 28.7.
Yet when you contrast Jordan's record toward the end of his NBA career with James' performance now, a pattern emerges. James, who has now played 20 seasons with the NBA, is still performing at or even above his earlier years. The season during which James achieved the highest average points per game was also his 19th year playing in the NBA, and his 2022-23 points per game still amounted to 28.9.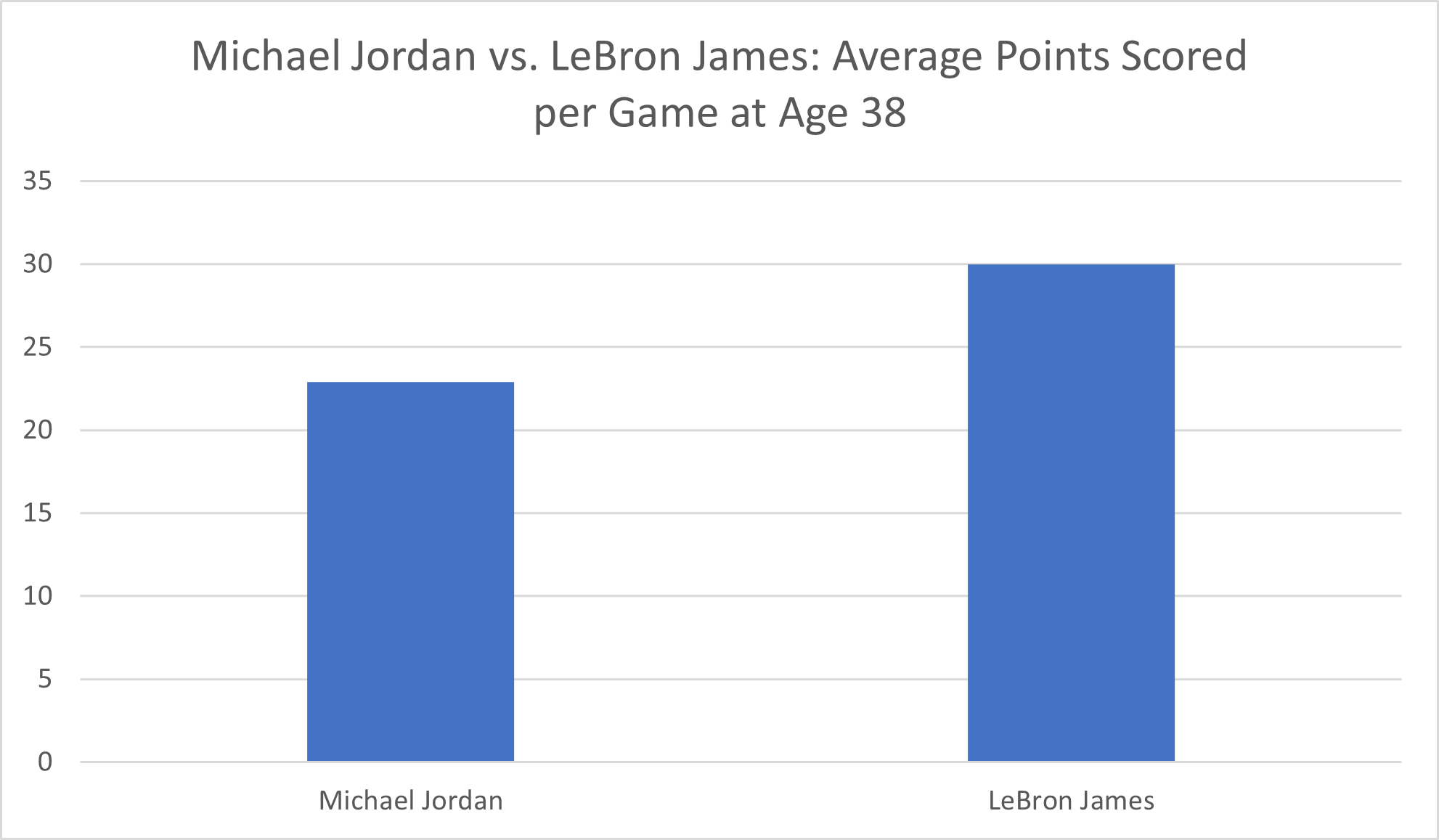 This makes James an example of how investing in good health allows professional athletes to perform at their peak for considerably longer than even extraordinarily talented athletes who aren't making as much of a financial investment in their bodies.
Technological Innovations Increase Health Spending for Pro Athletes
All this isn't to suggest that Michael Jordan didn't invest in his health. Jordan's healthy habits helped make him a six-time NBA champion. During his time playing for the NBA, he worked hard to keep his body in peak physical condition. He reportedly worked out every single day and was a client of pro athlete trainer Tim Grover, according to Rushcutters Health.
In fact, Basketball Network reported that Jordan was "one of the first NBA players to have his own trainer." This fact suggests that—at least for the time period—he was likely investing more money than many pro basketball players in preserving and improving his health.
Still, health habits for professional athletes have changed a lot in the last few decades. Jordan often worked out at public gyms rather than a swanky home gym like James uses, Basketball Network reported. While there's certainly a cost associated with using public gyms, it's considerably lower than fully outfitting an extravagant home gym with all the latest and greatest equipment.
Notably, "Jordan's workouts were almost exclusively geared toward helping him improve his basketball skills," Basketball Network reported. Jordan wasn't investing as much of his time (and, presumably, money) into physical fitness for better overall health as James routinely does.
Michael Jordan and his colleagues in the NBA during the 1980s and 1990s may have put ice on their injuries or taken old-school ice baths. However, they weren't routinely pouring tens of thousands of dollars—or, in some cases, hundreds of thousands of dollars—into personal cryotherapy chambers. They weren't making six-figure splurges on hyperbaric chambers.
Jordan's dietary choices, with steak and potatoes being his favorite pre-game meal, differ sharply from those of James, who strives to reduce red meat intake. Still, Basketball Network noted that Jordan was "clearly ahead of his time" in the attention he paid to his diet and that this focus contributed to his extraordinary performance on the court.
Today, we know even more about nutrition and its effects on the body's performance. Personal chefs who work for pro athletes have more specialized knowledge of nutrition and utilize more expensive "superfood" ingredients. The upshot of this is that they carry higher price tags, too.
The evolution of sports science technologies, combined with star athletes' almost limitless health spending potential, means that pro players like LeBron James can invest millions of dollars into health, fitness, and wellness therapies that improve longevity. It's not that Michael Jordan wasn't investing his money (and time and hard work) into his health. Rather, today's technological innovations offer so many more ways pro athletes can buy better health that star players can drop more money than ever before caring for their bodies.
Beyond the Direct Financial Cost of Good Health
Throughout this exploration of the cost of being healthy, we have focused on direct financial costs. It's worth noting, though, that money spent on health and fitness represents only part of the total investment people make into their health.
A huge part of attaining good health is investing time into healthy habits. All the gym membership fees and home equipment costs in the world won't help you get healthy if you don't devote the time to actually working out. The same is true for buying organic produce and trendy superfoods if you don't actually eat them.
Today's busy schedules mean that the time you spend working on your body or preparing healthy meals almost always has other potential uses. Time is such a finite resource that it's hard for many overbooked and overburdened Americans not to feel stressed—or even guilty—about the ways they choose to invest their time, even when that investment puts them on the path to better health.
Getting enough sleep is one of the most important actions you can take to support your health. In fact, the National Institutes of Health has ranked getting enough sleep right up alongside exercise and a healthy diet in terms of importance to good health.
Sleeping itself may be free—although the mattress, pillow, and other accouterments that support optimal sleep aren't—but getting more rest still incurs an opportunity cost. Whether you would otherwise spend that time working, working out, relaxing, doing chores, or enjoying hobbies, the choice you're making to invest more time sleeping means you're missing out on something else.
In some cases, that opportunity cost is financial, causing you to make less money or necessitating paying someone else to do those tasks for you. Time, like money, is a resource that you have to invest wisely if you want to achieve good health.
Is the Cost of Being Healthy Worth It?
The cost of achieving good health is no small expense. Most of us aren't pro athletes who, like LeBron James, will earn years' worth of salaries in the tens of millions of dollars as a direct result of paying the cost to be healthy. For the average American, where do the benefits of a healthy lifestyle meet the cost of good health?
To some extent, having good health is its own reward. The quality of life when you are healthy is vastly different (and better) than when you have to live with chronic pain or fatigue. A healthy lifestyle from the get-go reduces the odds of needing to take medication routinely to manage chronic conditions, not to mention dealing with the side effects of those medications.
We all feel our best, physically and mentally, when we're at our optimal level of health.
There's also evidence that staying healthy can help you financially. By reducing medical expenses, maintaining good health allows you to save money. The better health you are in, the better your chances of avoiding serious injuries or illnesses or of faring better if you do develop these conditions. As such, you're in a better position compared to less-healthy people to avoid the lost productivity and earnings—short-term or long-term—that illness and injury can cause.
That doesn't mean we all need to splurge on high-end luxury home gym equipment, spring for a personal cryotherapy chamber, or load up on supplements of all kinds. The cost of good health is well into the thousands of dollars per year once you consider factors like healthy food, supplement spending, fitness spending, health insurance costs, and the costs of healthcare. However, it's possible to make both healthier and less healthy choices on just about every budget.
No, the average American can't compete with LeBron James in terms of health spending or physical performance. But you can still make smaller, more manageable steps to invest in your health even at a more moderate income level.