When it comes to giving your children life lessons, teaching them about finances may not come to mind as the most fun. But that doesn't have to be the case. Teaching kids at a young age how to handle money and investing will set them up for immeasurable success later in their lives. Financial technology has changed the way we all use, track, and invest our money.
Popular video games and apps offer in-game purchases. Kids are being exposed to financial transactions at a much younger age. Helping them understand the value of money and how to spend and save it is crucial. It will teach them responsibility. But more than that, they will gain skills that will serve them well into adulthood.
We're going to explore the best online financial literacy resources available to parents (and teachers). From apps that help kids begin their own savings to games that teach them how to budget, here are the 50 Best Online Resources To Teach Kids About Money & Investing.
Elementary School
1. Finding Fabulous Financial Literacy Vocabulary
Financial literacy starts with understanding the vocabulary used to describe finances. Talking about spending, earning, saving, and investing won't mean much if children can't understand the vocabulary. This PDF lesson plan will help introduce "fancy" words often used in discussing finances into your child's vocabulary.
2. Spend, Save, Invest, or Donate
Designed for kids in grades 3-5, this lesson plan introduces basic personal finance terms. Philanthropy, wants, needs, opportunity cost, and scarcity are all covered in the lesson. Children will even have the opportunity to learn a handy song to help them remember the new terms. By teaching at home, parents can adapt the lessons to help their children learn at their own pace. Spend, Save, Invest, or Donate will give children a fantastic foundation to start their financial literacy journey.
3. United States Mint H.I.P. Pocket Change
The U.S. Mint has a fantastic website dedicated to kids called H.I.P. Pocket Change. The site is full of helpful tips and games to help teach children about both the uses and the history of many. Your children will be able to learn about how the Mint makes coins, coin collecting as a hobby, and the mint itself. One game that you'll want to be sure to recommend to the kids is "Counting with Coins". The game helps preschoolers and younger children with basic math tasks and teaches them to identify different coins.
FunBrain has all sorts of engaging games for kids to explore a variety of topics. Their Math Zone uses games to teach kids all about different math-related lessons. Change Maker is a game designed to teach younger kids how to count change correctly. Through the use of a virtual piggy bank, children will see their correct answers added to the piggy bank. Incorrect responses will see that change subtracted. There are four levels of difficulty to the game: amounts under $1, amounts less than $5, amounts less than $100, and a Super Brain level that uses much larger amounts.
5. Introduction to Saving and Spending
This PDF lesson plan will help you teach your younger children why saving is important. Helping kids learn the value of saving money and how to create simple savings plans can have longterm impacts on their financial literacy. The PDF is free to download and although it's geared toward a classroom setting, you can translate it to an at-home activity with your child.
RELATED: What Do Americans Spend the Most Money On?
6. Sesame Workshop: Financial Empowerment
Sesame Workshop uses your kids' favorite Sesame Street characters to teach them about financial empowerment. Financial literacy is a critical life skill. Through Sesame's "Dream, Save, Do" initiative, children can learn how to plan for their financial futures. Elmo, Grover, and their friends will teach kids how to differentiate between wants and needs, how to save up money, and how to budget.
Kids' Finance is an oldie but a goodie. This website has been teaching financial literacy since 1999, and they've gotten the process down to a science. There are money puzzle games and lessons about different bills and coins. Kids' Finance is definitely geared toward younger learners. If your child works better with printed off material than learning in an app or on a website, this is the link for you.
8. Wise Pockets
Wise Pockets is a financial literacy program through the University of Missouri-St. Louis. It helps younger children explore earning, saving, and spending. Through interactive stories, the kids will learn about Wise Pockets and his friends and go on financial adventures with them. In addition to the basics, Wise Pockets also covers lending and borrowing.
9. Financial Literacy for Kids from OppLoans
In this resource guide for parents, OppLoans explores the six core financial literacy concepts for children. Parents will learn how to explain what money is, the different ways to earn money, why we need it to spend, the difference between needs and wants, the value of savings, and how to spend money wisely. The list is a great jumping off point for parents who are beginning to explain financial literacy to their children. Paired with other resources it can help instill lasting financial habits in your child.
10. Uncle Jed's Barbershop Federal Reserve Bank of Philadelphia
Aimed at teaching kids ages 9-11, this PDF lesson will take about 45-60 minutes to complete. Students will listen to Uncle Jed's story, detailing his journey to save enough money to buy his own barbershop, in spite of many financial setbacks. Through the printable card game, kids can learn all about saving money, opportunity cost, setting savings goals, and the impacts of racial injustice in finance.
11. Warren Buffett's Secret Millionaires Club
If your child loves spending time on YouTube, introduce them to this animated series. Viewers will get advice and learn from billionaire Warren Buffett about how to invest, save, and explore the world of finance. There are over 180 videos, most well under 10 minutes, offering bite-size financial lessons for your child.
12. A Chair for my Mother Lesson
A Chair for my Mother is a lesson plan that explores the story of a little girl and her family who save money to buy a chair after a fire destroys their furniture. Designed for grades 1-3, the lesson will help students understand not only how to save and budget but how to use their money compassionately. Parents can access the lesson plans online through the Federal Reserve Bank of St. Louis. There are both printable and online resources available, including a Q&A PDF for parents.
Math is a crucial part of understanding money. With Dragonbox Numbers, 4-8-year-olds will learn what numbers are, how they work, ad what they can do with them. This app makes learning all about numbers and their value fun and gives kids a jump start on math. If your kids enjoy learning math through Dragonbox, you can also download more of their apps including Big Numbers and Algebra.
Middle School
Money Confident Kids is a step by step educational program that focuses on helping children develop financial confidence. Designed for children ages 8-14, the lessons cover a variety of topics starting with goal setting and ending with diversification. All the lessons are available online and include different exercises. You have the option to download the lessons as well if you prefer that your child does the work offline.
The Stock Market Game is an online simulation designed to engage students in grades 4-12. The game explores the global capital markets, economics, investing, and personal finance. Players will manage a $100,000 portfolio, trade stocks, and learn the basics of investing.
16. Savings Spree
This fun app teaches kids how daily lifestyle choices can become big savings or big expenses. The lessons are for kids 7 and older. Savings Spree will help your child learn how to save for items they want, how to spend their money smartly, and the power of donations and investments. The game is available through the App Store on iOS devices.
17. iAllowance
One of the earliest lessons you can teach your child about money is the value of hard work. iAllowance gives you one place to keep track of your kids' allowances, chores, and rewards. You can set goals and chores in the app. The kids can check in on their progress, as well as see how much money they've managed to save. The app allows unlimited children in the account, tracking multiple allowances and finances at once.
Introduce your child to the basics of trading and how people of different countries trade. Through this downloadable PDF curriculum, middle school students will learn fundamental economic concepts like scarcity, economic wants, resources, goods and services, opportunity costs, tariffs, and more. There are 10 lessons total in the curriculum that parents can teach as a whole or individually.
19. Scholastic
Through Scholastic, you can teach your child basic financial literacy concepts in a fun and interesting way. The lesson plans are clearly laid out for parents or teachers. There are more materials you can print to help your student along. The lessons follow Common Core Key Standards. Use them to help your child learn how to set and meet both short and long term financial goals.
20. The Allowance Game from Iowa State University
Having enough money to buy the things you want is one of the first real-world scenarios your child will encounter during their journey to financial literacy. The Allowance Game teaches kids how their decisions will impact their financial wellbeing, using beans to show how to manage their earnings, save appropriately, and spend responsibly.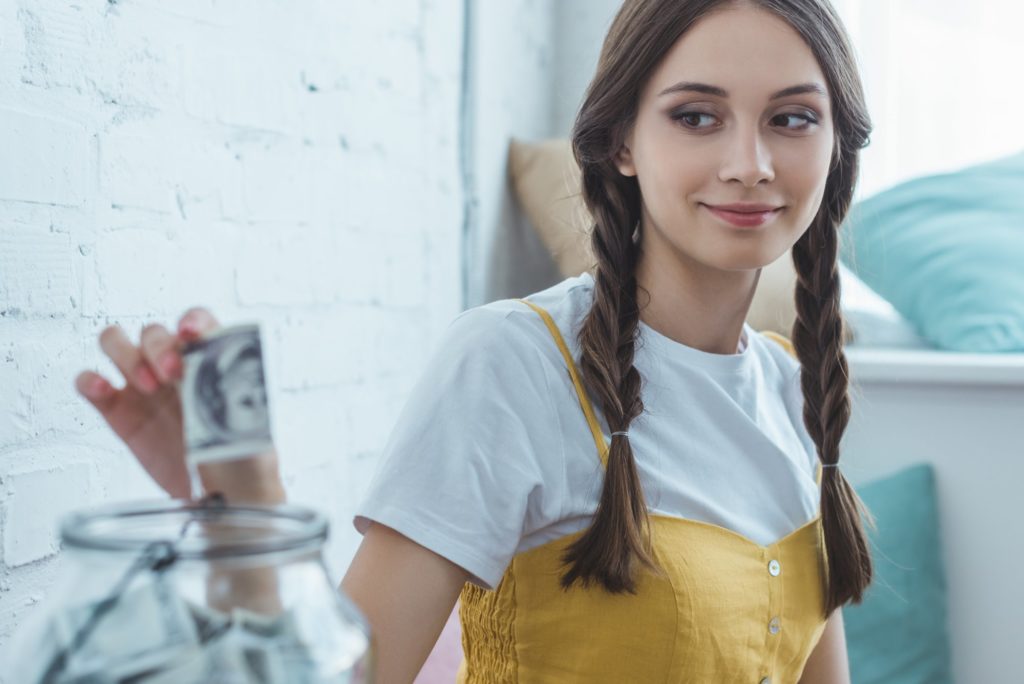 High School
Who says learning about finances can't be fun? VISA has teamed up with the National Football League to create a game that teaches the value of money management skills in a new and exciting way. The website offers financial football lesson plans that parents can use to help kids better understand how to handle, spend, and save their money. Additionally, the Financial Football lessons touch on Identity Theft and Life Events, two things that all kids need to prepare for.
22. Chair the Fed
Want to teach your children about how monetary policy influences the economy? Chair the Fed is a game by the Federal Reserve Bank of San Francisco that uses a simulation to give your child the power to control the Federal Reserve. Players will be able to raise or cut interest rates. They will have to ride out booms and crises throughout the game, giving them a better understanding of how the Fed works in the real world.
23. Sense & Dollars
With games, information, and helpful links, Sense & Dollars focuses on educating older kids about how to spend, save, and budget. From games like Charge that teach the real cost of credit to a prom budgeting game, there are fun ways for teens to learn how to be responsible with their money.
24. CNN Money
CNN's Money Essentials covers a variety of topics that your teens could find incredibly useful when expanding their financial education. There are seven categories, starting with financial basics and going all the way through buying a home, starting a family, and retirement planning. While those topics may not be on your teenagers' radar yet, getting a job, buying a car, and beginning to invest are all covered as well.
25. Teach Children Well with J.P. Morgan Chase
J.P. Morgan Chase outlines seven skills that your children will need to develop good financial habits. Cyber security, building good credit, investing, and more all contribute to the ability to make informed financial decisions. All of these topics are covered here, with simple exercises to help educate kids.
26. Merrill's College Planning
Getting ready to go out into the world can be a lot easier when you are financially prepared, and that's what Merrill wants to help with. Through their College Planning program, your child can get a head start before college. Kids can create an action plan for college and how to stay on top of their finances throughout school.
27. Bank of America's Money Management for Teens
For a basic outline introducing your teens to the world of finances, Bank of America's Money Management for Teens website is a great place to start. Get a better understanding of how teens earn their money. How they can save, spend, and invest responsibly. There are other financial lessons that will help set them on the right path to financial responsibility.
28. Financial inTuition Podcast
Available through the Consumer Financial Protection Bureau, the Financial inTuition Podcast focuses on a variety of financial topics. Topics include saving, paying for college, managing money, and repaying student loan debt. As high school students head off to college, they can learn how to be best prepared for managing their money on their own and repaying their student loan debt.
All Ages
29. Financial Literacy for Kids
Through InCharge, parents can access free lesson plans about financial literacy for children ages Pre-K through College. The lessons cover saving, spending, budgeting, earning money, financial responsibility, and more. The lesson plans provide guides for both the teacher and the student, or in this case the parent and child. The lessons are completely free and won't cost interested parents anything more than their time.
30. Dave Ramsey's advice for teaching kids about money
Dave Ramsey has a distinct financial style that many families find helpful. If you've already been using his guidelines to help better your own financial situation, using it to teach your children may be the perfect fit. Ramsey explores simple solutions to help your kids learn how to earn and spend their own money. From saving in a traditional piggy bank to teaching them about opportunity cost, his advice is less tech-dependent and more reliant on parenting strategies.
31. Practical Money Skills Play
Whether you're focusing on helping an elementary-aged student or a high schooler, Practical Money Skills has an entire section of their financial literacy site dedicated to kids. Cash Puzzler is a great game that helps small kids learn to identify different bills. Financial Soccer is a multiple-choice money quiz that helps kids learn about personal financial responsibility. Through the games there are plenty of ways to make learning fun.
32. Bankaroo
Bankaroo is a virtual bank for your kids to learn all about financial responsibility. Through Bankaroo, there are lessons about budgeting, saving for goals, and spending responsibly. Bankaroo is available via the web or on their app, which kids can use to check in on their progress. Parents can use the secure account, with the ability to receive notifications about your child's progress in meeting goals. There are free and paid versions of Bankaroo, depending on what features you'd like to have access to.
33. Centsables
Centsables offers financial literacy programs for kids of all ages. Through lessons, games, and episodes of the Centsables TV show, your younger child can learn the basics of money. That includes how to save, spend, and share, good vs. bad credit, investing, and more. For the high schoolers, topics include saving for a first car, preparing for college, information about loans, managing their money, and all they need to know about credit cards for teenagers, debit, and ATM cards.
34. Kids' Money
Kids' Money offers parents, teachers, and kids of all ages plenty of resources to learn about financial literacy. Children that develop successful money management habits are more likely to become financially responsible adults. Kids' Money uses a variety of methods to help instill those habits in fun and entertaining ways. Topics include making money, allowances, and more.
35. Money Instructor
Money Instructor offers financial lessons for kids grades K-12. In addition to basic money skills, there is information on earning money, personal finance, starting businesses, money management, and other life skills. This website is great for parents who want to be hands on in their child's financial education. There are lessons that the whole family can work on together.
36. BizKid$
On BizKid$, your children can watch videos, play games, and create budgets and business plans that will help them expand their financial knowledge. One of the most effective games offers by BizKid$ is their lemonade stand game, Dollar A Glass. There, your kid will have to see if they have what it takes to get a small business started and sustained.
37. Stockpile
Stockpile is a decent app for anyone who's interested in learning more about investing, but their kids section is particularly fantastic. Parents can set up a custodial account and kids can buy fractions of popular stocks that may interest them like Disney or Xbox. All without breaking the bank. There's even a learning center within the app where your kids can get the basics of investing down.
38. BusyKid
BusyKid focuses on teaching your kid five core financial principals. They are earning, saving, donating, investing, and spending. Parents can set chores in the app. When kids complete them, the allowance is direct deposited each Friday. They can set their savings to be automatic or have access to charities to make donations. They can invest in real life stocks and load their earned money onto pre-paid Visa cards. It's really a one-stop-shop. One Busykid Spend Card comes with your annual family subscription and additional cards are available for $7.99/year.
39. Greenlight
Greenlight is a debit card program built specifically for children. Within the app, they can learn about all aspects of financial responsibility. One feature that's particularly helpful is taking advantage of their parent-paid interest rate feature. The feature allows you to pay interest out of your parent account. This shows kids in a tangible way that if they leave their savings alone, it will grow over time. The debit card issued to your child also comes with some protections. They won't be able its use in any store or website that does business in wire transfers, money orders, escort services, lotteries, and gambling.
40. Jump$tart! Financial Smarts for Students
The National Standards in K-12 Personal Finance Education that Jump$tart uses to help educate kids about financial literacy are a must-read for parents. The standards consist of six sections that address all of the money basics. The sections include spending & saving, credit & debt, employment & income, investing, risk management & insurance, and financial decision making. The standards are free to download and break down strategies based on the age of your child.
You can help prepare the children in your life for a lifetime of financial literacy through the lesson plans available on Finance in the Classroom. Parents can take advantage of their Home/Community activities for all ages, including games, lessons, and printable activities. For the younger kids, activities will teach them about coin recognition, how to earn an income, and the importance of wants versus needs. Middle school lessons focused on charitable giving, banks, and an introduction to economic reasoning. For high school students, parents can help their children become more comfortable working with financial institutions. They can also learn the value of retirement planning at a young age.
42. Banzai
Banzai is a free financial education platform that helps students learn financial responsibility through real-life scenarios including budgeting, taxes, medical expenses, credit cards, banking, and other financial topics. There are three courses, depending on the age of your child, Junior, Teen, and Plus. Students will learn about the consequences of financial decisions using trial and error, in a way that's safe and won't impact their financial future. The program is completely free and there are financial education guidelines for each state.
Orange Owl Academy provides a 64-page workbook and 37 videos to help your child learn essential money management skills. For parents, the prep work is already done, with ready made worksheets waiting to print out. They correspond with the videos so that all busy moms and dads have to do is click play. The courses will help prepare kids to have a healthy financial mindset by incorporating good core values like gratitude and balance. The academy is the perfect introduction for kids who are starting to learn about finances. It can also act as a refresher course for older children who have already had some experiences learning about money.
44. National Financial Educators Council
Teaching your kids about personal finance before they've learned bad money habits is crucial to their success. The National Financial Educators Council has incredible resources about teaching personal finance to children of all ages, helping kids to establish healthy relationships with money. A complimentary Financial Education Program is available through the organization. The program includes financial education presentations, a 6-part training course, and access to online lessons, testing, worksheets, and more.
45. Teaching Kids About Money: An Age-By-Age Guide by Parents.com
From as early as 2-3 years of age, there are many ways to install financial literacy in your child. This guide focuses on activities you can do with your child throughout all steps of their youth to help them achieve good money habits. There are simple activities like playing the coin identification game with your pre-k kids or having your teens organize and manage a yard sale. There are many methods of encouraging your child's financial knowledge.
46. Money and Kids
Whether it's creating (and sticking to) a family budget or getting advice about how much allowance to pay your child based on their age, Family Education offers a wealth of resources for parents hoping to teach their children about money. Through games, tips, and printable activities, parents can take a hands on approach in their children's financial education.
47. SageVest Kids
SageVest has extensive online resources for children of all age groups. Beginning with children as young as ages 3-4, SageVest encourages skills and activities like games, savings, and financial checklists to help your child achieve financial literacy goals. There are guidelines to help parents initiate financial conversations with their child at any age. Guidelines include conversations about self-esteem, budgeting, personal and financial maturity, adapting to financial peer pressure, and more.
48. Treasury Direct
This government website explores the history of U.S. Public Debt. Including the basics of the function of the Treasury and other lessons about money on a larger, national scale. There are games, video resources, and highlighted lessons. They all help your child increase their understanding of what debt is, how it works, and explore its impacts on the economy. There is also a section that showcases the importance of buying U.S. Bonds, which is an important part of the fabric of the U.S. Treasury.
49. Strategies to Teach Children Delayed Gratification
Delayed gratification is an important life lesson in general, but especially so when it comes to financial literacy. Teaching patience in children isn't always easy. Psychology Today has a wealth of resources for parents who are looking to instill this life skill in their children. The article offers advice on how to teach children different strategies for success in delaying gratification such as self-control, "if-then" plans, and more.
50. MyMoney.gov
Designed for children of all ages, MyMoney.gov has games, activities, and other information about money. Older kids can easily explore this website on their own, giving them the opportunity to take their financial education into their own hands. In addition to lessons about saving and spending, there is also introductory information about taxes, why we pay them, and how they work.
Your child's financial future is in your hands. The lessons children learn about financial literacy are crucial. They will impact how they spend and save money. They will also teach them valuable life lessons about patience, commitment, compromise, and self-confidence.