When you're starting out building credit, finding the right starter credit card is a must. There are many credit cards out there, and it can be challenging to choose the one that will serve you best.

The cards mentioned below offer a variety of options and benefits. Whether you want help monitoring your spending or want to stay on top of your credit score, there's a card that can do it.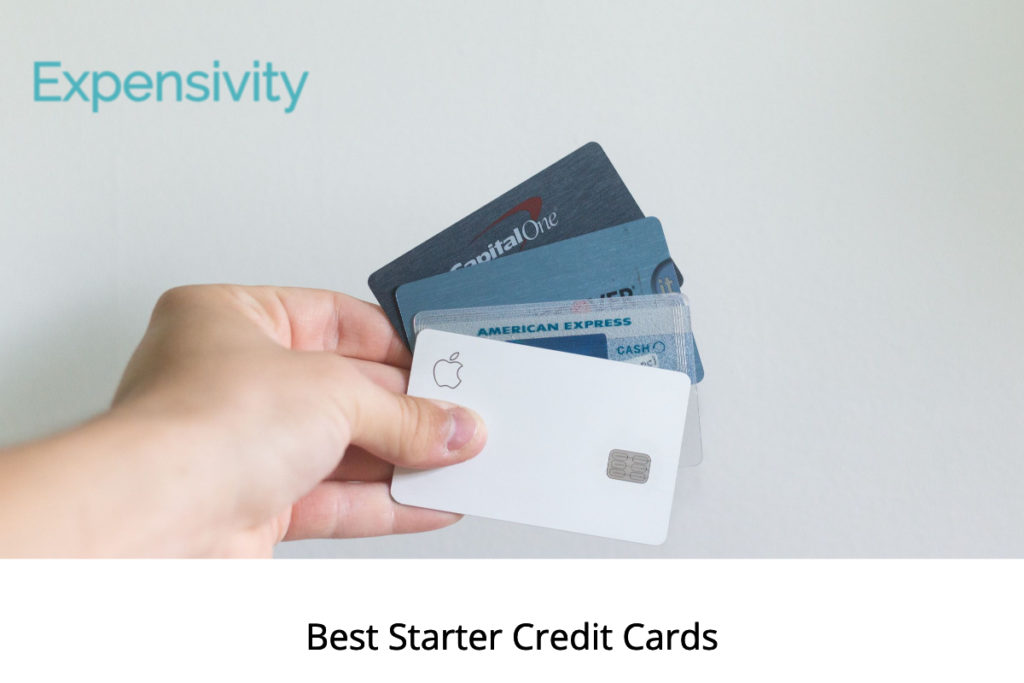 Getting Your First Credit Card (and Navigating Credit)
Getting your first credit card is a big deal, and it's a significant responsibility. You should know how to use credit responsibly, which means paying off your balance each month and not spending outside your budget.

U.S. residents 18 years and older can apply for a credit card. However, if you're under 21 years old, you'll often have to show proof of verifiable income. Otherwise, you'll need a cosigner.

The credit card application process is easy, as you'll fill out a form that asks for basic personal information and details about your income. You'll also need to provide your social security number.
Where to Get Your First Credit Card
Not all credit card companies are willing to take on first-time credit card applicants. Nevertheless, below are some options that have a reputation for being friendly to first-timers.
Your bank (assuming you've shown responsibility with your checking and savings accounts)
A student credit card (they tend to have high interest rates, but if you're a student, it's an easy way to obtain a card)
Retail and department stores (you won't be able to use them everywhere, but they're a good stepping stone for building new credit)
As a first-time credit card applicant, you should apply for only one credit card at a time. Credit card approval or denial is usually instant, so you won't have to worry about waiting for days to receive an answer.
Now that we've covered how to get a credit card for the first time, below are some other items to keep in mind.
Low Credit Limits
Applying for your first may involve settling for a low credit limit. But with time and smart spending, you can earn increases to your credit line. Then, you can make larger purchases. As long as you continue to pay off the balance each month (or over a couple of months), your credit score will increase.
Zero-Interest Offers
Zero-interest can sound like a great deal, but keep in mind when signing up that it's for a limited period. Most credit card companies offer 0% APR for a set period; after that, your rate could go up exponentially.
Consumer protections require credit card issuers to give notice before bumping their rate. So keep an eye on your mailbox (or email).
Building Good Credit
Building good credit requires keeping the number of credit cards you have to a minimum and the balances low as well.
Maintaining good credit not only keeps your score high it also keeps your interest rates low. You'll see a range of interest rates for some of the cards mentioned below because your credit score partly determines the rate charged.
You should be aware that credit card companies can increase the interest rate with 45 days' notice. One of the common reasons to increase the interest rate is because you have missed payments with the card company and other lenders.
What Not to Do When Applying for Your First Credit Card
As you prepare to apply for your first credit card, below are some pointers to keep you from encountering issues.
Apply for one credit card at a time to reduce the chance of a negative impact on your credit score.
Getting a credit card before you're able to pay it back will cause more harm to building your credit than it will help.
Don't worry about the credit line amount. Even a small line of credit will build your credit, provided you pay it back regularly.
What to Look for with Your First Credit Card
When choosing a starter credit card, it can be challenging to prioritize what is essential when looking at the options. Do you want cash back, or do you want lower interest rates? Consider how the card and cash back features work. Maybe getting money back on your purchases is more important than the charged interest rate, especially if you plan on paying your balance in full every month.
Read the Fine Print
As tedious as it may be, you'll want to read the fine print in the agreement for any card you choose to apply for. You want to be clear on repayment terms and how the card company charges interest.
Reading the fine print also means being clear on the interest rate itself, including any limited-time offers for zero interest. After that period expires, all bets are off. If you're carrying a balance on the card, your interest could skyrocket. That could ding your credit and require a longer and more expensive repayment period.
Cash Back Options
Many credit cards are offering cashback as one of their benefits. You should be aware that not all cashback cards are equal. Some cards are very particular about how and where you can redeem those points.
Make sure that you're clear on what you will be able to do with those cashback points when you're ready to redeem them. Also, keep in mind that not paying off your balance is also detrimental to your cashback earnings.
Secured Credit Card
As a new credit card user, you don't have credit to prove to credit card companies that you're responsible for paying back debt. With a secured credit card, you'll send the company a deposit, which they'll refund if you close your account.

Although it's best to apply for regular credit cards first, secured credit cards are a good option for people who keep getting denied standard credit. Under most circumstances, you can only spend up to as much as your deposit with a secured credit card, so you're not technically borrowing money.
The 5 Best Starter Credit Cards
Below are five excellent starter credit cards. The credit cards are in alphabetical order since they all offer advantages for new credit card users. We've shared links to each card so that you can learn more about each of them and determine which, if any, you want to apply.

Some of the credit cards below offer pre-approval without checking your credit. But you'll want to make sure you don't submit too many applications as that can reflect negatively on your credit score.

We've added a summary chart at the end of this article to help you identify what the different cards have to offer. With these resources, you can make the choice that makes the most sense for you as you start your journey to building your credit.
According to the card's website, you need a "Fair" credit rating to have a chance of successfully applying for this card. There are no annual fees, and at the time of writing this article, the interest rate was 26.99%. Capital One offers you the opportunity to get pre-approved for the credit card without impacting your credit score.

The Capital One Platinum Mastercard is a great starter credit card. The credit limit can increase in as few as six months after you're approved. However, before requesting a credit increase, make sure you can repay what you charge to your credit card.

The Capital One Platinum Mastercard is an excellent starter credit card for travelers. There are no foreign transaction fees when you make purchases in another currency. You can shop abroad without worrying about any additional fees on top of the items you buy.
You'll also be able to locate ATMs globally with this app so you can access cash regardless of where in the world you are.

Pros:
No annual fees
Approval/denial process doesn't impact credit score
Credit increase may be possible after 6 months
Cons:
No rewards
26.99% is a high interest rate
The Discover It® Secured Credit Card is another excellent starter credit card. The Discover It® card offers cashback on a percentage of your purchases determined by where you shop. You can earn 2% cash back on purchases at restaurants and gas stations when you use this card. There is a maximum of $1000 in purchases per quarter for the 2% cashback. The card offers 1% cashback without limits on all other purchases.

The Discover It® card reviews begin eight months after the account opens to see if you qualify for a card that doesn't require a security deposit. For this to happen, your account with Discover and other lenders must be in good standing.

Secured credit cards are easier to get than your standard card because you are putting down a security deposit. The only time you would lose your security deposit is when you default on a payment to that credit card's bill. While the Discover It® Secured Credit card does offer the option to transfer you to a card that doesn't require a security deposit, not all secured cards do, so you'll want to check that before you commit to one.

Another feature that makes this card an excellent starter credit card is that there's no late fee charged on your first late payment, so you can use this if there's ever an emergency and you can't make a payment. This feature can provide comfort when experiencing difficult financial times.
Pros:
Cashback perks starting at 1%
No late fee for first late payment
Easy acceptance since this is a security card
Cons:
Requires a security deposit
Most international destinations don't accept Discover cards
The Petal®2 Visa Credit Card is a great starter credit card because it is perfect for those who lack credit experience with the support it offers in its benefits. One of this card's most prominent selling features is that it doesn't charge late fees or penalize when checks bounce due to insufficient funds. The lack of penalties is unheard of for most credit card companies, and you get the feeling that this card is very niche in the people it serves.

Your credit score determines the interest rates on this card. The range of interest charges is from 12.99% to 26.99%. If you're looking for a credit limit higher than $10,000, you're going to have to look at another card as that's the maximum limit, with it starting at $500.

This card offers cashback, which is a great way to get rewards for spending to help with future expenses. The Petal®2 Visa Card offers 1% cash back at the start, which gets bumped up to 1.5% when you pay your bill on time. There are also 2-10% cash backs when you shop at participating local merchants, which is a win for you and for the small business owner!

If you're looking for a card and are unsure about how credit works and could use some help to make sure you're building good credit, this card is a great contender. Not only are you getting cashback on your purchases, but you're also getting help managing your spending with its budget feature.

The feature showing how much interest you owe based on your payments is another great tool for anyone inexperienced in credit and concerned about making mistakes.

Petal® offers two different credit cards, so they offer you the ability to check which card you'll qualify for before doing a credit check. Some additional bonuses to mention are that there are no annual fees with this card, and users of their app can check their credit score at no charge.
Pros:
No late fees or penalties
High credit limit of $10,000 for those who qualify
Ability to earn as much as 10% in cashback rewards
Cons:
No option for cash advances
You can't adjust the minimum payment due date
Capital One's Quicksilver is a great starter credit card because it offers cashback, extended warranty coverage, and travel insurance. There are no annual fees with this card, and the interest rate ranges from 15.49% to 25.49%, depending on your credit score.
The card offers 1.5% unlimited cash back on every purchase, and they are offering a $200 cash bonus when cardholders spend $500 on purchases within three months of opening the account.

This card offers different ways to redeem the cash back you earn when you make purchases. The Quicksilver from Capital One allows you to trade in the points for money, where you receive a check, apply the cashback to your balance on your latest purchase, or buy gift cards. You can also use your cashback points to shop with PayPal or to buy something on Amazon.

With no foreign transaction fees and travel accident insurance, and an ATM locator, these features make this card the perfect travel companion and an excellent starter credit card.
Pros:
1.5% unlimited cashback rewards
$200 sign-on bonus if you spend $500 in your first 3 months
Relatively low starting interest rate of 15.49% for those who qualify
Cons:
No bonus rewards categories to choose from
Capital One categorizes this card as a credit rebuilder, and for this article, we'll say it's also a great credit builder for those who have never had a credit card before. The Secured Mastercard from Capital One is another card with no annual fees and offers a 26.99% variable interest rate.

The refundable deposit can be $49, $99, or $200; whatever security deposit you choose will determine the amount of your credit limit.

The minimum security deposit, $49, gets you a $200 credit limit. The higher your security deposit, the higher your credit limit will be. There is the potential for an increase to the limit; Capital One conducts automatic credit line reviews.

You will qualify for a higher credit line after six months, depending on your repayment habits. There is the possibility of earning back your security deposit as a statement credit as well.

While secured credit cards are easier to get approval for, rejection is possible, and running a credit check impacts your score. For that reason, you can apply for pre-approval on this card without any risk to your credit score.

The Secured Mastercard from Capital One is another excellent credit card for those who want to travel. You won't have to worry about any foreign transaction fees when you're shopping abroad. Like the other Capital One cards, the app has an ATM locator, too. You can find a way to access cash while you're traveling without any worry.
Pros:
No annual fees
No foreign transaction fees
Credit line increase possible after 6 months
Cons:
High interest rate at 26.99%
You have to put down a security deposit