Chances are you've spent a lot of time around the house lately, with COVID restrictions on travel and various government impositions affecting your freedom of movement. Things are loosening up, though, and nothing beats traveling to soothe the restless heart and satisfy the adventurous spirit. That's especially true of a trip overseas to experience other cultures..
If you're in the US, international travel could mean simply crossing the border to Canada, or heading down south to Mexico. But here's the thing: travel is expensive. What's the best way to pay for it?
We'd like to suggest that with the right credit card — offering sign-up bonuses, zero foreign transaction fees, and more — a trip overseas not only can relieve stir-craziness, with careful planning and management of finances, it can also make a lot of sense.
What's more, traveling with plastic can be much safer than carrying cash abroad, with fraud alerts and zero liability benefits protecting your money.
In this guide, we'll present what we judge to be the three best credit cards for international travel, while offering some guidance for picking the card that's right for you.
It's time to start packing. The trip of a lifetime awaits.
Best Credit Cards for International Travel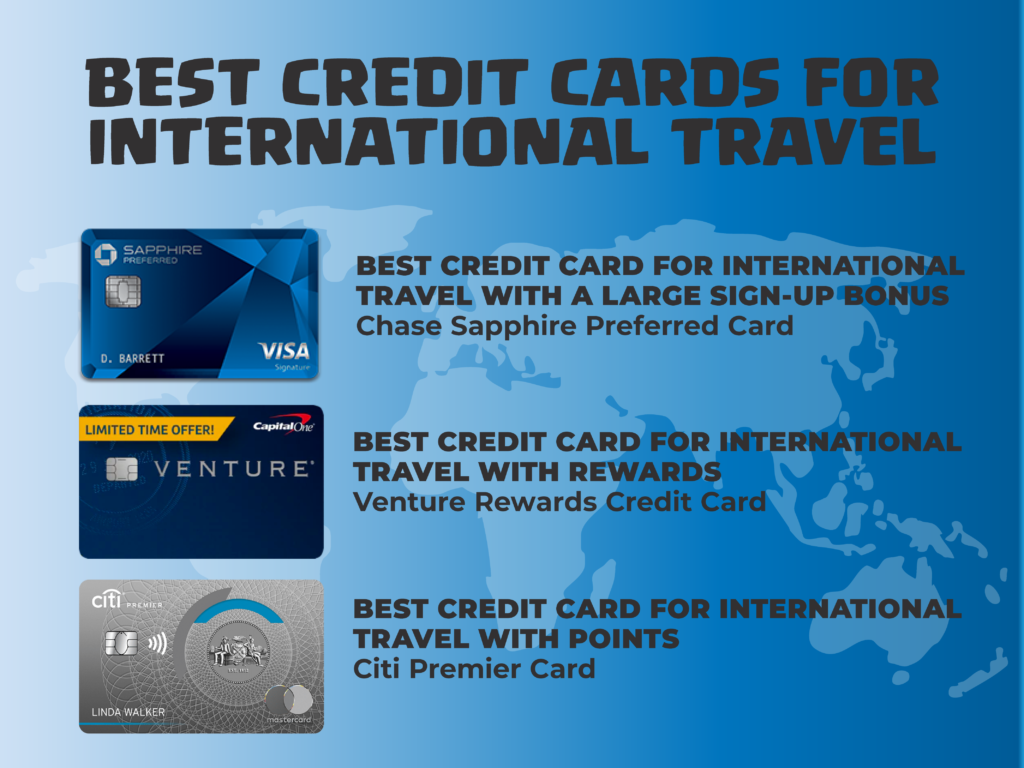 What's your idea of the perfect getaway? A tropical island, or a snowy mountain peak? A bustling city, or a desolate landscape? There's no right answer to this question, and the point is: no one travels the same, and so no travel credit card is right for everyone.
With the right credit card offering rewards on travel when you buy everything from groceries to gas at the pump, running your daily errands and planning your trip become one and the same.
To this end, we selected three credit card options for you to choose from:
Best Credit Card for International Travel with a Large Sign-up Bonus: Chase Sapphire Preferred Card
Best Credit Card for International Travel with Rewards: Capital One Venture Rewards Credit Card
Best Credit Card for International Travel with Points: Citi Premier Card
A bit later on, we'll present a complete picture of what we liked and a few things to be aware of about each of the cards we discuss.
But first, let's talk about one of the most important points to consider when selecting a credit card for an overseas trip: foreign transaction fees, what they are, and how to avoid them.
What are Foreign Transaction Fees?
Your credit card spending limit is valued in US dollars. When you travel overseas, you pay for lodging, or just a cup of coffee, in the currency of whatever country you're in.
That means there's a currency exchange occurring whenever you swipe the card, and for that service, some credit card companies charge fees, sometimes called a foreign currency or foreign purchase transaction fee.
When traveling abroad, these fees can add up, so it's best to choose a credit card for international travel that doesn't charge them. The average foreign transaction fee is about 3% and consists of the following:
1% charged by the payment processor (Visa, for example)
2% charged by the card issuer (your bank or credit union)
This might not seem like a lot at first, but when you consider all the lodging, food, and other incidental expenses you'll rack up while you're on the road, it can be a substantial additional cost.
Furthermore, foreign transaction fees can accrue when booking your hotel in a foreign country, even if you're doing it in advance from the comfort of your own living room.
To save money on your international wandering, choose a credit card with few, if any, foreign transaction fees. Here are a few additional ways to avoid this costly expense when traveling abroad:
How Do I Avoid Foreign Transaction Fees?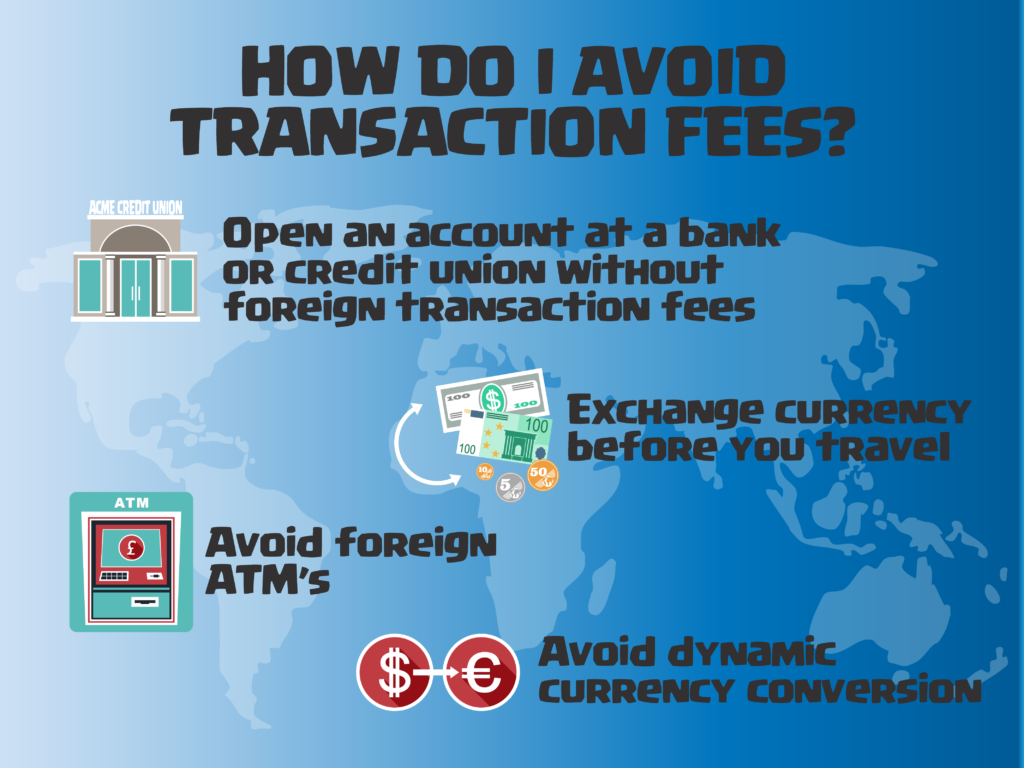 When preparing for a trip, there's a lot to plan for. Don't leave these points off your list:
Open an account at a bank or credit union without foreign transaction fees. International spending fees don't just apply to your credit card. Certain institutions may add an extra charge whenever you use their debit cards overseas, or even just when using an ATM.
Exchange currency before you travel. Although there are some safety concerns around carrying cash in a foreign country, if you'll be in one place for a while, it may just be worth exchanging your currency in advance. Some credit unions, in fact, will do it for free. If you wait until you're at the airport, however, you'll have to pay a little more for the service. Once you've changed the money, however, there are no more fees to worry about!
Avoid foreign ATMs. We all know how annoying it can be to need some cash and only have ATMs available from a bank you don't use that charges fees for your withdrawal. Well, try this outside the country and you could be on the line for foreign transaction fees in addition to ATM fees. That also can add up. If you do need to withdraw money while abroad, try to use an ATM from the institution at which you bank, or at least within the same network of ATMs.
Avoid Dynamic Currency Conversion. While traveling in a foreign country you may encounter a merchant or retailer that offers to exchange your currency right there at the point of sale. This is called dynamic currency conversion, or DCC. Although DCC may be convenient, merchants can set their own currency exchange rate, which most likely will be much higher than you might have paid exchanging your currency at a bank back home.
It sounds like foreign transaction fees should be avoided at all costs, right? Well, sort of. The best way to avoid foreign transaction fees is by using a credit card that won't charge you any.
But if you do have to pay a fee, here's something to remember:
Foreign Transaction Fees are better than Exchange Counter Fees. If you have no other choice, the foreign transaction fee on your credit card is a far better choice than the service fees at an exchange, like at the airport, for example.
Rewards make all the difference. Even if you do pay extra, it's not the end of the world. With the right rewards program, it can balance out, so there's no need to panic.
With a clearer understanding of foreign transaction fees, what they are and how to avoid them, let's turn our attention now to the best credit cards for international travel.
Best Credit Card for International Travel with a Large Sign-up Bonus: Chase Sapphire Preferred Card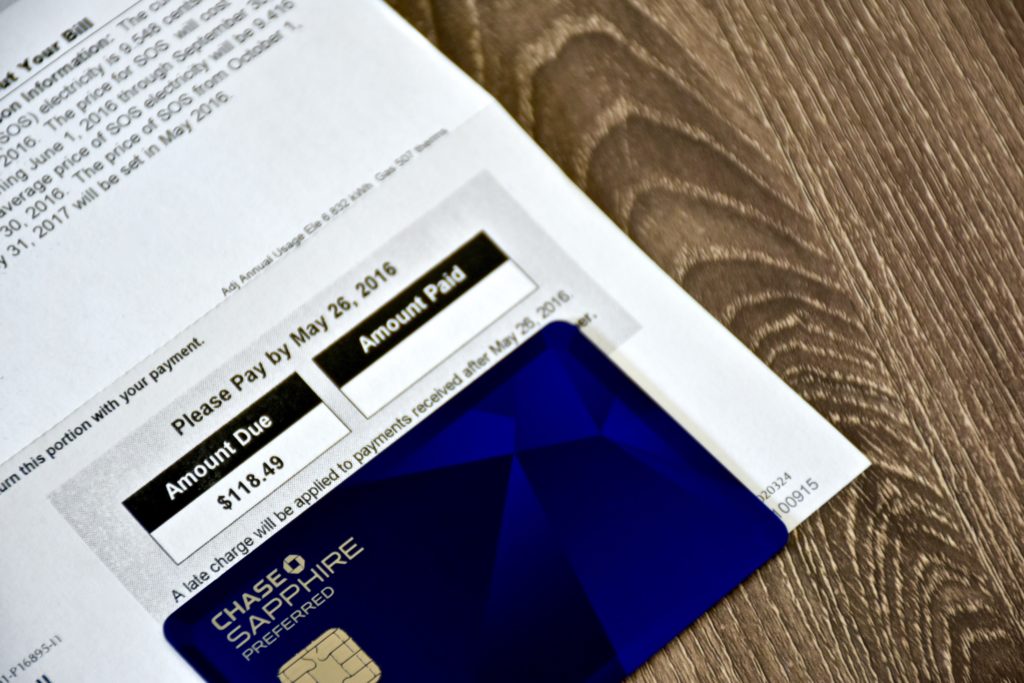 The right credit card sign-up bonus goes a long way toward financing the trip of a lifetime. Why not pad your travel budget with a little extra cash, just for signing up?
The Chase Sapphire Preferred Card offers the best sign-up bonus in our ranking, at an enormous 100K bonus points after spending just $4K on the card in the first three months after opening the account. You'll reach that goal by just booking the airfare and lodging for your trip.
What's more, those points are worth an additional 25% when redeemed through Chase Ultimate Rewards, with plenty of travel-related perks to choose from. They can also be transferred at a 1:1 value to a broad range of airline and hotel loyalty programs. And if that weren't generous enough, Chase offers 2X points on every dollar spent on travel and dining, anywhere in the world, with 1 point for each additional dollar spent across all categories.
With this card, there also are no foreign transaction fees to worry about, and chip-enhanced technology keeps you safe no matter where you roam. For this reason, you can also feel confident the card will be accepted wherever you happen to be.
There is a $95 annual fee associated with the Chase Sapphire, but that's not too bad considering all the other travel benefits associated with it, and the excellent credit that's required to be approved for it. Regular APR ranges from 15.99% to 22.99%, which is a bit lower than average. You can also count on 24/7 customer service anywhere in the globe.
Even though travel is expensive, with the Chase Sapphire card, money spent while traveling keeps on giving in rewards and cash, making it the best credit card to use when planning your next trip overseas.
Best Credit Card for International Travel with Rewards: Capital One Venture Rewards Credit Card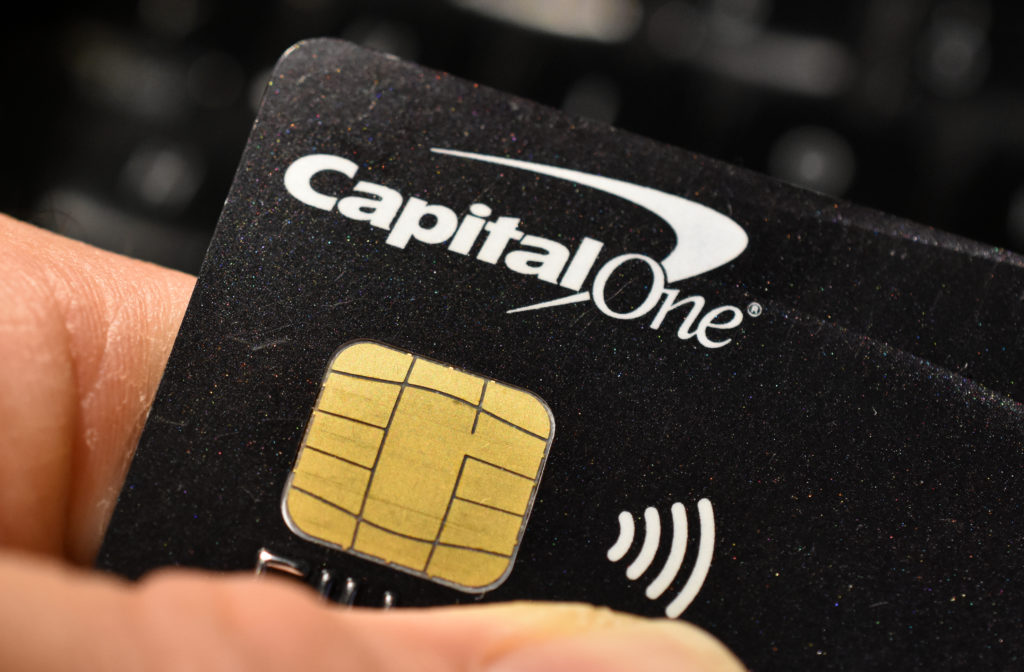 Incidental costs come up a lot when journeying abroad. Spend strategically, and while you're at it, get something back in terms of miles. Outstanding mileage rewards are just what is offered by the next card in our list, the Capital One Venture Rewards Credit Card, one of the best credit cards for international travel on the market.
With Venture Rewards, in fact, you earn 2X in miles for every $1 spent, anywhere, anytime. What's more, Venture One offers a one-time 100K mile bonus after spending $20K on the card in the first year after opening the account. If you use your credit card regularly to rack up travel miles, that's hard to beat.
And the rewards don't stop there. Spending just $3K in the first three months gets you 100K bonus points. Also, applying for the card gives you a $100 application fee credit on Global Entry or TSA Precheck, expediting your movement through airports and giving you even more opportunities to save money.
The annual fee on the card is just $95. but if you don't like fees, check out the very similar no-annual-fee version, Capital One VentureOne Rewards Credit Card. There are some trade-offs in terms of points earned, though: the no-fee card offers only 1.25 miles for every dollar spent.
The card does not offer a special introductory rate, but its regular APR lands between 17.24% and 24.49%. With the kinds of rewards you'll be enjoying, however, the lack of a special introductory rate isn't a concern.
For these reasons and more, Venture Rewards is the perfect card to earn travel points on expenses in a foreign country.
Best Credit Card for International Travel with Points: Citi Premier Card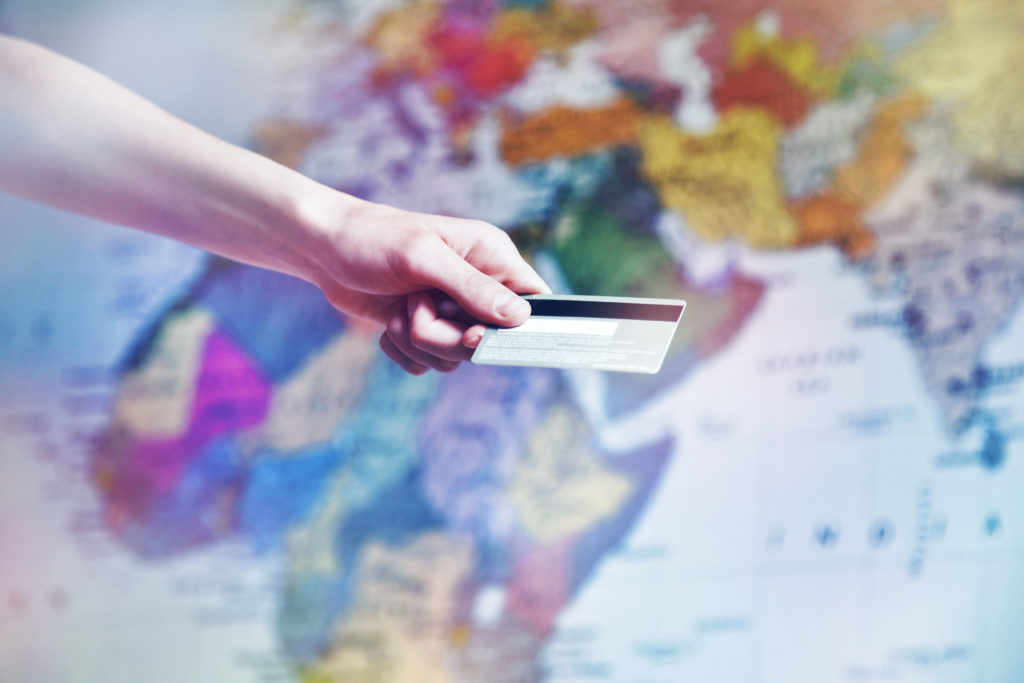 To earn points while also saving money on foreign transaction fees, we recommend the Citi Premier Card.
Through Citi, travelers enjoy 60K bonus ThankYou Points after the first $4K spent within three months after opening the account. Those points can be redeemed for $600 in gift cards at Thankyou.com, which are usable at Amazon.com and many other high-profile retailers that offer travel gear for your next adventure.
If this doesn't appeal to you, you can redeem your points to put $300 in cold hard cash back in your pocket.
Earning as few as 1,000 points, in fact, allows you to transfer them to a long list of airline loyalty programs without a fee. Participating airlines include Jet Blue, Virgin Atlantic, and Singapore Airlines. From this list, you'll be able to fly almost anywhere you need, or somewhere you've always dreamed of going.
The everyday rewards offered through the card are also worth noting: 3X points on every dollar spent on a whole list of relevant categories, each and every day, and again, there are no foreign transaction fees to worry about. Eligible categories range from gas and supermarkets, to hotels and airfare. And best of all, those points never expire.
Like to stay in the lap of luxury while indulging your wanderlust? Book a $500 hotel room (excluding fees and taxes) and activate the card's Annual Hotel Savings Benefit, taking $100 bucks off that bill in a rebate. This benefit also renews each calendar year.
Again, there is a $95 annual fee associated with the card, which is fairly standard, and you need good to excellent credit in order to qualify.
Now that you've selected the perfect card for your overseas vacation, what else do you need to know before boarding a plane?
What Should I Do Before Traveling Internationally?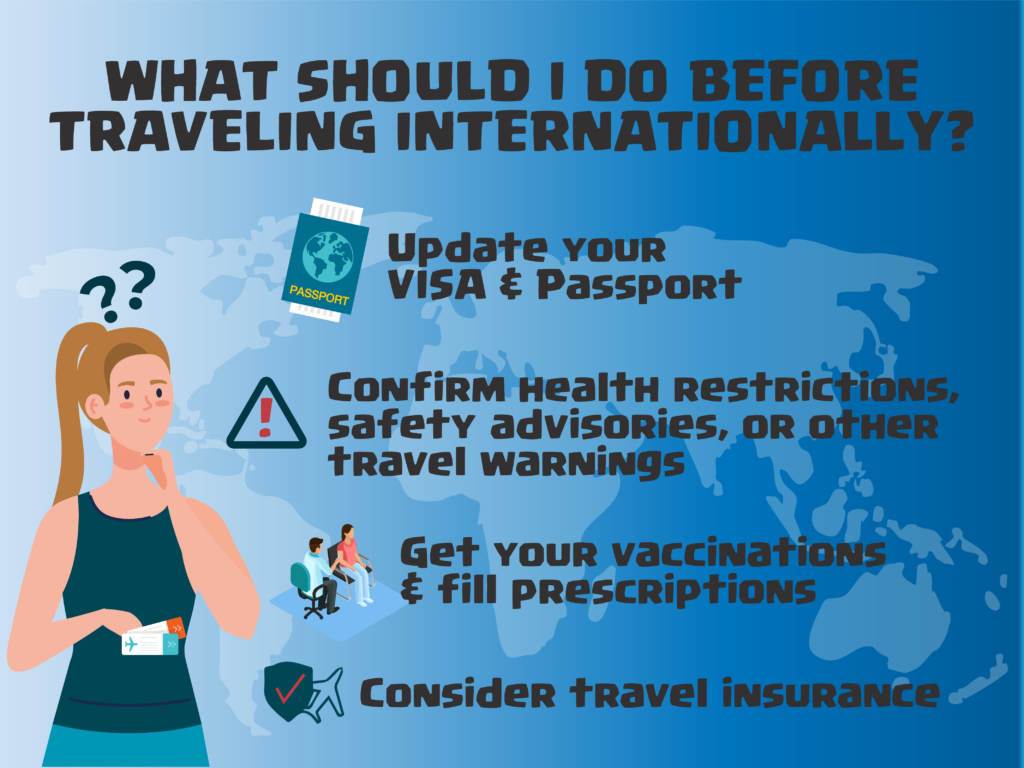 There's a lot to know before leaving on a trip to a foreign country, and even more to do to prepare. Follow this checklist and you'll travel like a pro.
Update your VISA and Passport.
It typically takes 10 to 12 weeks for the US Department of State to issue, update or renew a passport, and most countries require that your passport be valid six months after your return date. Don't leave home without first taking care of these important details.
It's also a good idea at this point to register your trip with the State Department. That way if something should happen to go wrong, someone will know approximately where you are, where you plan to be, and how to reach you. That information can also be shared with friends and family should the necessity arise.
Confirm health restrictions, safety advisories, or any other travel warnings.
The State Department also lists areas of the world where it is unsafe for Americans to travel, and the kinds of precautions US citizens should take before visiting these areas.
It's also a good idea to study up on local customs. For example:
Dress codes and cultural expectations related to clothing.
Plenty of slip-on footwear should you be traveling to an area in which it is expected you remove your footwear before entering certain tourist sites.
Tipping etiquette and protocol (it varies widely across the globe).
Simple phrases, at the very least, in the common language or languages of the region.
Get your vaccinations and fill your prescriptions.
Don't leave home without stocking up on your important prescription medicine that may not be available or may be difficult to source wherever your destination happens to be. Also, update any vaccinations the CDC recommends travels receive before journeying to the area of the world you have your sights set upon.
You may also want to check with the foreign embassy in the area of your trip to find out if any prescription drugs are prohibited, or instead, easily accessible: no packing required. And don't leave home without needed medical supplies, like syringes if you have a condition that requires their use (just be sure to declare them at airport security.)
Consider travel insurance
Even if you have a domestic health insurance policy, it's likely it won't be enough to cover you should a medical incident occur while traveling overseas.
A travel insurance policy will protect you if a medical evacuation should become necessary, or if some other emergency procedure needs to be performed while you're traveling abroad.
There are other kinds of travel insurance too. You've spent weeks, months, or maybe even years planning this trip. Why not spend a little extra on travel insurance in case the trip is interrupted or cancelled for any reason?
And finally, perhaps the most important box to check before leaving on your trip overseas is to make sure you have a method of payment at your disposal that's widely accepted wherever your destination happens to be.
Carrying some local currency is a good idea, but a better option is to choose a major credit that won't overcharge in foreign transaction fees, and that also helps you earn points and rewards while you spend, many of which can be used to finance and fund other parts of your trip, like dining, airfare, and lodging.
And with that, you're ready to go. There's no better way to learn about the cultures of the world than a trip overseas. We hope our guide to the best credit cards for international travel has been helpful. Bon Voyage!
Related: