Elevate your grocery shopping game with the best credit cards for buying groceries. We'll guide you through the top choices that can help you save while you shop. Let's explore how these cards can make your trips to the grocery store even more rewarding.
The Best Credit Cards for Buying Groceries
Business Insider reports that as recently as 2018, in fact, the average American spent between about $300 and $500 a month on groceries. That's up to $6K each year!
What's more, food prices are only going up. Recent data from the USDA reflects a 3.5% increase in grocery store food prices in 2020 compared to the previous year, tacking an additional $200 on the average annual grocery bill.

What makes any one credit card better for buying groceries over another credit card, and what are the benefits of buying milk and butter with these cards as opposed to clothes, or gasoline, or a pony?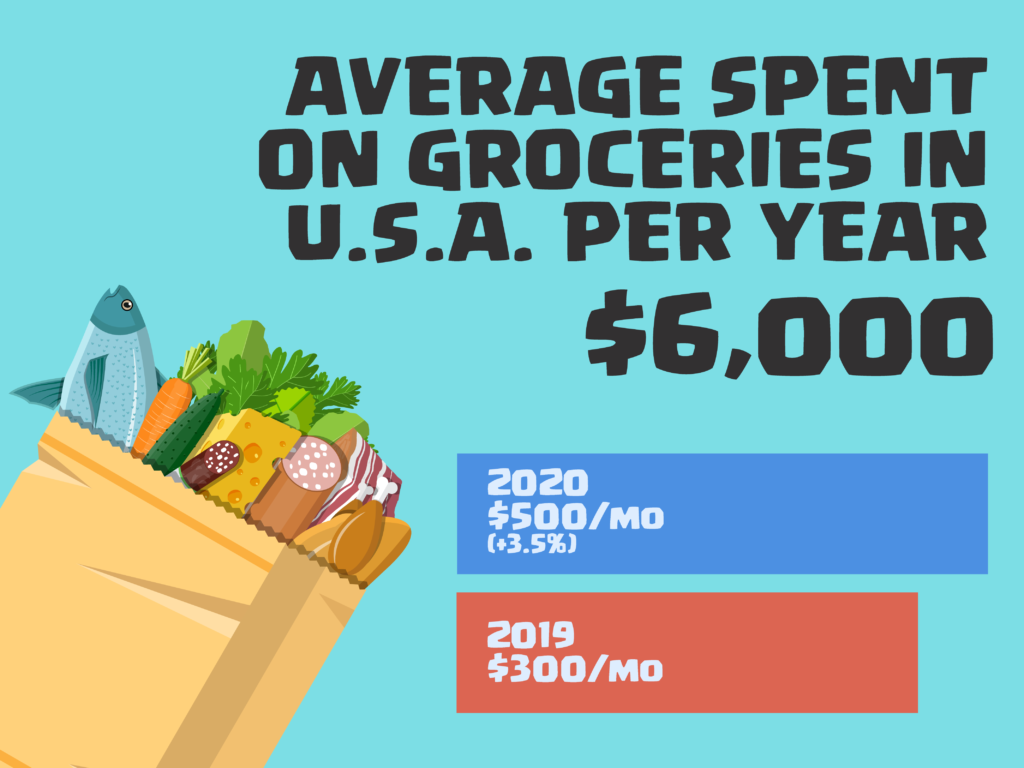 Three words answer this question: cash back rewards. And not just any cash back rewards. The best credit cards for buying groceries will offer up to 6% back on most supermarket purchases, plus a whole host of other consumer benefits.
After carefully analyzing the competition, here are the three best credit card for buying groceries:
To understand what makes a credit card the best for buying groceries, it's important to first understand cash back rewards and how they work. So let's begin there.
What Are Cash Back Rewards?
One of the best-kept credit card secrets is cash back rewards. A cash back reward is nothing more than some financial return for spending money on a credit card in the form of a small percentage based on the type of purchase, groceries included.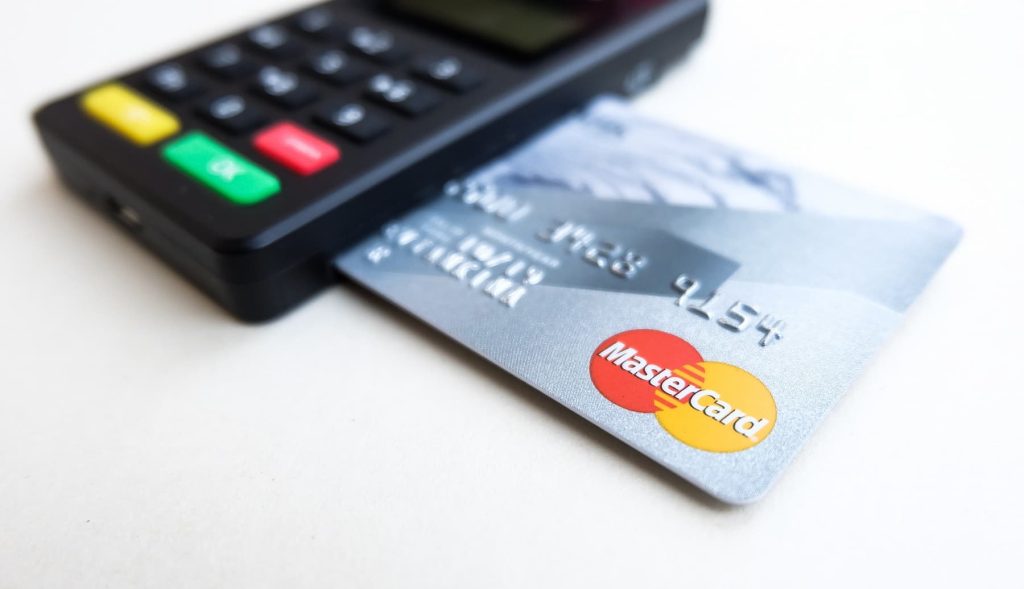 Through cash back rewards, a credit card company is simply sharing with the consumer a portion of the fee they charged the merchant for processing the transaction. Participating in a cash back reward program benefits the merchant because they incentivize the consumer to spend money with the merchant in order to receive the benefit.
These rewards are sometimes taken off the monthly credit card bill or offered as a check or even cash refund at the end of the year. Some cash back reward programs come with an annual fee or high APR, also called an annual percentage rate. (See my pick for the best credit card for buying groceries to avoid these costs.) Most cash back reward credit card programs, though, also offer minimal fees and low APR.
Typically ranging from between 1% and 3% with some cash back rewards reaching as high as 6%, many cash rewards are offered on specific types of transactions based on merchant partnerships, earning the consumer more than they might earn elsewhere on similar purchases—a win-win-win for the credit card company, the merchant, and the consumer.
Otherwise, typical cash back reward percentages are as follows:
Gas purchases: 3%
Groceries: 2%
All Other Purchases: 1%
A minimum transaction amount may need to be reached to receive a cash back reward, sometimes as low as $25 but this can vary between credit card providers. Credit card companies also sometimes offer specific cash back reward incentives through special "cash back days" or by designating certain types of purchases like electronics and travel, or through specific merchant partnerships.
Cash back rewards can also be maximized through some cash back sites or apps, offering money-saving on purchases ranging from food delivery, to movie tickets, and most importantly, groceries. Three popular cash back programs come Rakuten, Ibotta, and Shopkick, among many others.
Now that you understand a bit about perhaps the most important defining characteristic of the best credit card for buying groceries: a generous cash back reward program on grocery store purchase, low fees, and a reasonable APR, if any at all, let's now turn your attention to another frequently asked question from consumers picking a grocery credit card for the very first time.
Which Credit Card is Best for Groceries: How to Choose
In this ranking I present the three best credit cards for buying essentials but no one credit card is right for everyone, and each offers some pros and cons depending on how you like to shop. In this next section, I'll get you up to speed on how to choose the right credit card for your food shopping purposes.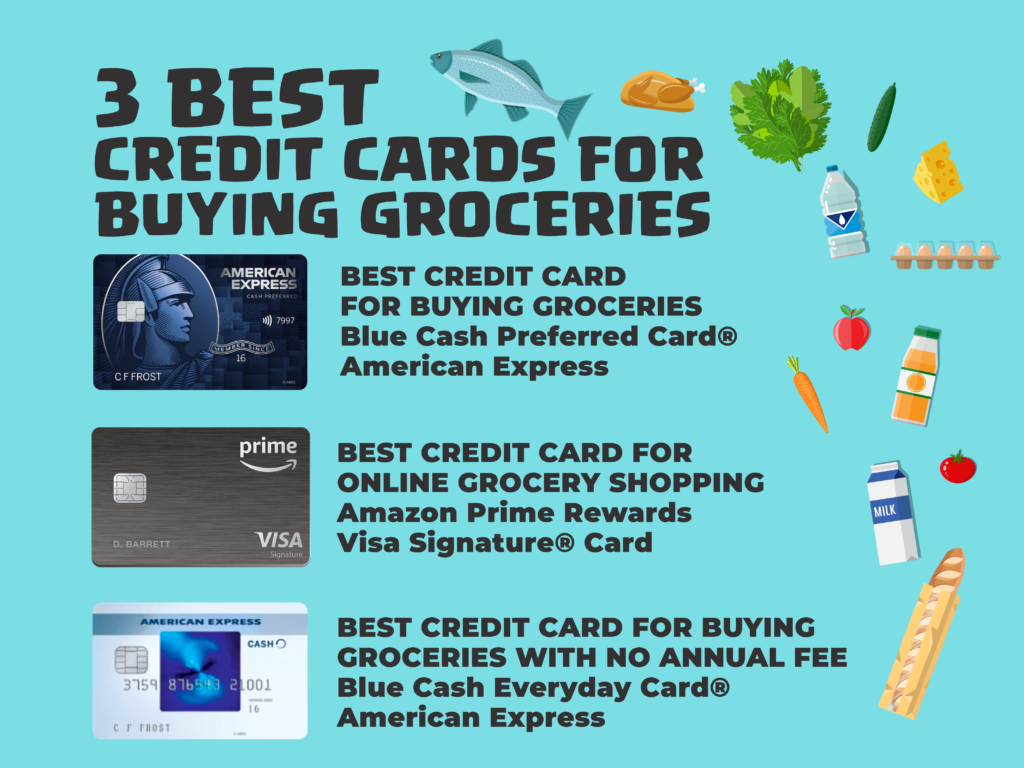 The first thing to consider before deciding on a credit card for bread and fruit is how you like to shop: in the store, or what's become an increasingly popular way to buy fresh veggies, online. According to Insider Intelligence, a leading online source of independent data analysis, online grocery shopping grew more than 50% in 2020, spurred in part by the pandemic, and in 2021, online grocery sales are predicted to reach $100 billion!
If you prefer shopping for food online, you'll naturally want to choose a credit card with low fees, 0% balance transfer fees, minimal APR, and the best cash back rewards on online purchases, like the Amazon Prime Rewards Visa Signature Card (keep reading to find out everything I liked about the card).
However, if in the store is how you prefer to shop there are lots of great credit card options for you as well. If you have a favorite store like Target or Costco, it's probably best to pick up one of their store credit cards. But there are still lots of great store-agnostic credit card options for those who still prefer in-person shopping.
For this purpose, I prefer the Blue Cash Preferred Card from American Express. Again, keep reading to find out exactly what sets the Blue Cash Preferred apart from the competition, but for now, just know the Blue Cash Preferred offers great cash back rewards on groceries, plus many other services.
Have I convinced you yet it's time to make the switch and restock your fridge with one of the three best credit cards for buying groceries in my ranking? In the next section I'll tell you everything you need to know about each card, why I chose it, and how it can help you save money on your grocery bill.
1. Blue Cash Preferred Card from American Express
Up first in the ranking of the best credit cards for buying groceries is the Blue Cash Preferred Card from American Express, offering up to 6% cash back on all your milk and bread purchases up to $6K. If that's not enough to convince you this is the best credit card for buying groceries, remember the average American spends about $6k a year at the supermarket!
In addition, with Cash Back Preferred you'll earn 1% on all additional grocery purchases. And that's not all. This card also boasts a generous unlimited 6% cash back reward on select U.S. streaming subscriptions (Hulu, Disney+ and the like) with an unlimited 3% cash back on transit services like tolls, taxis, and Uber, or saving heaps at U.S. gas stations when it's time for a snack and a fill-up.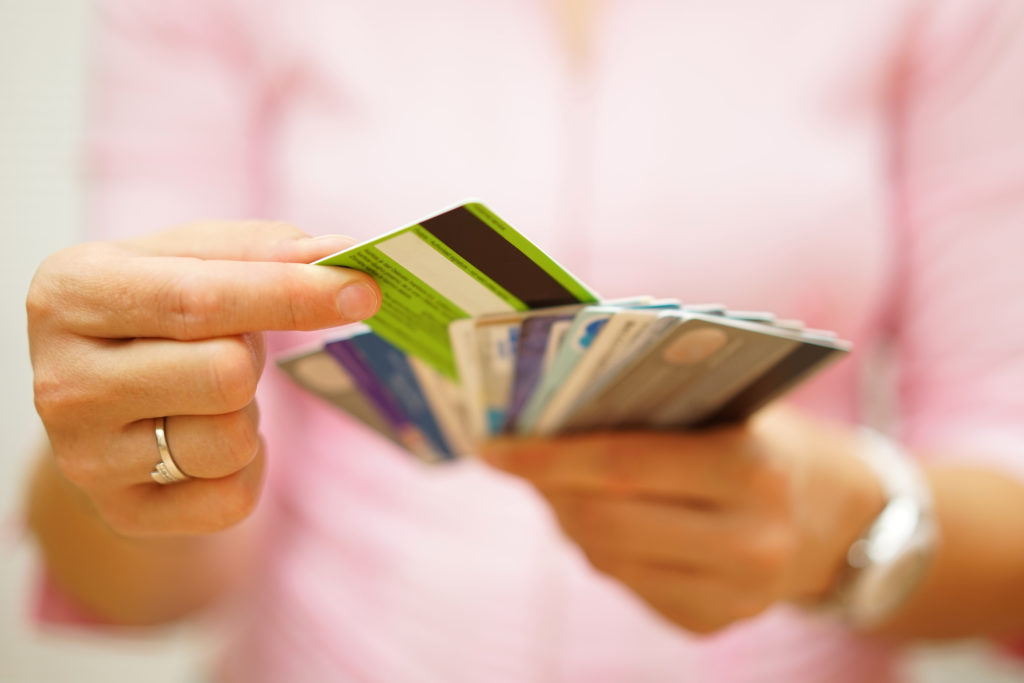 Further perks of the Cash Back Preferred include $0 annual fees for the first year, and then a relatively low $95 a year fee after that. The card also offers 0% APR for the first 12 months, and then from 13.99% to 23.99% variable APR, which is right in line with the APR from many other credit cards. There's also no APR on balance transfers, and for that matter, no balance transfer fees at all, which is nice.
Additional things I liked about this card include a very "welcoming" welcome bonus in the form of a $300 statement credit after the first $3,000 spent within the first six months. Including this welcome bonus, the estimated rewards on the card after just one year are about $700, while the estimated rewards after five years could reach as much as $2,400!
The card does require good to excellent credit to qualify, however, and there is a 2.7% fee on purchases made abroad, both things to consider before choosing the card. But otherwise, that generous cash back reward on grocery purchases up to $6K, plus all the additional advantages of the Amex Offers program, make the Blue Cash Preferred hard to resist when shopping around for a credit card to buy groceries.
2. Amazon Prime Rewards Visa Signature Card
If shopping for groceries online is what you prefer, listen up: the Amazon Prime Rewards Visa Signature Card could be right for you. What makes it the best credit card for buying groceries online is the impressive 5% cash back on all grocery purchases through Amazon or at Whole Foods Market. Other enticing features of the card include 2% back from restaurants, drugstores, and gas stations, and 1% back on all other purchases.
If you have a Prime Membership (and who doesn't?) there are $0 annual fees with Prime Rewards, and last time I checked, $0 is a very good price. Otherwise, the APR ranges from between 14.24% and 22.24%, both numbers on the good side of average when it comes to annual percentage rates. There are also absolutely no foreign transaction fees, but there is a 5% balance transaction fee, however, with a $5 minimum.
Otherwise, there's no introductory APR with the Prime Rewards card, and as a welcome bonus Amazon offers a $100 gift card upon approval. Like most credit cards, good to excellent credit is required to qualify with Amazon, but once approved, the estimated rewards earned after just one year are around $550 including the $100 gift card, and an estimated $2,300 earned after five years, also including the gift card.
It is important to realize, though, that a Prime Membership is required to take advantage of many perks offered on the card and that will cost you $12.99 a month or $119 for an entire year. Furthermore, the cash back rewards only apply to groceries purchased at Whole Foods or from Amazon.
But with the ubiquity of Whole Foods Markets in cities throughout the U.S. and the increase in grocery services offered from Amazon this really shouldn't be an issue, especially for those who prefer the convenience and ease of online grocery shopping.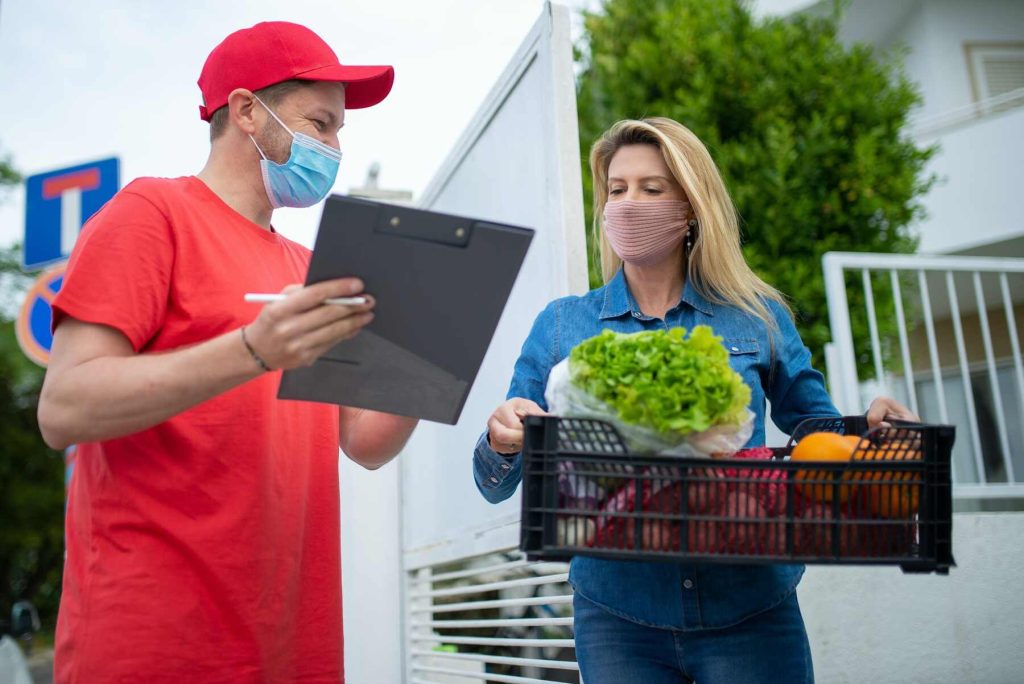 3. Blue Cash Everyday Card from American Express
The next card in the list, the Blue Cash Everyday Card from American Express, has no—and I mean, no—annual fee. That reason alone makes the Everyday Card a great choice for buying groceries, not to mention all the other benefits from Amex Offers.
With the Everyday Card, you do trade a bit in cash back rewards on food and beverage shopping, with 3% on all purchases up to $6K in purchases, and then 1% after that, but since that deal applies to a wide-range of supermarket across the U.S. it still adds up to be a pretty good deal.
Other benefits of the Everyday Card include $200 cash back after the first $1K in purchases in the first three months after opening the account. There's 0% APR on purchases made within the first 15 months after opening the account, not applicable to any balance transfers, with no minimum balance transfer amount, and no balance transfer fee.
Like most credit cards, though, good to excellent credit is required to apply for the card, and there is a 2.7% fee on all foreign transactions.
The APR on the card is variable, ranging between 13.99% to 23.99%. Including the welcome bonus, the average rewards after just one year are around $550 with the estimated cash back after five years averaging about $2K. There are cards out there offering better cash back rewards on grocery purchases.
The 3% offered up $6K in grocery shopping, however, with an additional 1% after that and absolutely no annual fee make the Blue Cash Everyday a great choice for those who grocery shop frequently at a wide-variety of supermarkets.
Now that you've learned a bit about the best credit cards for buying eggs and bread, what else do you need to know? I'll conclude with a few additional pointers.
Here are a few additional things to consider before choosing a credit for groceries, or for that matter, any other purpose:
How Do I Choose the Right Credit Card for Me?
Check Your Credit Score
Since most credit cards require good to excellent credit, you'll need to check your score before you apply. There are lots of credit-checking services available online, though consumers are entitled to a free copy of their credit report every 12 months from any one of the three major credit reporting companies.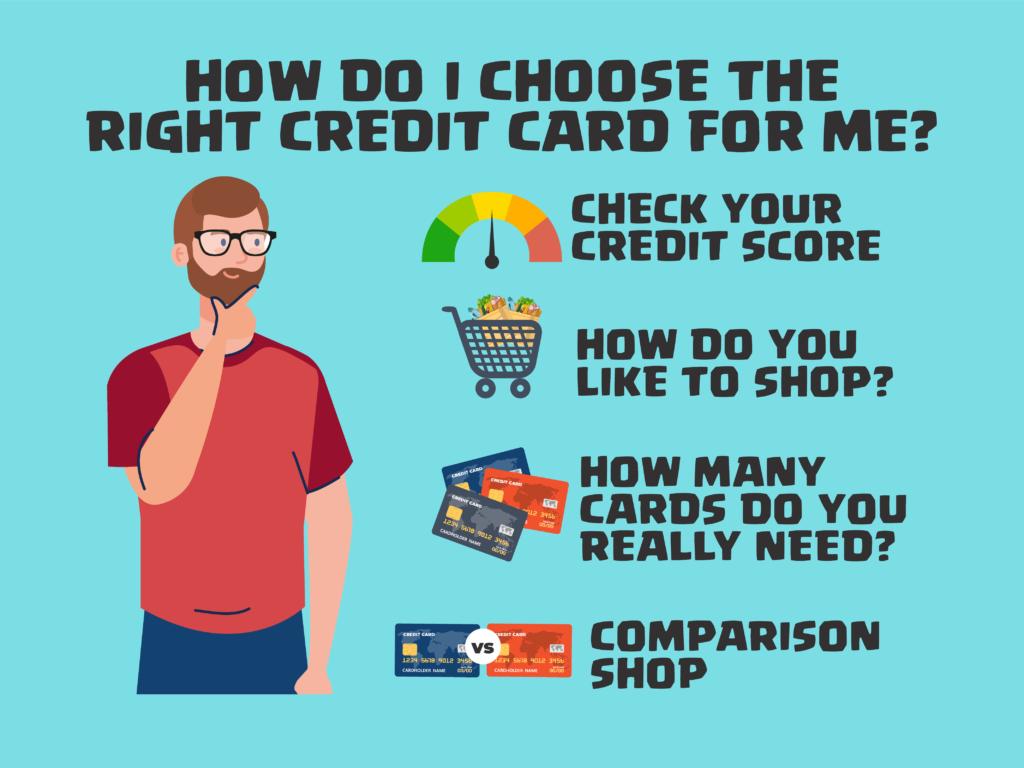 How Do You Like to Shop?
The next question to ask yourself before choosing a credit card is how you like to shop. If you're loyal to just one store or just one website, inquire about a credit card specific to that retailer, otherwise look for a credit card that offers the most advantages across the broadest range of retailers.
How Many Cards Do You Really Need?
Perhaps you already have a few credit cards, and you'd like just one more offering specific advantages at the grocery store. But how many credit cards can you really manage? Having a battery of cards at your disposal is called the island approach and many find this useful for managing their credit. Just don't let your credit card bills get out of control.
Comparison Shop
In this ranking, I've presented my choice for the three best credit cards for buying groceries. But after considering the way you like to shop and budgeting for other areas and things you need to spend money on, there may be other cards that better suit your needs, with different kinds of cash back rewards and annual fees, among other offerings and incentives.
The Final Tab
The best credit card for buying groceries will help you save money on food and household necessities, and even get a little cash back on your purchases. In this article I present the three best credit cards for restocking the fridge:
Because no single card works for everyone, it's also important to ask yourself how you like to shop, what else you may need to spend money on, how many credit cards you can manage, and of course, check your credit score. No matter what, I hope this guide helped you make a smarter financial decision, and I'll see you in the produce section.