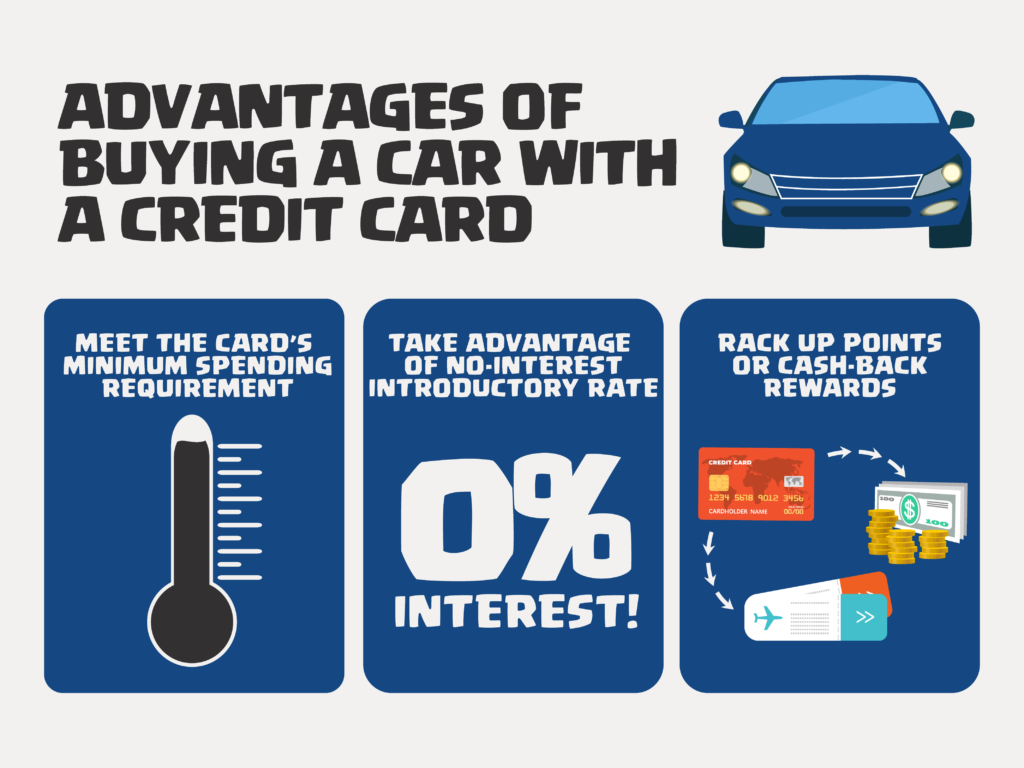 We all need a reliable set of wheels to get around town for work, for play, or to take care of our daily errands. Recent statistics from the U.S. government, in fact, reflect that 95% of American households own a car, and the vast majority of Americans commute to work by automobile. We Americans love our rides, but interestingly enough, we rank fifth in the world for car ownership per capita, according to government data.
Buying a truck or minivan is an important and expensive purchase, but let's face it: From a financial perspective, cars really are a bad investment. Drive off the lot, as the old saying goes, and you've already lost money. Could the best credit card for buying a car help make the transaction a little easier? We're here to say, it can. Here's how.
Whether new or used, advantages of buying a car with a credit card include the following:
A big purchase like an automobile will fulfill some credit cards' minimum spending requirements.
Take advantage of some credit cards' no-interest introductory rate, and it's a bit like a no-interest car loan or a no-interest personal loan (just be sure to pay it off quickly).
You'll really rack up the spending points with a card offering the right memberships rewards or cash-back rewards programs.
In other words, you need a new automobile for a long list of reasons. So long as you can pay off the balance without incurring additional interest, why not make the most of it?
In this article, we present the three best credit cards for buying a car. We also provide some tips and pointers for choosing the right credit card for you and your transportation needs.
Keep reading, because the freedom of new car ownership awaits.
The Best Credit Cards for Buying a Car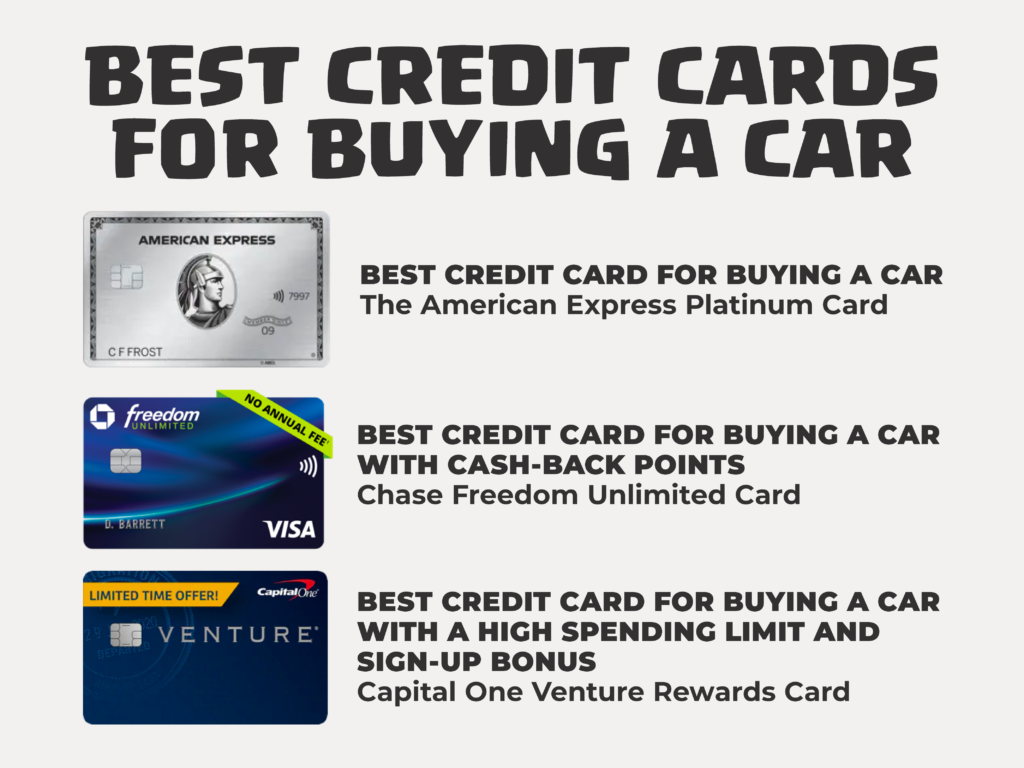 After taking them for a test drive, we settled on the following three credit cards as the best credit cards for buying a car, based on high or no spending limits, generous points programs, and other rewards meant to maximize the car-buying investment:
The Best Credit Card for Buying a Car: The Platinum Card from American Express
Best Credit Card for Buying a Card with Cash Back Points: Chase Freedom Unlimited
The Best for Card for Buying a Car with a High Spending Limit and Sign-up Bonus: Capital One Venture Rewards Credit Card
Before telling you everything we liked about each one of these cards and why they make a great credit card for a big purchase like an automobile, let's first examine a few key points that set these cards apart from the rest. With this information, you can truly make an informed credit card decision.
What is a Credit Card Spending Limit?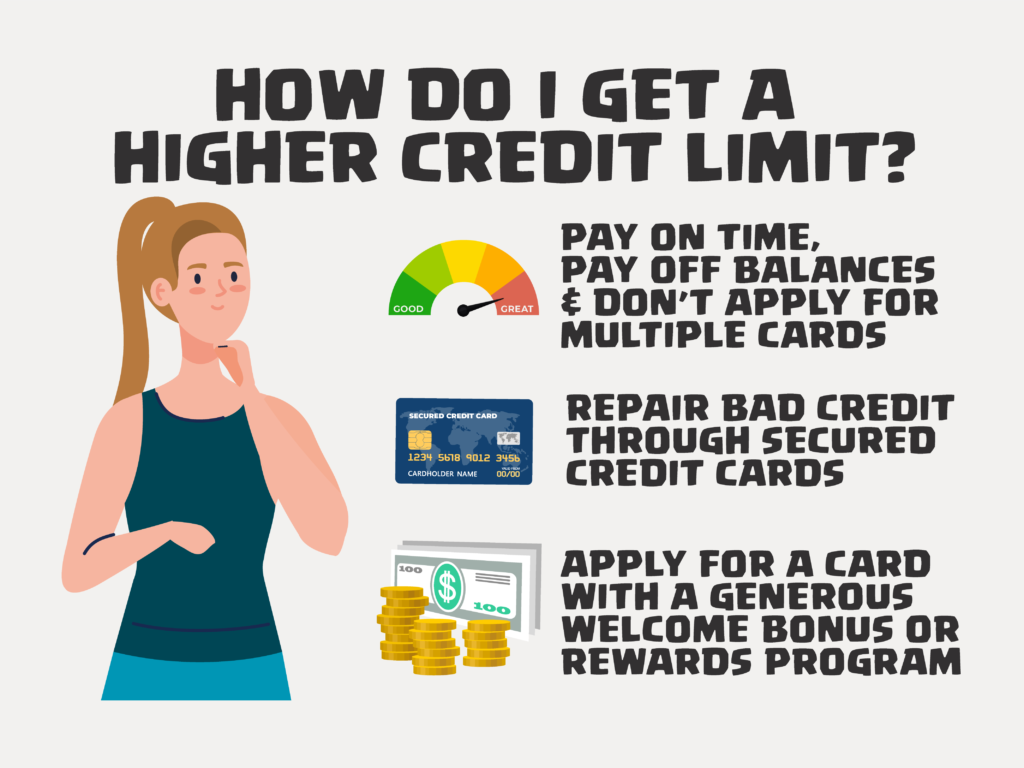 To make a large purchase like a car on a credit card, you'll need a pretty high spending limit. In this section we'll define a credit limit, tell you how to find out what your spending limit happens to be, and how to get a higher spending limit if you need to.
The credit limit on your credit card, sometimes called a spending limit, credit line, or credit limit is the maximum amount of money you can spend on your credit card without facing penalties. To get a higher credit limit typically requires the following:
Improving your credit score through on-time payment of all debts, paying off your full balance, and not applying for too many loans or credit cards all at once.
Building or repairing your credit through secured credit card purchases.
Look for a card with a generous welcome bonus or ample rewards program.
In addition to asking the dealership whether or not they take credit cards (not all of them do), if you're in the market for a new car, can you just ask your lender for a higher credit limit? Well, yes, and no. To lower your CUR or credit utilization ratio, or the amount of credit you have available versus how much debt you carry which is a key metric in calculating an individual's credit score, asking for a higher spending limit can be a good idea.
Asking for a higher spending limit just to boost your max spending limit with no real plan or ability to pay off the debt, however, is not advised.
Now that we understand a bit about your credit card spending limit, let's talk a bit about why some car dealerships accept credit cards while others don't, and why it's important to find out before heading to the car lot.
Do Car Dealerships Take Credit Cards?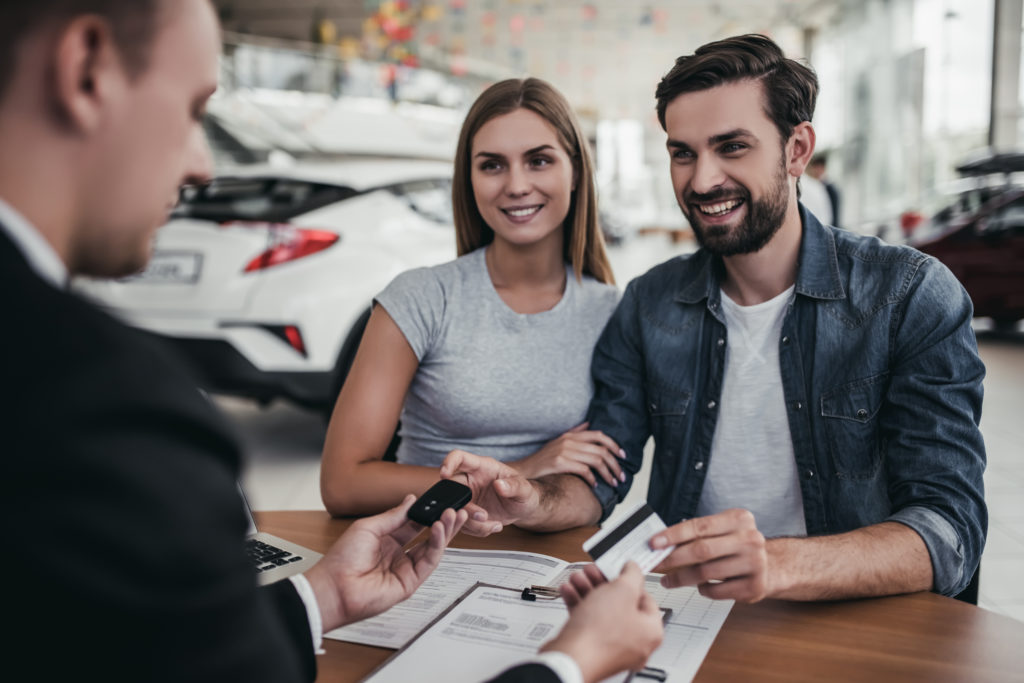 Everyone these days takes credit cards, right? Wrong. The fact of the matter is not all car dealerships take credit cards, but some do. So, before heading to the lot with your brand new credit card from our ranking, you should call ahead and ask. With about a billion credit card transactions occurring per day all over the world, why would car lots want to miss out on those sales? The answer to that question is fees.
Just like any retailer, car dealerships pay a processing fee on their credit card transactions, and transactions as large as a car purchase, and with credit card fees ranging from between 1% and 4%, those fees can add up to a lot. And since most dealers only make about 5% on profit on each transaction, paying a 4% processing fee eats up most of their margin.
Once you've confirmed your car dealership accepts credit cards, and particularly if your spending limit isn't high enough, consider instead just putting the down payment on your new card. This approach offers many advantages:
You may earn your introductory signup bonus in a single transaction.
You won't be required to spend any cash on your new wheels until the next credit card billing cycle.
You'll be able to pay off the down payment in installments.
Most importantly, though, those early credit card transactions will likely be within the 0% APR introductory period, so it's like a no-interest loan.
Now that we know a bit about spending limits and why some car dealerships take credit cards while others don't, it's time to move on the main event.
Quit kicking the wheels and take a closer look at our ranking of the three best credit cards for buying a new set of wheels.
The Best Credit Card for Buying a Car: The Platinum Card from American Express
Although The Platinum Card from American Express has high annual fees ($550! Gulp!) it more than makes up for it in other advantages for those interested in new car ownership.
Chiefly, the card comes with no—and we mean absolutely no—spending limit. So as long as your dealership takes cards, then the sky's the limit. There's also a very generous welcome bonus: 75,000 points on the first $5K spent in the first six months, that's an estimated $1,500 value on purchases up to $15,000, or roughly three times the annual fee.
And once your new ride is purchased and it's time to fill 'er up, the card keeps giving in the form of 10X points at grocery stores and gas stations on purchases made within the introductory period.
What also sets the Amex Platinum card apart in terms of car buying is the vehicle purchasing program at select dealerships. Read the fine print, though and participating car lots accept anywhere from $2K, a decent down payment up through the entire purchase price, so again, it's a good idea to call ahead and ask.
Once you've driven the car off the lot, it may be time for a vacation, and here the Amex Platinum continues to excel with points offered on prepaid hotel stays and Uber rides once you arrive. Also notable, card owners can use their Membership Rewards points to book travel through American Express Travel. Automobile purchasing aside, the card also boasts Complimentary Gold status with Hilton Honors and Marriott Bonvoy.
There's also complimentary memberships in Hertz Gold Plus Rewards, Avis Preferred and National Car Rental Emerald Club Executive, and access to Amex Fine Hotels and Resorts. And particularly notable for a large purchase like a vehicle is the extended warranty benefit, extending eligible manufacturer's warranties of five years or less by an additional 12 months.
Most importantly, there's purchase protection, offering added security against theft, accidents, or other loss for up to three months from the original purchase date.
Best Credit Card for Buying a Card with Cash Back Points: Chase Freedom Unlimited
The best cards for buying an automobile while also maximizing your cash back points is the Chase Freedom Unlimited. In addition to no annual fee, the Chase Freedom Card also offers Chase Points, which can amount to about 1.5% back on your purchase. This adds up to a lot on a purchase as expensive as a car, or about $600 bucks back on a purchase of about $20K.
With the Freedom Unlimited card, Chase also offers an introductory rate that's hard to beat, or 0% introductory APR on purchases made within the first 15 months of opening the account. Following that, there's a variable APR ranging between 14.99% and 23.74%.
If you play your cards right (pun intended) and pay off your car purchase within the first 15 months, however, it's like 0% financing while also earning rewards on the purchase. Hard to beat.
In addition, Chase offers a $200 bonus on up to $500 in purchases made within the first three months of card ownership. If you have another Chase Card offering Chase Ultimate Rewards, that initial $200 points can be transferred to 20,000 reward points. Those points can be used at select hotel partners on your first road trip.
The card also offers generous travel and emergency perks, in the form of legal and medical referrals or other travel and some emergency assistance while you're away from home.
We especially like the roadside assistance offered with the card, dispatching help as small as a tire or a jump-start on up through a tow if that's what's required. There's also lockout service, winching, and gas delivery (though some additional fees may be required).
The Best for Card for Buying a Car with a High Spending Limit and Sign-up Bonus: Capital One Venture Rewards Credit Card
Offering a high spending limit and sign-up bonus, especially on large purchases like an automobile, the Capital One Venture Rewards Credit Card is the next credit card in our ranking. Details on the generous sign-up bonus offered by Capital One include the following:
100,000 bonus points on the first $20K spent on the card within the first year after opening the account.
As an ongoing benefit, the card also offers 2x Capital One miles on almost all purchases.
Cardholders can choose to use those miles to offset travel charges on the credit card statement, or they can be transferred to select hotel and airline partners.
What this all means is that those with a high enough spending limit to put an entire vehicle purchase on the Venture Rewards in the first year after opening the account can earn 100K bonus points, up to 20K in spending, plus 2X Capital One Miles on the rest of the purchase. And the benefits don't end there. Spend $3K on the card in the first three months after opening the account, and earn an additional 50K in bonus points. What's not to like?
The annual fee on the card is also quite affordable at only $95 and there are no foreign transaction fees. Users of the card can also enjoy credits of up to $100 on Global Entry or TSA PreCheck. Further incentive to choose Venture Rewards include no minimum redemption amount, new balance transfer partners and an improved transfer ratio, and a whole host of travel perks, including secondary car rental insurance, travel accident insurance, and extended warranty protection.
Capital One is pretty sensitive to recent credit report inquiries, though, even if you have great credit, creating eligibility issues for some applicants.
Now that we've presented our picks for three best credit cards for buying a vehicle let's conclude with a few frequently asked questions from those interested in paying for some or all of their new ride on a credit card.
Can You Use a Credit Card for a Car Down Payment?
Like we mentioned earlier, not every car dealership accepts credit cards, so it's a good idea to check in with the dealer before heading to the lot. If the dealer does accept cards, however, and you have a solid plan in place to pay off the balance, there's absolutely no reason not to put the down payment on your credit card, as long as the dealership allows it.
What Forms of Payment Do Car Dealerships Accept?
If you do put the down payment or only a portion of your new car purchase on a credit card, how might you be able to pay off the rest? Car dealerships, of course, accept cash, though some may require a cashier's check. Some may also allow a personal check, or offer financing. No matter what, when it comes to purchasing a car, consumers have a wide range of payment options, and many dealerships are more than willing to meet their customers halfway.
That being said, many dealerships prefer cash or to offer financing through their financing department, as they stand to make additional money in the interest on the loan. If you can pay with cash, the dealer may even offer a bit of a discount.
What should you not buy with a credit card?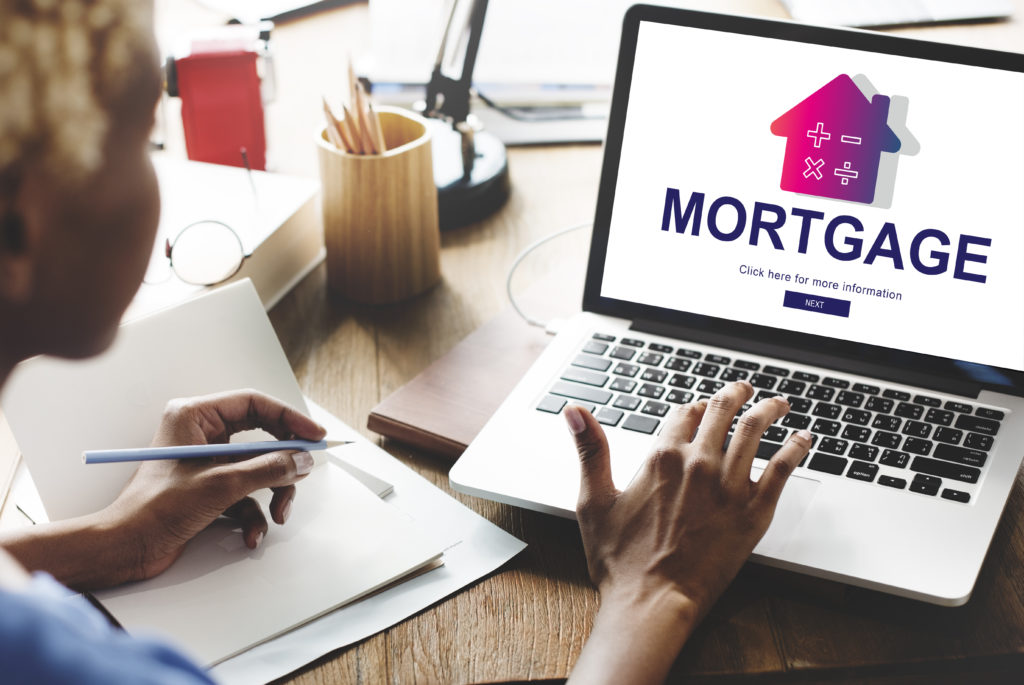 There are some advantages to buying a new or used car with a credit card. There are some expenses, large and small, experts suggest never paying for with a credit card, including the following:
Mortgage Payments. Though tempting, it's generally not advised to put your mortgage payment on a credit card. You're already paying interest on the loan, why add extra interest from the credit card company?
Medical Bills. Faced with steep medical bills, many turn to their credit card for relief. Instead of putting your hospital bill on a credit card, though, it's often a better idea to reach out to the hospital's financing department. Chances are you'll receive a much better interest rate.
College Tuition. Though it's possible to pay your college tuition on a credit card, the college bursar may tack on an additional 2 or 3% processing fee onto the total cost. It's better, instead, to explore a low-interest loan or better yet, a grant or a scholarship.
Taxes. Again, paying your taxes with a credit card is generally not recommended because odds are, you'll end up paying an additional two or three points of interest on the total amount. If you're faced with a tax bill you can't afford, it's most often recommended to reach out to the IRS to arrange a payment plan.
The last thing it's generally recommended to put on a credit card are business startup expenses. It's tough to start a business, and most businesses aren't profitable for the first few years—if ever. And if your business fails, you'll be on the hook for the balance with a very high interest rate. It's a much better idea to seek a low interest business loan when first getting your business off the ground.
Related: