Whether you're looking for a card to improve your credit score, never had a credit card, or just want a card that pays off in rewards when you use it, finding the best credit cards for seniors can be challenging. There are a lot of factors to think about, including why seniors may need a new credit card in the first place.
Seniors, Debt, and Credit
In the generations that came after the Depression and WWII, seniors have been among the Americans in the best financial position. Thanks in large part to the growth in the social security system, older Americans were associated with low levels of debt, solid credit, and relatively stable income from pensions and social security. In other words, for many decades, economists didn't worry about seniors.
Over recent years – particularly the 21st century – all that has changed. With the social safety net decaying, seniors now have far more issues with debt and credit than they once did. For instance, according to the Federal Reserve, while less than 10% of seniors still owed on their mortgage in 1989, today more than 30% owe around $100,000.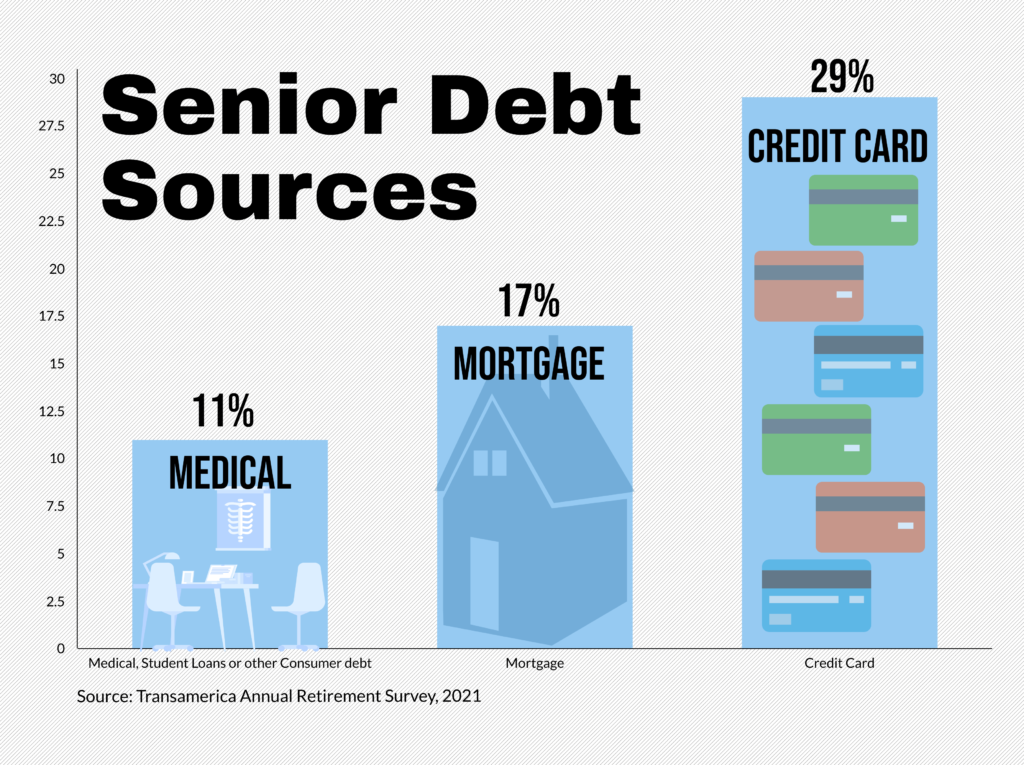 At the opposite end of the spectrum, however, are a growing number of seniors with little or no credit – the "credit invisible" or "unscorable" according to the three main credit reporting agencies: Equifax, Experian, and TransUnion. And credit invisibility can be as destructive, ultimately, to a senior's finances as debt.
What is the Best Credit Card for Seniors?
Expensivity's Best Credit Cards for Seniors to Beat Credit Invisibility:
See our full write-up below! But first, let's explore why you need a credit card as a retiree.
What is Credit Invisibility?
Though middle-class Americans seem to be obsessed with their credit score, more than 45 million Americans have no credit score at all. The largest proportion of unscorable people, understandably, are young people aged 18-24, because they have been dependent on family and not had time to build up their credit. Credit invisibility diminishes for people throughout middle age, but according to the Consumer Finance Protection Bureau, that number goes up again starting at age 60, with nearly 20% of people in their 70s having no credit rating.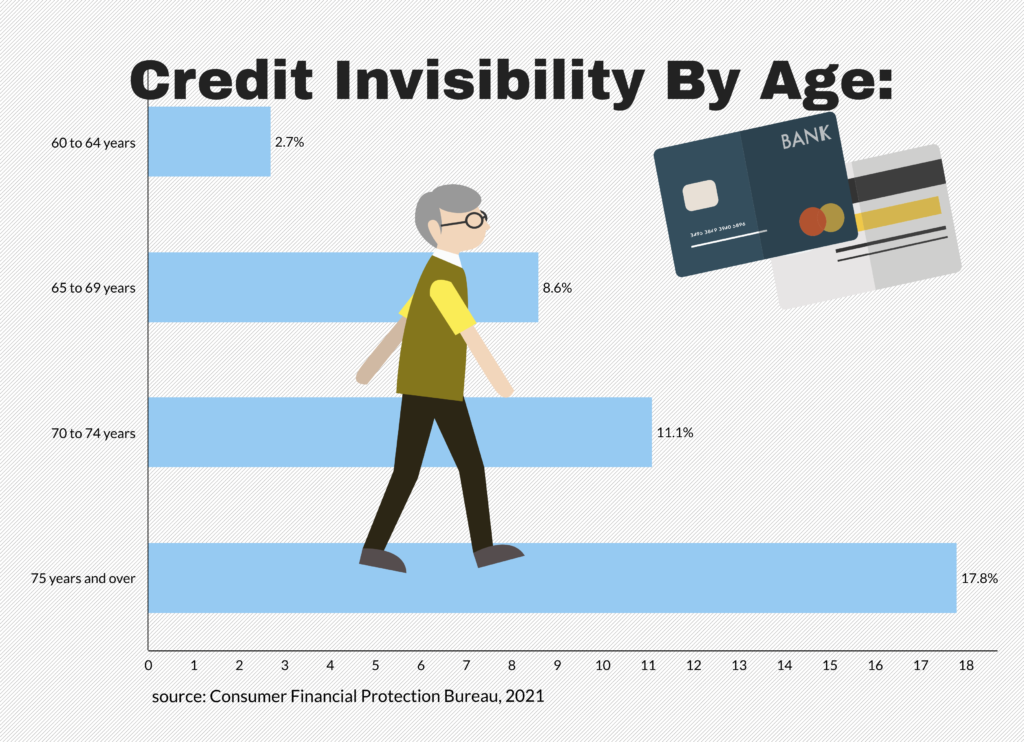 Credit Invisibility By Age:
60 to 64 years – 2.7%
65 to 69 years – 8.6%
70 to 74 years – 11.1%
75 years and over – 17.8%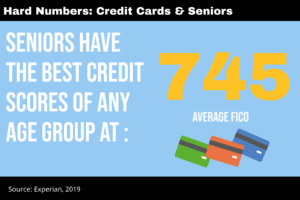 According to Experian, seniors have the best credit scores of any age group, an average of 745. Plus, the older Americans get, the lower their average debt. So why are so many seniors showing invisible credit ratings?
What Are Some Causes of Unscored Credit?
While there are many arcane reasons your credit could be unscored, for seniors, there are some specific things that credit reporting agencies balk at:
Gender
Debt-Free
No Job/Fixed Income
Low Credit Utilization
Gender: Credit invisibility is, at least in part, a gendered problem. Consider the fact that women were not even guaranteed the right to a credit card, by law, until 1974. While Baby Boomer women made great strides in the workforce and financially in the1980s and 1990s, they still suffered disproportionate financial damage (versus men) by divorce, job loss, and professional years lost to child-rearing.
Furthermore, many women of older generations were content to be left off the mortgage, credit cards, and other lines of credit, trusting their husbands to take care of those things – only to find themselves with no credit to their name after divorce or widowhood.
Debt-Free: Ironically, being debt-free as a senior can also have a negative effect on your credit score. Seniors who are fortunate enough to have paid off their home mortgage, to have no auto loan, and to have relieved themselves of credit card debt can actually slip into the "unscoreable" category. That's because the credit agencies like for you to have some debt – just not too much.
So if you have no mortgage, no car loan, and no credit card debt, congratulations – you just might have no credit.
No Job/Fixed Income: It goes without saying that most seniors are retired or semi-retired, but in reality that's a tad more complicated than it sounds.
Some older seniors may have traditional pensions, but since the advent of 401Ks, those have become a rarity. That leaves Social Security to pick up the slack, and the program has taken more than its fair share of damage in recent years.
Well, it doesn't take much to realize that a low, fixed income and no job doesn't look promising to the credit reporting agencies, or to credit card companies. By no fault of your own – because you're just making enough to live – your credit can tank or disappear simply because you're retired.
Low Credit Utilization: Another common reason for unscored credit is low credit utilization – in other words, if you avoided taking on debt, you get demerits from the credit reporting agencies. A related issue is a poor mix of credit, meaning you have only ever used one form of credit.
The agencies like to see both "revolving" credit – such as credit cards, which are not a fixed bill every month – and "installment" credit – a consistently paid debt like a mortgage. Only had a mortgage but no credit cards? Only had credit cards but no mortgage or car loan? You have a poor mix, and credit reporting agencies think they can't trust you to be able to handle the other.
But you don't have to give up on your retirement dreams just because of unscored credit. You can build your credit with these, Expensivity's best credit cards for senior citizens.
1. Capital One Quicksilver Cash Rewards
You can't go wrong with the Capital One Quicksilver Cash Rewards card. It's a straightforward rewards card that does everything seniors would want. Some important stats:
$0 Annual Fee
0% Interest for 15 months
$200 Bonus (if you spend $500 in the first 3 months)
1.5% back on any kind of purchase
So what makes the Capital One Quicksilver a smart credit card for seniors? For one thing, unlike other reward cards that reward specific purchases (like gas or groceries), the 1.5% reward is for any purchase at all. Put all of your spending on the Quicksilver, and you'll find a nice bonus at the end of the year.
Secondly, there are a lot of ways to get your reward back – a check, a credit to your balance, even Amazon purchases. And you can choose to get your reward at a specific time, or when it reaches a specific dollar amount.
On top of all that, the Capital One Quicksilver charges no annual fee – a welcome rarity with rewards cards – and 0% interest for a full 15 months.
The one downside for seniors building credit – you have to have good credit already to qualify. If you only have fair credit, you can get the Capital One QuicksilverOne card instead, which has the same benefits, but a $39 annual fee. The good news is, you'll pay for that $39 in rewards in no time if you use the card regularly.
2. Chase Freedom Unlimited
The Chase Freedom Unlimited is another of the best credit cards for senior citizens. It's another rewards card, with a lot more benefits than the Capital One Quicksilver. Here's the basics:
$0 Annual Fee
0% Interest for 15 Months
$200 Bonus (on $500 in the first 3 months)
5% Rewards on travel (including Lyft), 3% on dining, 3% on drug stores, and 1.5% on all other purchases
With a high reward rate for travel and dining, the Chase Freedom Unlimited is a great credit card for retirees who want to have a little fun. You should note, though, that to get the full 5% back on travel, you have to book through Chase Ultimate Rewards.
One little benefit worth mentioning is the 3% back on drug store purchases. Sure, a lot of seniors are getting their medication online these days, but it's very likely you still get your prescriptions filled at your local drug store, and find yourself spending more money when you go in. A nice 3% back from the drug store can add up nicely.
For you foodies and travel lovers, the Chase Freedom Unlimited also offers the added perks of free DoorDash deliveries (through a DoorPass subscription) and free trip cancellation and interruption insurance if you get sick, have bad weather, or can't take a scheduled trip for some other reason.
World travels won't like the fact that Chase does charge a foreign transaction fee of 3%. Not the Capital One Quicksilver, though!
3. Capital One Venture Rewards
For serious senior travelers, the Capital One Venture Rewards Card is a serious investment. Some of the benefits of the card include:
Double miles on all purchases
50,000 bonus miles with $3000 in purchases (first 3 months)
100,000 bonus miles with $20,000 in purchases (first 12 months)
$95 annual fee
The Capital One Venture Rewards card offers a lot of sweet deals for travelers, including some nice bonus miles to go with your purchases. Each dollar spent equals 2 miles, and miles convert to dollar rewards on a clear 1:1 ratio – 1 cent per mile. And it's the same amount of rewards no matter what you purchase, not just on specific things like travel or groceries.
Plus there are lots of perks with the Venture Rewards card, such as free concierge services and access to airport Capital One lounges. Plus, travelers can get protections like collision damage waiver for rental cars, accident insurance, and even lost luggage reimbursement.
Now, the one downside for seniors may be the $95 annual fee. After all, you want to spend your money on travel, not on the annual fee for your travel rewards card. It's not an outrageous fee, but it's more than nothing.
On the other hand, if you're totally opposed to an annual fee of any amount, the Capital One VentureOne Rewards card provides a lot of the same benefits, but without the annual fee and a 0% interest for the first 12 months.
What Should a Senior Citizen Look for in a Credit Card?
So if you're a retiree looking for the best cards for senior citizens, what should you be looking for – especially if it's your first credit card in a long time, or ever!
Rewards: It almost goes without saying, but the best cards for seniors are rewards cards. You don't want to spend money (and pay it off) without getting an extra bonus out of it.
There are a lot of kinds of rewards cards, but they have some things in common. Certain purchases count toward more reward points, so seniors looking for the best cards for their lifestyle should think about what they spend their money on. Some cards will give cash-back rewards on groceries, while others will give airline miles for travel-related purchases.
Look for rewards cards that give back rewards for all purchases, not just something specific. While a travel card, for instance, might offer 5% back on travel purchases, it may also return 1%-2% on other purchases.
Annual Fee: More specifically, no annual fee. While a lot of rewards cards have an annual fee, you shouldn't have to pay a yearly tax for the right to spend your own money. The best credit cards for senior citizens would include those that do not require an annual fee.
Fair Interest Rate: We all know that credit card interest rates can be astronomical, but if you're looking for the best credit cards for retirees, a high interest rate is not in your best interests (rimshot).
Now, there's no card that changes no interest forever – that's how they make money. The average over the past year has been hovering right around 16%. But our choices for the best credit cards for seniors start out with a 0% interest rate. And of course interest rates after the initial 0% offer tend to be variable. It's still possible to choose a card that keeps interest rates in the 10%-15% range, especially as your credit improves.
What are Some Common Credit Card Traps to Avoid?
Seniors who haven't had a credit card before may not realize how many pitfalls there are to watch out for. Here are just a few things that the best credit cards for seniors shouldn't have.
High/Hidden Fees: We've mentioned that fact that you should avoid cards with an annual fee, but even if you get away with that, look out for some other sneaky fees, like:
Late fees
Balance transfer fees
Foreign transaction fees (especially if you plan to travel outside the US)
Paper statement fees (yes, they may charge you to send a paper statement – especially a problem for seniors who don't trust paperless statements)
Hike in Interest Rate: You can expect the interest rate to go up after the 0% introductory offer is over, but look out for cards that will hike your rate without any warning. Credit card companies will typically do this as a penalty for a late payment or maxing out, but there may be language in the contract that lets them do it for no reason at all.
Bait and Switch: Here's a sneaky one the seniors applying for their first credit card should watch out for – the old bait-and-switch. You apply for a card that sounds good, but the company says your credit isn't good enough for that one and issues you a less desirable card – maybe one with high annual fees or a brutal interest rate.
Read the fine print, or talk to a representative to make sure you're actually getting the card you want. You don't have to accept a card that doesn't work for you.
Maxing Out: If you're trying to build up your credit, avoid maxing out your card. Not only will some companies penalize you for maxing out – it will also hurt your credit score. Experts say the credit reporting agencies prefer that you never go over 30% of your maximum, and over 70% starts really hitting your report hard.
So yes, if you want to build up your credit, you have to use the card and pay it off. Just don't use the card to its max.
How to Get a First Credit Card as a Senior
If you're a senior who needs to start a credit history, or reestablish credit, you have something in common with 18-22-year-olds – that is, you need credit to build credit! Fortunately, since you're a responsible adult who presumably worked and paid bills throughout your adulthood, you have a few more options than the whippersnappers.
Ask a family member with good credit to add you as an authorized user. If you have a sibling, child, or even grandchild with good credit, they can add you as an authorized user of a card. You do not even need to use the card yourself; having your name associated with their good credit already raises your credit score.
Take out a bank credit card. By law, banks cannot discriminate because of age. If you have a retirement or savings account with a bank, you should be able to take out a card with that bank. It may only be a "secured" card, which has a low limit and requires you to have that amount in the bank, but it will add to your credit score.
Get bills you pay regularly added to your credit report. Mortgages, car payments, and credit cards aren't the only proof of your financial responsibility. You can count other bills toward your good credit. For example, Experian offers a product called the Experian Boost, which can add bills like cell phone, utilities, and other monthly bills to your credit report. If you rent and have a good relationship with your landlord, you can ask them to give permission to include your rent payments in your credit report.
Look into an AARP credit card. Does the AARP offer a credit card? They sure do! Barclays issues the AARP Essential Rewards Mastercard and the AARP Travel Rewards Mastercard. (Previous AARP cards were issued by Chase.) Is the AARP credit card a good deal? These reward cards focus on things seniors value – rewards on travel, drug store purchases, gas, and medical bills. An AARP credit card is a good choice for seniors, with no annual fee and low interest.
Every little bit you can do to improve your credit is a step closer!