A financial advisor can be crucial to the optimization of your current state of finances. Regardless of your present financial situation, a financial advisor can be useful. Choosing a financial advisor shouldn't be a complicated process, and that's why we are here to help.
What Is a Financial Advisor?
A financial advisor will meet with you to discuss your current financial standing and your future goals. They will guide you and help to manage your money to get you to achieve the goals you set out.
Financial advisors can cover a wide range of different services for you, including investments, budgets, estates, and more. The financial advisor that is best for you will depend on your financials and what you are hoping to accomplish.
Choosing a Financial Advisor
Choosing a financial advisor that best suits your circumstances is a decision that you should not take lightly. You want to find someone who will not charge you for unnecessary services and understands your ultimate financial goals.
To pick a financial advisor, follow these steps:
1. Understand the Different Types of Financial Advisors
Typically, you will see that they break financial advisors into three categories: robo-advisors, online, and traditional financial advisors. While all of them are financial advisors and will help you manage your money, they offer different features.
Robo-Advisors
Robo-advisors provide you with the most simplified financial advice and investment management with minimal human contact, if any. You will answer a series of questions online, and your robo-advisor will use a computer algorithm to build a portfolio based on your answers.
Low Cost and Low Minimums
Robo-advisors are becoming increasingly popular because of their low cost and simple entry process. Fees associated with robo-advisors usually start as low as 0.25% of your investment balance. Many of the services offered by robo-advisors have no or minimal minimums for accounts, which makes investing easy for beginners.
Who Are Robo-Advisors Good For?
If you are just starting with your investment goals, including retirement, robo-advisors are an excellent resource. Often, complete financial plans can be costly, but with the minimal costs associated with robo-advisors, nearly anyone can afford their guidance.
Online Financial Advisors
If you are looking for a little more human interaction with your investments, you might want to consider online financial advisors. While they offer their services online, these financial advisors offer virtual access so that you can connect with a specific advisor.
Some online financial advisors will have a series of automated questions that will go through a computer algorithm to build your portfolio, similar to a robo-advisor. Once your portfolio is ready, you will meet with their financial advisor team to discuss any questions. There are more extensive online financial advising services available that lean more towards traditional financial advising services.
Medium Cost and Medium Minimums
Online financial advising costs typically fall between robo-advisors and traditional financial advisors. Some online financial advisors will require account minimums of around $25,000, but you can easily find others that have no minimums if needed.
Who Are Online Financial Advisors Good For?
If you are looking for a slightly more hands-on approach to your financial planning, online financial advisors are a good option for you. They tend to come in a wide range in terms of costs and minimums, so you can easily find one that matches your current status and future needs.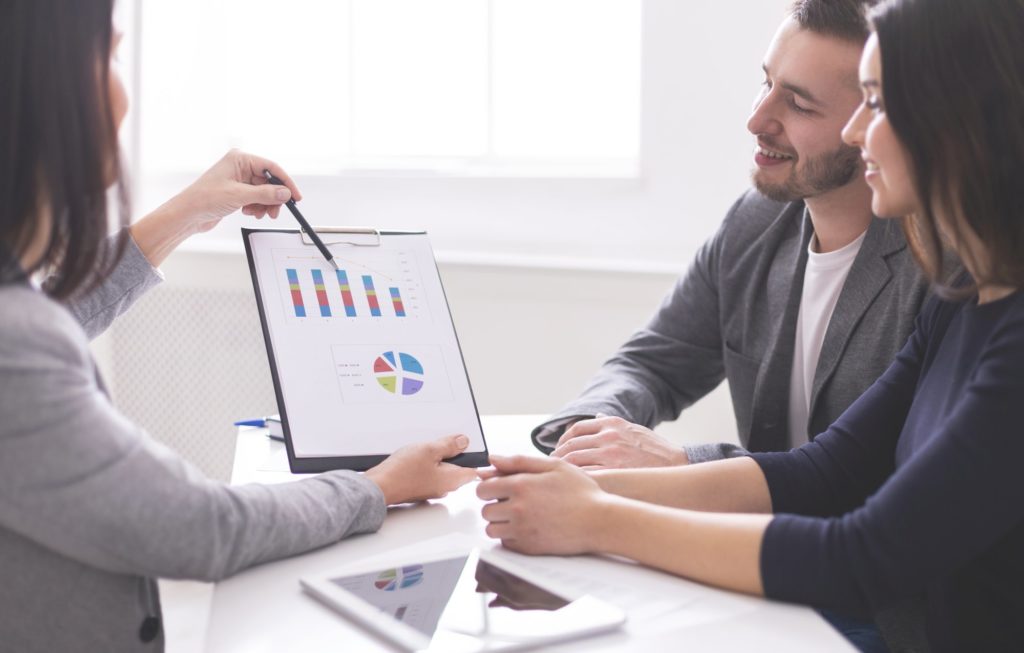 Traditional Financial Advisors
Typically, people think of traditional financial advisors when looking to plan out their investments. Your meetings with your traditional financial advisor will typically take place in the office, in person.
Traditional financial advisors include a series of different types of advising, including:
Certified financial planners (CFP)
Stockbrokers
Registered investment advisors
Financial consultants
Wealth managers
Keep in mind that your advisor can hold multiple titles. For example, you may find a CFP who is also a registered investment advisor.
Higher Cost and Higher Minimums
Of the financial advising options, typically, traditional advisors have the highest costs. You will also find that it is common for traditional financial advisors to require a minimum balance of around $250,000 in assets.
Who Are Online Financial Advisors Good For?
If you are looking for a specific service for your investments, a traditional financial advisor is a good option for you. All of your meetings will be in-depth and hands-on, so if you have a complicated case, they are usually more adept at handling it than robo or online advisors.
2. Select Your Services
If you are looking for basic investment management, robo-advisors are more equipped to handle your needs. They also provide their services at the most cost-effective prices, making them a great option to start.
On the other hand, if you have a more complicated case or are looking for a more in-depth analysis of your portfolio, you might need to seek out services from either an online or traditional financial advisor. You can save money by meeting with an online financial advisor, but you might not have as hands-on of an approach as you might be looking for.
It is common for people who are starting with their investments to look into a robo-advisor, to begin with. You can gain a general knowledge of your assets through them and better determine if you need more specialized help from an online or traditional advisor afterward.
3. Consider Your Budget
Even though financial advisors are notorious for charging high rates, today that is not always necessarily the case. There are financial advisors available at all different price ranges. It's essential that you clearly define the costs associated with their services before entering a business relationship.
You can typically break down the costs associated with financial advisors into the three categories of advisors.
Robo-advisors – 0.25-0.5% of the account balance of assets they manage for you
Online financial advisors – Flat subscription fee, % of assets, or both
Traditional financial advisors – ~1% of the account, flat fee, hourly rate, or retainer
4. Check Their Background
You always want to do your homework when deciding to hire anyone; a financial advisor is no different. Please make sure you look into the background of the financial advisor you are considering or the company by looking at their information through Form ADV.
Form ADV
Form ADV is the standard used by advisors to register with the United States Securities and Exchange Commission (SEC) and state securities authorities. There are three different parts to the Form ADV that are available.
Part 1
Part 1 of the Form ADV will include general business information such as:
Ownership
Clients
Employees
Practices
Affiliations
Any disciplinary events
Part 2
Part 2 of the Form ADV will include narratives about the business that includes:
Business practices
Fees
Conflicts of interest
Disciplinary information
Part 3
Part 3 of the Form ADV is the relationship summary for advisors to retail investors to include information on their services, including:
Offerings
Fees and costs of services
Conflicts on interest
Standard of conduct
Legal and disciplinary history
FAQ
Here are a series of frequently asked questions when it comes down to choosing a financial advisor.
What Does a Financial Advisor Do?
A financial advisor, whether it be robo, online, or traditional, can provide a series of different services about managing your money. Typically, financial advisors handle your investment portfolio.
Some of the many benefits of hiring a financial advisor include:
Cut down on your expenses
Pay off current debts
Prioritize financial goals
Additional services that require special certifications but are common in financial advisors include:
Planning your estate
Assisting with insurance needs
Preparing your taxes
When Do I Need to Find a Financial Advisor?
It is always a good idea to find a financial advisor early on to develop your financial plan for your future. It is especially vital to seek out assistance through a financial advisor following any significant life event, including:
Buying a new home
Starting a new job
Getting married
Having a baby
All of these significant life events can have huge impacts on your finances. With some simple planning on the forefront of these events, you can get a hold of them and secure your financial future.
Any other circumstances in which you have an increase in money is also an excellent time to speak with a financial advisor. When you get money, it's a good idea to know what to do with it to avoid spending unnecessarily.
Is There a Difference Between a Financial Advisor and Consultant?
Typically, a financial consultant is a more generalized term that does not necessarily require any certifications or licensing. There is a designation known as a chartered financial consultant (ChFC), but not all "financial consultants" must have this accreditation.
Conclusion
Choosing a financial advisor is a big life decision and one that you should take very seriously. You want to make sure you find someone you trust to manage your finances and your future.
Keep in mind the different aspects to consider when searching for a financial advisor, and you will undoubtedly be able to find out that meets your needs and budget.