Life insurance can be one of the most important assets in a portfolio. There are many nuances and types of life insurance that can be beneficial depending on the insured. Having a life insurance guide can help with the terminology, different kinds of life insurance available, and what to expect. This life insurance buyer's guide breaks everything down in simple language.
What is Life Insurance?
Life insurance is one of those areas where people hear they need it but never quite understand how it works. In essence, life insurance is when an individual (or their legal guardian), or group, and an insurance company come together under contract, so if the person passes away, their beneficiaries receive a monetary benefit.

Most people consider life insurance to be a fail-safe that can assist with the costs of a funeral, burial, and any outstanding bills left by the deceased. In more recent times, policies have changed to offer more flexibility and financial power.
Life Insurance Terms
In order to fully understand life insurance, it's important to know industry terminology. While there are different situations where specific terms are used, there are more generalized terms that can provide insight for prospective buyers. These terms include:
Beneficiary
A beneficiary is one or more individuals receiving the monetary value of the policy after the person dies. While anyone can be named as a beneficiary, most people choose those closest to them as a spouse or children.
Premium
A premium is what the company calls a payment. They are usually monthly but can also be paid on a quarterly or annual basis. Premiums depend on a range of factors determined by the insurance company.
Rider
A rider is an additional coverage you can add to the original policy. This could mean adding your children to the policy, getting an endorsement for living benefits, and more.
This is what the beneficiaries receive once the insured passes away.
Insurer
The insurer is a life insurance company.
Insured
The insured is the person the life insurance policy is for.
Policyholder
The policyholder is the person obtaining the insurance policy. The policy can be for them or for someone else.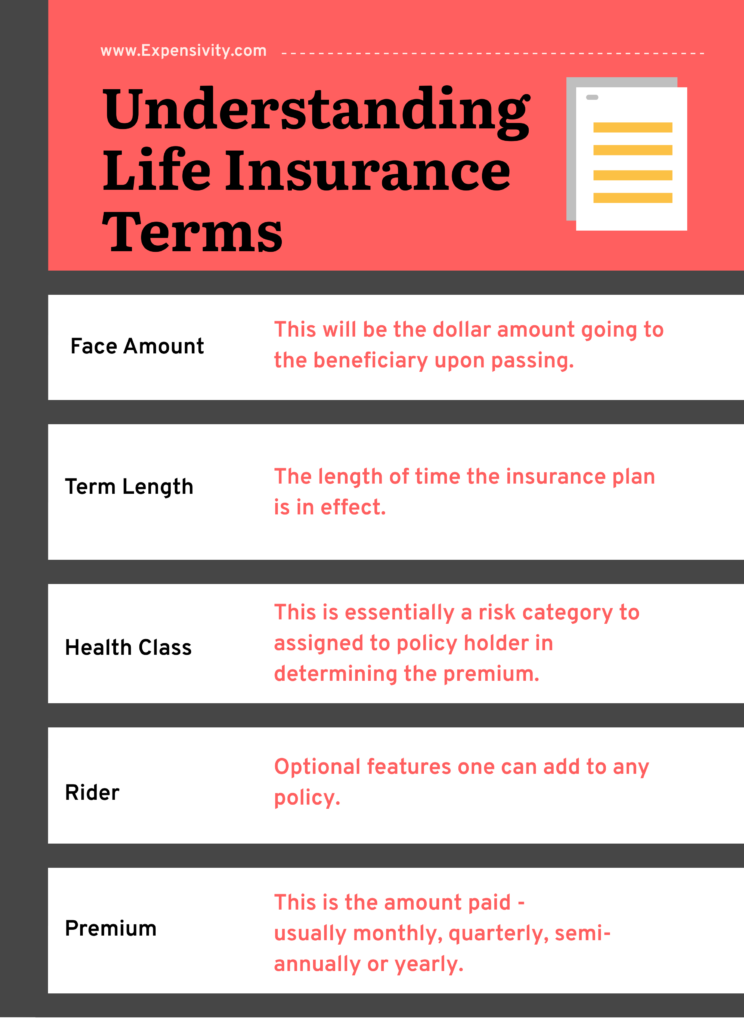 Types of Life Insurance
It is important to note that there are two main life insurance types: life insurance whole vs term. These are also called term and permanent. The differences between these two types of life insurance are that whole life insurance, covers the entire span of life and builds monetary cash value. If the premiums are paid, they do not expire. Term life, on the other hand, only covers the individual for a specified amount of time. It is usually a cheaper policy. One of the drawbacks is that if the person outlives the policy term, the coverage expires.
Life Insurance: Term vs Whole
Term insurance usually lasts for periods of 10 to 30 years. Whole life insurance grows over time with tax-deferred benefits. It takes an awfully long time for any real cash value to build up.
Many people are unaware that there are additional life insurance types. One of the other types of permanent life insurance that also lasts through an entire lifetime is called universal. This also builds cash value, but the premiums may vary and are usually smaller, unlike with whole life insurance. There is also indexed universal life insurance and variable universal life insurance. Here are the differences:
This type of policy deals with investments. The insurer decides where the money will be invested and the policy can have gains or losses.
The policyholder has the freedom to invest the money where they see fit, but there is a huge risk involved.
Benefits of Life Insurance
What are the benefits of life insurance? That depends on who you ask. One of the most popular reasons people get life insurance is because the benefit payments are tax-free. That means anyone who receives the money does not have to report it in their yearly tax reports.
For people who have dependents, life insurance is beneficial because it can set them up for the rest of their lives. Depending on the size of the policy, all living expenses and money needed in the future may not be a worry anymore if it is handled with prudence.
Funeral and burial expenses can be expensive, and the costs continue to rise. This is harsh and a huge burden for families without insurance to cover the costs. With so many people not having money to pay for general emergencies, paying for a service may be out of the question. This helps alleviate those fears and burdens without having to ask others to help with expenses.
Life insurance policies offer additional coverage options. Some policies offer additional benefits and early payouts if there is a terminal illness diagnosis. These endorsements allow the insured to continue living their life during this time without having to worry about major expenses.
Individuals entering retirement often use their life insurance policy as a supplement to the money they have saved. This applies to those policies that have cash value like the whole, variable, or universal policies. Once the cash builds up, it can be accessed to cover large purchases or other expenses.

Is Life Insurance Taxable?
When seeking a life insurance policy, especially ones that have a cash value attached to it, this is a valid question. While payouts do not have taxes associated with them, there are some occurrences when a beneficiary may be taxed. A tax professional is better suited to answer these questions.
For the instances when life insurance can be taxed, there are different types of taxes. When policies are excessively large, the following taxes may apply: estate, inheritance, income, and generation-skipping.
What are the Differences?
An estate tax comes into play when the money is more than what is allowed. Inheritance tax applies in states that have this tax, taxing the individual who inherits assets, property, or money. Income taxes are assessed by the government, but this is not typical. Generation-skipping tax is similar to the estate tax but applies when a generation is skipped. There re different ways to avoid having to pay tax on life insurance policies. An estate planner will be able to provide more detailed information.
Do I Have to Have an Exam to Get Life Insurance?
Certain life insurance companies require individuals to take a medical exam to prove they are in good health before being insured. The exams are performed by licensed professionals. Depending on the insurer, the exams get more comprehensive. There are some companies that allow life insurance without medical exam provisions.
Why Do Life Insurance Companies Require Medical Exams?
Medical exams are required for a few reasons, including verification, to get more information on the applicant's medical history, and to determine if there are any medical conditions that will cause the application to be rejected. Applicants have to answer a series of questions about their family history, whether they have had surgery, whether they have high blood pressure or some other underlying condition, if they drink or smoke, do they exercise, and other probing questions.
How to Prepare for a Life Insurance Exam
Applicants should be prepared to give samples of urine or blood. More detailed exams require a physician to take blood pressure, weight, and other things to help determine the viability of the applicant to get life insurance. Some insurers also require an electrocardiogram to determine heart health. Healthy eating, staying hydrated, and in some cases, fasting is required prior to the medical exam. If going to a medical facility, loose clothing should be worn, as well as adequate sleep.
Depending on the insurance company, a representative will come to a home or workplace rather than having the individual go to a medical facility. After the exam, the insurance company notifies the applicant about whether they are accepted to be insured.
How to Choose Life Insurance
When determining what type of life insurance will work best, it's always good to start with a financial mindset. What are the current needs, and what will become an issue in the future? Individuals considering life insurance should check their budgets to start with a reasonable number as it relates to how much they can afford in premiums. The next step would be to determine how much coverage is needed.
There are simple calculations and online worksheets to help determine this. Healthy individuals may not feel as if they need as much insurance right now, but that may change in the future. One of the most important things to remember is that premiums are cheaper when young, and the cost gets significantly higher as people age. Individuals should look at their spending habits and determine if they can afford an additional bill. Next, they should consider how much insurance is needed. Do they have a family? Spouse? Children? All of these are factors when figuring out how much coverage is needed. Additionally, what type of insurance will provide the most benefits? Term or whole? Remember, term life insurance is like a rental. You're covered until it runs out, while whole life insurance covers the lifetime of the individual with a cash incentive.
There are different scenarios at work when deciding how to choose a life insurance policy and how to choose a life insurance company. When choosing a life insurance company, doing some homework is key. There are many insurance companies on the market that may look as if they are doing well, but they are not as financially sound as they seem. Although low prices may look attractive initially, knowing the history of the company makes sense. Additionally, although an individual may have been quoted a low price when underwriting starts, things may change.
It is very important to know the features of the policy and fully understand what is being offered. What type of risk does the company have in their portfolio, and do they have a good track record when dealing with clients? It is easy to check how financially sound an insurance company is. Look at financial ratings from Moody's, A.M. Best, or Standard & Poor's to get a bigger picture of what's really going on.
Many insurance companies take the time to put their ratings on their websites or other consumer-facing information to let customers know where they stand. Ultimately, the right insurance company always depends on your personal situation and the type of life insurance being bought. Check how life insurance companies deal with people with underlying conditions, and their payment history as well. This is a good indicator of how they will treat beneficiaries in the event of an untimely death.
What is the Best Life Insurance for Someone Over 50?
Determining the best life insurance for someone over 50 takes some research. Things change in the world of life insurance when someone turns 50 and older. Premiums have become more expensive and life insurance companies have become more selective. Individuals turning 50 also start thinking about their later years more and their needs as they get older. One of the things most people turning 50 do is review their current life insurance policy. Many people 50 and older also start looking at other insurance companies that better cater to their age group.
Right now, some of the recommended life insurance companies for people over 50 include Haven Life, AIG, Mutual of Omaha, New York Life, and Transamerica. If you want to choose the right company, you should start by looking at the policy type, the benefits, their customer service, how stable they are, and more.
People who are 50 or older may wonder whether they even need life insurance, knowing they are nearing the end of their lifespan. These individuals usually have lower bills to worry about, and the kids may be entering or finished with college. Many people in this age bracket also have inheritances and their financial house in order.
People over 50 who get insurance should get it solely based on their needs as an individual. Term insurance may be the best option, especially if they already have the financial means for their families to safely carry on. At this late stage in life, they may not see the value in getting a cash-based policy because it will take a significant amount of time to mature.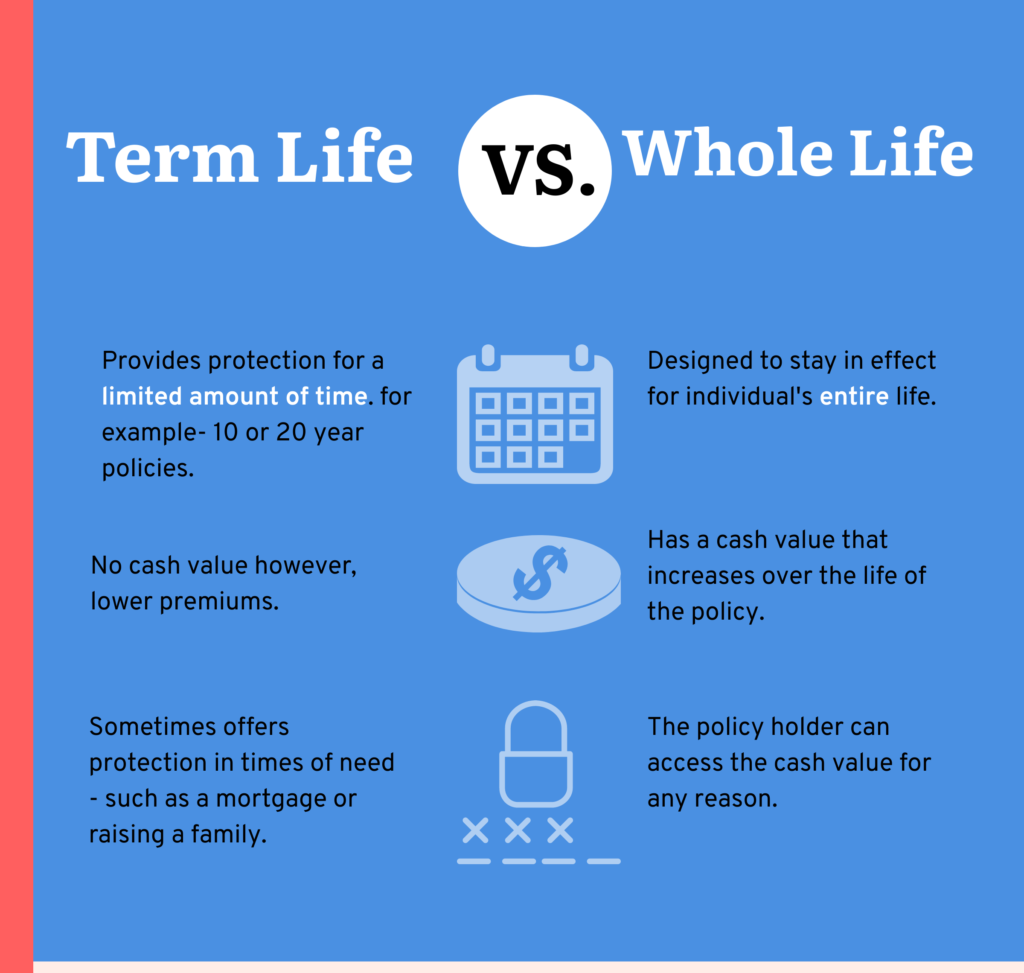 Life Insurance Tips
Finding the right life insurance policy can be challenging, leaving people feeling overwhelmed. Finding the right coverage and who to get a policy with are major concerns. Once the individual starts doing their homework, they may find a number of discrepancies with companies they originally thought would be worth their while. There are a few tips that can assist in the search for the right company to get a life insurance policy with. Here are some considerations:
A lot of insurance companies allow individuals to test the waters before they fully commit to the company. Most of the time, insurance agents may not even mention a free look period to a buyer. Armed with this information, an individual can choose to change something on the policy or even cancel. Ask about this time period when getting a policy to take ownership of the deal.
Do same/same comparisons.
The best way to determine whether a life insurance policy is better than another is by doing a same/same analysis. What do you get with one that may not apply to the other? What about costs? What are the differences in cost between the term and whole? Are there addendums that will nullify the policy? These are important things to look at before making a final decision.
Know why the policy is being written
Some people get life insurance because they hard it was the right thing to do. As an individual, it's in their best interest to know why they are getting a life insurance policy and why they are willing to spend the money to have it. While it provides protection for families and other beneficiaries in the form of cash, this is not meant to be the final plan.
Get endorsements if they apply
Endorsements or riders are available to offer additional customizations and protection. Speaking with an agent can help understand the differences and which ones may apply to a personal situation.
Purchase from a reliable company
The worst thing that could happen is getting a life insurance policy that never gets paid because the life insurance company wasn't worth the premiums paid. Again, homework is essential in choosing the best life insurance company that can handle all needs.
Is Life Insurance Worth It?
Life insurance is definitely worth it for individuals who want to have a financial cushion in place for their loved ones to pay bills and other expenses in the event of their death. This life insurance buying guide should help navigate the search for a company that will perform with the individual's best interest in mind. When considering what's at stake, it's important to stay focused on the budget and the financial stability of the family after the person has passed away.
For some families, life insurance was the only thing that helped them pay for funeral and burial expenses, and for major life changes due to the death. Life insurance can be beneficial and pay for college for children left behind, and all their necessary expenses of upbringing. For those who want to delve into a whole life policy, understanding the ins and outs is key. One of the best things to do, especially if it is a whole life policy on a child, is to see when the policy will mature. This can provide additional funds needed in the future.
These life insurance tips are just that – tips that can help guide individuals through the process of deciding whether they need a life insurance policy, and the type of policy that will work best for them. Even if funds are low, a term life insurance policy provides some protection. It is always best to have something in place for those scenarios that were never expected. Many people who never took the time to purchase a life insurance policy have left their loved ones in financial straits.
In order to avoid these types of situations, speaking with a financial estate planner will work well. They will be able to assist in examining the financial situation now, and what it could look like in the future. They help determine what investments will cover the family, and what other protections are needed financially to ensure they can continue on without worry. An estate planner is one of the best solutions for obtaining a life insurance policy that will work to the individual's benefit.
Taking the time to get educated on life insurance and the possibilities with or without it can make a tremendous difference in the life of someone who is caught off-guard. Individuals with families should explore the possibility of having those riders in place for their entire family in the event something unexpected happens.
Life insurance is one way to help keep things moving in the right direction, even after death. While many people do not like to think about these situations, it is always in their best interest to put the right plans in place to protect themselves and their families, no matter what.
Finding the right insurance agent is the last tip on the list. While insurance agents are supposed to help find the right policy, consumers must keep in mind life insurance agents are paid a commission based on the policies they sell. Working with an agent who has the best interest of the individual at the forefront is key in getting a policy, and an agent that helps plan for the future.
Always ask to get a policy that caters to your needs, and one that can be increased over time. Pay attention to age restrictions and current life insurance rates before making a final decision.
Related Content:
How to Get Started with Investing
Best Credit Cards for Senior Citizens