Are you scrolling the app store for new money-making opportunities? Looking for new and creative ways to supplement your income? We've rounded up the top 24 money-making apps that can help boost your bank account and make your life 100 times more enjoyable.
Making money on mobile apps is easier (and more fun) than you think.
These money-making apps are accessible to anyone with a mobile phone. Whether you're looking for passive income, a side hustle, or even a virtual part-time job, there's an app! With these opportunities, you can earn money from games, surveys, clothing sales, chores, and more.
Check out our list of the best money-making apps for Apple and Android phones. Are you ready to stop scrolling and start earning?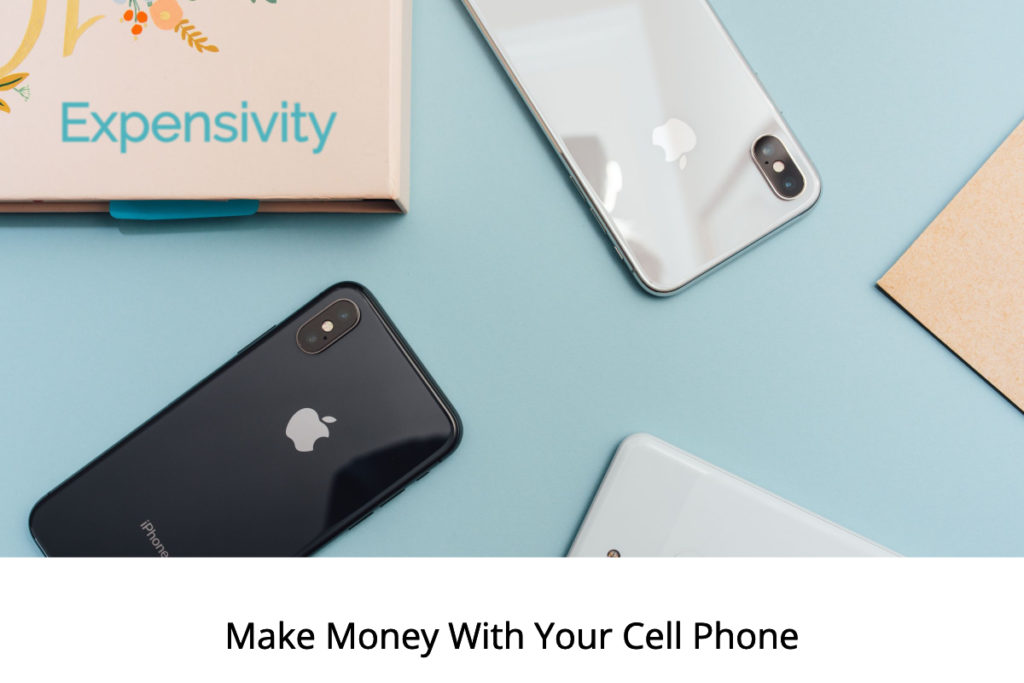 The Best Apps for Making Money
(Android, iOS)
TaskRabbit allows users to earn money by offering services to people nearby.
Members of the app capable and willing to put in a little elbow grease can make a respectable income. Popular tasks include moving furniture, household cleaning, dog walking, hanging shelves, and other household chores.
The more tasks users complete, the more likely it is that other users will select them for future jobs.
While meeting up with strangers may not be an exceptionally safe or covid-friendly job, the app also offers options for non-in-person tasks such as research, data entry, and virtual planning.
Survey Junkie
(Android, iOS)
Do you have opinions about retailers and restaurants that you think others could benefit from hearing? Survey Junkie lets users take surveys in exchange for points.
The surveys can be long and time-consuming, but if you have a little extra time on your hands, Survey Junkie is an easy way to make a few bucks.
You can redeem Survey Junkie points for gift cards to popular chain retailers such as Amazon and Target. Not in a shopping mood? Users can also redeem points for cash value via Paypal.
Rebag
(Android, iOS)
The Rebag mobile app is a high-end luxury retailer for pre-owned designer bags and accessories.
Customers can purchase or resell their pre-owned luxury items. The app caters to over 50 designer labels and brands such as Chanel, Christian Dior, Louis Vuitton, and Prada. The app tells users which bags are suitable "investments."
The Rebag app advertises that new users will get a sign-up bonus of $200 off their first purchase. Considering some items cost thousands of dollars – this is a fair incentive.
The downside is that unless you happen to have a vintage Birkin kicking around the bag of your closet, you may end up spending more than you can make on Rebag.
InboxDollars
(Android, iOS)
InboxDollars is a free and easy way to earn money online – as long as you have some time to spare. The more activities you have time to perform, the more you can make.
The app lets users earn money for reading emails, playing games, shopping online, completing offers, taking surveys, and other virtual tasks. The app is user-friendly and great for non-tech savvy users.
App users need to have $30 in their account before they can cash out for a check or gift card.
Airbnb
(Android, iOS)
For people with an extra room, guest house, or income property, Airbnb is the best app for making money for lodging and homestays. Travelers can find unique and friendly places to stop over during their journeys.
The Airbnb platform is available for mobile phones and desktops, making it accessible to travelers and hosts worldwide.
Users can rent out their spare space for nightly, weekly, or monthly homestays to travelers. The app has many built-in safety features that help users feel secure during their stay. Sellers have the option to charge service fees and cleaning fees to supplement the work required between visits.
Drop
(Android, iOS)
Drop app has over 3 million users shopping in exchange for points. With this money-making app, users get points for shopping at participating retailers, services, and brands like Walmart, ASOS, Lyft, and Adidas.
Members of the app don't receive cash payments for their rewards. Drop instead offers gift cards for big-name retailers such as Amazon, Netflix, and Starbucks. This is a great setup for earning rewards for shopping you are probably already doing.
Sweatcoin
(iOS, Apple Watch, Android phone)
Sweatcoin is a free app that lets users redeem rewards in exchange for living a healthy lifestyle.
Enjoy a daily run? Sweatcoin will pay you for your steps! When the app is running, you're rewarded for every step you take, earning 0.95 Sweatcoins for every 1,000 steps.
Users of the Sweatcoin app get paid in Bitcoin (digital currency). Users can redeem Sweatcoins for virtual gift cards and prizes such as Apple Watches and exercise classes.
If you already lead an active lifestyle, why not get paid for it? One downside to this app is that if you don't get in your maximum steps daily, you may be spending more on data charges to run the app than you make in rewards!
Bookscouter
(Android, iOS)
Bookshelf overflowing? Bookscouter lets users of the app buy and sell used books for a fair, discounted price.
Bookscouter is a great place for university and college students to look for used textbooks and pricey coursepacks. Members can also sell fiction and nonfiction books for a great price.
Bookscouter has a mobile app along with a desktop version. Buyers can search for books by name or ISBN (unique numbers used to identify books for sales).
Uber
(Android, iOS)
Uber has quickly become one of the most popular ways to get around. The rideshare app allows members to get paid for giving people rides around town.
All you need is your car and a phone.
Uber allows drivers to earn money from bonuses and also lets riders give a tip. The app uses a star-ranking system to provide friendly and safe drivers good reviews.
For drivers not so into letting strangers into their car, there's also the option to deliver food. UberEats allows users to deliver food from restaurants to customer's front doors.
Lyft
(Android, iOS)
Similar to Uber, Lyft is a rideshare app that lets users get paid to give customers rides. Both Uber and Lyft are common apps that function as alternatives to taxis and public transportation.
Whether you sign up for Uber or Lyft will often depend on how each service performs in your city, so if you plan on offering ridesharing, do some research into your geographical location to find out which app is more popular where you live. Many drivers use both.
Ibotta
(Android, iOS)
The Ibotta app works a little differently from other cash reward apps.
Ibotta offers users cashback rewards for online and in-store shopping. What makes Ibotta unique is that shoppers can upload their receipt after shopping to earn rewards. This feature comes in hand when shopping in physical stores rather than online.
The app includes over 1,500 retailers and brands in the cashback reward roster through Ibotta. Shopping at retailers such as Walgreens, Target, Walmart, and Gap will all earn you rewards through the app.
Ibotta also offers a welcome bonus and referral bonuses to help entice users.
Swagbucks
(Android, iOS)
Swagbucks is another cash rewards app where users earn rewards called "SB" points. Shoppers can earn points by shopping, taking surveys, web browsing, watching videos, playing games, and performing other virtual tasks.
How much can you earn? Since launching the app in 2008, the platform has paid out over $500 million to its app members. SB points vary per task, such as surveys which are typically worth 40 SB points. Swagbucks also offers app users a bonus upon joining.
With Swagbucks, users can earn more depending on how much time they devote to the app. Members transfer points to their Paypal accounts or retail gift cards.
(Android, iOS)
As one of the top apps for freelancers, members with skills such as editing, graphic design, translation, programming, animation, voiceovers, and writing, can earn income from Fiverr.
App users can post "gigs" to the platform, advertising their unique skills. Member profiles include a resume-like description of credentials and professional experience. Sellers can offer paid tasks and earn income through the app (with a 20% service fee to Fiverr).
For those already working as freelancers, Fiverr is an option for finding clients with little effort. Keep in mind that there are often thousands of "gigs" for similar skills, so it's crucial to find a way to stand out and make yourself unique.
(Android, iOS)
While you can easily throw your unwanted clothing in a bag for donations, why not try to repurpose your higher-end items (into someone else's wardrobe)?
Poshmark offers users a platform to sell pre-owned clothing, shoes, and accessories in good condition and ready for a second lease on life.
Users simply take quality photos of their items, post them to the site, and share the listing. The app also offers "Posh Parties," virtual events to help sell particular brands of clothing.
Through Poshmark, sellers don't have to worry about the shipping process – the app provides shipping labels through the platform, and Poshmark covers the cost of any lost packages in the mail.
(Android, iOS)
Have some stuff to sell? OfferUp recently combined with another popular selling app, LetGo.
The app works as a marketplace for selling anything from used clothing and DVDs to furniture, appliances, and electronics. OfferUp is like a modern eBay where users sell their items and either meet up to deliver sold items or ship through the OfferUp shipping feature.
Although meeting up with strangers can be risky business, OfferUp allows users to post their stuff for sale directly to the app's main page. There is also a feature to chat with potential buyers.
Following sales, app users can receive payment through deposit to a debit or bank account.
(Android, iOS)
Foap allows amateur and professional photographers to earn money by selling their images and videos through the mobile app. No professional photography equipment is required.
Major industries or small businesses in need of visual content purchase the images or videos. The prices of images vary. Some photos may sell for $5, while some go for $100 and beyond.
The app also offers users paid "missions" to submit photos for specific categories and contests. Photographers and videographers on the app split the proceeds of their images' sales with the app, 50/50.
(Android, iOs)
The Rakuten app, formerly called Ebates, offers cash rewards for shopping. Shoppers earn cash rewards for regular, everyday purchases.
App users gain up to 40% cashback rewards on their purchases from major retailers. Rakuten partners with over 2,500 top retail stores, restaurants, and delivery services. Some popular retailers included are Amazon, Walmart, H&M, Macy's, eBay, and JCPenny.
Shoppers can also earn rewards from purchases such as travel and gift cards. With the Rakuten app, the more you spend, the more cashback rewards you earn. The app pays users through Paypal.
(Android)
While looking at our phones all day long, hundreds of targeted ads pop up constantly. Why not get paid for watching them?
Slidejoy allows users to earn money and retailer discounts by watching videos and ads on the mobile app. The app places ads and news stories on the user's lock screen that can either be viewed or not.
The app also offers "Lockscreen Rewards." When the app is running, users can earn rewards by simply using their phone – every time users swipe and unlock, they make easy money.
Slidejoy is currently only available for Android users as Apple operating systems block access to lock screens.
(Android, iOS)
Thinking about investing but not sure where to start? Acorns app allows members to invest and earn from their spare change without a significant financial investment risk.
Acorns lets users earn interest from "micro-investments" and "robo-investing."
Users link their mobile banking accounts to automatically invest their "spare change" by rounding up charges to the nearest dollar and investing the difference. The app invests the spare change into automated investment portfolios consisting of ETFs.
The app charges users a minimum of $1 per month. Acorns takes away the guess-work for beginner investors thanks to its Found Money partners feature and automatically diversified portfolios.
(Android, iOS)
If you're a frequent in-store shopper, Shopkick may be an excellent way to earn.
Shopkick members earn gift card rewards for shopping and even for just browsing the aisles. After downloading the app, users earn rewards simply by walking into the store.
The app offers rewards for scanning barcodes as well as uploading receipts for purchases from participating stores. Members can also earn points by watching videos, ads, and other virtual in-app tasks.
Although Shopkick doesn't offer rewards in cash, gift cards for stores you frequently shop at can be just as beneficial.
(Android, iOs)
Google Opinions Rewards is an app that allows members to earn money from participating in surveys.
All users have to do is complete short surveys and earn money. Voila!
Surveys are opinion-based and can be about retailers, hotels, television shows, and more. An upside to this survey-based money-making app is that the surveys are relatively short. Users can earn from taking surveys without cutting into too much of their day.
The pay rate ranges from $0.01 to $1.00 per survey. Earnings from the Google Opinions The app pays out rewards through Google Pay or Paypal.
(Android, iOS)
Mercari is a popular app for selling goods. Unlike other apps or selling pre-owned items, Mercari provides users with printable shipping labels.
The app takes care of shipping which means users can avoid awkward (and potentially dangerous) in-person meet-ups with strangers.
On the Mercari marketplace app, you can find higher-end items for resale, such as small electronics and brand-name clothing and shoes.
There's no fee to use the app, but Mercari takes 10% of your selling price – a considerably lower cost than many other marketplace apps.
(Android, iOS)
Similar to Fiverr, UpWork allows freelancers to find clients easily. For freelancers who want to focus on their skills and tasks, this app takes the stress out of finding jobs, communicating with clients, and getting paid.
Members can share their profiles with links to portfolios or relevant professional experience. Clients can post ads for the specific tasks they need. Upwork does the work of matching freelancers to jobs that match their skills and assets.
Freelancers can also reach out to clients directly through job proposals, allowing them to outbid competing talent.
Upwork charges a 20% service fee and pays members through Paypal or direct bank transfer, in USD only.
(Android, iOS)
Mobee allows users to earn money through a Secret-Shopper platform.
Members can visit their favorite stores, shop, and earn rewards through the Mobee app. The app promotes secret shopper "missions" for users at nearby stores and retailers. After shopping at the specified location, members complete surveys about their shopping experience.
A balance of 4,500 points can earn users a $25 gift card for a popular retailer of their choice. Participating retailers include coffee shops, Amazon, Dominos, and more.