Air travel is expensive these days. Frankly, everything is expensive these days. But with the skyrocketing cost of gas and the general impact created by our current inflationary pattern, flights are more expensive than they've ever been.
For many Americans, this might be a bit of a shock to the system. Indeed, at the height of the pandemic, when few Americans were willing to get on an airplane, the price of fights plummeted. But with the rebound of the travel industry, prices have spiked in ways we've never before experienced. According to Thrifty Travel, "Data released by the U.S. Bureau of Labor Statistics' Consumer Price Index recently shows an 18.6% increase in airfare from March to April 2022 – the largest one-month jump in recorded history. Airfare is up 33% in 2022 when compared to this time last year. That means, on average, Americans are paying a third more for flights than they did a year ago."
RELATED: What Do Americans Spend the Most Money On?
Don't despair, though. The average price for air fare has gone up, but that doesn't mean there aren't still great deals out there. You simply need to know where to look, how to shop, and how to accumulate airline miles or reward points everywhere you spend. If you play your cards right, you may be able to fly for cheap, or even for free!
By the way, if you're planning your first big flight since the start of the pandemic, there are a few things you should be aware of first. Make sure you prepare for the new age of travel with a look at these Ten Ways the Pandemic Has Changed Travel.
Otherwise, read on and find out how you could be flying for free!
1. Stick With With a Single Carrier
Naturally, accumulating frequent flier miles is one of the most direct routes to flying for free. But make sure you accumulate these miles strategically. For starters, it matters where you fly and who you fly with.
The fastest way to accumulate free airline miles is to achieve some level of consistency with just one or a few carriers. Try to focus on accruing miles with one relatively affordable airline. That will likely be your fastest and most efficient path to a free flight somewhere. According to Investopedia, "you're most likely to earn enough points to actually get something in return if you concentrate on just a couple of airlines that ply the routes you expect to fly. For instance, it's better to have 100,000 points with one carrier than 10,000 each with 10."
This means it may actually be worth it in the long run to pay a few extra dollars for a long-distance flight with a preferred carrier than to scope out the cheapest deal with a discount carrier. If you're in the process of gathering frequent flier miles, spend a few more dollars to rack up miles using a carrier with whom you've already begun accumulating miles. You'll likely save much more in the long run by advancing more rapidly toward the goal of your next free flight!
2. Check Out Co-Branded Credit Cards
As long as you're looking to accumulate miles with a preferred carrier, you should consider a credit card issued through a partnership with that carrier. Indeed, many of the best airline mile reward packages are available to those who use credits cards which are co-branded both by major credit card issuers (i.e. Visa, MasterCard, etc.) and major airlines (I.e. Southwest, U.S. Air, American Airlines, etc.)
Forbes says that "There are a wide range of welcome offers available and they are regularly changing based on the marketing decisions of both the airline and the bank for any specific card. If you want to earn airline miles in big batches, the co-branded cards are a great place to start."
It's also a good idea—and in fact may be a requirement—to join the loyalty program for any air carrier featured on your co-branded card. This gives you access to additional rewards, discounts and travel perks even as you accumulate frequent flier miles every time you fly.
3. Shop with an Airline Loyalty Membership
The great news is, once you've joined an air carrier loyalty program, there are all kinds of ways to begin accumulating miles, even without flying. In fact, some airlines will award you with miles, or points that can be converted into miles, just for shopping through your loyalty program.
According to Bankrate, several noteworthy airline loyalty programs—like those provided by Southwest Rapid Rewards or Delta SkyMiles–include online shopping portals where you can make purchases as a club member. Bankrate notes that "which you can earn miles on purchases you're already planning to make. Here's how it works: Whenever you're shopping online, navigate to the merchant's website via a link in the airline program's shopping portal, rather than going directly to the retailer's storefront. Clicking this link lets the portal track your activity so that when you complete your purchase, you'll receive credit in the form of extra miles or points added to your rewards account."
This is an excellent way to accumulate points or airline miles simply by making purchases that you already intended to make. In other words, sign up for one or several airline loyalty programs and begin reaping the benefits today. These benefits could translate into a free flight eventually.
4. Shop at Your Airline's Online Mall
As it happens, there's more than one way to shop online and accumulate points. You don't necessarily have to join a loyalty program in order to accumulate airline miles or rewards points. In fact, you may be able to obtain these rewards by simply purchasing items through your airline's online mall.
Nerdwallet says that "when you shop through an airline's online shopping portal, you can earn miles based on your usual spending habits. You essentially enter through a different door, instead of going directly to the retailer's website. Some airlines list hundreds of retail partners, including mainstream ones like Macy's, Home Depot and Dick's Sporting Goods. JetBlue Airways' program gives miles for in-flight Amazon purchases."
So when you're actually in midair and browsing through one of those cool product catalogs conveniently located in your seatback, consider that the state-of-the-art back massager or the home office putting green may be more than just a luxury item. It could be a purchase that puts you one step closer to your next free flight.
5. Go Out for Dinner
Shopping for retail items isn't the only way to accumulate rewards as a member of a loyalty program. You may also be able to accumulate points or miles when you dine out using your loyalty membership ID or when you use a travel credit card.
As to the latter, if you have a credit card that rewards airline miles for spending on dining, make sure to use it through any participating restaurants, food vendors or delivery services. Indeed, Investopedia calls this a "good way to pile up points and keep them from expiring." When you "link your credit card to a frequent flier plan's dining program," says Investopedia, you can "charge a meal on that card at a participating restaurant [and] earn points based on the size of the tab."
Of course, any time you spend using a credit card, it is imperative that you pay your balance in full every month to avoid accruing interest charges. Higher interest charges may ultimately eclipse the value of any rewards or points accumulated through your spending. Therefore, as long as you are prepared to pay your balance in full at the end of each month, linking a credit card to a frequent flier dining program can pay dividends.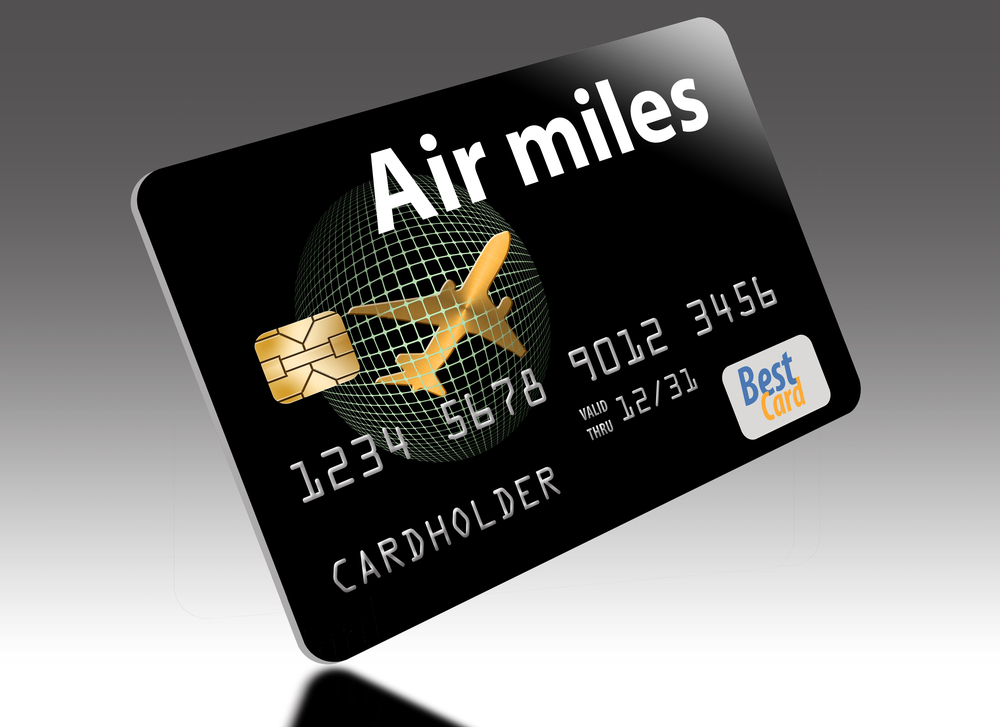 6. Use Your Airline Account to Book Hotels
One other great way to accumulate airline miles is to use your co-branded airline credit card for essential travel expenses. Naturally, there is no greater or more consequential travel expense than lodging. Fortunately, this is also an area where the flight industry and the hospitality industry work closely together to bring you greater deals.
Nerdwallet says that you can "Book hotel stays at major chains through your airline account and you can earn miles, either based on your spending or a flat number of miles per night. Delta Air Lines, for example, also lets you earn miles when booking Airbnb stays."
If you're planning to fly somewhere, there's also a pretty good chance you'll need a place to stay when you get there. Make sure you take advantage of every opportunity to gain free airline miles when you book this stay.
7. Look for Credit Cards With Welcome Bonuses
Speaking of credit card rewards, another great way to maximize your free miles is to seek out a credit card offer that combines a hefty welcome bonus with the freedom to transfer points or other rewards toward airline miles. Indeed, welcome bonuses are often the most generous rewards you'll receive during the life of your credit card. Seek those welcome bonuses which can be recouped as "transferrable currencies."
This gives you the best chance to amplify your airline mile rewards. According to Forbes, "Welcome bonuses can be as high, or in some cases, even higher than those for the co-branded airline credit cards. Earning transferable points can be a useful complement to earning miles directly with the airlines."
Once again, the same watchwords apply regarding responsible credit card usage and account management. As long as you are diligent about paying down any balances on these credit cards before you can incur interest charges, find an offer with a great welcome bonus and apply today.
8. Pool Airline Miles With Friends and Family
Believe it or not, you don't have to collect all those airline miles by yourself. In fact, it may be possible to join forces with your nearest and dearest to score a free flight or two. According to MoneyGeek, "You can also earn more points by pooling your points with another family member or friend. Some, but not all, airlines allow you to pool points together."
Find out which airlines allow this type of shared effort and get your team of frequent flyers on board. With your combined efforts, each of you could be in a position to recoup flights for cheap or free over a much shorter period of time.
9. Take Airline Consumer Services
Sure, time is money. But let's be honest–there are at least a few minutes each day that you waste entirely just cruising mindlessly around the internet. Instead of cruising mindlessly, cruise with purpose by becoming a survey respondent for one or several top airlines. Indeed, according to Nerdwallet, you can earn rewards for helping airlines collect useful consumer data.
Nerdwallet notes that you can "Give your two cents and get miles with several carriers. Spirit Airlines even gives a chance to earn miles for playing online games." Admit it. You were about to go and play a random online game as soon as you finished this article! Go ahead. Visit Spirit Airlines and find out what it takes to win a few free airline miles.
10. Shop Around for the Best Credit Card Offer
Of course, all of these tips can be used in combination with an excellent credit card offer that includes an array of generous rewards and total flexibility about how you apply these rewards. To this end, MoneyGeek advises that "One of the easiest ways to earn miles for your next trip is with a travel rewards credit card. While there are plenty of cards available, the best travel rewards credit cards are the ones that align with your specific needs and spending habits."
Most travel rewards cards offer points or miles every time you spend. But in order to get the most out of this credit card, you'll need one that awards those points for the types of purchases you regularly make. If you work and spend time on the road, you'll want a card that awards points at the pump, for booking hotels, or for spending on food at national chain convenience stores. If you shop predominantly online, find a card that offers generous rewards for web-based purchases.
***
Now that you have a strong sense of the strategies available to you for scoring lower flight fares, you're ready to seek out the very best credit card offer for accruing airline miles.