Given the high cost of college, the ever worsening student loan debt crisis, and America's newly robust job market, more young workers than ever before are reconsidering the necessity of a college degree. While economic indicators still suggest that a bachelor's degree is a meaningful threshold differentiating salary potential across various industries, that doesn't mean it's the best option for everybody. Some professions can actually pay quite handsomely while placing the premium on professional experience over academic credentials. In fact, in some cases, a six-figure salary is readily accessible without a college degree.
Before you invest in a costly degree, learn everything you can about the opportunities in your chosen field. While a college degree is still valuable, broadly speaking, the high cost of college tuition does require a more focused calculation for each prospective college student. Could your career goals be attained without taking on costly tuition payments and a heavy student loan burden? Well, that depends on your career goals, skill set, and area of interest. Indeed, CNBC reports that "Roughly 16% of high school grads earn more than half of workers with a bachelor's degree, according to a new report by the Georgetown University Center on Education and the Workforce."
This leads us to several conclusions. First, a bachelor's degree does not necessarily guarantee a high-paying postgraduate career. Your career prospects depend heavily on your chosen field and countless individual variables. Second, earning only a high school degree does not necessarily prevent you from ultimately earning a robust salary. This, too, will depend upon your chosen field. Third, and most importantly, the value of earning a college degree is highly contingent upon your career goals. Every field has its own academic threshold for entry. In some cases, that threshold may be lower than a bachelor's degree, which can mean a tremendous savings in money and a more immediate start to your career.
If any of the jobs below seem appealing to you, it may indeed be possible to earn a six-figure income, or at least close to it, without spending the time or money on a bachelor's degree.
See Also: 10 Best College Degrees to Earn a Six-Figure Salary
A Note on the Use of Median Salaries
In some cases, you will notice that the median salary listed by the Bureau of Labor Statistics is not necessarily a six-figure income. However, the career paths selected for inclusion here are those that offer opportunities to reach a six figure income. In cases where the median is lower than six figures, bear in mind that various intangibles like sales commissions, the accumulation of on-the-job experience, and the ability to rise to a position of leadership in your field can all turn a reasonably well-paying job into a six-figure position. In other words, these career paths have been selected because they offer among the best options for reaching this tax bracket without spending four to six years going to classes and accumulating student loan debt.
If you think you might want to attend college but you're still pretty hung up on that six-figure threshold, check out this look at 10 College Degrees That Can Lead to Six-Figure Income.
Otherwise, read on and find out how you can bypass the costly and time-consuming process of going to college but still work your way into an upper salary bracket.
1. Air Traffic Controller
Air traffic controllers do some pretty important work. Primary job functions include coordinating the movement of aircraft and ensuring that a safe distance is maintained between them. Granted, this is a lot of responsibility, but there are few jobs that offer as direct a line to a six-figure income without a bachelor's degree.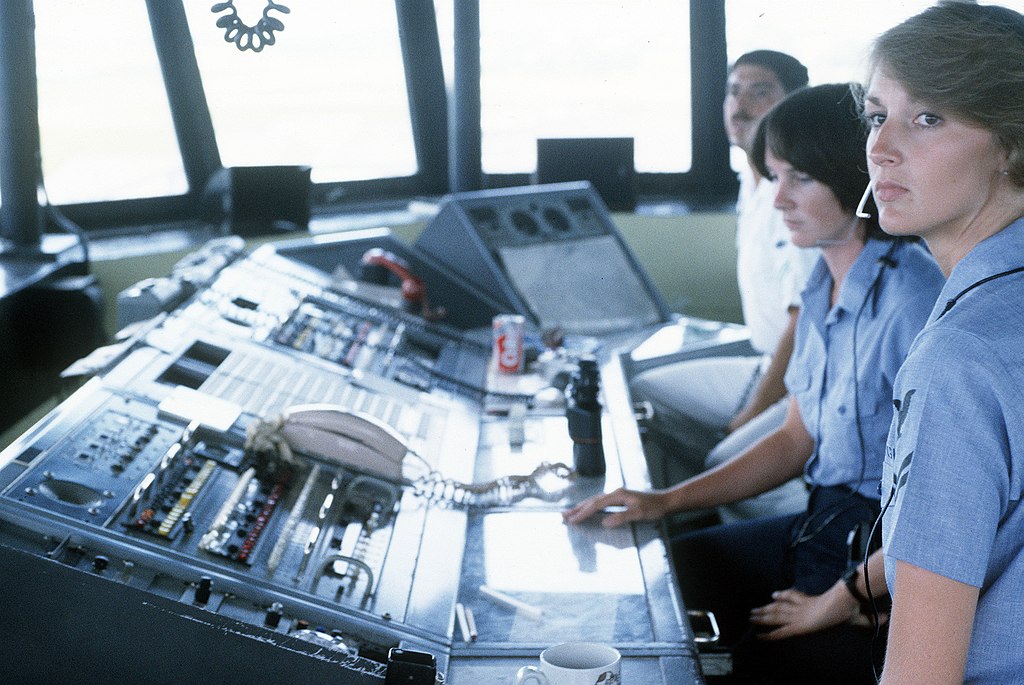 According to the Bureau of Labor Statistics, the 2020 Median Pay for Air Traffic Controllers was a robust $130,420 per year. You need only an associate's degree to begin advancing on the path toward this wage. Typically, though, candidates will procure this degree specifically through the Air Traffic Collegiate Training Initiative. You'll also need to take certification courses and pass exams, both administered by the Federal Aviation Administration (FAA). Beyond that, a great deal of what you'll need to know for this line of work will be imparted through on-the-job training. This will include accumulation of experience in control towers, route centers, approach control facilities and more. The BLS warns that this can be a high stress job, demanding that you work nights, weekends, rotating shifts, all while maintaining an absolute maximum of concentration. To state things euphemistically, this is not the kind of job where you can really afford to make mistakes. That's probably also why hiring and advancement are pretty competitive. At a 4% growth rate, this occupation is projected to add fewer than 1000 new jobs between now and 2030. In other words, this job is somewhat rarified air. But this is not meant to discourage you. If you can pull it off, working as an air traffic controller could give your salary potential a real liftoff.
2. Police Officer
There are actually many different pathways to becoming a law enforcement officer, and many of these pathways do not include a bachelor's degree. Indeed, the credentials required may depend on the specific police department in which you seek work. In some cases, you may need an associate's degree or bachelor's degree. In most cases, however, a high school diploma or GED will be sufficient. This will qualify you to apply for entry into your specific department's training program. Your officer training program and subsequent on-the-job training will provide most of the skills, knowledge and credentials you'll need to begin advancing your career in the law enforcement profession. Though Police and Detectives earned a median salary of $67,290 in 2020 according to the BLS, numerous career advancement pathways and a strong labor union made it possible for Detectives and Investigators in the 75 earnings percentile and above to earn a $111,900+ salary in 2020. Longevity, leadership and specialization can all lead to six-figure earnings for veteran law enforcement officers.
3. Entrepreneur
Ok, we admit, this seems like kind of a vague category. But we prefer to think of it as an extremely varied area brimming with potential. As goes the old cliché, small businesses are the lifeblood of the American economy. Moreover, if you have the idea, the means, and the acumen, it's the best way to avoid working toward somebody's else's dreams and visions. As an entrepreneur, you'll build your own vision into a reality. Naturally, that also means you'll be taking on the risk. And when you're your own boss, you'll also be on the clock 24/7. But here's the good news, if you succeed, there's no ceiling over how much you could earn. Small cottage businesses have grown out of garages, basements and guest rooms to ultimately fill board rooms, office buildings and corporate campuses. And when it comes to starting your own business, there is no written rule that requires you to have earned a college degree. Granted, taking some business, management and accounting courses could go a long way toward informing your approach to your fledgling business. But this has much more to do with learning the ropes than obtaining a specific academic credential. A few courses at your local community college could be sufficient to get started. From there, the sky's the limit. Indeed, the Bureau of Labor Statistics notes that Chief Executives earned a median of $185,550 in 2020. The figures go higher still for business owners. Of course, the journey between formulating your billion dollar idea and buying your own private island is likely to be long, treacherous, and uncertain. But we can say with certainty that a bachelor's degree is not always a required stop on that journey.
4. Radiation Therapist
Radiation Therapists are healthcare professionals who work in hospitals, physicians' offices, and outpatient facilities, administering radiation treatment to cancer patients. This is an area in which you can channel a basic associate's degree into a well-paying career in healthcare. The big bonus is that a two-year degree is sufficient to put you in the position to not just help people but truly save lives. According to the Bureau of Labor Statistics, you need only earn your associate's degree in order to qualify as a Radiation Therapist and, consequently, earn a median salary of roughly $86,850. In addition to an associate's degree, you will need to complete a professional certification program and pass both a national licensing exam and any additional examination requirements specific to your state. The BLS notes that this will put you in a position to seize one of the 1,600 jobs that will be added to the labor market between now and 2030. It should be noted that there are also a number of similar roles in the healthcare field that offer commensurate opportunities and levels of compensation with just an associate's degree and the proper certification, including Medical Sonographers and Cardiovascular Technologists and Technicians (2020 Median Pay—$79,590); and Nuclear Medicine Technologists (2020 Median Pay—$70,380).
5. Executive Chef
Entering into the culinary industry is easy. Succeeding? Well, that's a whole other ball game. The restaurant and catering industries are exceedingly competitive. The best-paid executive chefs earn celebrated reputations, open multiple restaurants, and draw enthusiastic diners on name-recognition alone. But there are also countless executive chefs toiling for notice in densely packed metropolitan areas. In other words, while the 2020 median salary for chefs and head cooks was $53,380, that potential ceiling is unlimited for those who rise to the top. You need only a high school diploma to begin your pathway to certification from a culinary school. From there, the most valuable education you'll receive is in the kitchen. And opportunities abound to gain this experience. The BLS notes that this field will grow at an extremely robust rate of 25% between now and 2030. Indeed, today, many restaurants are battling labor shortages. Those willing to pay their dues in the kitchen by working at the entry level could find themselves on the pathway toward culinary greatness. This usually means hard work, long hours, sometimes stressful work in a fast-paced environment and no shortage of individual talent. If you can combine these with leadership skills and a unique vision, you could earn six figures or even more as an executive chef.
6. Independent Trade Contractor
Technically, the phrase independent contractor refers to any individual working in a largely freelance capacity. But in this case, we refer to contractors working in skilled crafts and trades like electricians, plumbers, carpenters, masons, and others working in spaces like construction, home-building, land development, and more. Those candidates with skills in particular areas of trade often come by their education through a combination of technical certification and apprenticeship. These experiences can be readily obtained without a college degree. Moreover, many skilled trades-persons will become owners of their own companies simply out of practical necessity. This means that many independent contractors work as their own bosses, manage their own schedules and, consequently, have earning potential generally commensurate to their company's growth potential. Your ability to earn a six-figure salary as a person with a specific set of trade skills will depend in part on your hustle, the size of the local market where you provide service, and your ability to either differentiate yourself or carve out a profitable niche in your field.
7. Freelance Writer
This one comes with an important disclaimer. It takes a lot of work and the fostering of positive long-term relationships to earn six figures as a freelance writer. Take it from somebody who's been there. I'd say that you get to make your own hours, but you'll pretty much be using all of them to write so…With that said, the world of content development has rarely been more flush with opportunity than it is today. Moreover, there is no specific academic threshold that qualifies you to work as a freelance writer. The most important thing is that you can actually demonstrate something between compositional competence and rhetorical excellence. It goes without saying that most who enter the writing profession are inherently educated, but when it comes to stringing together coherent sentences, there is little you'll learn in college that you shouldn't have already mastered by high school graduation. Thanks to the web, you could launch a successful blog, market your freelance copy skills, or tweet your way to a massive following without paying a single dollar to earn a post-secondary degree. But before you go this route, be sure that you really enjoy writing. If you plan to earn six figures doing it on a freelance basis, it will take up most of your waking hours
8. Nuclear Technician
Engineering is a lucrative field in general, but many of the top paying jobs will require you to earn a bachelor's degree and, in many cases, even a master's degree. However, technicians also play an important role in the wide array of engineering subfields. Technicians typically work in support roles to engineers and researchers, and can qualify to enter the field upon earning an associate's degree. The Bureau of Labor statistics reports that, for instance, Nuclear Technicians earned a median salary of $84,190 in 2020. In addition to earning a strong salary, technicians are in a position to amass the professional experience needed to become full-fledged engineers. Many technicians may choose to accumulate a few years of experience in the field before entering degree completion programs, earning bachelor's degrees, and qualifying as engineers. One word of warning—the field of employment for nuclear technicians is actually expected to contract by 12% between now and 2030. That may sound pretty ominous, but the BLS reports that, thanks to retiring and otherwise outgoing professionals, the field will nonetheless create 700 new job openings every year between now and then. For those with the specialized knowledge and interest in this field, this means that there is still opportunity to seize this well-paying entry level role.
9. Sales
If you have an outgoing personality, an intuition for human emotion, and the desire to enter the workforce without going to college, sales could be a great pathway. In most cases, an associate degree, or even a high school diploma or GED, will qualify you to begin accumulating on-the-job experience. While the median salary for sales professionals can vary widely, so too can the array of fields where you might apply your talent. From retail and industrial manufacturing to vehicles and ad space, the ability to sell is of value in every sector of the economy. For instance, the Median Pay for Advertising Sales Agents was $54,940 in 2020; $65,420 for Wholesale and Manufacturing Sales; and, for Insurance Sales Agents, $52,180. However, this is an area in which your particular talent and aptitude could take you well beyond the median salaries cited here. Indeed, the vast majority of sales professionals earn a base salary alongside sales commissions. This is where you have the chance to separate yourself from the herd. Depending on the structure of your compensation package, your chosen industry, and your own determination, a sales profession could make you an extremely comfortable living. The best sales professionals can earn well over $100K annually on commissions alone.
10. Real Estate
Much like sales, real estate is a field in which a combination of personal drive, determination, and charisma can separate you from the field. As with sales, you can begin working in the real estate brokerage field with just a high school diploma or GED. The primary qualification for beginning work in this field is a real estate license, which you can earn by completing a brief certification course and passing the licensing exam administered by your state. According to the Bureau of Labor Statistics, the median annual wage for Real Estate Brokers was $60,370 in 2020. But once again, as with sales in general, this median salary tells only part of the story when it comes to potential earnings. Your ability to hustle, to truly understand and pursue the needs of your clients, and the economic opportunity within the region you serve can all lead to earnings that far exceed this median range. The real estate market is particularly sensitive to ebbs and flows in the overall health of the American economy. This can lead to fluctuations in earnings, and one should be prepared for this possibility. However, real estate is also an excellent option for those with an interest in taking on a side hustle. Many real estate brokers are self-employed or freelance, which means you could have the freedom to set your own appointments around a day job. As a supplementary income on top of your 9-to-5, real estate could easily push you into six-figure territory.
***
Speaking of side hustles, real estate is just one of many ways that you could supplement your current income without undertaking a dramatic change in your lifestyle or career. The side hustle is an increasingly popular strategy for Americans seeking ways to both increase their household income and find outlets for their creative, social, or entrepreneurial energies. And in keeping with the theme of the present article, this could be a way to get you over the hump if you're this close to pulling in a six-figure salary. To find out more, check out 10 Reasons to Get Yourself a Side Hustle.