Warm weather got you itching to update your home interior? Lately, we've all been spending a lot more time at home, so there's no better time than now to get the job done.
This time, though, we're not talking about a new coat of paint, new furniture, or just some new pictures on the wall. We mean, taking out that wall completely, or finally starting on the addition you've been dreaming of. Or maybe instead, putting in that kitchen island you've always wanted.
But what's the best way to pay for it?
Sure, you could get a home equity line of credit. But have you ever considered putting your carefully budgeted project on a credit card? This approach holds many advantages. So long as, of course, the lumber, labor, and other aspects of the project are carefully planned for, and that all debt is paid off on time and in full.
In this article, we present the three best credit cards for home remodeling, with some pointers for choosing the card that's right for you and your project.
Updating your home is within reach. We'll show you how.
What is the Best Credit Card for Home Remodeling?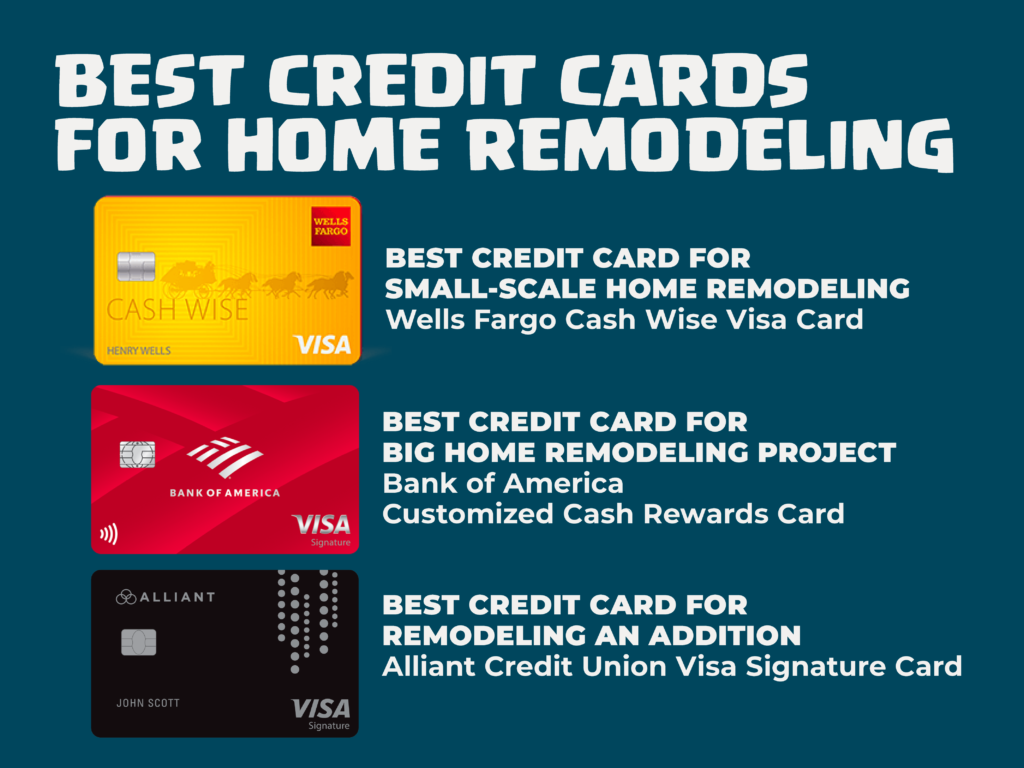 For home renovation projects large and small, the right credit card can offer many perks and benefits beyond those available from a home equity line of credit or some other kinds of financing.
We'll tell you more about those advantages later, but for now, here are the three best credits card for home remodeling:
Best Credit Card for Small-Scale Home Remodeling: Wells Fargo Cash Wise Visa card
Best Credit Card for a Big Home Remodeling Project: Bank of America Customized Cash Rewards credit card
Best Credit Card for Remodeling an Addition: Alliant Credit Union Visa Signature Card
Keep reading to find out what we like about each card, but first, let's talk a bit about how to choose a credit card for house renovation.
The Best Way to Finance Home Improvements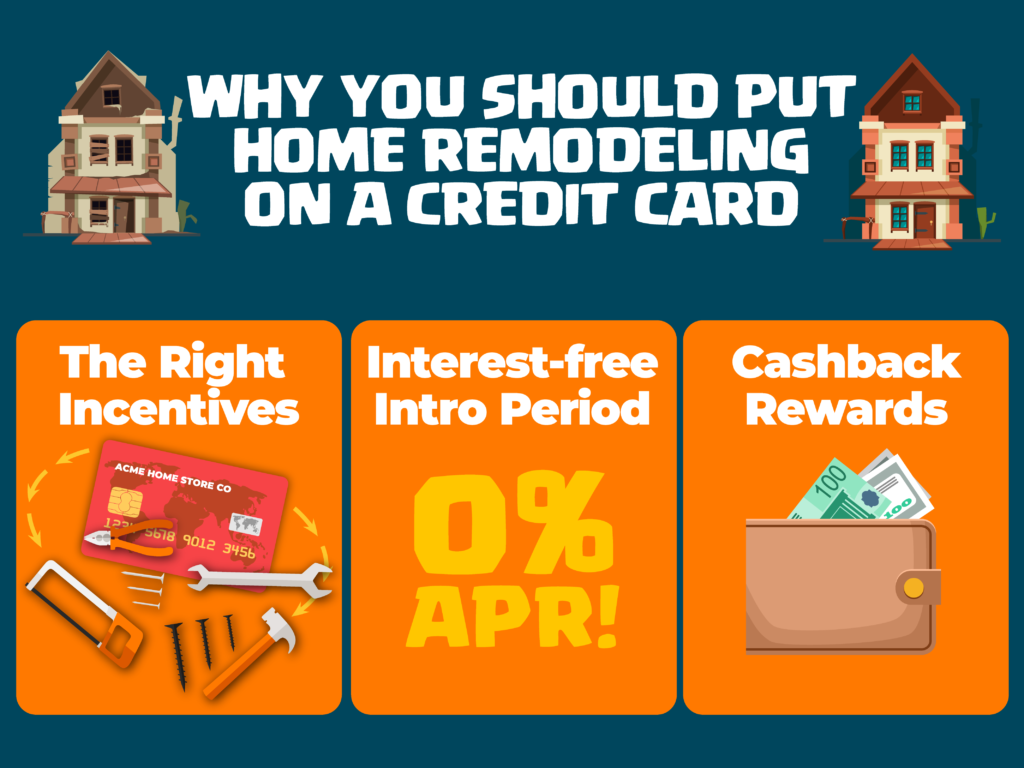 Home renovations, remodels, and upgrades are expensive. We don't need to tell you that. That's why you're here. You can save some money doing part or all of the labor yourself. But another way to save some cash is to put some or all of the work on the right credit card. Here's why:
The right incentives. The right credit card for your house upgrade should offer incentives and rewards on the stuff you need for the project, like paint, nails, screws, or even drywall. This could be a store-specific credit card from Lowe's or Home Depot. If you like comparison shopping, though, choose a major credit card like the cards included in our ranking helps to keep your options open.
O% introductory APR. In addition to credit that not only rewards purchases most related to house renovations, many credit cards offer a 0% introductory APR, or annual percentage rate. This means all purchases made within that period will be interest-free. So even if you have the cash to pay for the project, put it on the card and pay it off on time, or just within the grace period offered by the credit company. Not only will your project be financed, but you'll also earn rewards while you're at it!
Cashback for gas, travel and dining. In addition to rewards on construction gear and supplies, purchases made for the home remodeling project earn points. Those points can be spent on food to keep your crew happy putting the finishing touches on the new room, or for gas to make the dump run after demolition is complete. Or instead, use the points to reward yourself with travel, because once the project is finished, you'll naturally want to get out of the house.
If you do choose to finance your home remodeling on a credit card, however, it's always important to carefully budget the project, and have a plan to pay back the debt without incurring any extra cost.
A 0% introductory APR period is an enticing reason to pay for the work on plastic (or essentially a no interest loan!) but once that introductory period is over, the average credit card interest rates are well over 20%!
Don't tack that kinda interest onto the total cost of the project!
Before deciding on the best credit card for your home remodeling goals, it's helpful to have some sense of what renovations might cost you in 2021. It's impossible to budget for everything, but in our next section we'll give you some idea what you might spend on your home upgrade.
How Much Does a Full House Renovation Cost?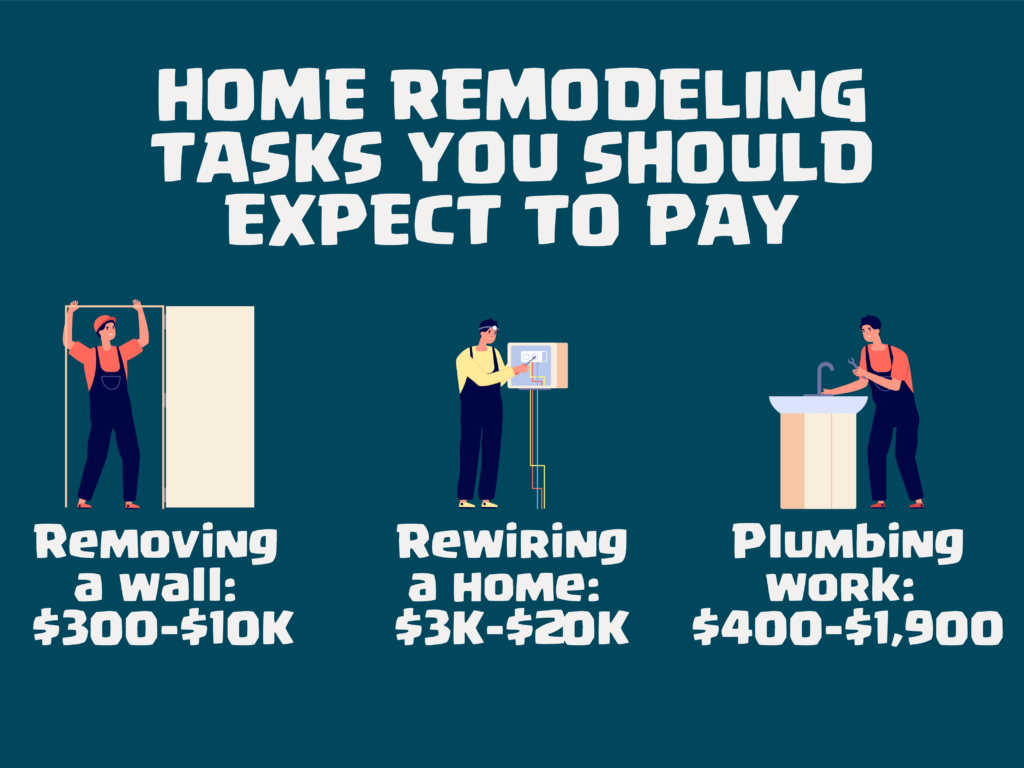 The final bill for your renovation project will vary greatly, depending on the nature of the work, whether you'll be doing the work yourself or paying other people to do it. The size and complexity of your home also makes a big difference.
If you're planning a project, though, here are a few costs you can count on:
The average home remodel will run you about $50K with kitchens and bathrooms the most expensive, and bedrooms the most affordable. And if you live in a city, that can add some extra expense. It's not uncommon to pay as much as $200K for an extensive redo of your abode.
Homeowners can typically calculate anywhere from $10 to $60 per square foot for a remodel, but some pay as much as $150 per square foot. That's particularly true if there are some underlying issues with the space, or if you're updating an older home.
Generally speaking, here are some specific tasks related to a home remodel, and how much you should expect to pay for each:
Removing a wall: $300–$10K. Don't start swinging that sledge hammer before you consult with a structural engineer. The last thing you want is to take out an important load bearing wall. If it does happen to be a non-load bearing wall, however, tearing it out will likely cost you less.
Rewiring a home: $4K–$20K. Wiring can be much less expensive in a new addition and before the new walls are all sealed up, so that's something to consider. Whereas rewiring an old home, or even just a room in a home, can be quite costly.
Plumbing work: $400-$1,900. A lot like electrical work, old plumbing costs a lot more to upgrade than new pipes. Regardless of the kind of plumbing work you need done, expect to pay anywhere from about $400 to $1,900
Now that you have some sense of how much a remodel can cost, let's talk a bit more about the best way to pay for the work.
Here are the three best credit cards for home remodeling.
Best Credit Card for Small-Scale Home Remodeling: Wells Fargo Cash Wise Visa Card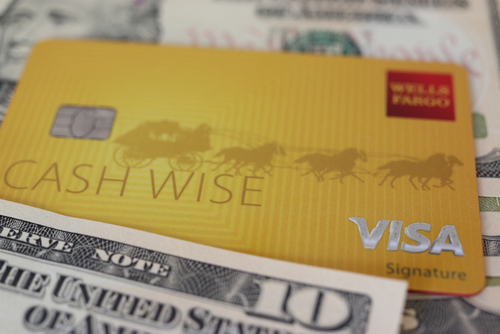 We recommend the Wells Fargo Cash Wise Visa Card for small-scale home remodeling. It's also a great choice for doing a big job a little bit at a time on the weekend, or just in your spare time. Among the things making this card so great for a small-scale home remodel is the 0% APR on purchases and qualifying balance transfers.
What's more, this rate lasts for the first 15 months after opening the account. After that point, though, the interest rate jumps to a variable APR of 14.49% to 24.99% so it's important to get all that debt paid off in a timely manner. But if you do, then you've effectively received a no-interest loan for your home remodel.
As far as cash rewards, the Cash Wise card offers a respectable flat rate of 1.5% on all purchases. Yeah, that's right: everything. Because you've got enough to worry about when sprucing up your casa, you don't want to have to track what you're spending, and where you're spending it.
Furthermore, spend $500 and get $150 back to help fund other aspects of the renovation, like new furniture. What kind of loan keeps on giving quite like that?
In addition, buy your supplies from a retailer that accepts Google or Apple Pay within the first 12 months after opening the account, and earn an additional three points, or 1.8% on all your purchases.
There's no annual fee with the card, which is nice, but there's also no annual bonus, which is something to be aware of. Overall, the purchasing flexibility and the generous 0% APR period make this a great no drama credit card for small-scale home remodeling projects.
Best of all, there are no limits on the amount of cash rewards you can earn, and they never expire so long as the account stays open. With the flexibility of the card and the list of benefits, it's time to start swinging that hammer because financing the new-look interior of your house is easier than ever: on your schedule and at your pace.
Best Credit Card for a Big Home Remodeling Project: Bank of America Customized Cash Rewards credit card
But if you have a big home remodel project that you need done quickly, consider the next choice in our ranking, the Bank of America Customized Cash Rewards credit card. What makes it a great pick for a big project is the 3% cash back on select categories, including home improvement and even furnishings. The bigger the project, the bigger the purchase, the bigger the benefits.
That alone makes the Customized Cash Cash Rewards card hard to beat. With Bank of America, though, you also get 2% at wholesale clubs up to $2,500 a quarter in combined 2% and 3% categories. Wholesale clubs, in case you weren't aware, offer great deals on supplies crucial for your home remodel, helping you save even more on the project. Following that, you continue to enjoy 1% cash back on all other purchases.
There's a lengthy 0% APR period on purchases made within 60 days of opening the account, and lasting through the first 15 billing cycles. After that time the APR jumps to a variable 13.99% to 23.99% and there is a 3% fee with a $10 minimum.
Plan things carefully, though, and you should be able to pay off all your home remodeling purchases without accruing any extra interest. You can also enjoy a healthy infusion of cash back in your pocket, helping fund other aspects of the project.
Apart from home improvement, available 3% cashback categories include gas, online shopping, and dining, and Preferred Rewards Members earn up to an additional 75% on all cashback rewards.
All this makes the Customized Cash Rewards credit card from Bank of America truly the card that keeps on giving when remodeling your kitchen, bathroom, or living area.
Best Credit Card for Remodeling an Addition: Alliant Credit Union Visa Signature Card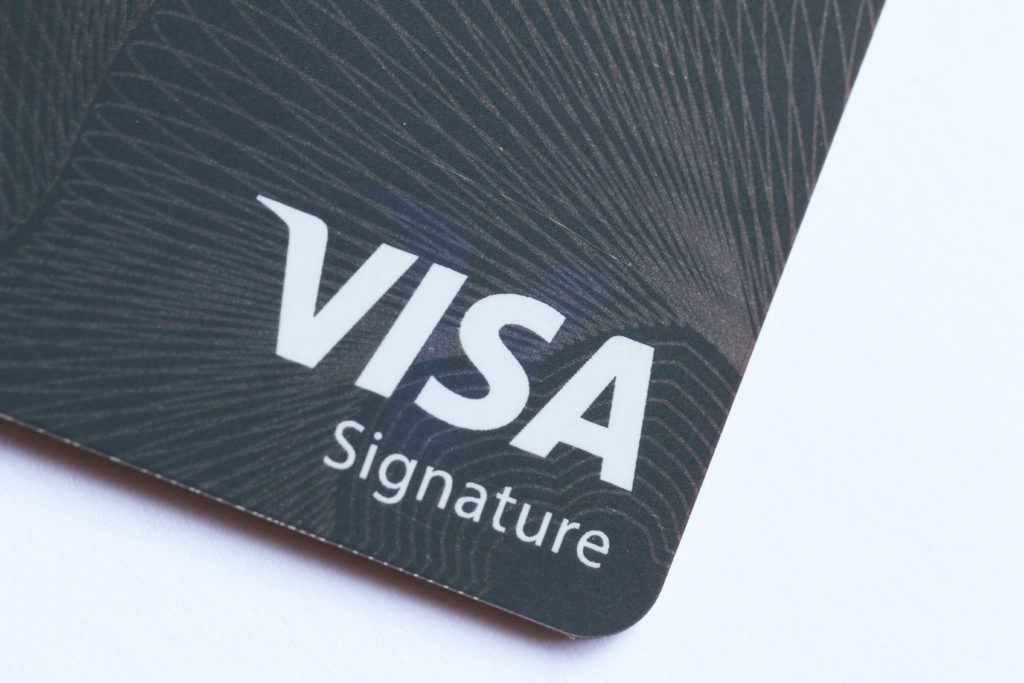 But what if your project calls for more than just knocking out a wall or finally finishing up that basement bathroom?
The next credit card in our ranking has a lot to offer to those adding an entire addition to your home. What makes the Alliant Credit Union Visa Signature Card a great choice for a project as large as an addition is the generous 2.5% cashback on eligible purchases up to $10K a month.
That kind of ceiling on your purchases is ideal for big ticket construction.
What's more, that generous offer goes without any tricky categories, though you do have to be a member of the credit union to take advantage of this benefit. You're free to join after approval, though, but the card is only offered to those with excellent credit.
Back to the good stuff, estimated average yearly rewards from the card are estimated to be about $360, and there is no annual fee for the first year after opening the account (annual jumps to $99 each year after).
On the down side, there is no 0% APR introductory period, but at 12.24% to 22.24% the APR on the card is slightly lower than average than other cards. Those generous cash back rewards can also be deposited straight into an Alliant checking or savings account, further padding the bottom line of your project.
When all this is taken in whole, it's clear for the largest of home remodeling projects — or an adding an entire addition to your home — nothing competes with the Visa Signature Card from Alliant Credit Union.
Now that we have some idea which credit cards are best for home remodeling, perhaps you're still uncertain if taking on debt for a home remodel is even a good idea.
Paying with a credit card is not, of course, the only way to finance a home remodel. We'll examine some pros and cons in our next section.
How do you finance a home renovation?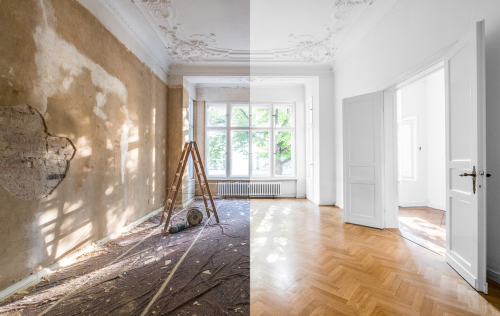 Paying for a home remodel on a credit card after careful budgeting and with a plan to pay back the debt right away offers many advantages.
Pay off the charges within a 0% APR introductory period, and you've received what amounts to a no-interest loan on the project. Furthermore, with the right credit card offering rewards on the kind of purchases you make the most, paying for the work puts some cash back in your pocket.
There are other ways to pay for construction, however. Each with their own set of pros and cons. We'll go over those, next:
Home remodel loans. Typically offered by banks, credit unions, and some online lenders, home remodel loans — sometimes called home repair loans — are unsecured loans to finance your project. On the plus side, you don't have to use your home for collateral, on the downside, eligibility is based on your credit score, an issue for many with a checkered financial history.
Home equity lines of credit/home equity loans. Home equity loans are like a little like a second mortgage: take one out to finance the work and pay it back a little at a time. Home equity lines of credit often have lower interest rates, and allow you to take money out when you need it, and only as much as you need. The drawback to both these options, though, is that you have to use your home as collateral, and they both can add extra time to your mortgage.
Mortgage refinance. Or you could instead simply refinance your mortgage at a lower interest rate, funding your project with the difference. You could cash-out refinance, or choose a rate-and-term refinance, each with pros and cons. Be aware, though, that either option will require a home reappraisal — which costs money and takes time — and both will extend the life of your loan.
The last option for those interested in a house upgrade are government loans, such as a HUD Title 1 Property Improvement Loan, or a cash-out refinance loan from the Department of Veteran Affairs.
As can be seen, there's a lot to think about when budgeting for your home remodel. No matter what financing option — or combination of financing options — you choose, that new addition, kitchen counter, or refinished basement you've been dreaming of is within reach.
Related: