Who better to purchase a life insurance policy from than a company founded by an individual who experienced the benefits of life insurance firsthand?
Ladder, an online third-party administrator of life insurance policies affiliated with both Allianz Life Insurance Company of New York and Fidelity Security Life, is one such company.
Jamie Hale, the CEO of the company, founded Ladder in 2015. His own father passed away when Hale was only 11, and Hale enjoyed the benefits of his own father's life insurance policy, helping him attend college.
Wanting to share this story with others, he developed a completely online and exam-free life insurance experience.
Through Ladder's easy-to-use and intuitive online interface, Ladder offers:
Higher coverage amounts than what's commonly offered by other similar companies.
Competitive pricing, although unlike an insurance broker, Ladder only represents a single insurance company.
More control over your coverage, known as "laddering up" or "laddering down" your plan.
And this approach has paid off, earning Ladder the following accolades: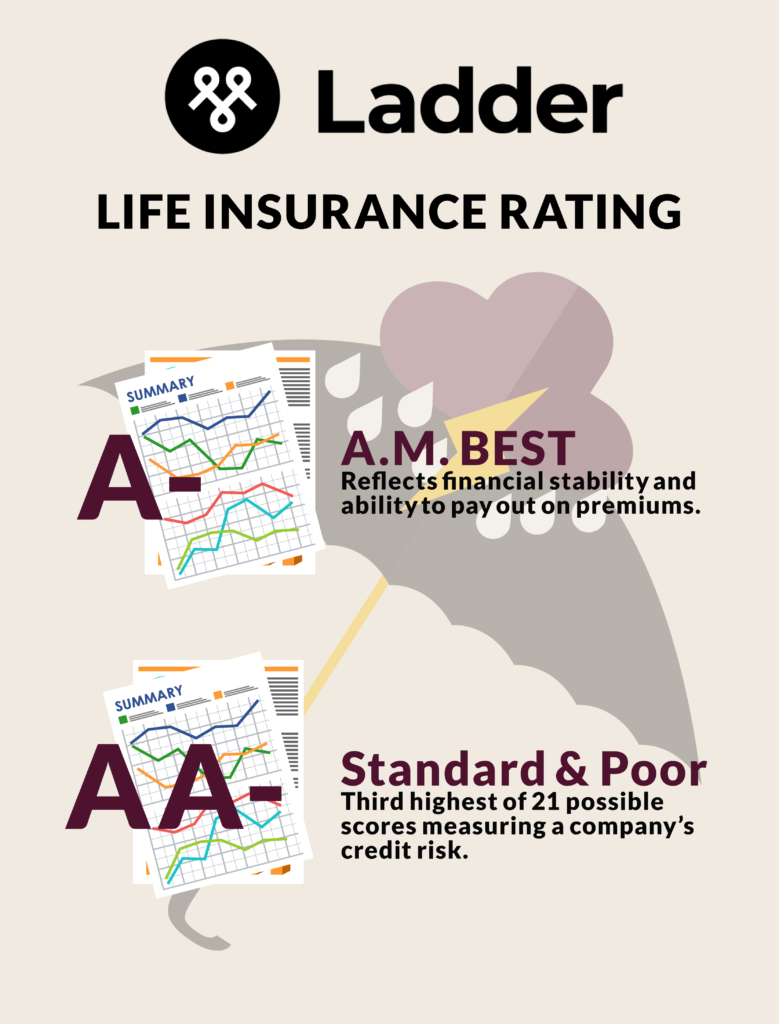 An A- rating from the U.S-Based credit rating agency A.M. Best, reflecting financial stability and the ability to pay out on their premiums.
A relatively strong AA- rating from Standard & Poor's (S&P), which is the third-highest of 21 possible scores measuring a company's credit risk.
Having only been in business for a short time, however, it's natural to wonder if Ladder is a good life insurance company. That's especially true because purchasing life insurance policies completely online and without any kind of doctor's appointment is a new experience for many,
In this review, we hope to put some of those concerns to rest, offering a fair and balanced overview of what the company offers, with some reasons to choose Ladder for your life insurance services.
We'll also present some things that an informed consumer should be aware of before making their decision.
How Does Ladder Life Insurance Work?
When beginning the search for a Life Insurance company, many naturally ask, is Ladder life insurance any good, and how do their policies work?
Although Ladder only offers term life insurance — no universal life insurance is available from the company — the application process is easy, and 100% digital.
Further advantages of Ladder life insurance include:
Ladder life insurance is available in all 50 states. Because of their partnership with Allianz and Fidelity, Ladder has no geographical restrictions on their policies, doing business in all 50 states and the District of Columbia.
More control over your policy and higher coverage amounts. Through Ladder, consumers can request up to $3 million in coverage without an exam, and those willing to have a check-up are eligible for up to $8 million in coverage.
What's more, Ladder's prices are competitive. Here are some sample rates: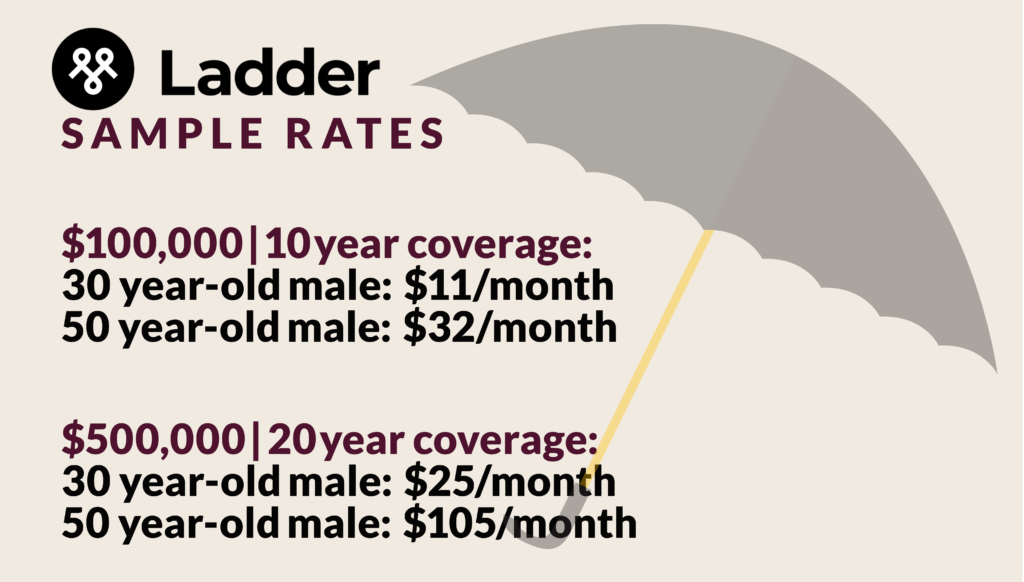 $100,000 for 10-year coverage:

30-year-old male: $11
50-year-old male: $32

$500,000 for 20-year coverage:

30-year-old male: $25
50-year-old male: $105
These rates can vary based on medical history and the state of residence, employment and economic status, gender and nicotine use, and alcohol consumption, among other variables.
As previously mentioned, Ladder only offers term life policies. Nevertheless, those policies are pretty customizable, available in increments ranging from 10 to 30 years, and terms can be adjusted in 5-year increments within that time frame.
Ladder only does business with individuals aged 20 to 60, however, and as it is with most other insurance companies, the older you are, the higher the premiums. That being said, term life policies available through Ladder remain unchanged throughout the life of the policy, providing further incentive to pick up a policy while you're young.
Here are some additional reasons to choose Ladder for your life insurance, with a few things to be aware of before making your decision.
Pros of Ladder Life Insurance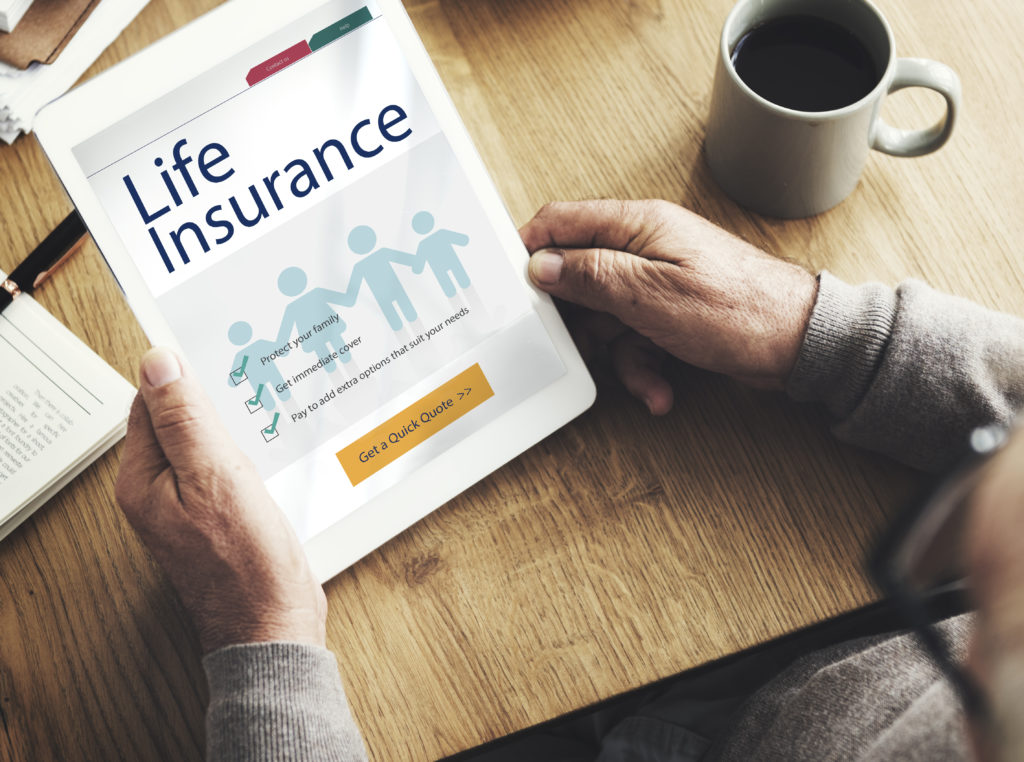 Individual control over your policy
An easy application process
Exceptional customer service
The only thing constant in life is change. Ladder understands this truism. For that reason, Ladder allows customers to make adjustments to their policies — referred to as "laddering up" or "laddering down" their coverage — and it's all done through an easy-to-access online portal. And all without applicants having to go through the hassle of working with an agent.
This way, your life insurance policy from Ladder grows and adapts to whatever point you are in life: a definite advantage.
Furthermore, the application process is relatively simple and intuitive, and it can be completed entirely online, in private, and on your own time without having to work with an insurance agent at all. In an age of apps and other kinds of mobile services, this convenience is an important part of the Ladder life insurance experience.
But in the event you need to talk to an actual human being, either after you purchase a policy or while still applying for one, Ladder has you covered here as well.
The company offers a 1-800 number meaning human assistance is never more than a phone call away. But if no additional customer service is required, Ladder remains a completely virtual experience if that's what you prefer.
Nothing, of course, if perfect and purchasing life insurance is a highly personal choice. No insurance company will be right for everyone. In our next section, we'll review a few cons of Ladder life insurance. With this complete picture, consumers can make a truly informed decision.
Cons of Ladder Life Insurance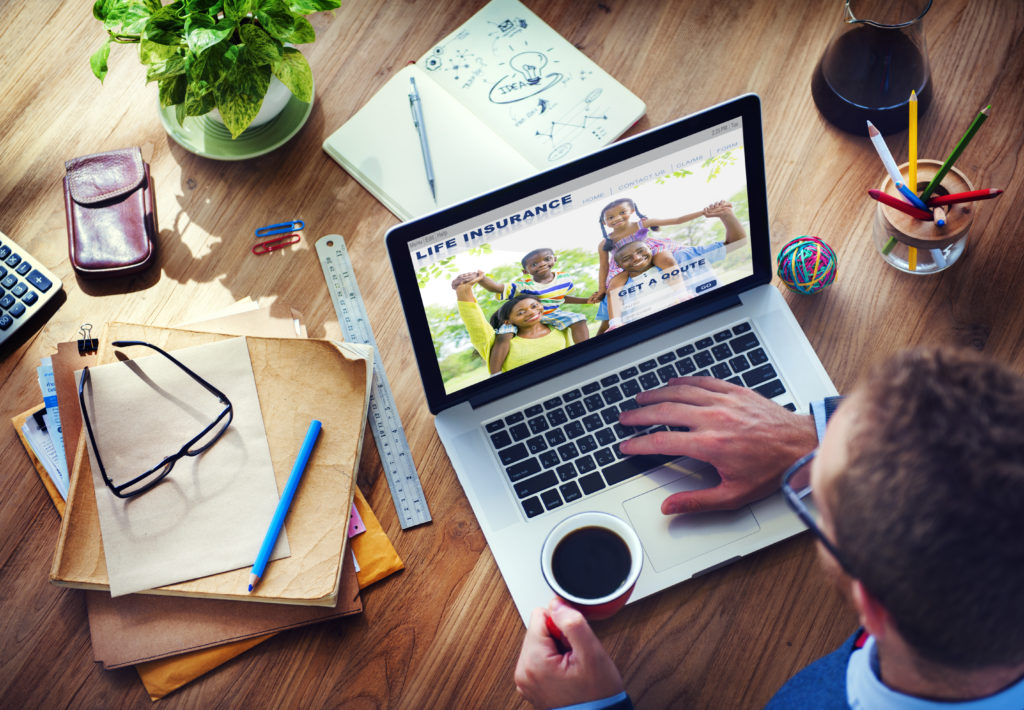 Only term life insurance policies available
Application process is thorough, and therefore a little tedious
No insurance riders allowed
Over 70? You're out of luck with Ladder.
As previously mentioned, applying for Ladder life insurance can be completed entirely online, with help from an actual human when required. Nevertheless, the nature of the application is pretty thorough, and therefore it requires a lot of personal information.
To make the process go much more quickly, it's best to have the following information ready:
Social Security Number
Proof of income
Employment history
Personal health information
And if you're uncomfortable entering any of the above into a website, then Ladder might not be the insurance provider for you.
Furthermore, consumers should be aware that Ladder only offers term life insurance policies: no universal coverage, and Ladder only sells life insurance: no auto insurance or homeowners insurance of any kind.
Choosing another company could mean bundling several insurance policies such as these together, saving a bit of money.
But although Ladder's rates are comparatively pretty affordable, bundling is simply not an option, and if you need additional kinds of insurance policies in addition to life insurance, you may have to shop elsewhere.
Highly customizable policies are also a hallmark of service from Ladder. That being said, no policy riders are allowed from the company, including child riders.
There are also limits to how much a customer can change a policy once it's offered.
This can mean a number of things, but most policy riders restrict or expand coverage in certain instances, or extend coverage to certain things not in the initial insurance estimate.
And the last thing consumers should know about Ladder is the absolute age ceiling is 70, and if you're any older than 60, you'll have to shop elsewhere. Reason being, only 10 year policies are available to anyone who is 60, and 15-year policies are the only option for a 55-year-old, and so on.
Naturally then, anyone interested in insurance coverage who is also over the age of 60, and especially for those interested in coverage extended beyond the age of 70 should consider a different insurance company for their life insurance needs.
Ladder Life Insurance Review: Final Thoughts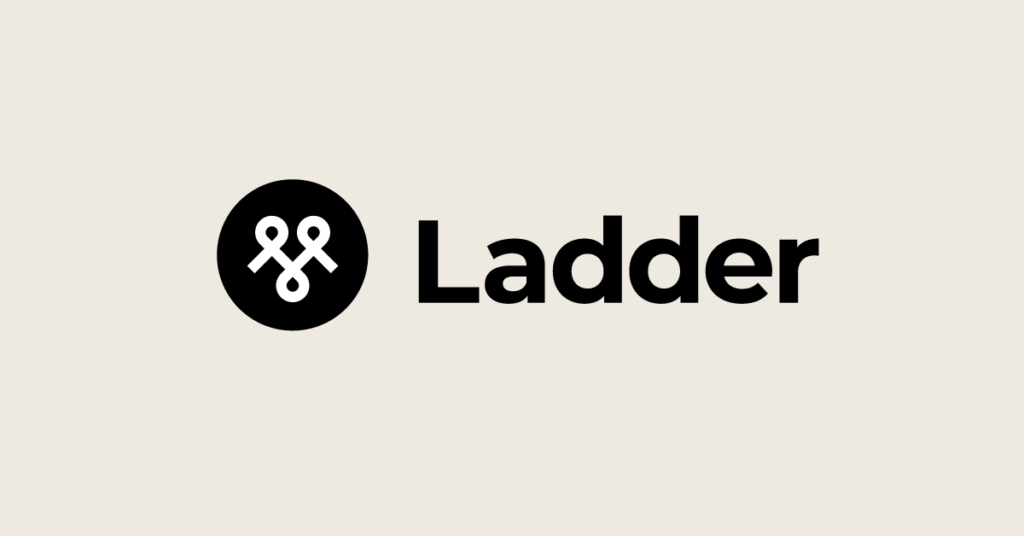 There are many reasons to choose Ladder, a completely online life insurance platform.
Ladder Offers Affordable Rates
First of all, Ladder's rates are relatively affordable rates. And with the ability to customize policies over time called "laddering up" or "laddering down" as circumstances change, they're pretty customizable to the needs of the consumer.
Furthermore, plans from Ladder range from 10 to 30 years, and they can be broken down in five-year chunks within those timespans. What's more, once a plan is purchased, the prices won't change over the term of the policy. With Ladder, what you agree to right up front is what you can expect to pay over the life of the coverage.
And Everything Can Be Done Online
But although the entire application can be completed in the comfort of your own home, the process is pretty detailed. That's not to say it can't be done quickly, but it helps to have information like your social security number, details of your alcohol and nicotine consumption, health records, and income verification readily available.
Although Ladder is a relatively young company, it has earned strong ratings from Standard and Poors and A.M. Best. Nevertheless, there are some key ratings missing from the company at this time, such as J.D. Power and Associates and the National Association of Insurance Commissioners.
Taken in total, Ladder life insurance is a great choice for those just beginning to explore their options and interested in what online insurance platforms have to offer.